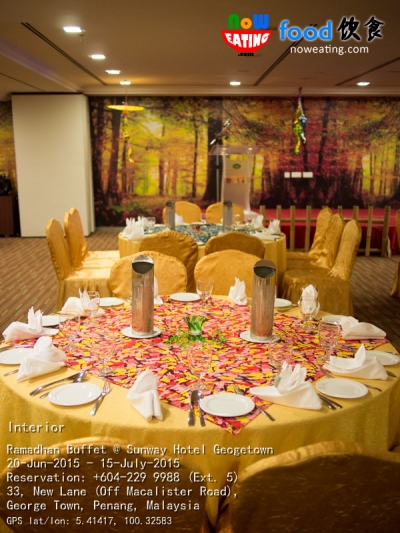 Located at New Lane off Macalister Road, Penang, Sunway Hotel Georgetown is the fourth hotel we visited for Ramadan buffet preview session this year (and definitely not the last one). Is it just another hotel with Ramadan buffet? Do they have their own specialties? Let's find out.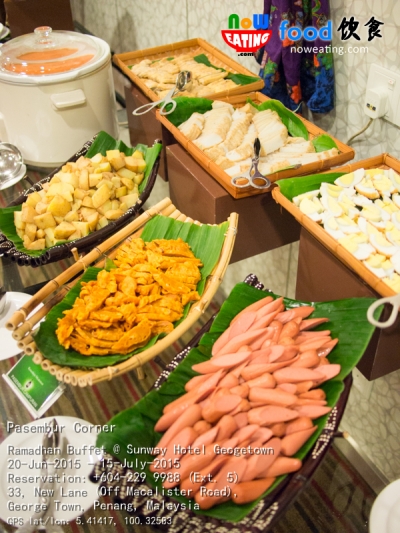 We previously reviewed Sunway Hotel Georgetown on its Wild Wild West buffet. This time, western food is nowhere to be seen at the buffet spread (except the grilled lamb which we will cover later). Instead, you will be welcomed with many Malay cuisine but first, let's have some Pasembur as appetizer.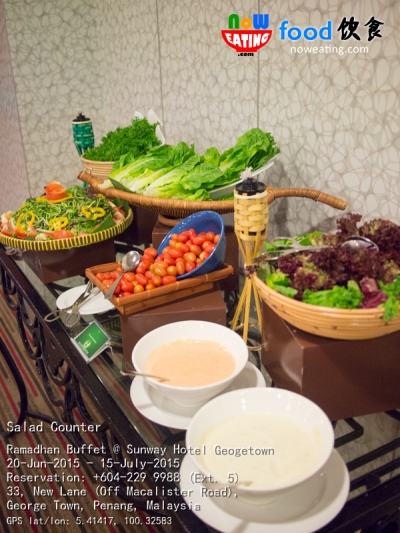 After few rounds of Ramadhan buffet previews, we missed salad bar very much and when we saw it at Sunway Hotel, we couldn't help ourselves but to grab some rocket salad from the counter.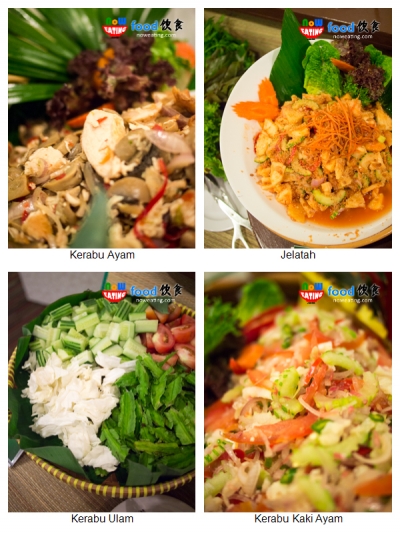 Other local salads include Kerabu Ayam (Chicken Salad), Kerabu Kaki Ayam (Chicken Leg Salad), Kerabu Ulam, and Jelatah (Pickled Cucumber and Pineapple Salad). Our top pick being the Kerabu Ayam.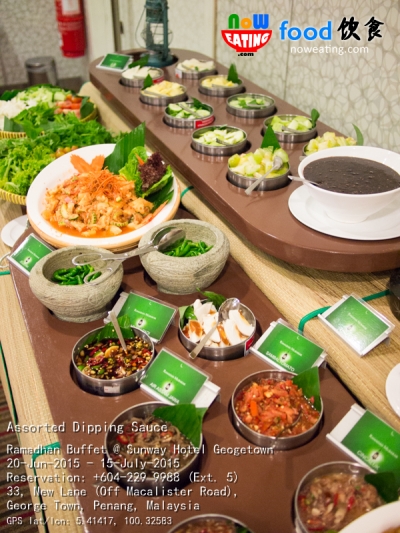 Kerabu Ulam is best dipped with various homemade spicy sauces including Cincaluk, Air Assam Jawa, Sambal Tomato, and Kicap Cili Padi. Shrimp paste sauce is also available on the counter and is best mixed with fruits and vegetables to become the famous local salad – Rojak.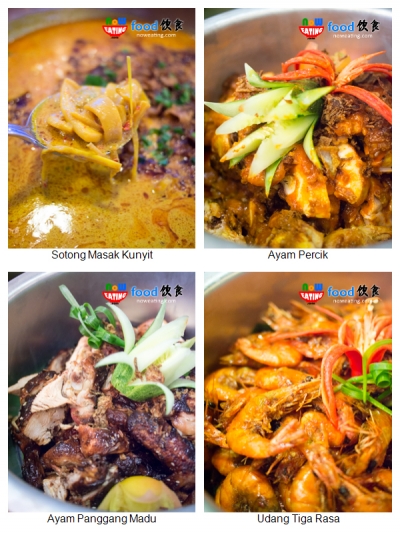 As for the hot tray items, most of them were being prepared by humble Chef Ong and his crews in the kitchen. We particularly enjoyed Ayam Percik, Ayam Panggang Madu, Sotong Masak Kunyit and Udang Tiga Rasa.  Personally, we felt that the hot tray items in Sunway Hotel Georgetown taste as good as those in higher class hotels.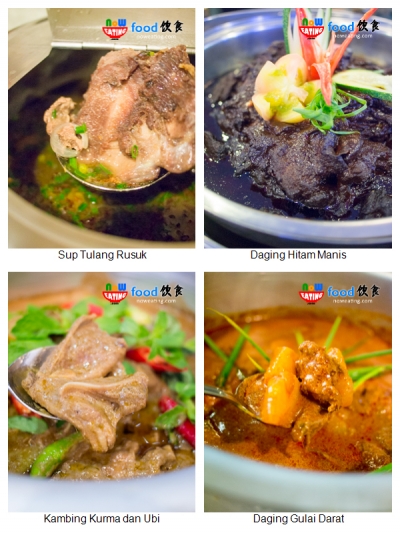 If you are lamb or beef lover, try Sup Tulang Rusuk, Daging Hitam Manis, Kambing Kurma dan Ubi, and Daging Gulai Darat.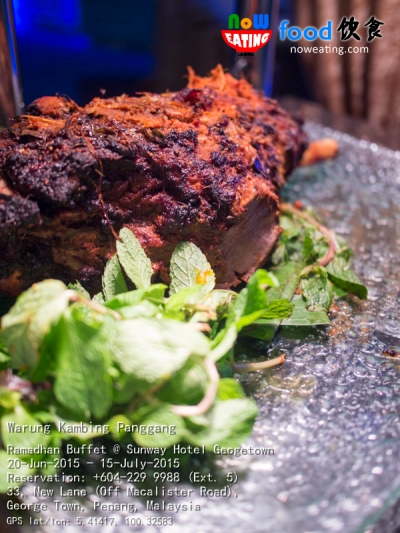 However, we skipped those beef and lamb items as we were more interested on the Warung Kambing Panggang (Grilled Lamb Stall). The tender lamb is best dipped with their homemade mint sauce.
Other live action counters include Char Koay Teow …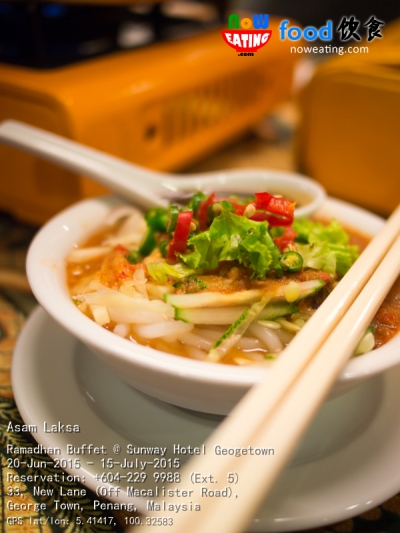 … Assam Laksa Stall …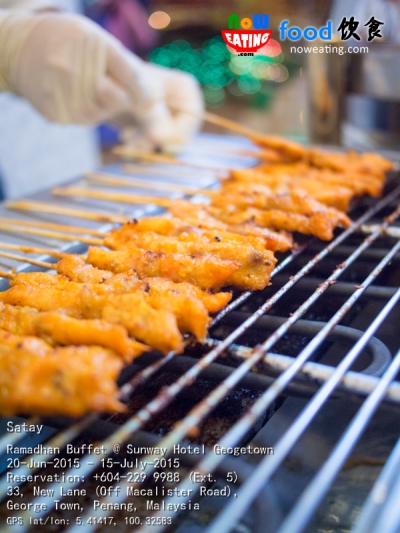 … and Satay station, which is also the station with most guests queuing up for the food.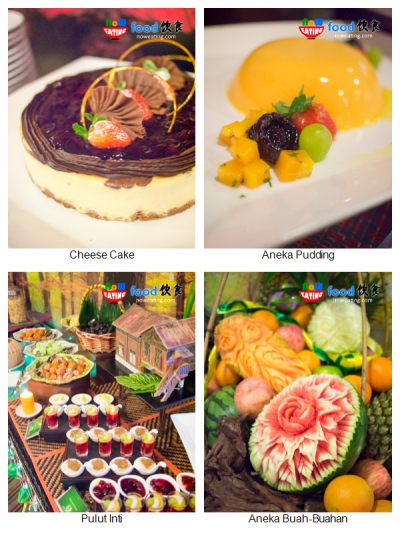 Last but not least, do try some of their desserts such as cheese cake, assorted pudding, jelly-in-a-cup and assorted fruits. In our own opinion, Sunway Hotel Georgetown's strength being their main course and the affordable price. Ramadan Buka Puasa feast is available for the month of Ramadan from 20-Jun-2015 until 14-Jul-2015 priced at RM52 nett per adults and RM32 nett per child with special lucky draw prizes to be won. For reservation, kindly call +604-229 9988 (Ext. 5).
| | |
| --- | --- |
| Place Name: | Sunway Hotel Georgetown |
| Cuisine: | Buffet |
| Address: | 33, New Lane (Off Macalister Road), George Town, 10400, Penang, Malaysia |
| Tel: | +604-229 9988 (Ext. 5) |
| Email: | [email protected] |
| Last Visit: | 20150612 |