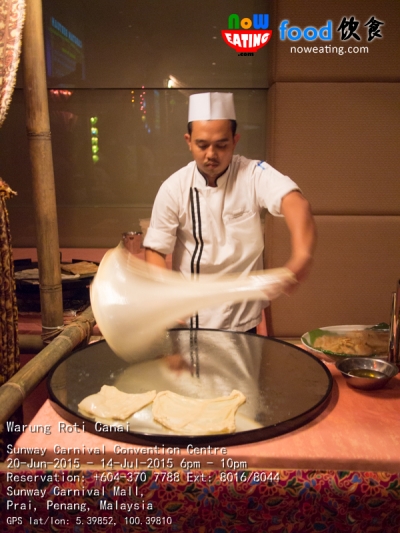 Previously, we introduced Ramadan buffet at Sunway Hotel Georgetown. Today, we cross the sea and bring you the Ramadan review of its sibling – Sunway Hotel Seberang Jaya, namely the "Jom Buka Puasa Aneka Citarasa Nusantara SEMPOI" buffet having total of 9 action stalls in a single dining area, including Warung Roti Canai.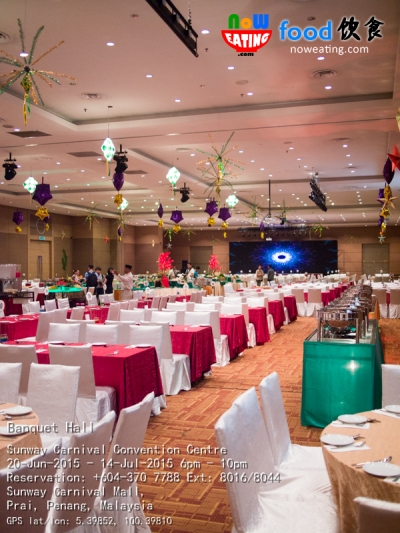 Compared to Sunway Hotel Georgetown, the Seberang Jaya's hotel is a business hotel and we have seen many company events being conducted here. One point worth taking note is that Sunway Carnival Mall which is a stone-throw from Sunway Hotel Seberang Jaya is also part of Sunway properties. Resided inside the mall is a convention center called Sunway Carnival Convention Center (SCCC). During the month of Ramadan, guests have an option to choose between dining in SCCC or Sunway Hotel itself.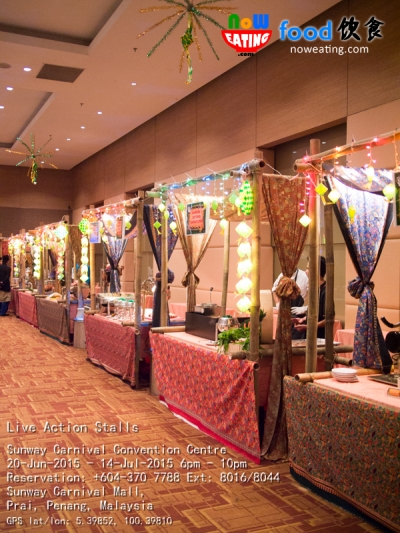 It was our first visit to SCCC for its Ramadan buffet. SCCC is located at 4th floor of Sunway Carnival Mall and one may park their car in the multi-storey car park. We felt like attending wedding dinner the moment we walked into the 20,000 square feet multi-function hall. The hall has 9 action stalls and 2 buffet displays.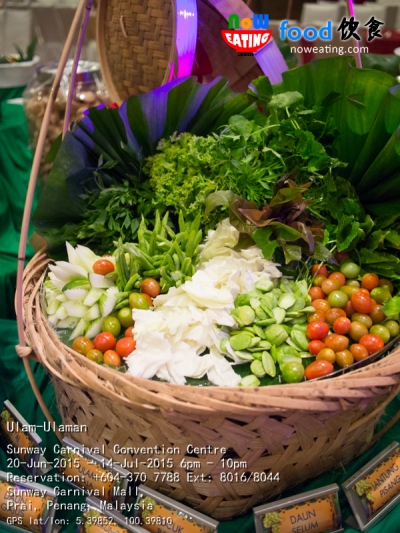 First, let's begin our meal with some appetisers, including Ulam-Ulaman (raw vegetables) nicely presented in a basket. These raw vegetables are best dipped with Sambal-Sambal (spicy sauce) available next to it.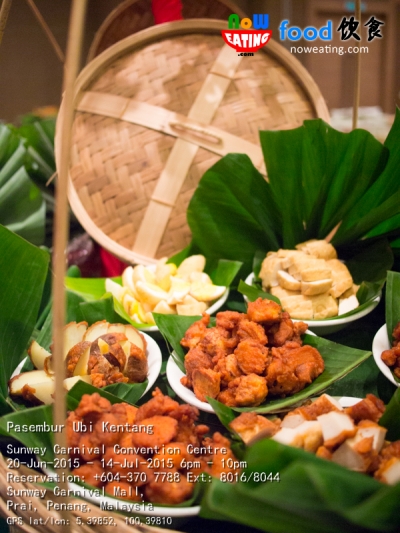 Other appetisers include Pasembur, Rojak, Kerabu and Jeruk Buah-Buahan (Pickled Fruits).
The sumptuous treat from the 9 action stalls includes few signature dishes including roasted whole lamb which is only craved up into succulent slices on the spot to ensure its tenderness and juiciness. Other stalls are Warung Goreng-Goreng (Deep Fried Station), Warung Laksa Penang (Laksa Stall), Warung Satay (Satay Stall), Warung Ais Krim (Ice Cream Stall) and Warung Bread, Pizza and Manaeesh.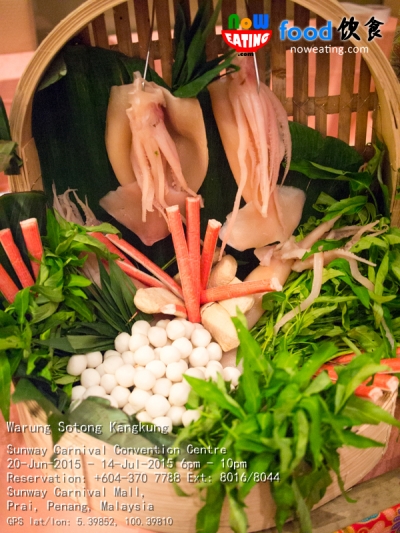 Personally, we enjoyed their Laksa as it was up to the par. Another stall caught our attention was Warung Sotong Kangkung (Squid with Morning Glory) which was hardly found in other hotels.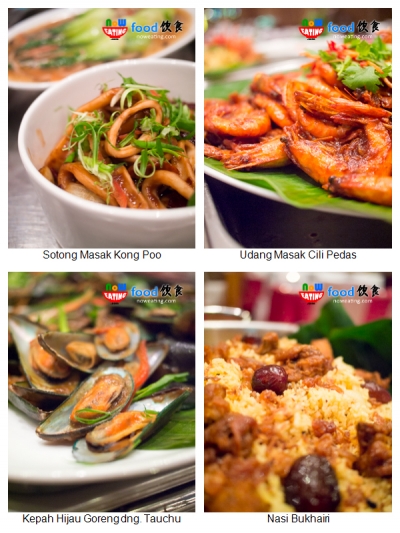 SCCC has total of 5 menus on rotating basis and are created by 15 skilled chefs under the tutelage of Chef Ismail (Executive Sous Chef) and Chef Hamizi (Sous Chef) who is backed with more than 25 years of experience. The different menus will ensure that regulars can look forward to something different each time. During our visit, we enjoyed their seafood on buffet displays including Sotong Masak Kong Poo, Udang Masak Cili Pedas, Kepah Hijau Goreng dengan Tauchu, and Nasi Bukhari.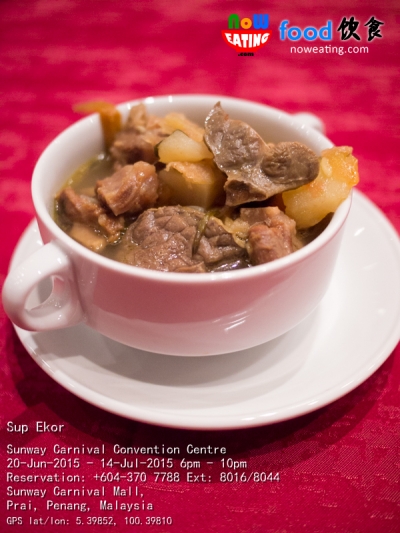 Soup is usually an item we skipped but Sup Ekor is worth a try if you still have spaces in your tummy. Another soup was Mushroom Soup during our visit.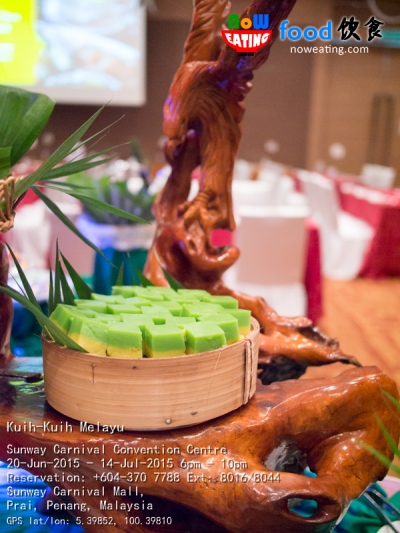 End your meal with some Kuih-Kuih Melayu, homemade cakes, or ask the crew for a bowl of ABC or Cendol at the live action stall.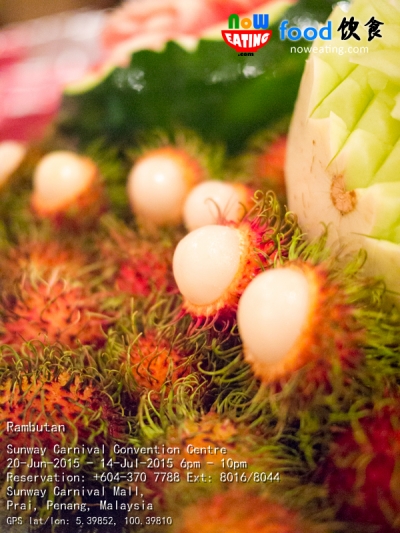 Last but not least, have some tropical fruits such as rambutan as mouth washer. As a whole, SCCC is a famous spot for Ramadan buffet in the mainland. It is further proven with some regulars making payment first and continue shopping at Sunway Carnival Mall until the dinner time.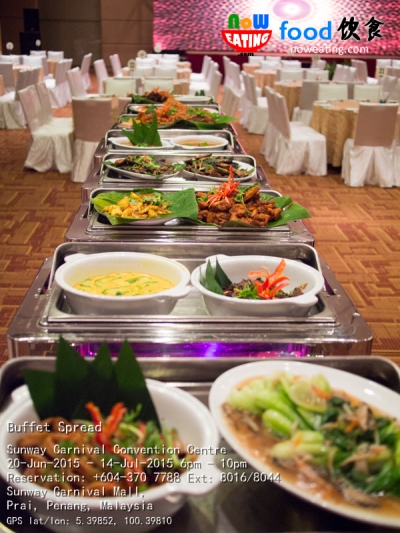 Note the the themes for both SCCC and Sunway Hotel Seberang Jaya are a bit different. The theme for SCCC has more choices and is more towards local specialties whereas the one in Sun Cafe of Sunway Hotel Seberang Jaya is more like international buffet. Pricing-wise is a bit different as well:
SCCC
RM78 nett per adult
RM38 nett per child (5-12 years old)/senior citizen (>55 years old)
RM2 from the buffet sales will be donated to selected charity organisations.
Lucky draws available for every full paying adult including daily prize, weekly prize or grand prize – 3D/2N stay at Batam View Resort for two persons inclusive of travel voucher wort RM1,000.
Sun Cafe @ Sunway Hotel Seberang Jaya
RM60 nett per adult
RM35 nett per child (5-12 years old)/senior citizen (>55 years old)
Maybank cardholders are entitled for a 10% discount for both Ramadan buffet dinners. Tips: Signup for Sunway Pals for more discounts. Reservation is highly recommended (Tel: +604-370 7788 Ext: 8044/8016).
| | |
| --- | --- |
| Place Name: | Sunway Carnival Conventional Center |
| Cuisine: | Buffet |
| Address: | Sunway Carnival Mall, Seberang Jaya, 13700, Penang, Malaysia |
| Tel: | +604-370 7788 Ext: 8016/8044 |
| Working Hour: | 20 Jun - 14 July 2015 6pm - 10pm |
| Last Visit: | 20150620 |