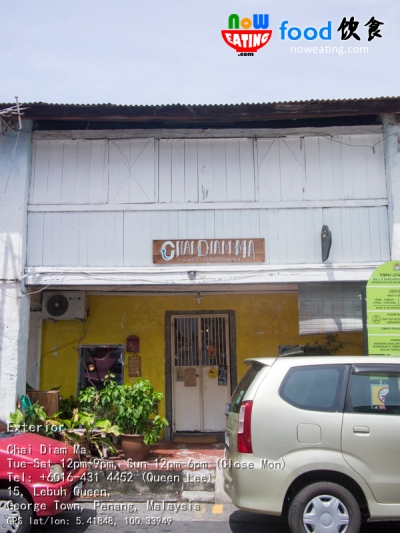 Chai Diam Ma is hidden in a row of heritage building at Lebuh Queen, George Town, Penang. It can be difficult to spot at first. Coincidentally, the owner is also called Ms. Queen. Note that this is not a grocery shop but a cafe cum art space.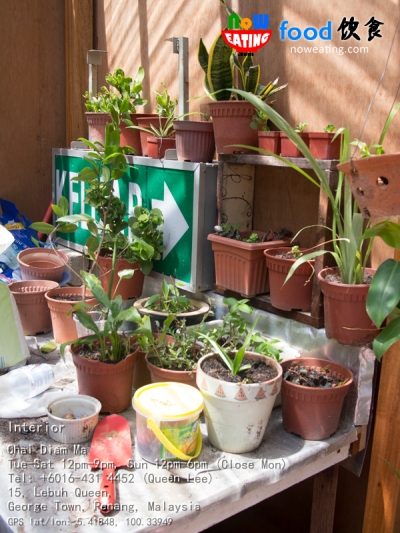 Ms. Queen herself is an art lover and has her upper floor converted into an art space. Handicrafts from various artists are also available around the cafe. Once upon a time, Ernest Zacharevic – the mural artist famous with his "Little Children on a Bicycle", actually visited Chai Diam Ma and was interested to draw something on a huge wall behind the cafe. Ms. Queen, however, kindly turned down the offer. The area now becomes part of dining area and also a mini garden.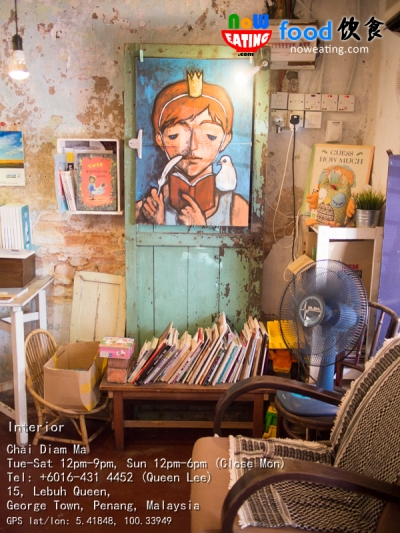 A distinguishable point for this cafe is that it actually reuses many unwanted items, such as signboards, old furniture, refrigerator and even whole door to decorate the interior to an extend that we almost can't differentiate which items are for sale.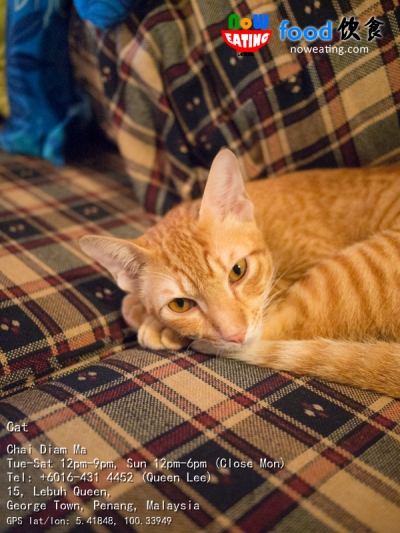 Ms. Queen is also a cat lover. Occasionally, you will notice some cats wondering around the cafe or even sitting on the same sofa with you.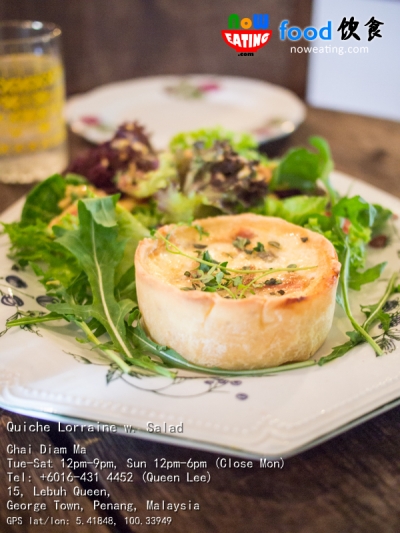 During our recent visit, we had a chance to sit down with Ms. Queen who was usually busy in her small kitchen preparing food for customers. Ms. Queen is passionate on healthy food and she only serves food which she likes (legit enough). Figure shows Quiche Lorraine (RM16) – a pastry crust filled with delicious custard such as chicken and vegetables.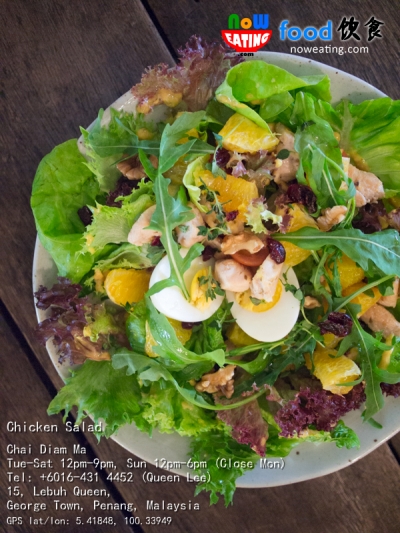 Our last visit to Chai Diam Ma was during Ramadan month in which we were "overfed" by red meats and seafood. It was a lifesaver when we saw Chicken Salad (RM16) full of greens and citrus on our table.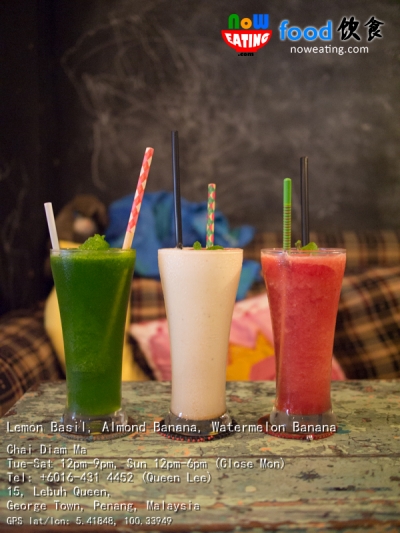 For some customers, they may feel that the food here is somehow too healthy. If you are looking for Steaks or Fish-n-Chips, then this place is probably not for you. However, if you like greens or just want to have a glass of drink under the hot sun, we strongly recommend this place. Who would expect watermelon going so well with banana (RM10), or even almond sprinkled with cinnamon (RM12). Looking for something strong and sharp? Try the Lemon Basil (RM6) drink.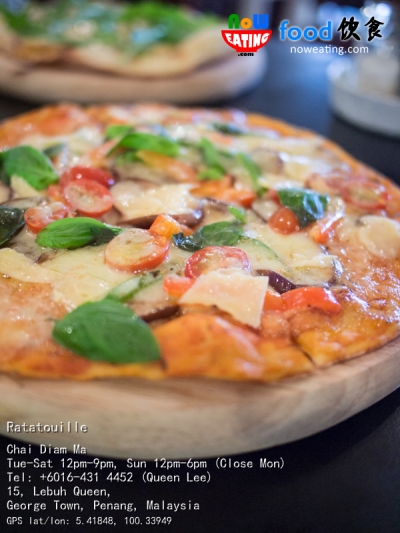 Our first visit to Chai Diam Ma was back in year 2012. Today's menu is totally different from the first time we visited, such as it had moved from noodle/rice series to light meals such as snacks, crepes, salad and pizza. Pizza, for instance, is one of the best homemade pizza we've ever tried in Penang. Again, who will expect eggplant becomes so juicy on its Ratatouille pizza (RM20) which is also topped with tomato, capsicum and basil.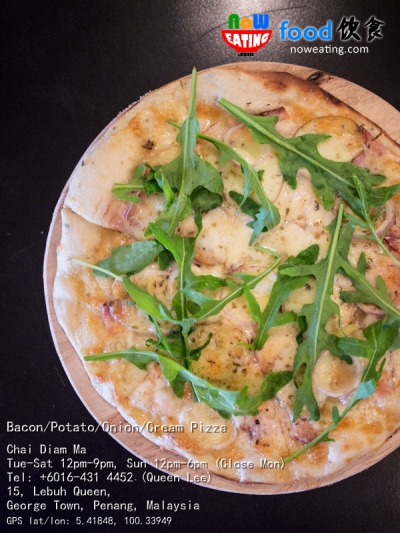 Another crispy yet juicy pizza is Bacon/Potato/Onion/Cream pizza (RM20).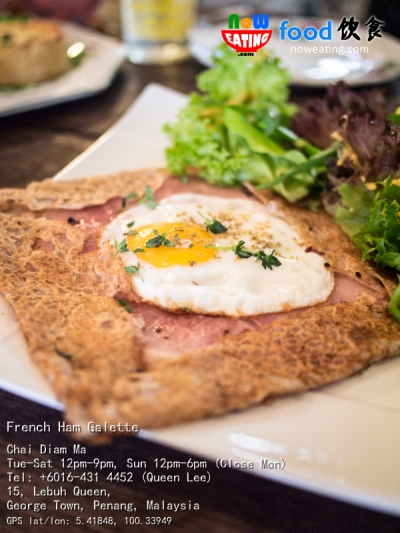 In the kitchen, Ms Queen likes to invent new recipe and occasionally they do have daily special written on wall. An innovative item here is her Galette series, in which the savory crepe is made of buckwheat flour. The crepe reminded us of fortune cookies back in school day but this time, our "fortune" is French Ham topped with a bulls eye (RM19).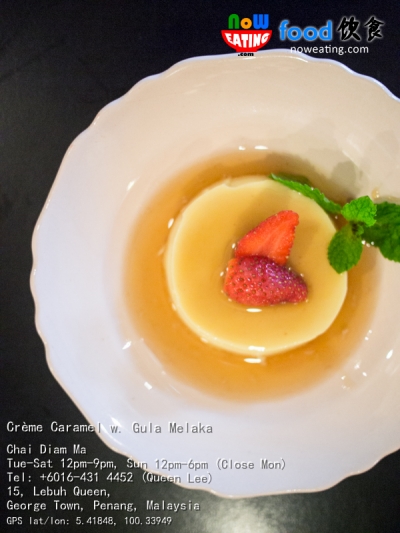 In short, if you are practicing LOHAS (Lifestyle Of Health and Sustainability), Chai Diam Mai food is definitely suitable for you. We usually stopped by here for some light meals or just some desserts, such as Crème Caramel with Gula Melaka (RM8).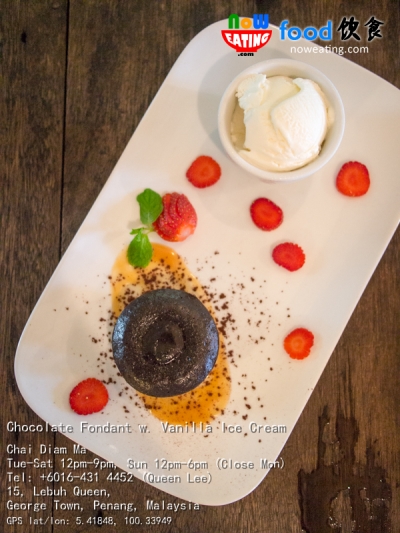 Ms. Queen added many desserts in her new menu. Pricing-wise, they are pretty reasonable with quality in par with some semi-fine dining restaurants not to mention that most desserts are handmade by the owner herself. Chocolate Fondant with Vanilla Ice Cream, for instance, usually costs double-digit in other restaurants but here, it is only RM8 (We hope Ms. Queen never read this article).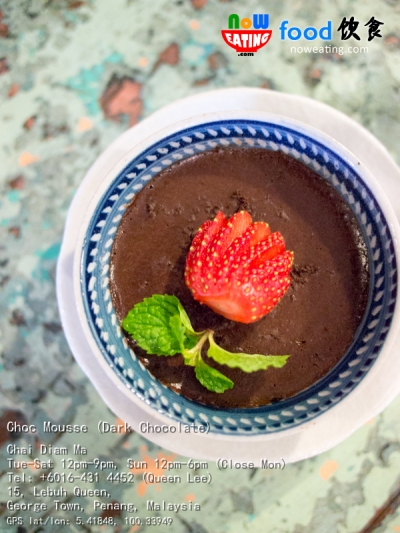 Note that most chocolate desserts, including Choc Mousse (RM7), use dark chocolate which can be a bit bitter for some. For us, it is fairly acceptable especially after considering the benefit of dark chocolate being an antioxidant agent and ability to lower blood pressure.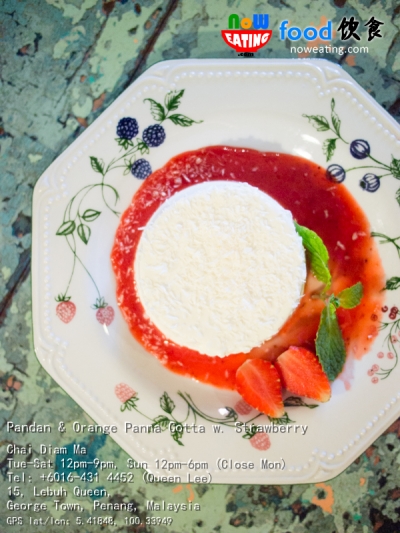 When being asked of why such a low price compared to others, Ms. Queen asked us back, "Ain't you feel that desserts out there are way too overpriced?". We stopped for a while and recalled that we rarely ordered any dessert in other cafes unless it is part of the set meal. Yes, a main course for two already costed us about RM50. Even with spare tummy, we hardly have any spare money to enjoy desserts. Figure: Pandan & Orange Panna Cotta with Strawberry Coulis (RM8).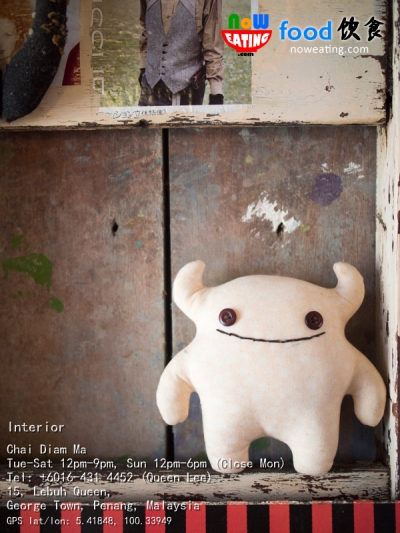 As a whole, Chai Diam Ma is a welcoming place not only for locals, but also foreigners to feel the hospitality of Penangites thanks to its lovely environment and friendly host. Food-wise, keywords here are natural and less sugar. It may not a perfect place for proper meal but if you are looking for a relaxing place in the busy city, look no further.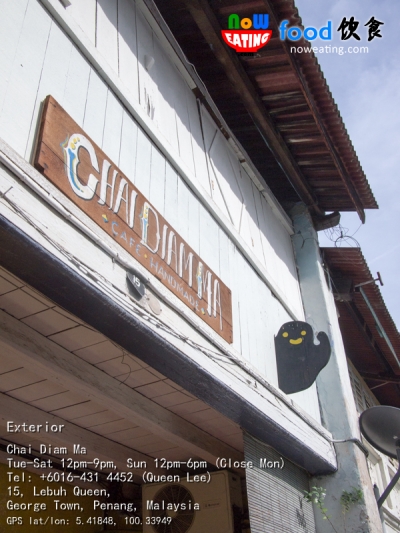 Chai Diam Ma is opened from Tuesday to Friday from 12pm to 9pm, and Sunday from 12pm to 6pm. Close on Monday. An art space is also available for rent at first floor. Please call Ms. Queen +6016-431 4452 for any reservation
| | |
| --- | --- |
| Place Name: | Chai Diam Ma |
| Cuisine: | Western |
| Address: | 15, Lebuh Queen, George Town, 10200, Penang, Malaysia |
| Tel: | +6016-431 4452 |
| Working Hour: | Tue-Sat 12pm-9pm, Sun 12pm-6pm (Close Mon) |
| Tax: | No |
| Last Visit: | 20150613 |