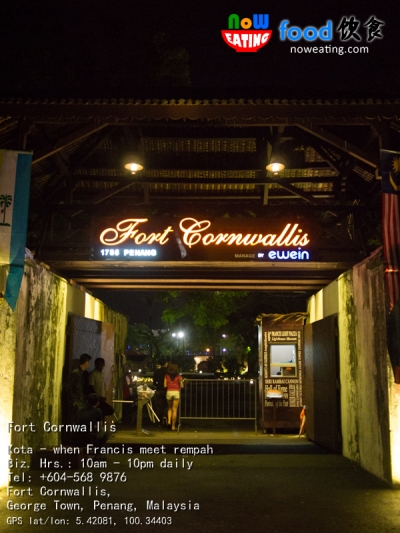 We can't really remember when is our last time visiting Fort Cornwallis – a historical site nearby ferry terminal in Penang island. Recently, we had a chance to visit it, not for the sake of visiting cannons there, but a cafe hidden inside the park – namely Kota Dine & Coffee.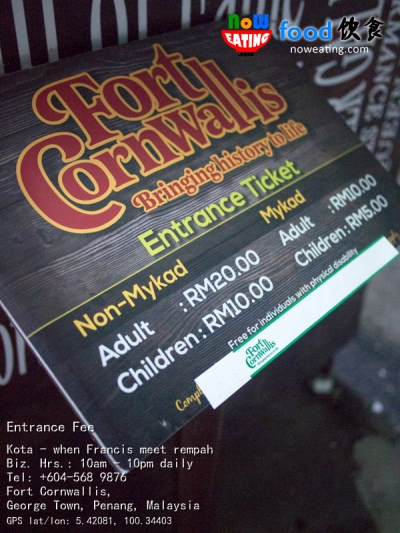 Wait! Isn't that Fort Cornwallis requires entrance ticket? The answer is yes. Having to pay for tickets (RM10 for Malaysian, RM20 for non-Malaysian) before enjoying any meal may be ridiculous for some but fortunately, you will be given RM10 meal voucher when entering which in other words mean that the admission is FREE* for Malaysian.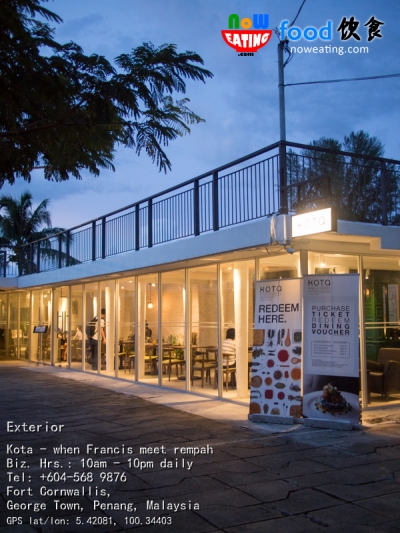 KOTA is pretty easy to allocate. It is a modern single storey building behind an open air stage. The cafe opens from 10am – 10pm daily.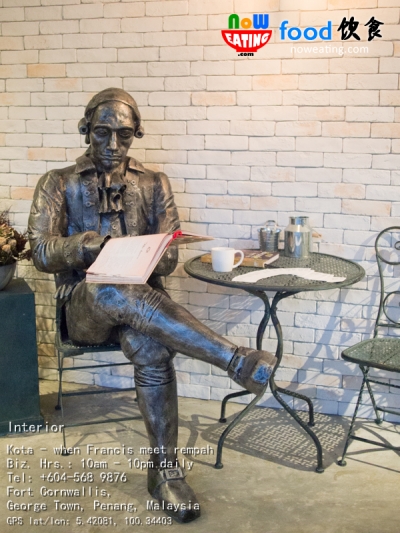 The moment you walked into the glass door, you will be welcomed by Francis Light – the founder of British colony of Penang in year 1786.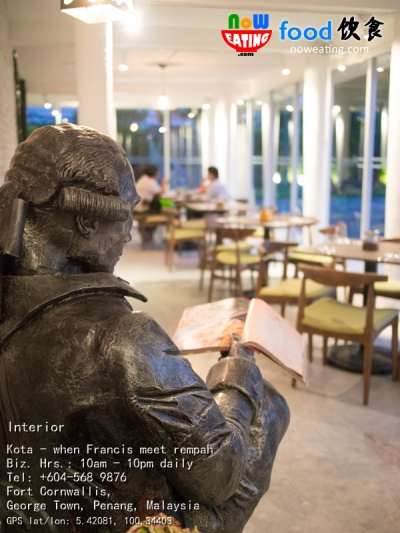 "Rempah" means spices in Malay. "Francis meets rempah" is a food fusion concept introduced by KOTA in which you will have a chance to enjoy local cuisine in a totally different experience but first, let's have a cup of their signature coffee…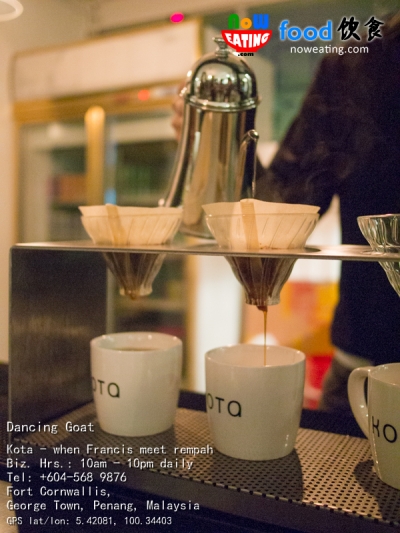 Dancing Goat (RM15) is a hand drip coffee made of beans from Ethiopia Conga. Drip brew coffee produces a clear and light-bodied coffee.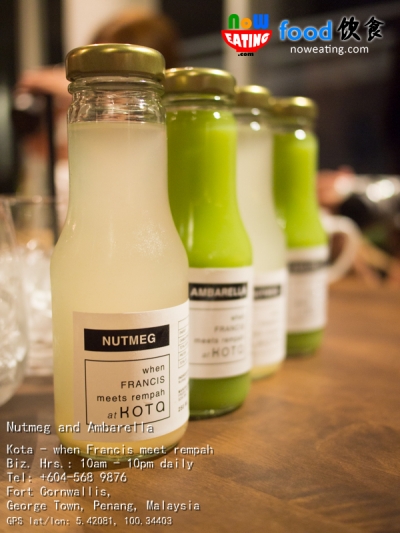 Not a coffee lover? Try the sweet and tangy Nutmeg (RM14) or Ambarella (RM14). Both are famous local drinks with Nutmeg commonly found in Balik Pulau area whereas Ambarella is a common drink in coffee shops.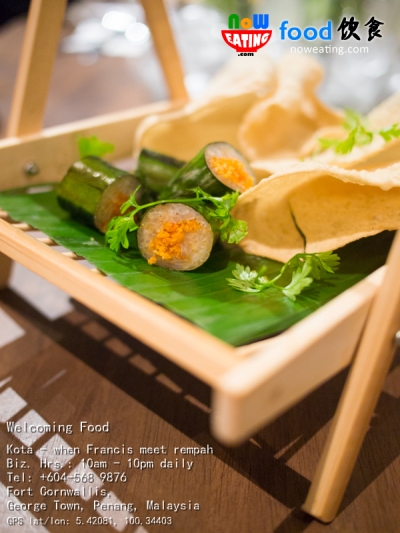 We were welcomed by their complimentary starter – Papadam and Rempah Udang in a basket.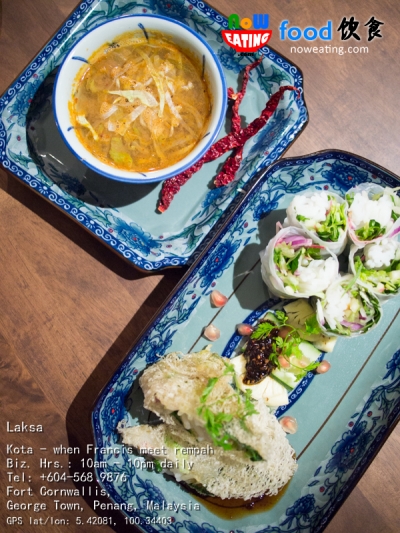 Unlike most restaurants which provide as many items as possible, KOTA's main course only consists of 6 items with a single reason – everything is their signature dish. They are Laksa, Hokkien, Nyonya, Satay, Briyani, and Kari. Yes, the name is that simple.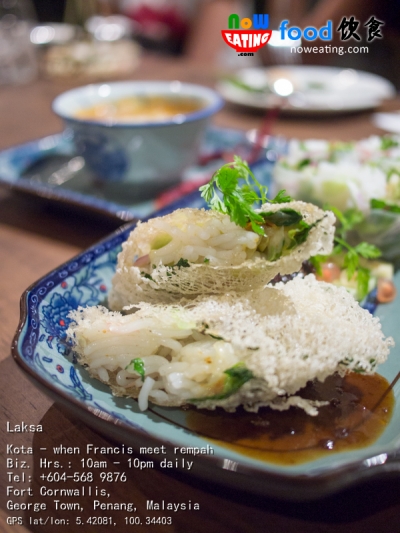 Laksa (RM25) is a totally new experience. Instead of having the rice noodle in a bowl of soup, the ingredients are now separated, such as the rice noodle was wrapped in rice paper in two ways – soft and deep-fried skin before stuffing with cucumber, onion and galanga. Laksa soup is provided separately.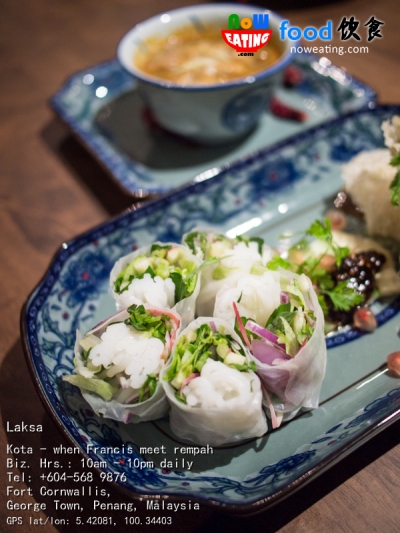 There are at least two ways to enjoy this unique Laksa such as by dunking the rolls into the soup or putting some soup on the rolls. Either way, we pretty much enjoyed this "premium" version of Laksa.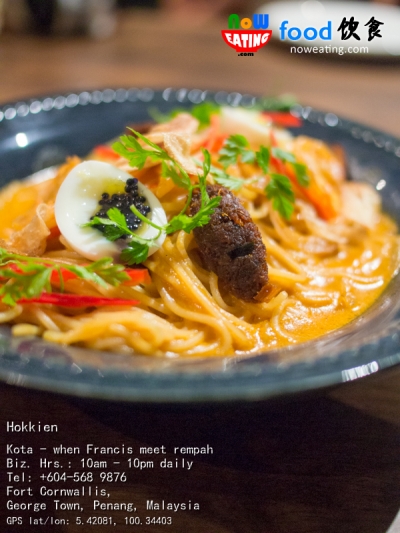 Hokkien (RM25) has Penang's famous Hokkien Mee re-invented. Noodle is served in rich and creamy Bisque which tastes like Nyonya Laksa, topped with blue prawns, squids and caviar (pickled roe). This is our second favorite.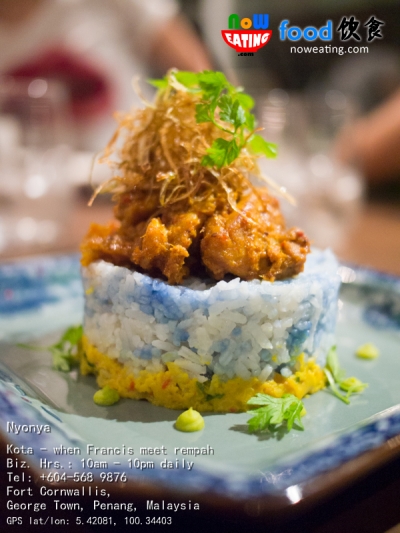 Our top favorite being Nyonya (RM25) – a 4-in-1 Nyonya dish. On top is Achar and Rendang. In the middle is Nasi Kerabu made of Butterfly Pea Flower and Coconut Rice. At the bottom is Otak-Otak. Tastes so good that you can easily go for second plate.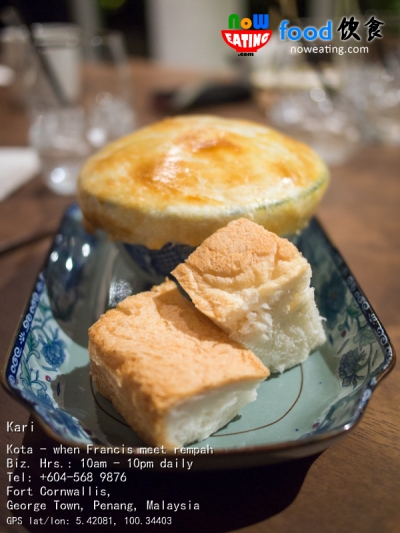 Unlike most Penang food which are overly spicy, KOTA's fusion dishes are generally mild and are suitable for customers of different age groups. Kari or Curry (RM25), for example, tastes exceptionally well even without a bowl of rice (only two chunks of Roti Benggali provided).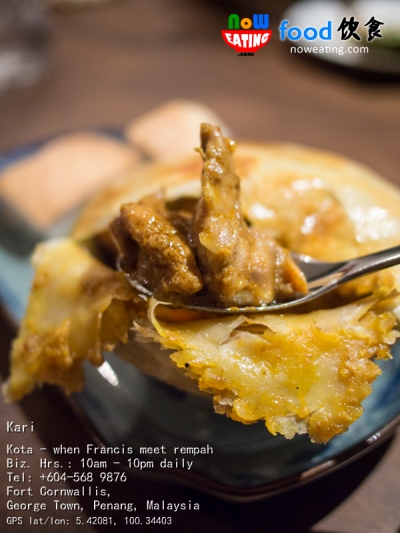 Inside the puff pastry are chicken and potato cooked to tender in coconut milk and spices.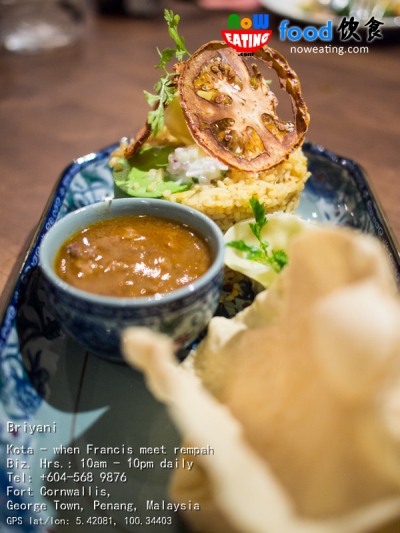 Briyani (RM29) is an authentic Nasi Briyani "compressed" into a single plate. Ingredients include lamb, Masala, Basmati Rice, Papadum, Yoghurt, and Ravioli.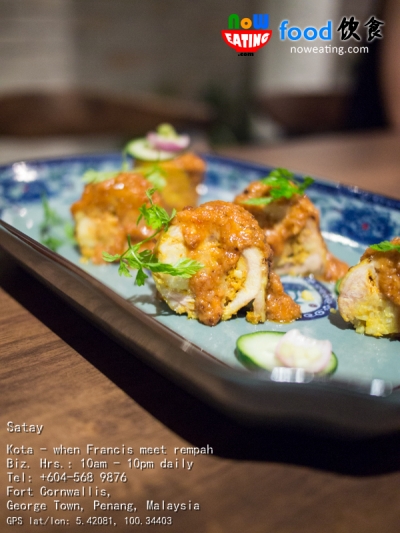 KOTA's fusion Satay (RM25) can be enjoyed effortlessly. Instead of serving as skewers, chicken is marinated with lemongrass, ginger and turmeric before rolling it with rice and topped with Satay peanut sauce.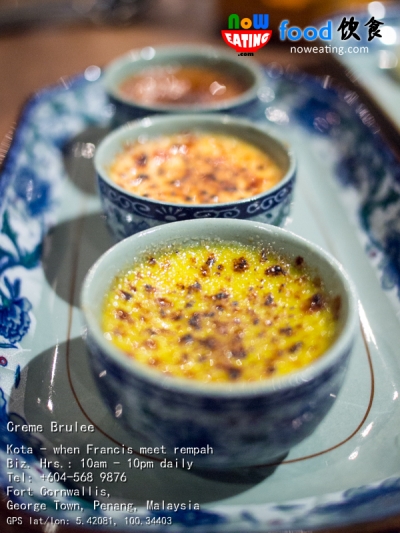 Other than main course, KOTA serves two desserts, including Creme Brulee (RM19) which come with three flavors – Original (Black Glutinous Rice), Pandan and Gula Melaka.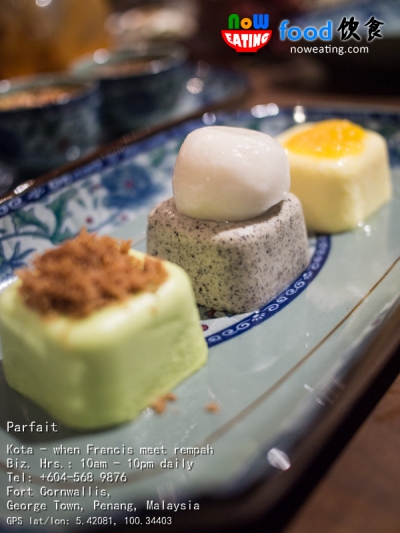 The second one being Parfait (RM19) which again come in three flavors – Black Sesame topped with Peanut Glutinous Ball, Pandan, and Jack Fruit. Overall, we pretty much enjoyed their desserts.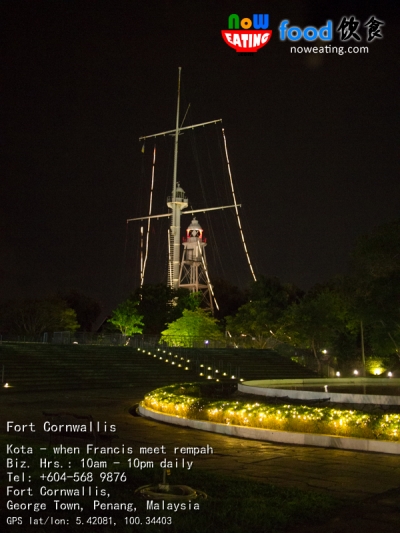 Overall, KOTA is an ideal place for a quality coffee time and relaxation under the hot sun (or raining day) thanks to its cozy environment. The management is also planning for some big events in near future so stay tuned. We can't really remember when is the last time Fort Cornwallis opens in the evening but thanks to the management company, the park is now well-lid at night. Care for a walk?
* The voucher is only valid on the date of purchase
* The voucher is only valid with a minimum purchase of RM20
| | |
| --- | --- |
| Place Name: | Kota Dine & Coffee |
| Cuisine: | Chinese, Malay, Indian, Nyonya |
| Address: | Fort Cornwallis, George Town, 10200, Penang, Malaysia |
| Tel: | +60 4-251 9420 |
| Email: | [email protected] |
| Working Hour: | Mon-Sun: 10:00 am-10:00 pm |
| Last Visit: | 20151105 |