The newly opened Ren Ren Tea House 人人茶馆 is located at Jalan Phuah Hin Leong, Penang. If the road name sounds unfamiliar to you, it is the same road with Kai Curry Bar, off Burmah Road after Penang Plaza. We visited it one evening as we heard that they got some kick-ass Tom Yam.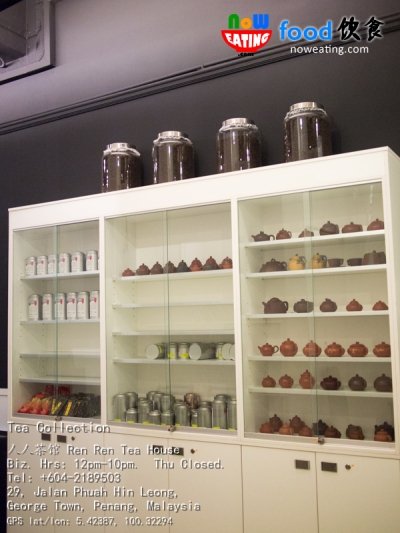 We were lucky that evening as we managed to find a parking in front of the restaurant. Unlike most restaurants, Ren Ren Tea House is equipped with CCTV and door security.  We believe it is for the safety of customers and also their valuable tea leaves and teapots displayed in the cabinets.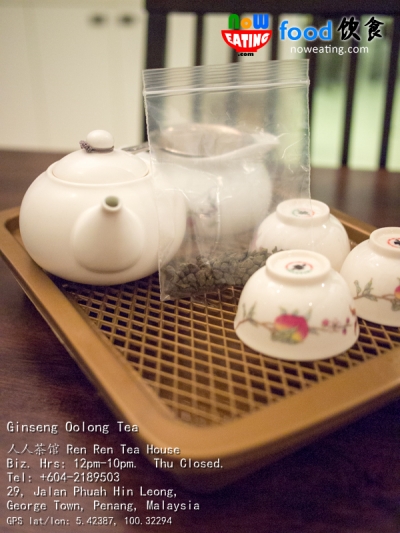 The hosts were quite friendly. There are few dining area with some private rooms. Similar to some tea houses, you will be dining in a quiet environment, allowing you to relax yourself while enjoying Kung Fu Tea. We ordered 10g of Jin Sen Wu Long 人参乌龙茶 (RM10).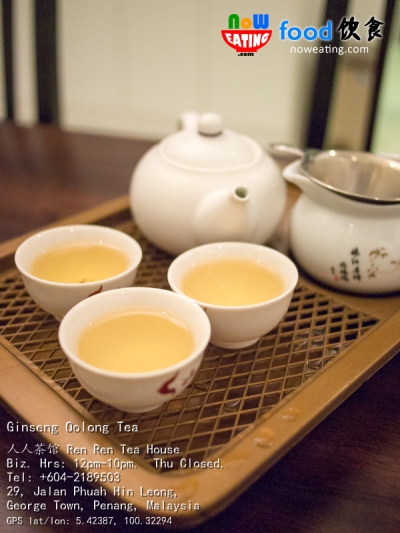 Note that RM5 Beverage Charge (开壶费) is applicable. An electric kettle will be provided next to your table. There are many ways to enjoy Chinese tea but in general, rinse your teapot and cups with hot water. Let the tea leaves soak in the pot for 2-3 minutes before pouring it on cup. Pour the remaining into the mini jar. Never soak the tea leaves in the pot for too long.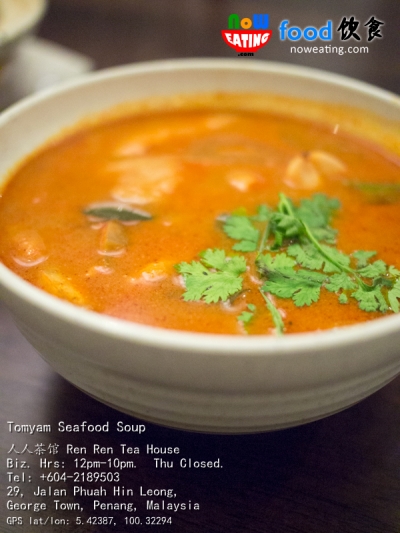 We were lucky that we ordered a pot of tea as all of our main course items were spicy. Ren Ren offers many Chinese/Thai cuisine and is probably the only tea house with the most varieties. Coincidentally, all the main items we ordered were Thai food, including the Tomyam Seafood Soup (RM20).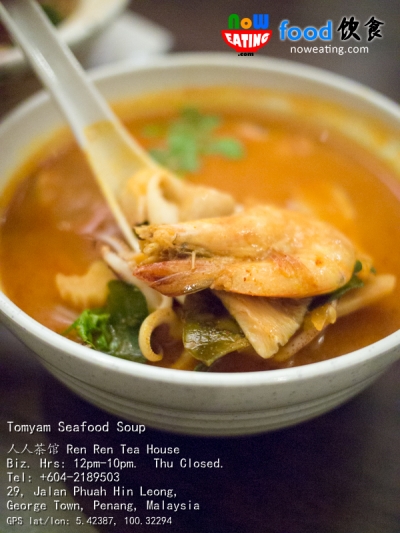 The Tomyam was quite spicy but addictive as well. The seafood, including whole prawns, fish slices and squids, were quite fresh.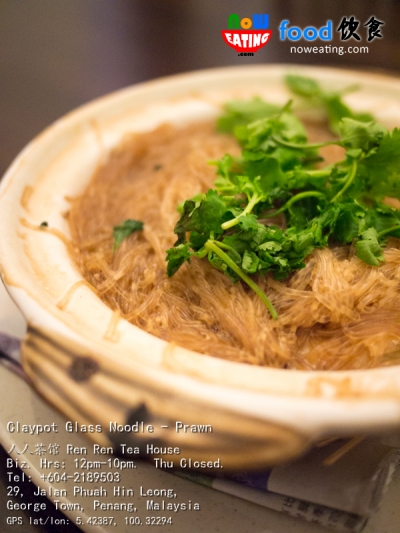 Claypot Prawn Glass Noodle 砂锅冬粉虾 (RM20) was not bad as well and can easily beat some famous Thai restaurants in Teluk Kumbar. The later was too dry for our liking whereas this one was just perfect.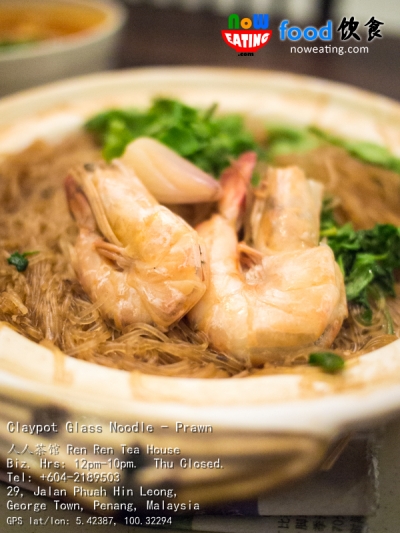 Beneath the glass noodle 冬粉 are fresh prawns. Note that even though this item looks mild, it can be quite hot thanks to black peppers hidden at the bottom.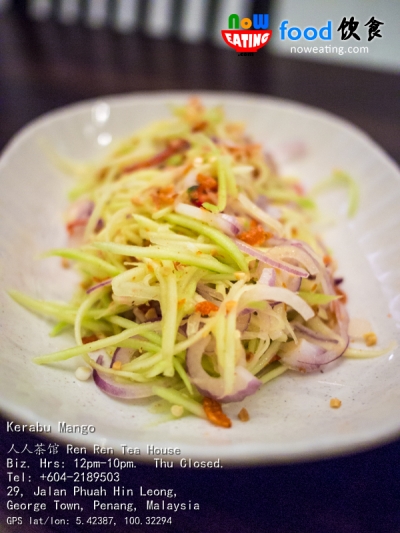 We almost used up all the tissues on the table but still, we ordered Kerabu Mango 加拉姆芒果 (RM12). Another spicy item indeed. All the food we tried that evening were well cooked to restaurant standard, probably from a veteran chef. Definitely not like a tea house which is just opened for few weeks.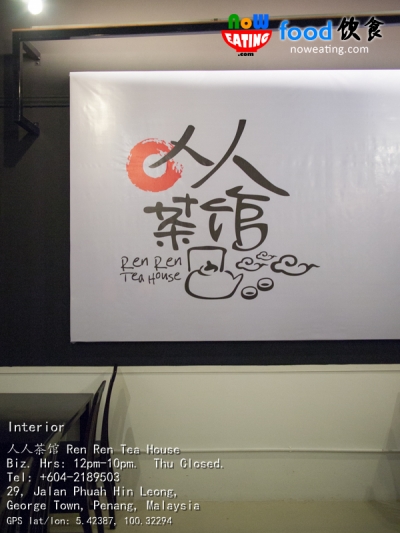 As first glance, Ren Ren Tea House is more than just a tea house and is definitely worth multiple visits. The tea house opens from 12pm to 10pm and is closed on Thursday.  Tea leaves are also available for sales.
| | |
| --- | --- |
| Place Name: | Ren Ren Tea House 人人茶馆 |
| Cuisine: | Chinese |
| Address: | 29, Jalan Phuah Hin Leong, George Town, 10050, Penang, Malaysia |
| Tel: | +604-218 9503 |
| Email: | [email protected] |
| Working Hour: | 12pm - 10pm. Thu Closed. |
| Tax: | No |
| Last Visit: | 20151118 |