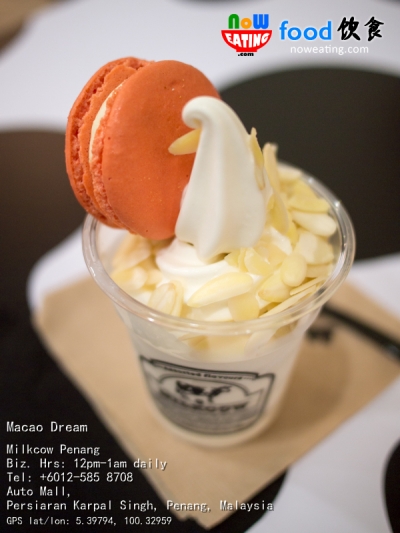 Craving for ice cream in the middle of the night? Now you have a healthier option than having a cup of sundae in a fast food chain. The new option is Milkcow at Automall, Karpal Singh Drive, Penang which if soft launched on 24-Nov-2015.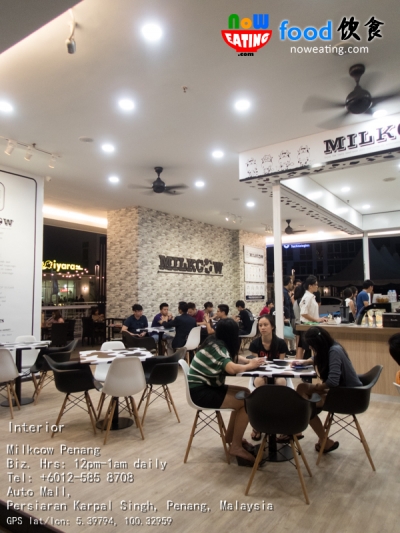 It was a surprise for us that even at 10:30pm, we were still having difficulty in finding parking space at Karpal Singh Drive. No doubt, many teenagers were there, either having meals with friends in one of the cafes or just having a stroll next to the sea.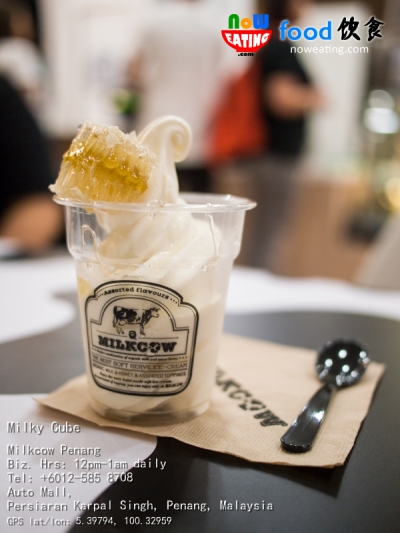 Milkcow is actually a franchise from Korean and is specialized in soft serve ice cream. Compared to competitors, Milkcow uses organic milk as the main ingredient. Other than being healthier, Milkcow also uses premium toppings such as natural honey comb.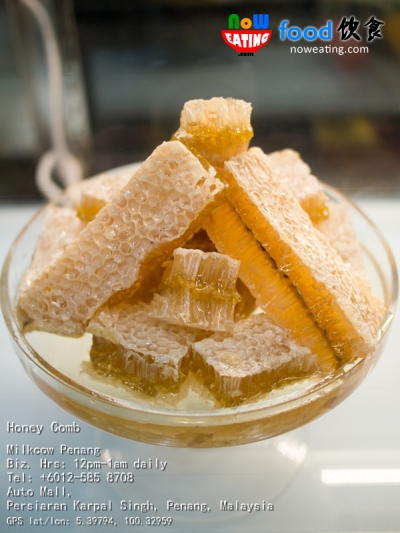 Milky Cube (RM13.50) is also their signature item. Furthermore, their honey comb is 100% organic. We particularly enjoyed the texture of the spongy comb being soaked in soft serve ice cream.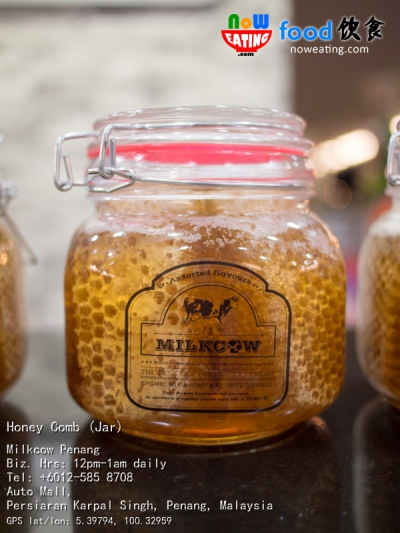 Like the honey comb? You can even bring back home a jar of organic Honey Comb at the price of RM130. We usually have a glass of warm honey lemon at home early in the morning.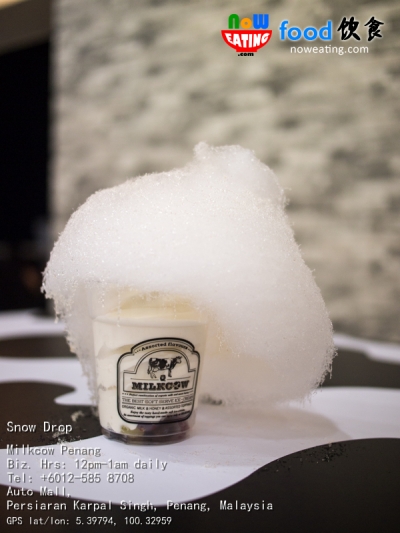 Compared to yogurt ice cream we tried in another shop, the organic milk soft serve ice cream is…. milkier. To be honest, we dislike the milky taste in original milk drink and usually ended up with flavored milk drink such as chocolate milk. Milkcow, however, does not go to such extend. It is more delightful and fluffy to enjoy. Figure shows Snow Drop (RM11.50) made of organic cotton candy, organic salt, and jelly beans.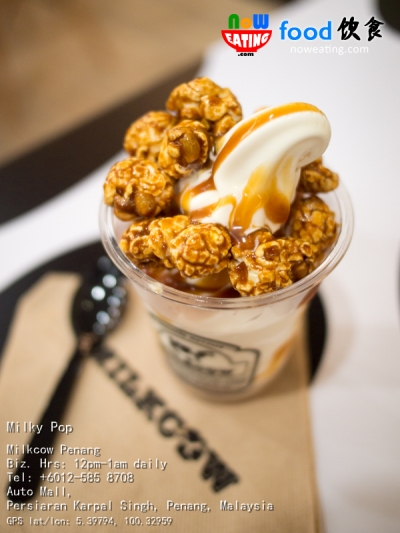 Our second pick being Milky Pop (RM11.50) topped with gourmet popcorn and salted caramel syrup. By the way, plain soft serve ice cream (without any topping) is also available at the price of RM8.50.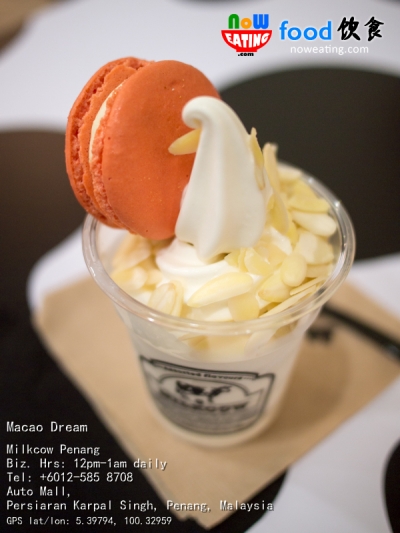 Sweet tooth? Try their homemade macaroon topping with almond flakes (RM13.50). Macaroon is usually too sweet for us but surprisingly Milkcow's version is not over sweetened.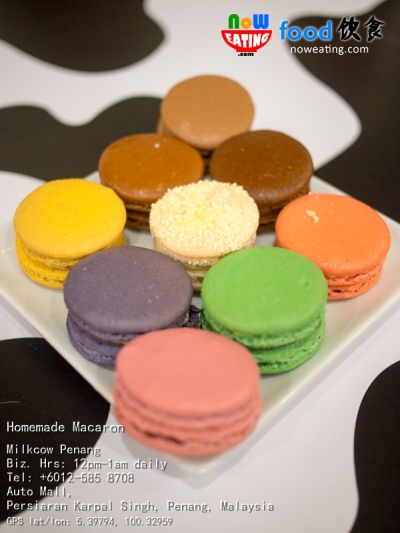 There are surprisingly quite a number of choices for macaroons, including:
Rose & Lychee
Salted Caramel
Honeycomb
Chocolate Mint
Salted Popcorn
Peanut Butter
Red Velvet
Nutella
Cappuccino
Our top pick being Salted Popcorn.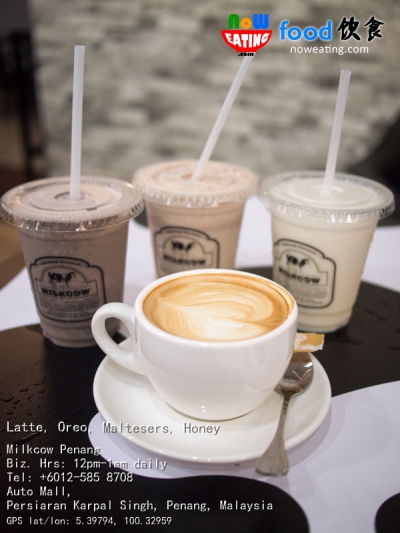 Other than soft serve ice cream, Milkcow also serves some beverages, including coffee and milkshake series. Milkshake is priced at RM11.50 whereas coffee is ranging from RM8.50 to RM11.00. All price inclusive of 6% GST.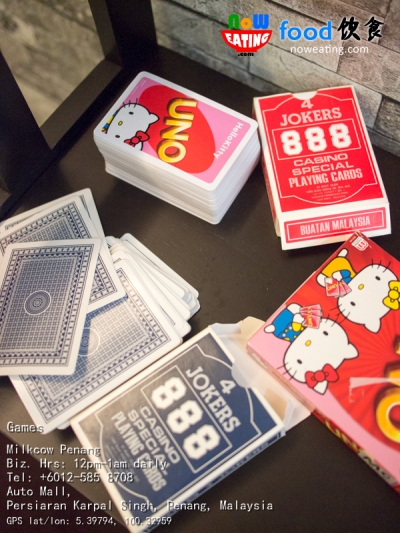 As a whole, Milkcow provides healthier and premium soft serve ice cream compared to competitors. The Penang outlet is opened daily from 12pm to 1am. With spacious dining environment and tower/card games provided, it is an ideal place for gathering.
| | |
| --- | --- |
| Place Name: | Milkcow |
| Cuisine: | Other |
| Address: | Automall, Karpal Singh Drive, Penang, Malaysia |
| Tel: | +6012-585 8708 |
| Working Hour: | 12pm-1am daily |
| Last Visit: | 20151126 |