US Pizza at Greenlane, Penang was one of the restaurants we blogged at early stage. The name sounds like a pizza franchise from United States but actually it is a restaurant opened by Malaysian, for Malaysian. As the time passes by, some outlets were closed and the Greenlane outlet is the only one in Malaysia. By the way, US Pizza is located nearby Gembira Parade (GPS: 5.385688, 100.304379) and is hidden from the main road so it can be difficulty to spot at first.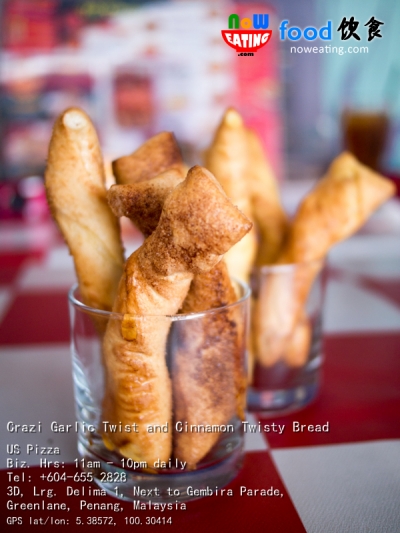 Being the only outlet has one advantage, that is, the current owner has the full right to revise its menu. We recently visited the outlet for their new menu – the square pizza and personal pizza but first, let's had US Pizza's signature starter – Crazi Garlic Twist (RM3.95) and the sweet new Cinnamon Twisty Bread (RM3.95). Both are good enough to enjoy without any mushroom soup.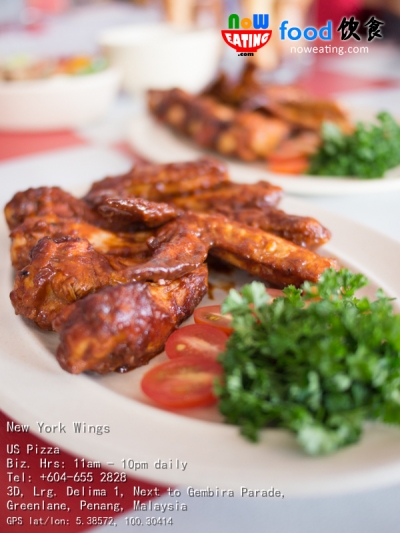 New York Wings (RM6.95 for 4pcs) is a chef recommendation with grilled chicken wings being coated with original Hickory Smoke BBQ Sauce.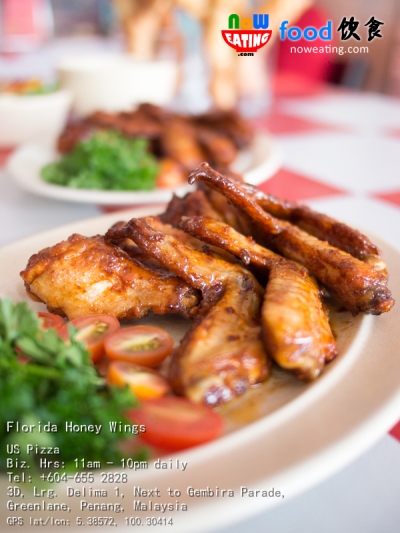 Alternatively, you may go for Florida Honey Wings – an item so new that it is not yet in their current menu. The first one has mild spiciness whereas the later is sweet. The choice is yours.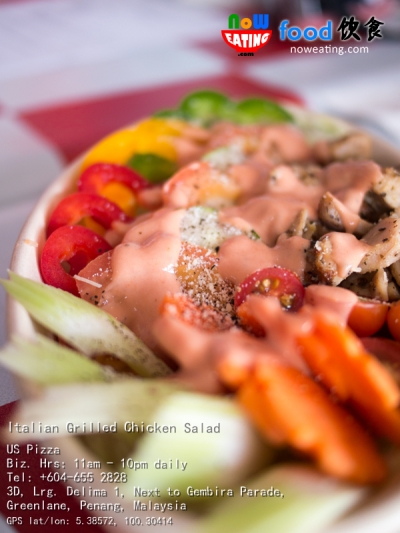 Italian Grilled Chicken Salad (RM10.00) is another quality salad made of green/yellow/red capsicum, celery, carrot, cucumber, tomato and cherry tomato.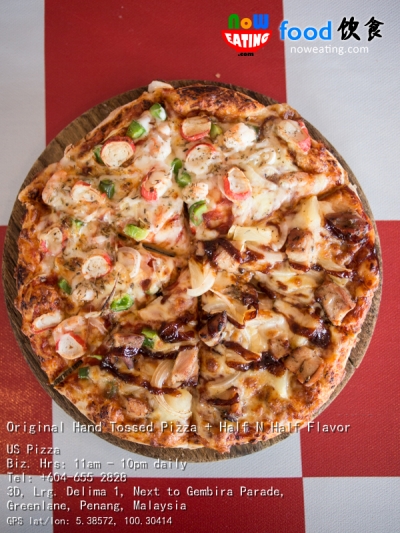 US Pizza offers more than 16 types of pizza but it does not mean that you need to visit 16 times in order to try them all. Unlike some pizza restaurant chains which go by the book, US Pizza introduced Half & Half pizza. By adding RM2.00 for regular and RM3.00 for large pizza, you can choose two flavors in one pizza. The one we ordered was Original Hand Tossed Ocean Delight + Texas BBQ Chicken.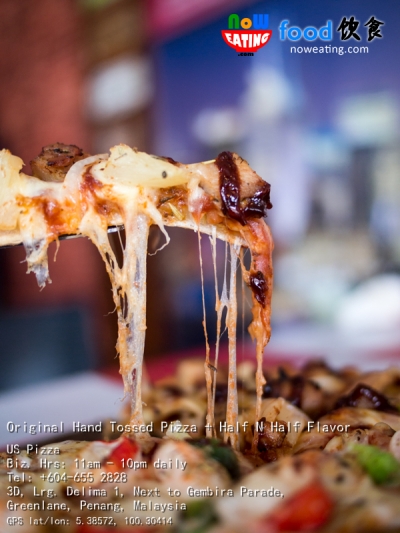 US Pizza offers three type of crusts:
Original Hand Tossed: Thicker but firm. RM23.95 for regular (9″) and RM32.95 for large (13″).
Thin N Crunchy: Thin and crunchy as the name applies. Add RM1.50 for regular and RM2.50 for large.
Garlic Cheese Crust: With added garlic and cheese. Add RM1.50 for regular and RM2.50 for large.
We pretty much enjoyed each one of them as they were handmade to perfection on the spot as opposed to some ready-made dough used by some restaurants.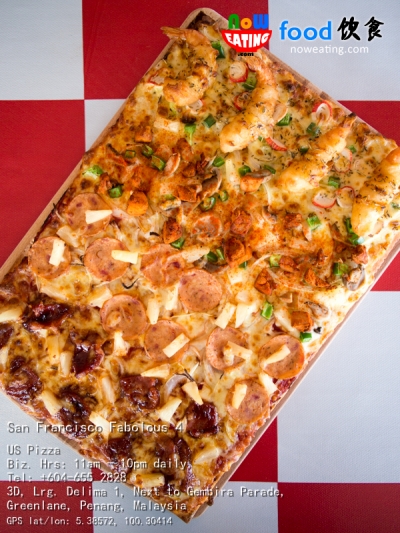 US Pizza even think outside the box by introducing square pizza – San Francisco Fabulous 4 containing four toppings carefully selected by the chef:
Carbonara (White) Sauce, Tempura Prawn, Chunky Crabmeat Stick, Capsicum, Mayonnaise, Mixed Herbs, Onion
Carbonara Sauce, Spicy Chicken, Capsicum, Onion, Mushroom, Pineapple Cayenne Pepper
Duncan (Red) Sauce, BBQ Smoked Duck, Onion, Pineapple
Duncan Sauce, Chicken/Beef Pepperoni, Pineapple, Onion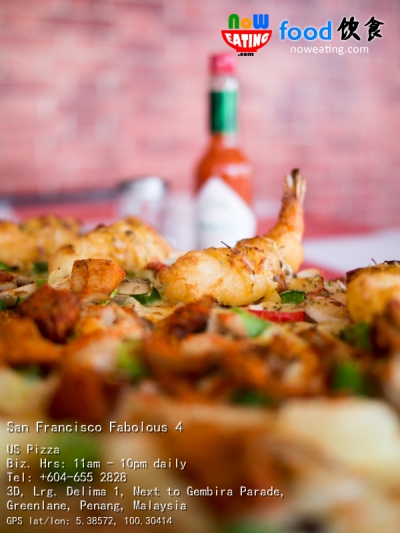 Made of Thin and Crunchy Crust, each slice from this Fabulous 4 is a surprise for us. We particularly enjoyed Tempura Prawn and BBQ Smoked Duck which never seen before in any pizza.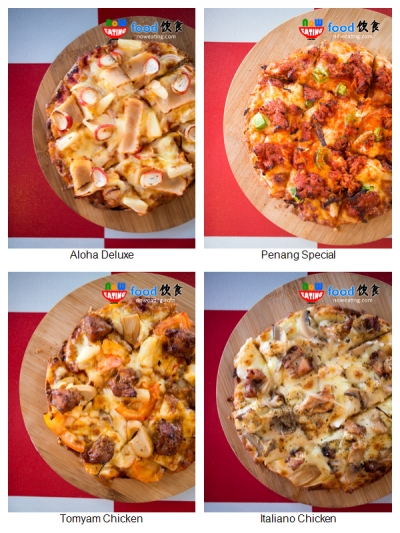 US Pizza also introduced the all new 6″ crunchy pizza designed for individual (RM12.95 each). Note that the new personal pizza is not just reduced in size, but also takes one step further by baking the crust to be more brownish, burnt and crunchier than the existing Thin & Crunchy dough on regular and large pizza. Starting November, US Pizza is offering Fantastic 4 promotion in which you can select 4 personal pizza with different topping at the price of RM32.95.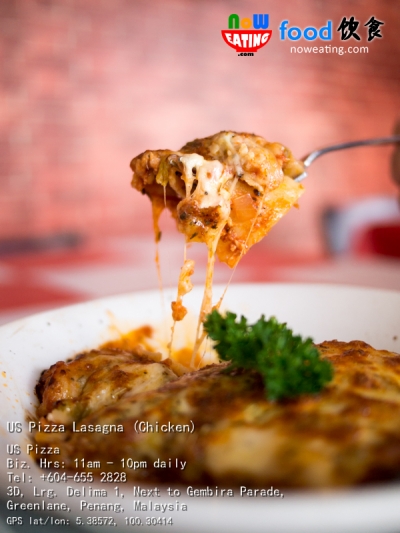 Despite being a pizza specialist, US Pizza Lasagna (Chicken) (RM19.50) is a dark horse in which it tastes better, fresher, and creamier than the one in a lifestyle cafe chain.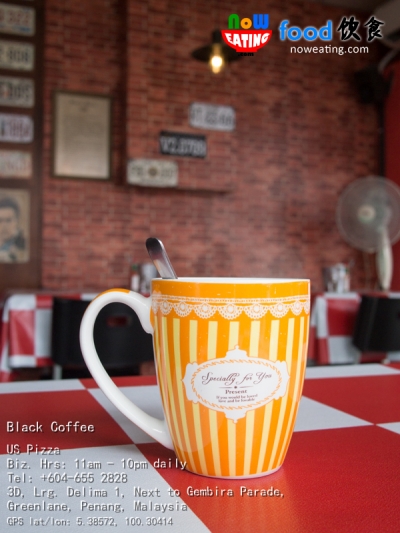 Last but not least, getting sick of soft drinks and ice lemon tea, we had a cup of black coffee. Overall, US Pizza provides better handmade pizzas compared to some restaurant chains with more toppings. Penangites who prefer something spicy can even go for their special Penang Special (anchovy/green pepper/onion/tuna/chili powder) or Tomyam Chicken Deluxe pizza. For customers of four, we recommend the new San Francisco Fabulous 4.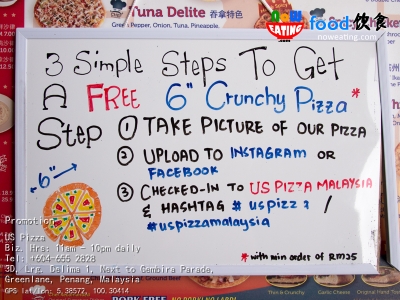 US Pizza is pork-free. It also offers delivery service up to Bayan Lepas area (Tel: 1300-22-3838/04-655 2828). If you are too shy to call them, you may drop a message on their Facebook and they will take your delivery order accordingly. US Pizza opens daily from 11am – 10pm. Be sure to ask the host for current promotion.
| | |
| --- | --- |
| Place Name: | US Pizza |
| Cuisine: | Western |
| Address: | 3D, Lorong Delima 1 (Next to Gembira Parade), Greenlane, Penang, Malaysia |
| Tel: | 1300-22-3838/04-656 2828 |
| Working Hour: | Mon - Sun 11am - 10pm |
| Last Visit: | 20151107 |