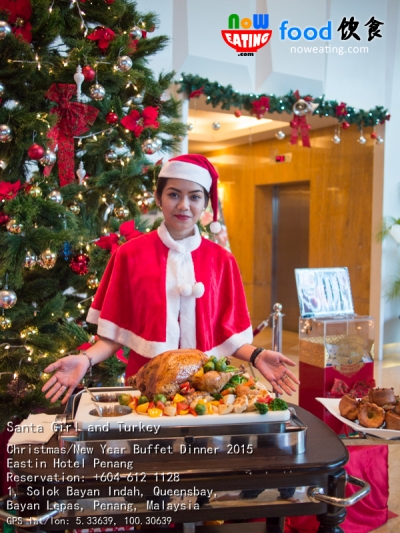 In conjunction with Christmas, Eastin Hotel Penang is pleased to offer you Christmas Eve and Christmas Day Buffet starting from RM82 nett per adult. We attended its preview session for some highlights of the buffet.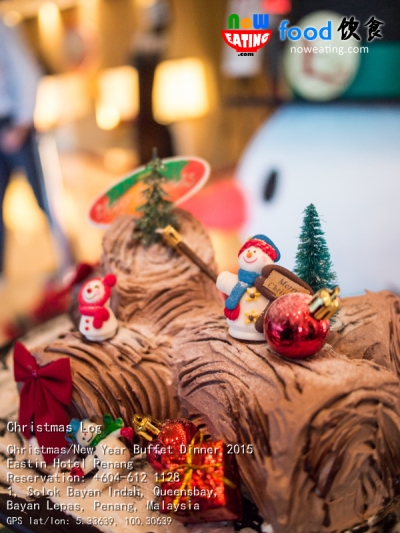 It has been a few months since we last visited Swez Brasserie in Eastin Hotel Penang and we were told that the restaurant was undergoing renovation recently. In the month of Christmas, Eastin Hotel Penang is setting up some Christmas decors so guests will have some photo-shooting opportunities around the hotel. (Figure: Christmas Log cake for buffet)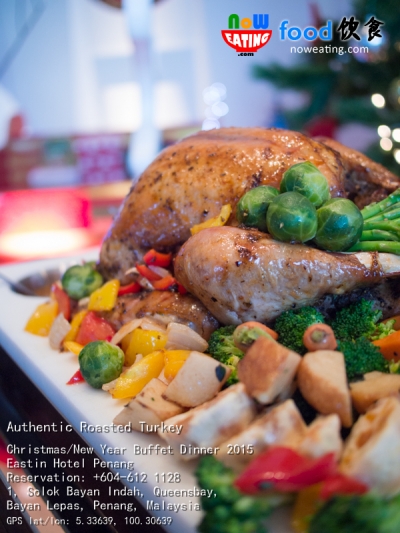 In the month of December, Eastin Hotel Penang basically have four special buffet events:
Christmas Eve Buffet Dinner
Christmas Day Hi-Tea (Lunch)
Christmas Day Buffet Dinner
New Year Eve Buffet Dinner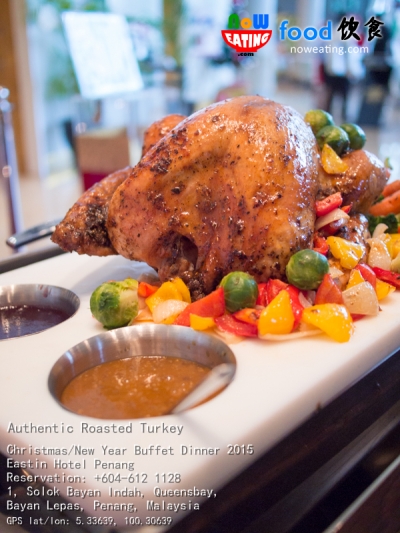 During our recent visit, perhaps the key item is the Authentic Roasted Turkey with Classic Ingredients and Condiments. Best dipped with homemade sweet and sour sauce, this item will be available in buffet spread for Christmas Eve and Christmas Day.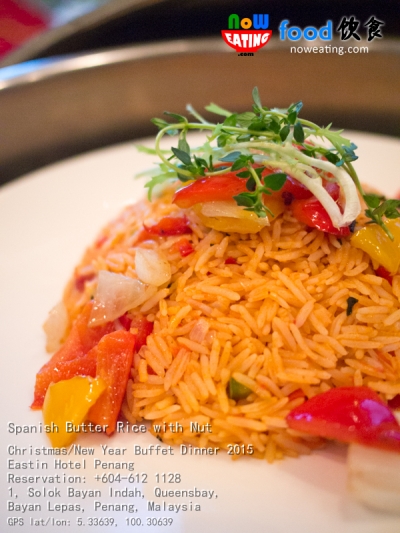 Eastin Hotel Penang's Christmas buffet is generally an International buffet with cuisines from all around the world such as this Spanish Butter Rice with Nut made of long-grain rice, butter and stewed tomato to name a few.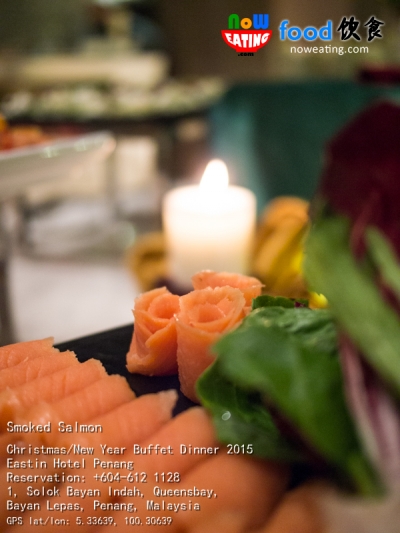 Japanese cuisine such as smoked salmon – one of our favorite appetizers is also available.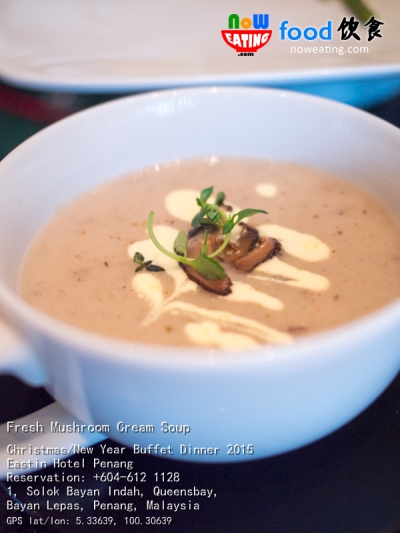 Similar to most 4 to 5-star hotels, soup such as Fresh Mushroom Cream Soup, breads and salad can be found on buffet spread as well.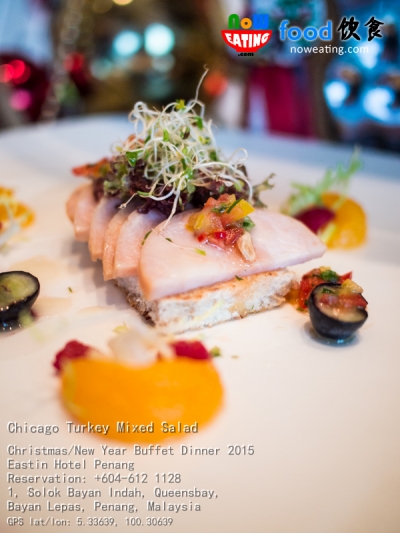 This year, we observed that chefs put a lot of effort on appetizers by creating some specialties not seen in other hotels, including Chicago Turkey Mixed Salad. Who would expect the turkey ham tastes so good on a toasted bread?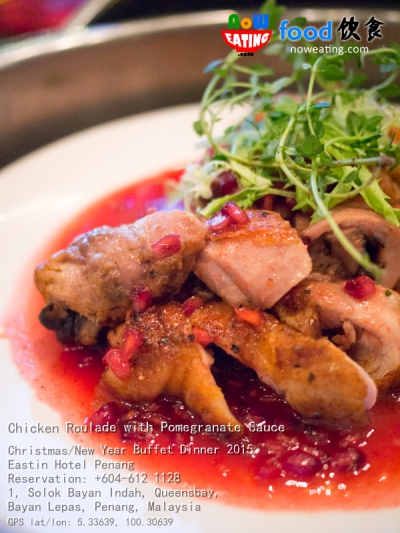 As for the main course, the dish which impressed us most was the Chicken Roulade with Pomegranate Sauce. The chicken is rolled with sliced mushroom along with herbs before dressing with sweet and unique pomegranate sauce.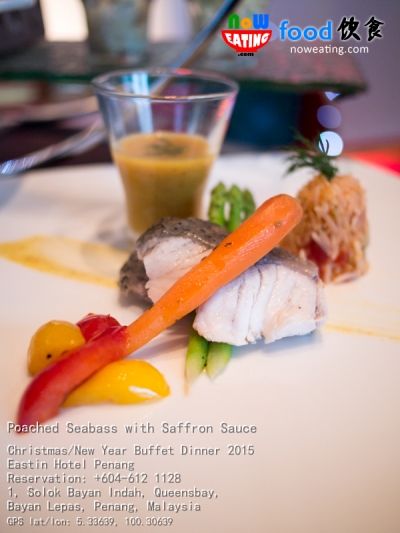 Figure: Poached Seabass with Saffron Sauce
Christmas buffet is available at the following price:
Christmas Eve Buffet Dinner
24-Dec-2015 6:30pm-10pm
RM168 nett (adult)
RM80 nett (child)
Christmas Day Hi-Tea
25-Dec-2015 12pm-3pm
RM82 nett (adult)
RM40 nett (child)
Christmas Day Dinner
25-Dec-2015 6:30pm-10pm
RM118 nett (adult)
RM55 nett (child)
Early Bird for first 80 persons with full payment before 15 Dec 2015 will entitle for 25% discount. Senior citizen (60 years old and above) is entitled for 25% discount.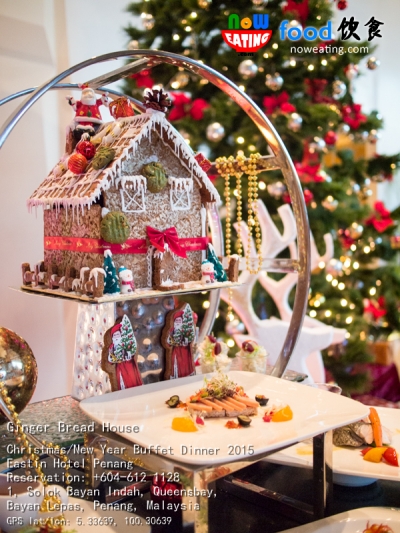 For the convenience of our readers, we have uploaded a set of buffet menu below so that you can have a glance on all items available in the buffet. For inquiry or reservation, kindly call +604-612 1128