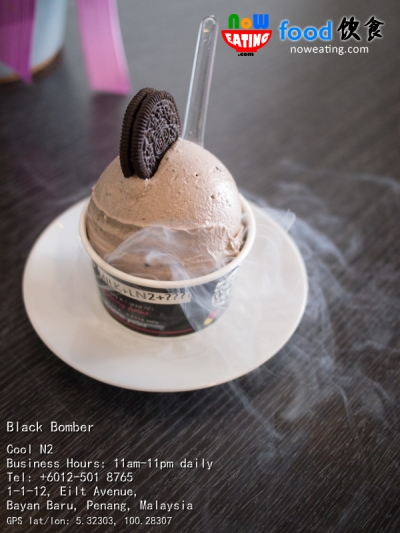 This Christmas ain't that hot in Malaysia with many new ice cream brands landed in Penang island such as nitrogen ice cream which to be covered in this post. We managed to visit this newly opened Cool N2 分子虎 ice cream shop at Elit Avenue, Bayan Baru, Penang recently.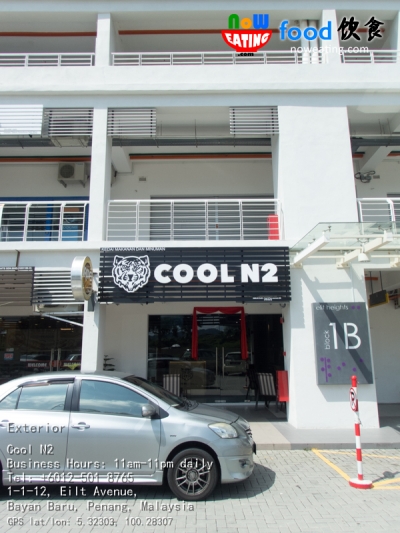 Cool N2 分子虎 is headquartered in Taiwan and the Elit Avenue outlet is the first official franchise in Malaysia. The outlet had its grand opening on 22-Nov-2015.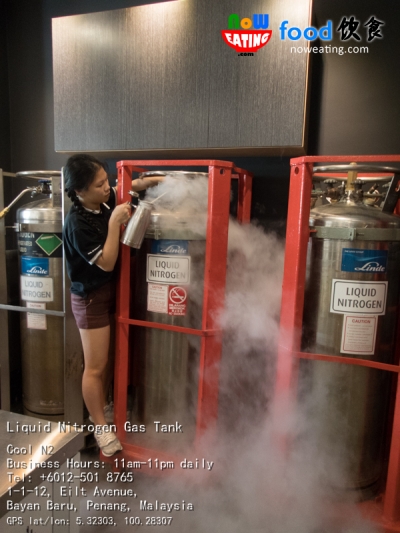 Even though we already returned all chemistry knowledge to our teachers back in secondary school, nitrogen is pretty common in real world such as being a refrigerate element for medical products or as the filler in tires for vehicles. It has chemical symbol of N (hence N2) and is extremely light. The boiling point is -195.79°C. In other words, it is in gas form at room temperature and basically will freeze everything it contacts.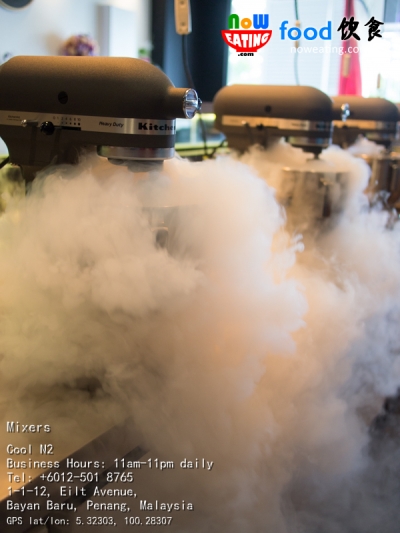 Before visiting Cool N2, our initial thought about nitrogen being used on ice cream was that it could be just a marketing gimmick. It turned out that we were wrong. The ice cream is made-to-order using imported mixers and is frozen using liquid nitrogen.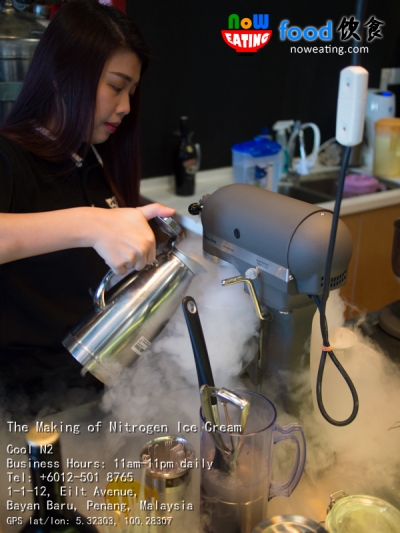 According to the owner, a cup of ice cream will take about 5 minutes to prepare so customers are encouraged to witness the making of nitrogen ice cream while waiting.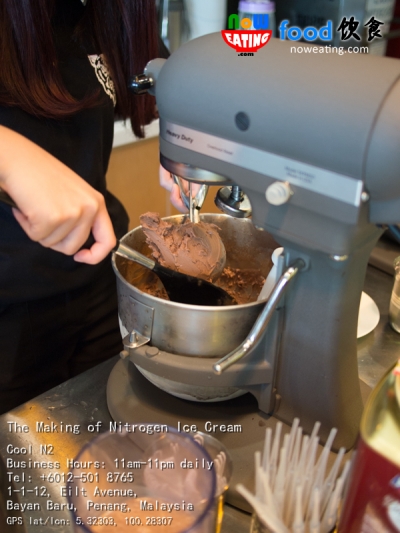 Is it worth the wait? The answer is YES. First of all, the ice cream is made of fresh milk instead of whipping cream. This allows lighter texture. Secondly, the fast-freezing using nitrogen allows the ingredients to retain its freshness and original taste. The outcome is a cup of light and smooth ice cream similar to premium ice cream out there, if not exceeding.
Total of 6 flavors are available during our visit:
Sunday Beach
Genmaicha Matcha
Black Bomber
Winnie The Pooh
Cupid
Make-Up Whiskey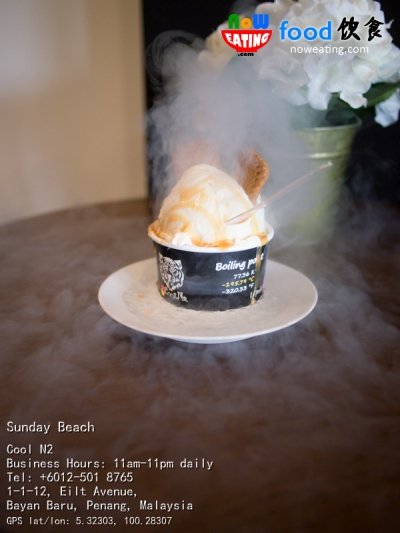 Among them, Sunday Beach (RM16.90) is made of caramel and is also our top pick for non-alcoholic ice cream. By the way, it is suggested to wait for the submilation of liquid nitrogen to end before touching the cup or plate as it may cause frostbite on your fingers if not properly handled.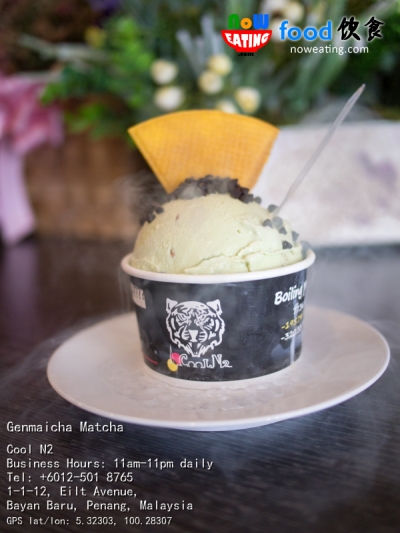 Genmaicha Matcha (RM16.90) is a mixture of green tea with brown rice tea. From experience, it can be a hit or miss depending on whether you like the roasted taste of brown rice. For us, it is definitely a hit. It is also less sweet compared to some commercial green tea ice cream.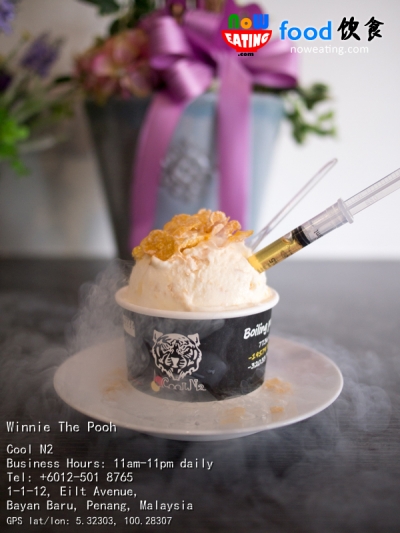 Black Bomber (RM16.90) as shown in first figure of this post is basically an Oreo ice cream whereas Winnie The Pooh is a milky ice cream topped cornflakes and honey dressing. Sweet tooth? A syringe containing additional honey is provided so that you can adjust the sweetness level accordingly. Eating Winnie The Pooh is like eating ice cream as breakfast.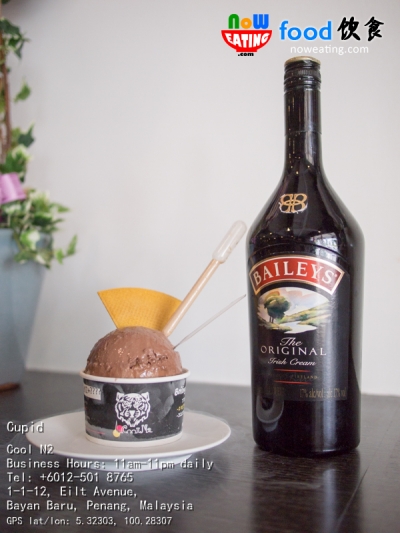 One advantage of fast-freezing made-to-order ice cream is that it can retain the original taste of distilled beverage such as Baileys or Whiskey. If you can go well with alcoholic beverages, we strongly recommend you to try their alcoholic series, including Cupid (Baileys) and Make-Up Whiskey (RM19.90 each).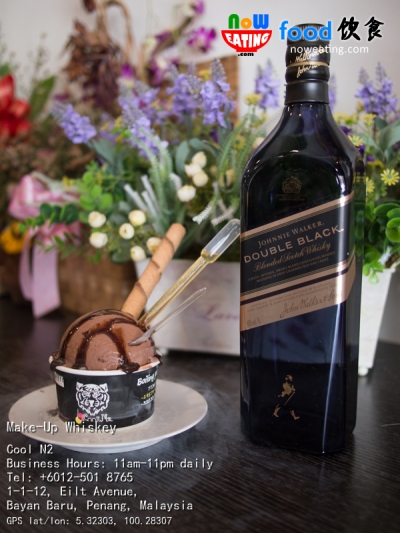 While Cupid is made of Irish's Baileys whiskey and is very suitable for chocolate lover, Make-Up Whiskey is made of Johnnie Walker Double Black. The sharp whiskey taste could be overwhelming at first but after a few scopes, we were getting addicted to it. Each of them comes with a "booster" syringe in case the liquor is too mild for some reasons.
As a whole, Cool N2 offers lighter and smoother made-to-order nitrogen ice cream not only appealing outside, but also healthier inside. According to the owner, the menu will change every three months. Can't make up your mind on which one to choose? Free sampling is also available. Cool N2 is opened daily from 11am to 11pm.
| | |
| --- | --- |
| Place Name: | Cool N2 |
| Cuisine: | Other |
| Address: | 1-1-12, Elit Avenue, Bayan Baru, Penang, Malaysia |
| Tel: | +6012-501 8765 |
| Working Hour: | 11am-11pm daily |
| Tax: | Price included GST |
| Last Visit: | 20151210 |