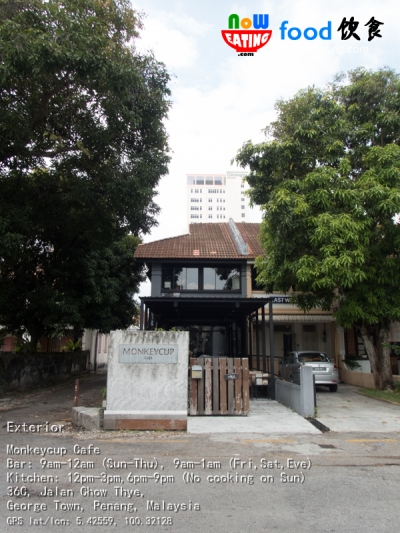 Serving Western and Thai cuisines under one roof, Monkeycup Cafe is opened since 9-Jun-2014 and is located at Chow Thye Road (off Burmah Road), George Town, Penang, same road with JanxDan Vegetarian Restaurant and Harvest In Cafe.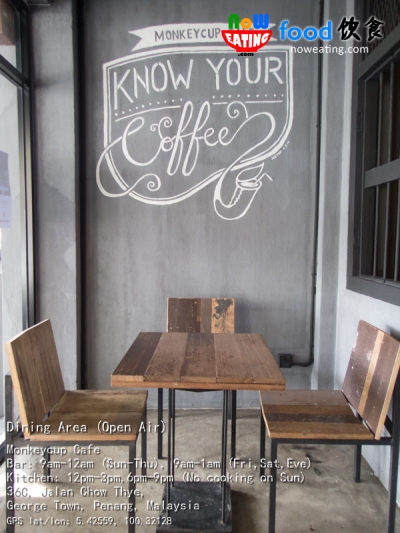 We visited Monkeycup one afternoon. Parking-wise, if you are in luck, you may find a parking space along Chow Thye Road. Alternatively, a private parking lot is available behind the cafe (enter via the alley right next to the cafe) with RM2 per entry. Monkeycup has three dining area, including an open air area, …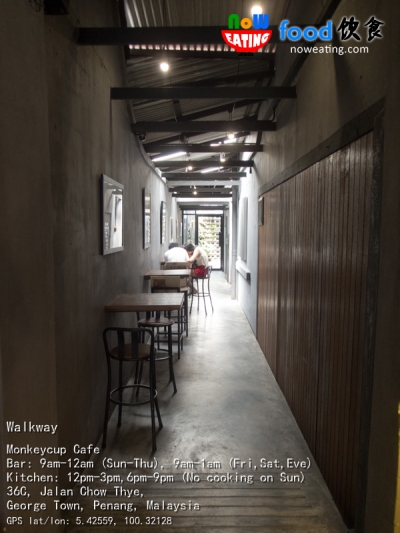 … air-conditioned area, including the signature narrow walkway caters for solo or couple customers, …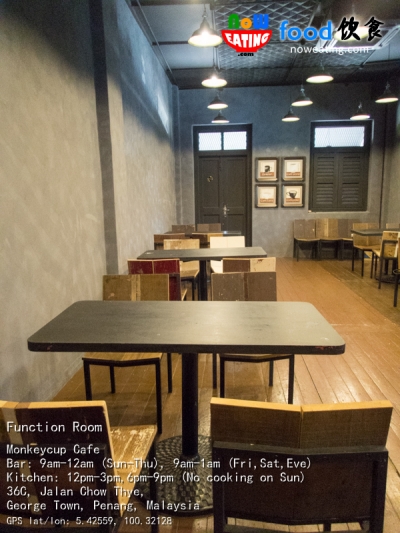 … and function room on the first floor. The function room can cater for 30+ customers and is usually reserved for private events.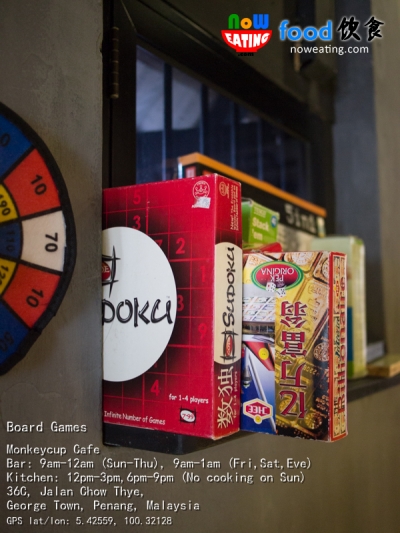 Board games are also available for casual diners looking for a place to hang out.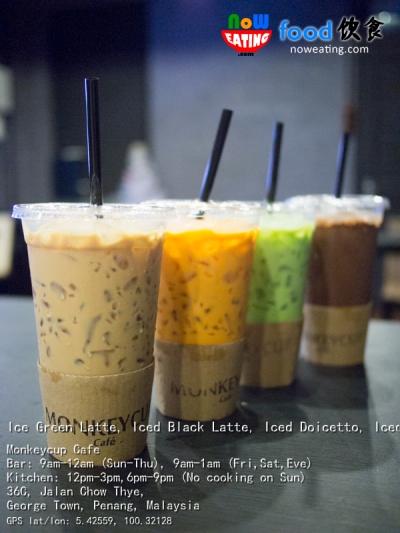 We were welcomed by their signature Thai iced drinks – (front front to back) Iced Doicetto, Iced Black Latte, Iced Green Latte (RM12.90), and Ice Cocoa (RM13.90). One uniqueness of Thai iced drink is that the ice is crushed into smaller pieces instead of larger ice cubes. The hot drink will immediately chilled when flowing through the crushed ice. Compared to ice cubes, your drink will be less diluted in water with crushed ice. Our personal favorite being Iced Doicetto which is a Thai-style coffee.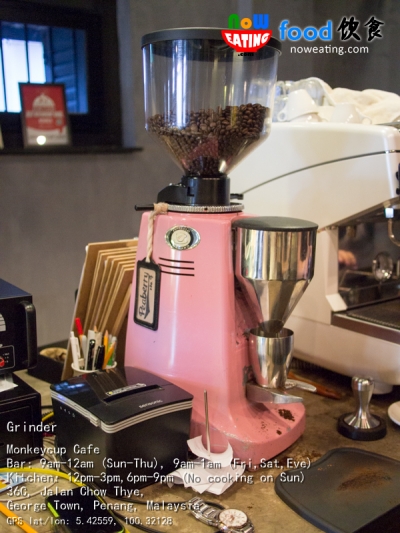 Of course, hot coffees are also available. As a matter of fact, Monkeycup positions itself as a place for coffee. Coffee is brewed from peaberry – a premium oval-shaped coffee bean instead of normal flat bean. Equipment-wise, Monkeycup uses an old grinder. Sometimes old is gold.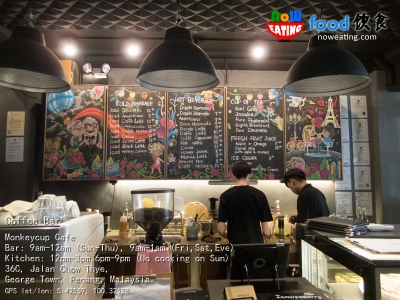 Beverage menu is available on the blackboard behind the coffee bar. By the way, they just invited a talented college student to redesign their board in conjunction with the upcoming Valentine Day.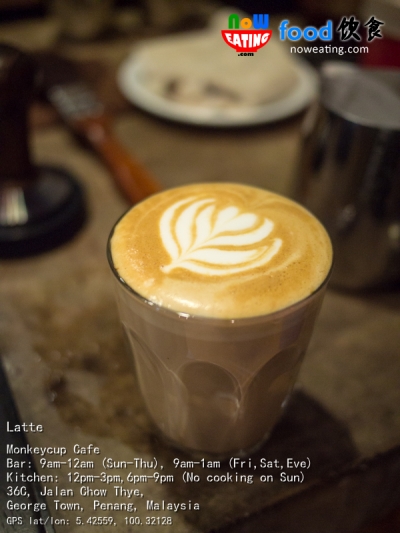 Personally, we had a cup of latte (RM10.90) that afternoon.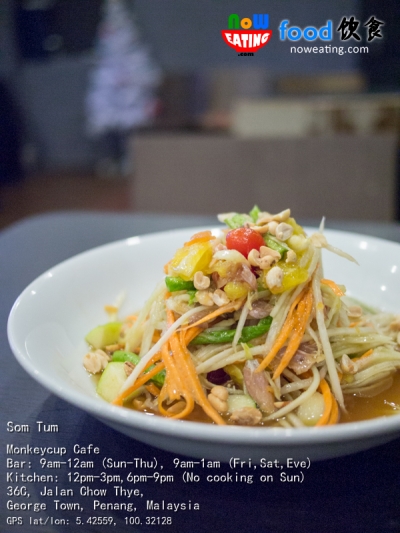 Monkeycup is a bit special. From the appearance, it looks like a western cafe but if you take a closer look on its menu, it has some Thai cuisines as well. The chef's master is actually a Thai and thus the Thai cuisine. We found our favorite Thai appetizer – Som Tum (RM12.50) there. Unlike those commonly sold at roadside, this Thai-style green papaya salad with mild spiciness has some fruits mixed with it, making it tastes more luxurious.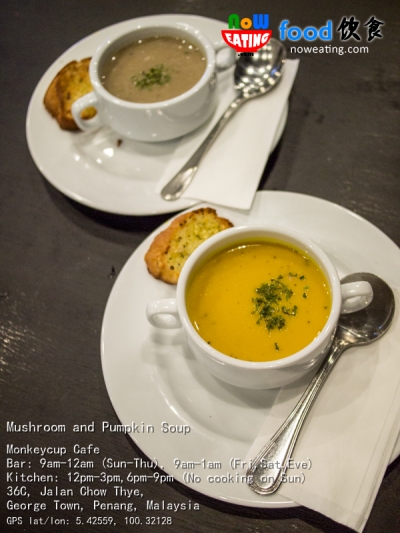 Other starters include homemade mushroom soup and pumpkin soup (RM7.90 each). We like the mushroom soup as it is one of the few restaurants out there providing finely blended mushroom soup instead from canned products.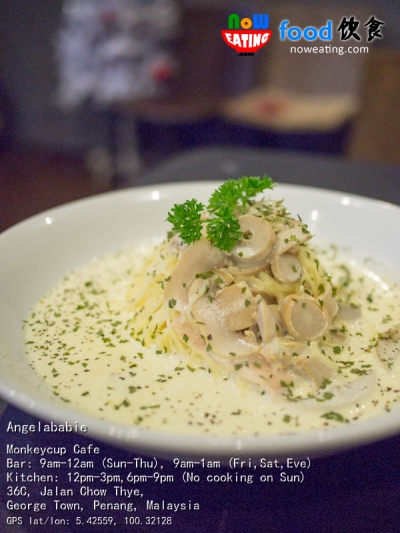 Monkeycup positions itself as affordable luxury cafe. Their prices are quite suitable for working class considering most of the cafe food out there already begin with figure "2" on their prices in which we found them to be a bit overpriced. Their pasta series, such as the signature Angelababie, is only priced at RM12.80. The creamy angel hair pasta is topped with chicken ham, mushroom and spinach. As a Carbonara lover, we found it quite delightful to enjoy and can easily finish the whole plate without much hesitation.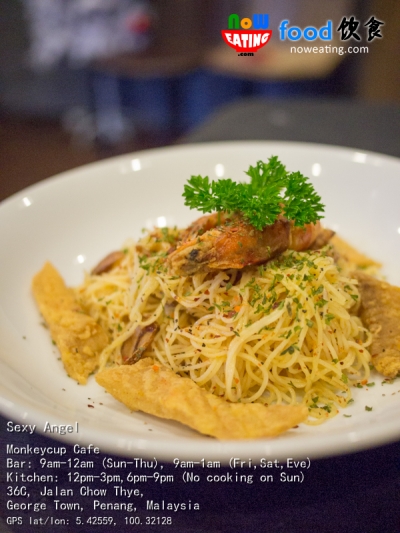 Angel hair pasta seems to be a popular trend nowadays. The thin Italian pasta goes well with soups or served dry. For those with spicy taste buds, Sexy Angel (RM17.80) is a recommended dish. The ingredients are similar to Aglio Olio with garlic, olive oil and seafood, except it is stir-fried with al dente Angel Hair pasta.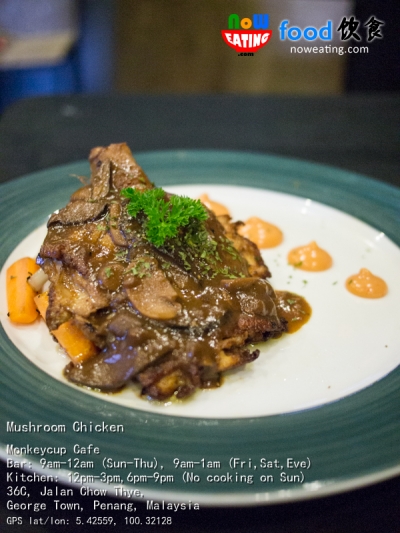 Even the common grilled Mushroom Chicken (RM15.50) also has some surprises for us. Beneath the de-boned chicken thigh is saute potatoes instead of common mashed potatoes. Served with fresh veggies and mushroom sauce.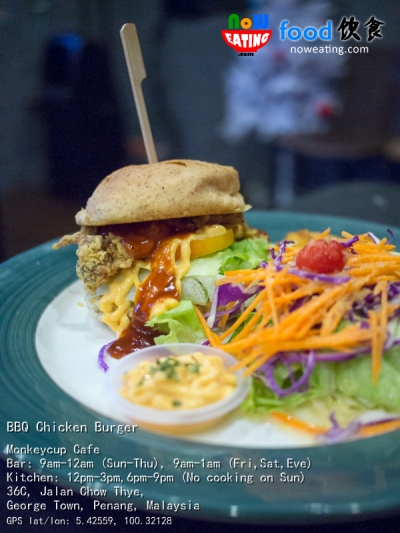 BBQ Chicken Burger (RM15.50) – deep-fried chicken served with crisp citrus salad, wedges and BBQ sauce. It has been a while since we enjoyed deep-fried patty (usually in fast food restaurant). The whole de-boned chicken patty is non-oily with subtle skin texture, making it unique compared to other burger chains.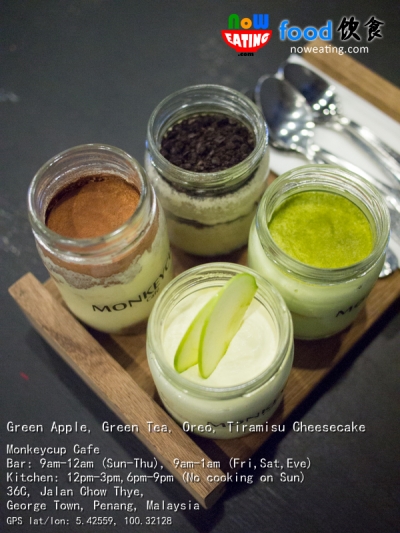 Monkeycup also serves some signature desserts, including the famous cheesecake-in-a-glass, including Green Apple, Green Tea, Oreo and Tiramisu Cheesecake (RM11.90 each). Our personal favorite being Green Apple and Tiramisu. While Green Apple is generally delightful, Tiramisu is slightly bitter. For espresso lover like us, it is fairly acceptable.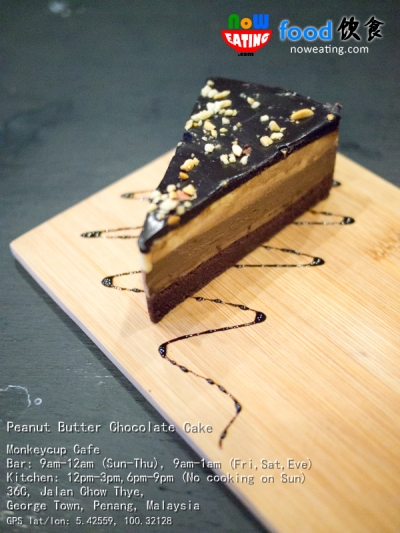 We call this Peanut Butter Chocolate Cake (RM11.90) a fusion cake as it resembles the taste of peanut butter commonly found in local breakfast and the grandeur chocolate to sweeten up your day.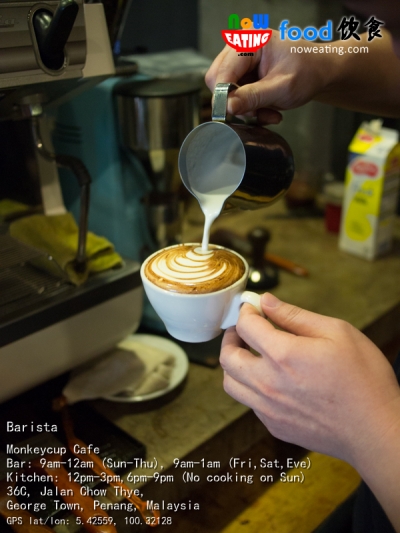 For us, Monkeycup is more than just selling coffees. It is able to serve fast lunch to working class nearby, as well as Western+Thai cuisine which can blended in so well. It was ashamed that we just recently visited it. The bar is opened daily from 9am until 12am (1am on Friday, Saturday and Public Holiday Eve). Kitchen is opened from 12pm-3pm, 6pm-9pm daily. Note that there is no cooking on Sunday.
Place Name:
Monkeycup Cafe
Cuisine:
Western
Address:
36C, Jalan Chow Thye, George Town, 10050, Penang, Malaysia
Tel:
012-209 5536
Working Hour:
Bar: 9am-12am (Sun-Thu), 9am-1am (Fri,Sat,Eve)
Kitchen: 12pm-3pm,6pm-9pm (No cooking on Sun)
Tax:
6% GST
Last Visit:
20160116