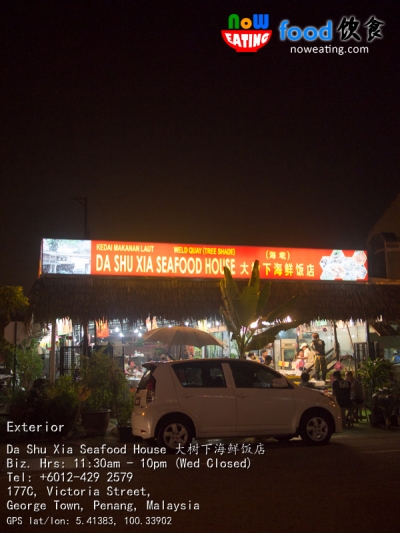 Da Shu Xia Seafood House 大树下海鲜饭店 should not be a stranger for Penangites. It was located under a shady tree (hence "Da Shu Xia") opposite of jetty terminal at Weld Quay. Since last year, it had moved to a walking distance away at Victoria Street, behind BT Food Court.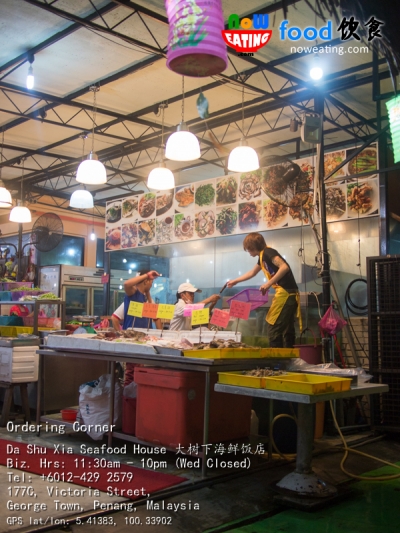 The new building consists of an open air and air-conditioned dining area. Unlike other Chinese restaurants, orders need to be made at the seafood counter. You can also select your seafood ingredients from there. Some ingredients also have price tag on it. Also, you need tell them your table number when ordering.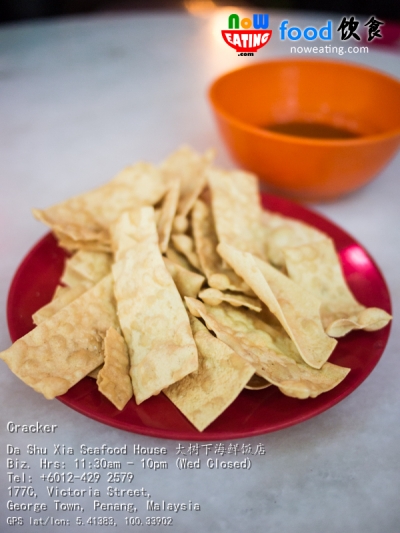 After placing your order, you will be given a complimentary cracker with curry sauce served hot. This is one of their signature dishes.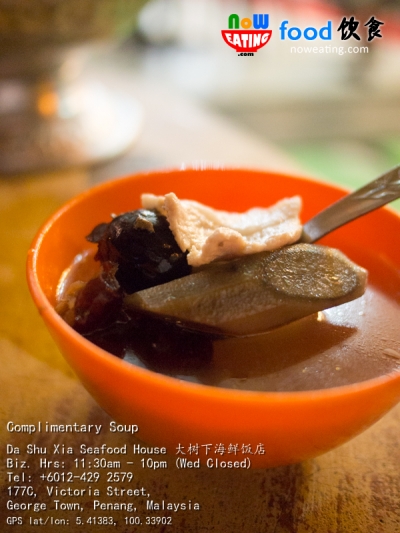 When we visited it back in September 2015, we were even given a complimentary soup of the day but during our recent visits, it is no longer served.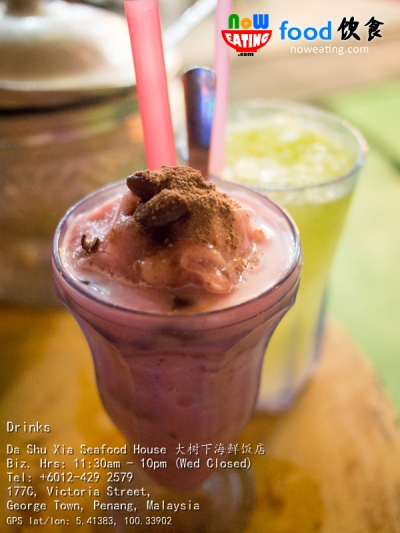 As for the beverage, it is ordered separately. A menu will be given which is kind of surprise considering no menu is given by default when ordering food. There are few exciting drinks in the menu including apple lemon juice, ice-blended series and herbal drinks-in-a-jar.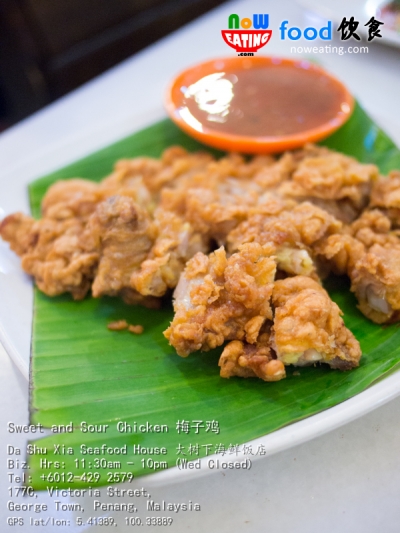 Most of the time, food already arrived before finishing the cracker. A fact we observed here is that most of the ingredients are already pre-processed and the chef only need to rinse them through the hot wok before serving. Sweet and Sour Chicken 梅子鸡, for instant, already pre-fried but why it looks so dry?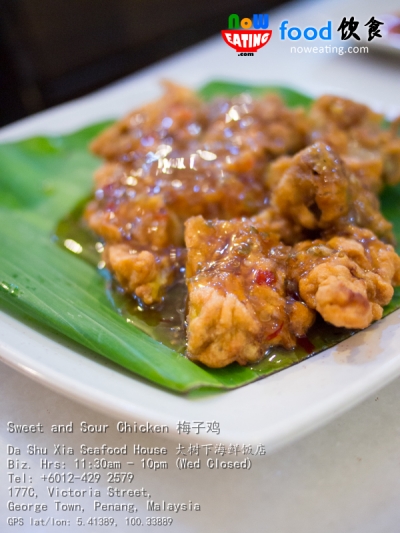 The reason is that the sweet and sour sauce is served separately and we hadn't pour the sauce yet.  By the way, rice is by headcount and is served in a metal container similar to Thai restaurants.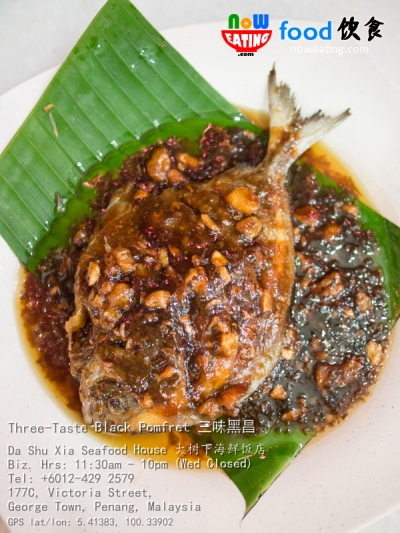 Back in old time, some said that the restaurant is the cheapest in town. Today, this statement is still "somehow" valid. There are other cheaper restaurants at other region of Penang island but for a restaurant nested in the heritage site of George Town, you really can't complain much. Three-Taste Black Pomfret 三味黑昌, for example, only priced at RM20 with unique and non-spicy dark gravy topped with sinful pork rind.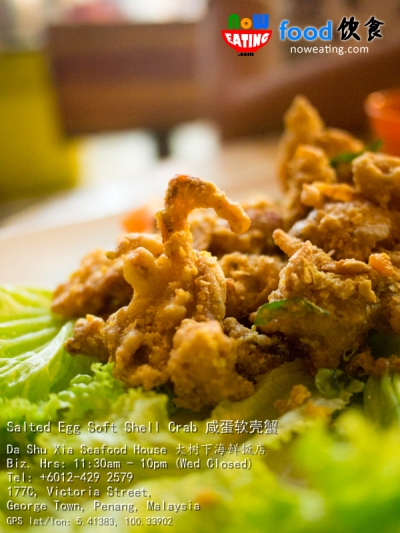 Another signature dish is the seasonal Salted Soft Shell Crab 咸蛋软壳蟹. Consuming it is pretty effortless.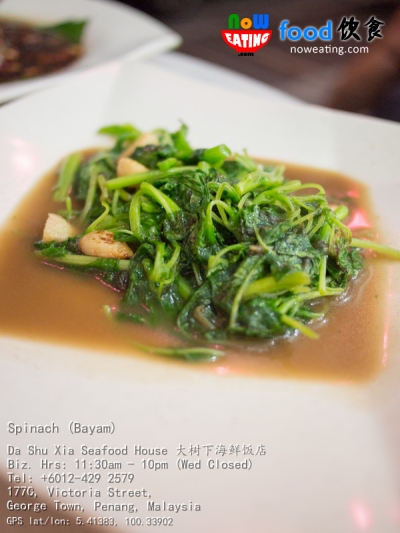 As for the vegetables, it could be a bit expensive. Spinach (Bayam), for example, costed RM10 per plate.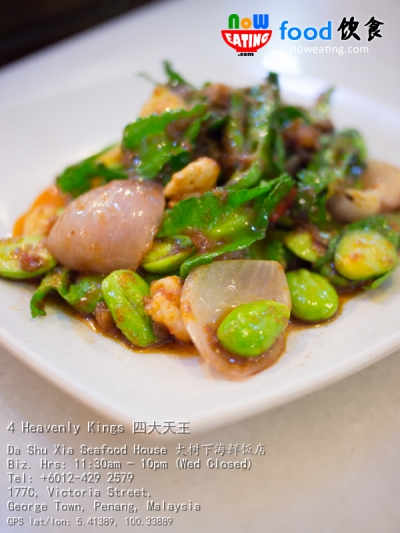 Some said that the 4 Heavenly King 四大天王 is one of the best in town. For us, they are fairly acceptable with added pork rind and pineapple to sweeten this spicy belacan (shrimp paste) dish.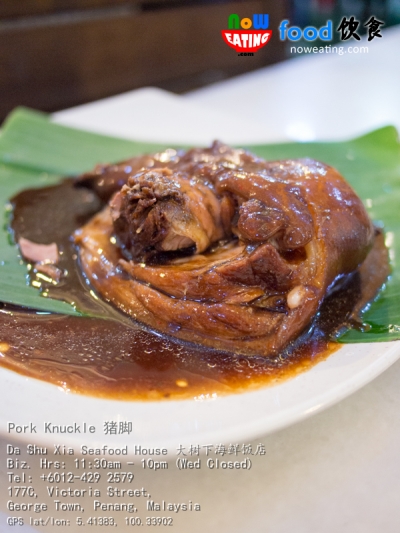 If you are looking for the restaurant's best seller, try the juicy and tender Pork Knuckle (RM15 small). It looks black and sinful with lots of fat but trust us, once you go "black", you never go back.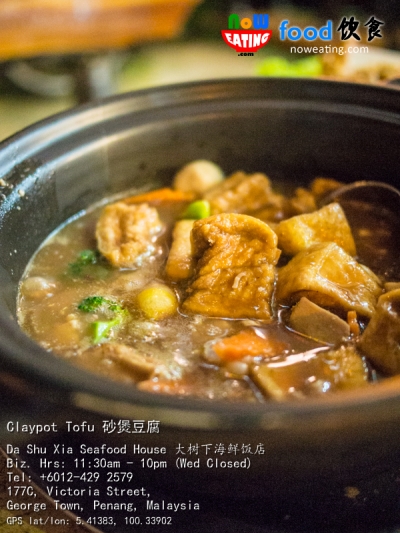 If all the items appear too dry for you, try the Claypot Tofu 砂煲豆腐.
About the restaurant's drawbacks, perhaps the first one is lacking of transparency in which the "billing' is still performed in traditional way in which the host just tell you the amount you should pay for without any bill. Secondly, the lady bosses can be friendlier especially during peak hours.  Even their foreign workers are friendlier than the the bosses.
Still, both drawbacks do not stopping us from visiting this restaurant thanks to its lightning fast serving speed even at peak hour and reasonable price. The restaurant is opened daily from 11:30am until 10pm and is closed on Wednesday.
| | |
| --- | --- |
| Place Name: | Da Shu Xia Seafood House 大树下海鲜饭店 |
| Cuisine: | Chinese |
| Address: | 177C, Victoria Street, George Town, 10200, Penang, Malaysia |
| Tel: | +6012-429 2579 |
| Working Hour: | 11:30am - 10pm (Wednesday Closed) |
| Tax: | No |
| Last Visit: | 20160220 |