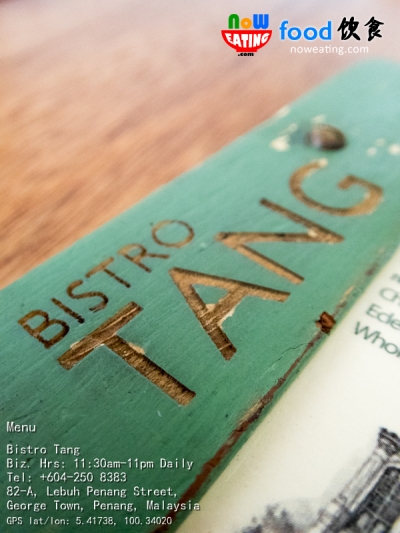 Previously, we introduced a warehouse-converted cafe in George Town, Penang. Today, we bring you to another restaurant which was converted from a Chinese Medical Hall – Bistro Tang in Ren I Tang Heritage Inn at Gat Penang Street (toward the end of Little India), George Town.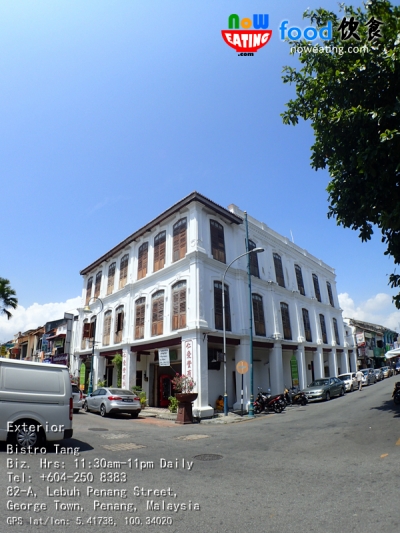 A bit history about this Ren I Tang or Yin Oi Tong 仁爱堂. This Chinese Medical Hall has been in business for almost 90 years in a small shop at Pitt Street before moving to this new building in year 1885 and continued to serve the community for another 124 years.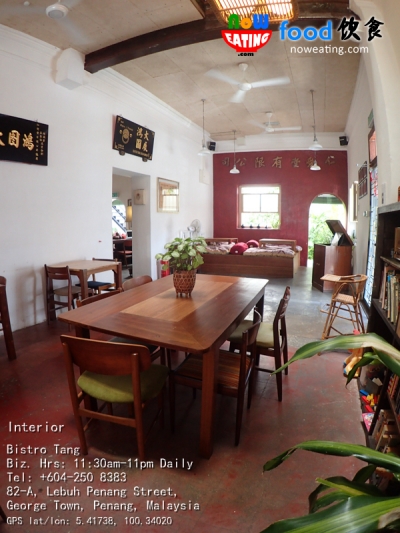 The current management took over this building in year 2010, heavily repaired, and converted it into an inn with:
Bistro Tang
Yin Oi Tong medical hall museum
Library
Open air herbal courtyard
The "macam-macam" shop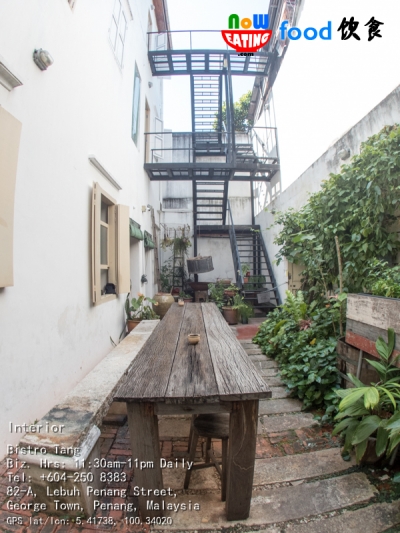 Bistro Tang is located at the ground floor. Normal dining tables and tatami seats are available. Behind the dining area is a courtyard. If you search careful enough, you will find a fish pond there.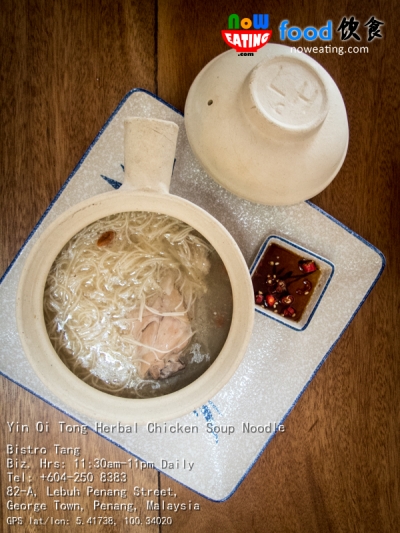 Bistro Tang offers about 10 main course items in their menu. Some food, such as Yin Oi Tong Herbal Chicken Soup (RM15.90) is only available during weekends (Fridays, Saturdays and Sundays). As quoted in its menu – A nourishing slow cooked soup, fortified with high grade traditional Chinese herbs reputed to improve blood circulation and restore the balance of chi in the body.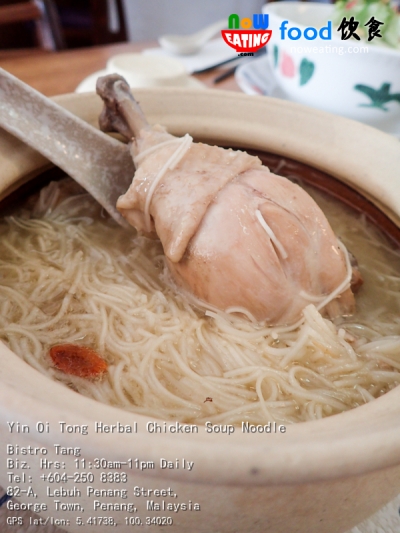 The chicken herbal soup is served with misua noodle (Chinese wheat flour vermicelli) or with steam rice. It is nicely presented in a clay pot. In our opinion, it is very suitable for first timers but for locals who used to herbal soup back home, they may find the soup to be a bit mild toward the end.  A slice of Angelica Sinensis (当归) and more American Ginseng Fibers (洋参须) will bring in more kick.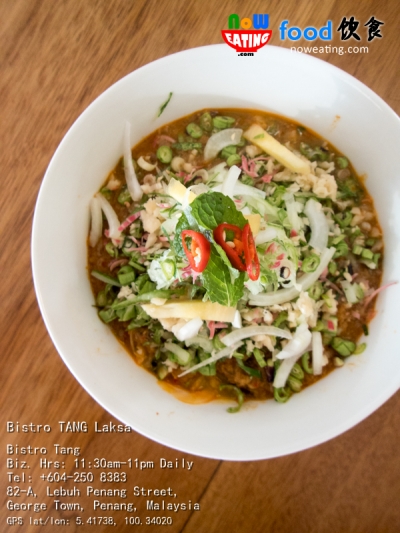 However, our intention of visiting Bistro Tang was to have their signature Bistro TANG Laksa (RM15.90). As quoted in their menu – Rice noodles in a rich fish broth with coconut milk, topped with a variety of freshly chopped condiments.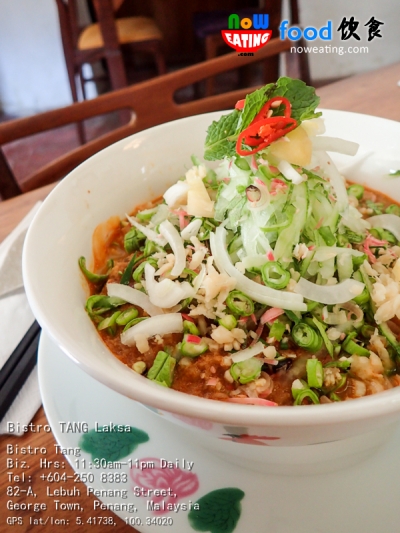 Bistro TANG Laksa is similar to Siamese Laksa in which coconut milk is used instead of tamarind (Asam Jawa). Taste-wise, it is between Penang's Laksa and Curry Mee in which it tasted a bit like curry noodle due to the coconut milk, yet not overly covered by the latter one due to freshness from the chopped fish. Worth the price with generous topping.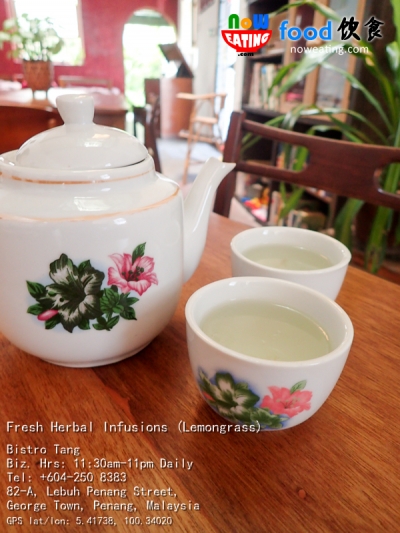 As for our drink, we ordered a bowl of Fresh Herbal Infusions (RM8.90 per pot… and that's very traditional pot). You can choose among lemongrass, ginger and mint. We selected lemongrass that afternoon. Hot drink in hot weather? Don't worry, as we are going to have something chilling…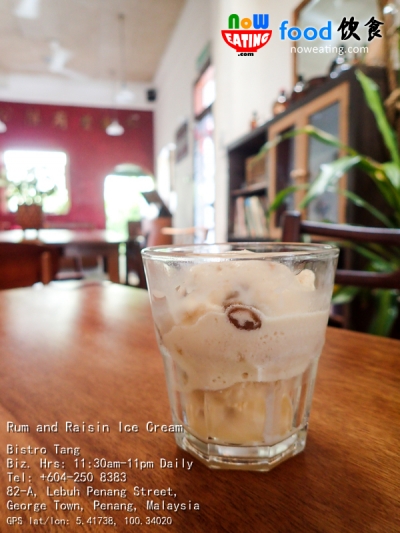 We were thrilled when we saw our favorite ice cream – Rum and Raisin is available in the menu and it was homemade from the bistro itself. We ordered a glass of it (RM6.50).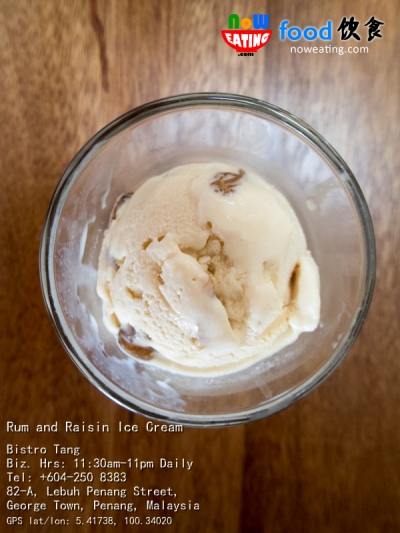 When we said "homemade", the ice cream is really homemade in the sense that it did not taste like commercial Rum and Raisin ice cream at all with sweet rum taste. Good news is, they had generous amount of raisins in it, far more than any commercial product. Bad news is, the rum was soaked into raisins, turning the sweet raisins into "bitter" raisins so you will have multiple expression on your face when you enjoying this dessert.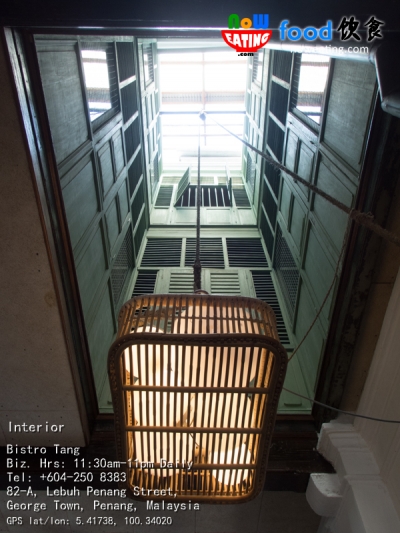 As a whole, instead of hotel culinary, food in Bistro Tang is more toward home-cook style and is suitable not only for foreigners but locals as well. Anyway, their main business is the inn and you may visit Agoda for more information. Bistro Tang is operated daily from 11.30am to 11pm.
| | |
| --- | --- |
| Place Name: | Bistro Tang |
| Cuisine: | Chinese |
| Address: | 82-A, Lebuh Penang Street, George Town, Penang, Malaysia |
| Tel: | +604-250 8383 |
| Email: | [email protected] |
| Working Hour: | 11.30am-11pm daily |
| Last Visit: | 20160306 |