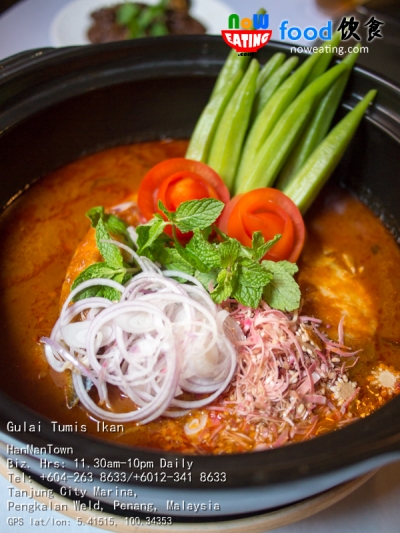 Is this a food presentation in a cooking show? No, this is Gulai Tumis Ikan served daily in Hai Nan Town, Penang. Topped with onions, mints, tomatoes, ladyfingers, and torch ginger flower, the curry may look spicy but it tastes more like an appetizing sweet and sour gravy with mild spiciness.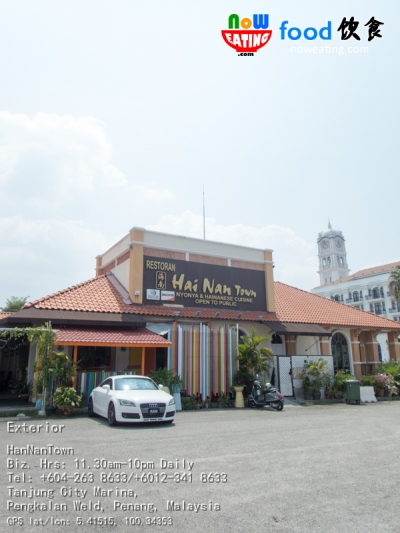 The pork-free Hai Nan Town has two outlets in Penang, one in Tanjung City Marina (TCM) next to Ferry Terminal while another one at Bukit Jambul (behind Vistana Hotel, same row with Kayu restaurant). They have been in business for more than 11 years.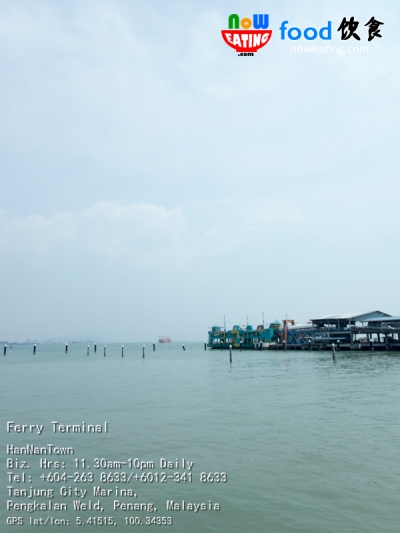 Our first visit to TCM outlet was back in year 2008 in which we had a school project with TCM. Unfortunately, the harbor for yachts is now no longer there due to various reasons. Still, it is still a good place, especially at night, to enjoy the scenic view of ferry terminal.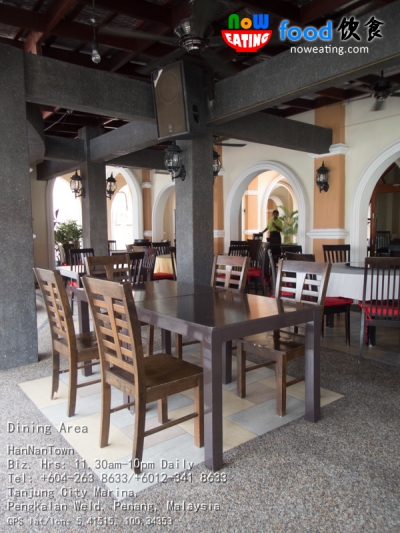 Hai Nan Town at TCM has two dining area – open air …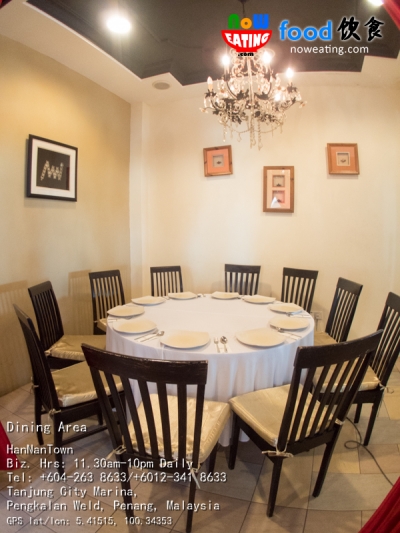 … and air conditioned room.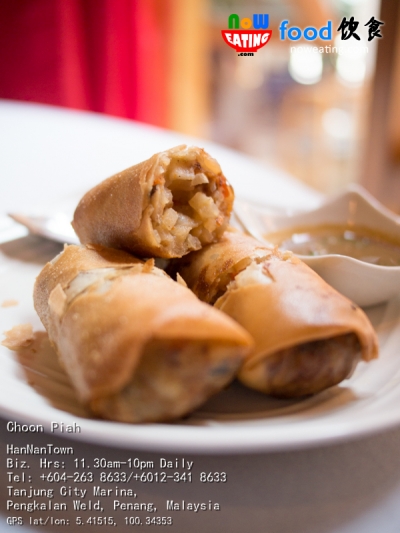 We recently visited the outlet in TCM for lunch. The menu was still the same compared to the one we visited 8 years back. Sometimes, consistency is a factor to attract returning customers. Anyway, we had a plate of Choon Piah (RM12) made of shredded vegetables and crab meat as our starter.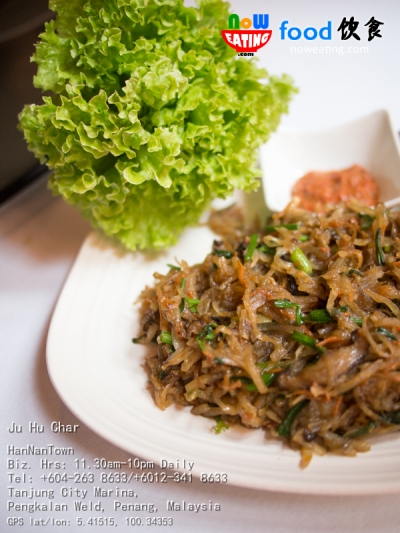 Hai Nan Town reminded us of some Peranakan/Nyonya restaurants in Penang in which they share some similarities in dishes, including the famous Ju Hu Char (RM14/20/26) – a dish made up of shredded vegetables such as turnip (jicama) and carrot fried together with finely shredded dried cuttlefish. Best wrap with lettuce provided before dipping with homemade Sambal sauce.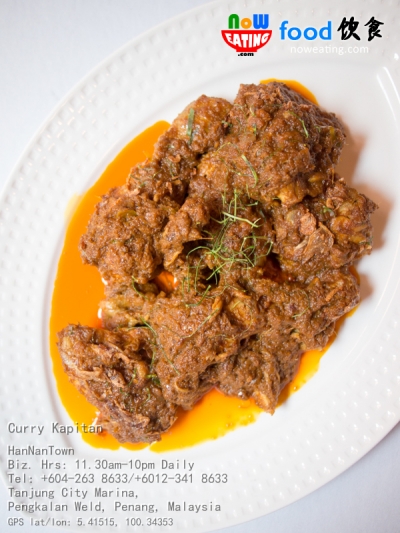 Another ubiquitous dish is Curry Kapitan (RM18/26/34) in which chickens are cooked with thick curry paste made of kaffir lime leaves and coconut milk. One of our favorite dishes.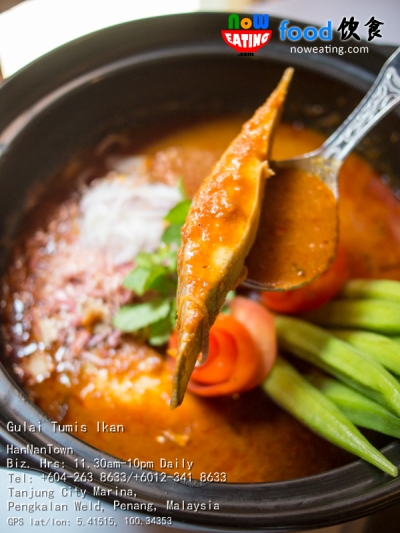 Still, our top pick of the day still goes to Gulai Tumis Ikan and it is best consumed with rice. Pricing-wise, it is based on market and subjected to type of fish selected. Black pomfret (黑昌) version is priced around RM50 per bowl whereas Chinese Silver Pomfret (斗昌) version is priced around RM90.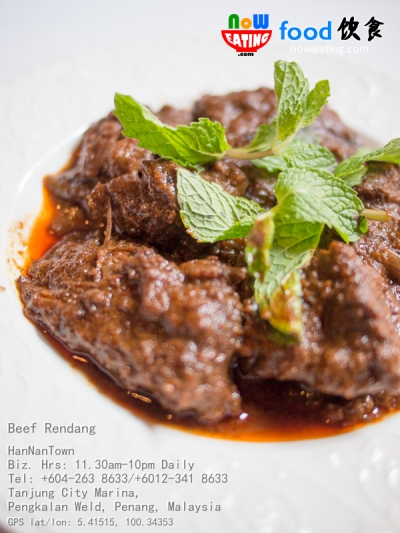 Hainan is actually a small island south of China mainland. Compared to Chinese mainland cuisine, Hainan cuisine is lighter, less oily and mildly seasoned. In our opinion, dishes served in Hai Nan Town are the mixture of Chinese and Malay cuisine. Beef Rendang (RM18/26/34), for example, is a well-known Malay/Indonesian dish with melt-in-your-mouth-tender beef stewed with spicy gravy originated from Indonesia.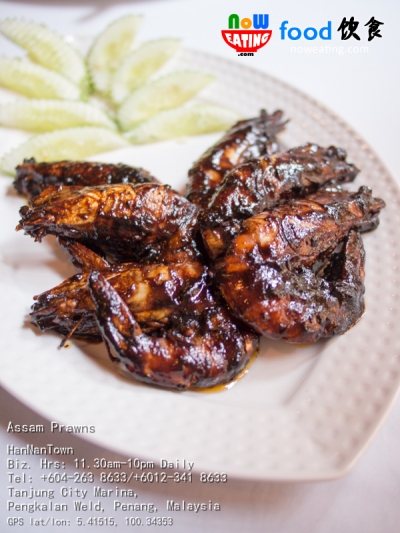 Assam Prawns is a tamarind-coated prawns which is finger licking good. Again, it is based on market price and a plate of six XL prawns like this cost about RM50.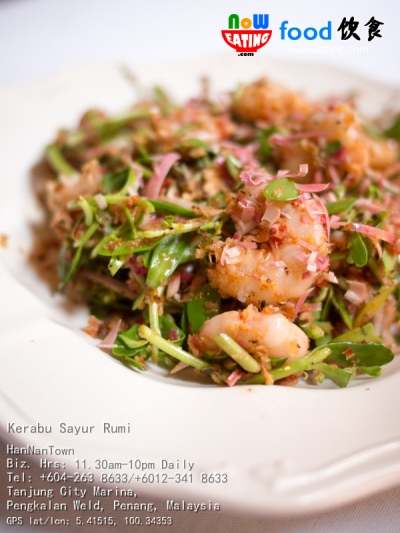 Hai Nan Town also has some hidden menu, including Assam Laksa and this Kerabu Sayur Rumi. Sayur Rumi (or Serumi) is a type of vegetable which is bitter in taste and is usually stir fried with Sambal. We were pretty impressed with the way Hai Nan Town turned this bitter food into spicy salad topped with shrimps and sprinkled with torch ginger flower.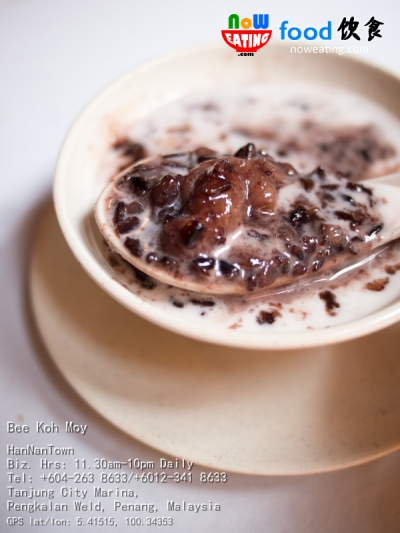 Hai Nan Town also serves some desserts worth dying for. The first one being Bee Koh Moy (RM4) aka Black Sticky Rice dessert. The black glutinous rice is usually boiled for at least an hour for thick and creamy texture before topping it with fresh coconut milk. Hai Nan Town version has longan in it as an added bonus.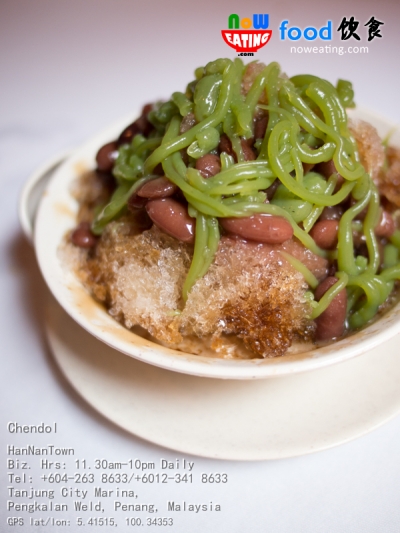 No one can beat a bowl of Chendol under the hot sun.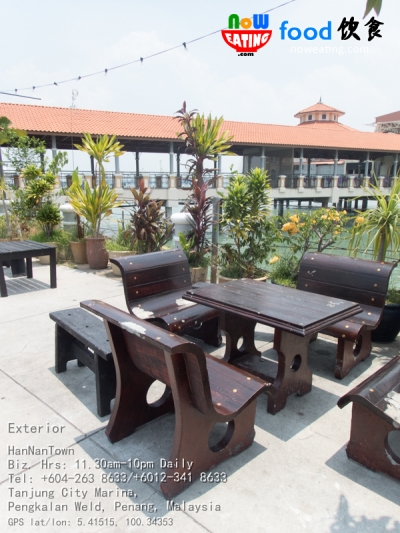 As a whole, Hai Nan Town is a time-proven Hainanese restaurants worth visiting not only for foreigners, but also locals thanks to its savory and consistent menu which managed to attract many returning customers including us. The restaurant is opened daily from 11.30am until 11pm. Reservation (Tel: +604-263 8633/+6012-341 8633)  is recommended especially for group meal or hidden menu.
| | |
| --- | --- |
| Place Name: | Hai Nan Town |
| Cuisine: | Chinese |
| Address: | Tanjung City Marina, 8A, Pengkalan Weld, George Town, 10300, Penang, Malaysia |
| Tel: | +604-263 8633, +6012-341 8633 |
| Working Hour: | 11.30am-11pm daily |
| Tax: | 10% Service Charge, 6% GST |
| Last Visit: | 20160319 |