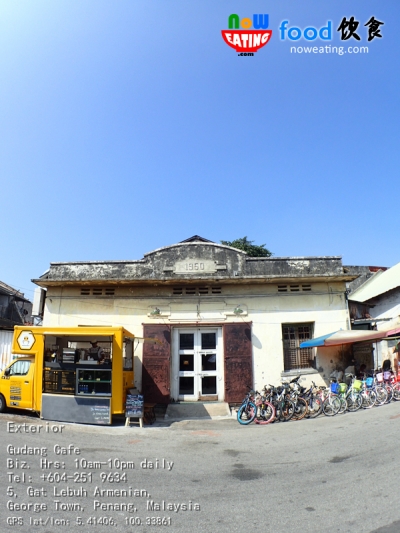 When we visited Da Shu Xia Seafood restaurant last time, we stumbled upon this old building built in year 1950. From far, it looks like a warehouse. Well, it was a warehouse back in good old day until it turned into Gudang Cafe recently.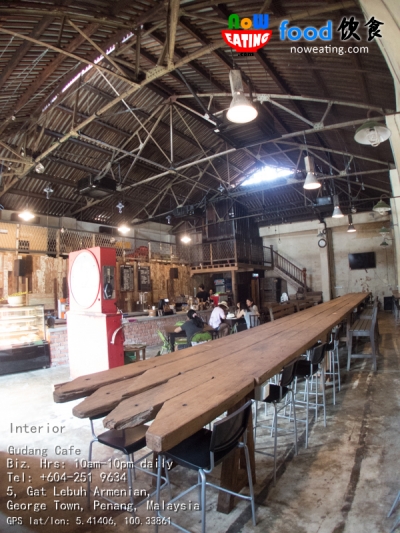 Gudang is a Malay word which means "warehouse". We visited it one weekend's afternoon after having a jog at Air Itam Dam. The "warehouse" is air-conditioned with high ceiling. However, due to recent hot weather, it appeared that the air-conditioners were not cold enough to cover the whole area.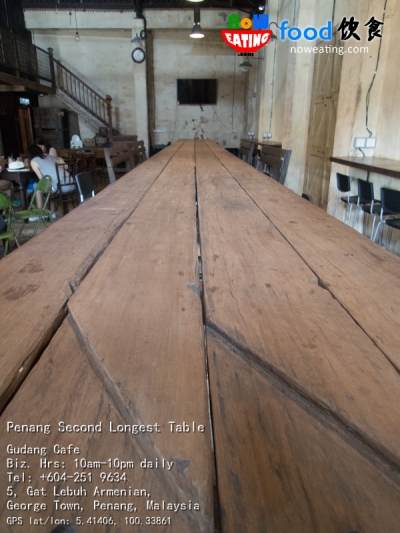 Gudang Cafe uses some old furniture and equipments as decoration in dining area including metal chairs, old scale machine, punch card machine, and etc. While waiting for the food to arrive, we couldn't stop looking at the long table behind us, which is the second largest table in Penang. Personally, we feel that this is a good place for some private events or gathering due to this long table.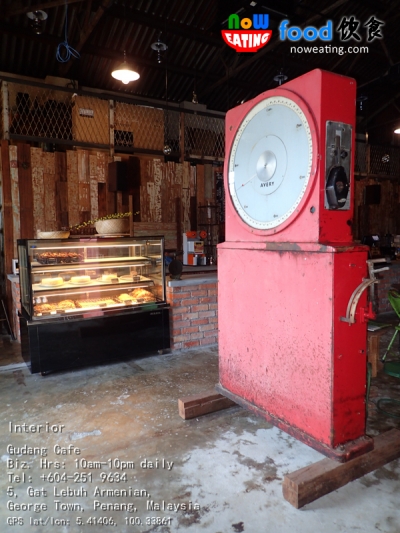 Order is made at the counter and the menu is available on the blackboards. At first glance, Gudang Cafe offers some light Japanese cuisine such as Ramen, Japanese rice series and some side orders. Pastry is also available.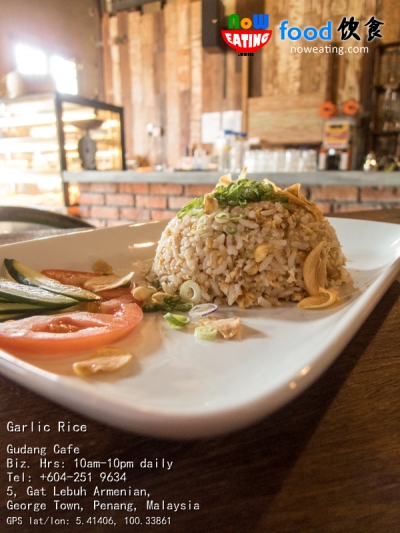 Gudang Cafe's Japanese cuisine is more like home-cook series. For instance, Garlic Rice (RM4.80) reminded us of mother's fried rice back in good old day. Simple and delicious. Did we mention that it is only RM4.80 per plate?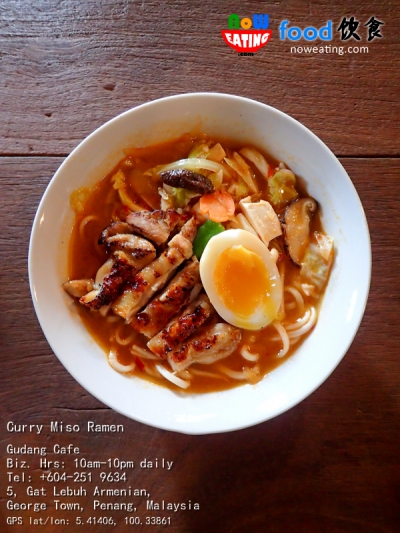 Curry Miso Ramen (RM7.80) is another home-cook style dish. At first, we thought that it will be a Japanese curry with thick gravy as seen in most restaurants. It turned out to be rather unique – a thin curry soup mixed with carrot, onion, tofu, de-boned Teriyaki chicken thigh, and Ramen egg.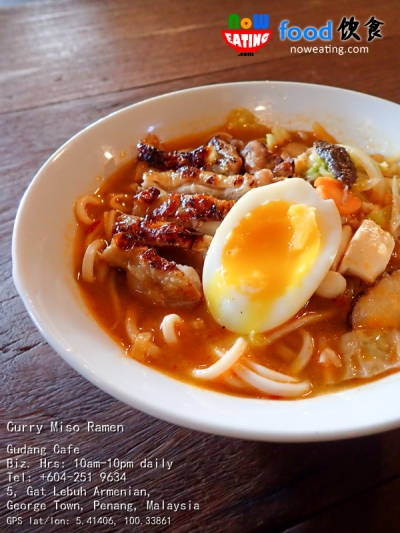 Taste-wise, it was more toward healthy side and was lacking of the kick from the Japanese curry but at this price with a piece of Teriyaki chicken in it, we really can't complain much.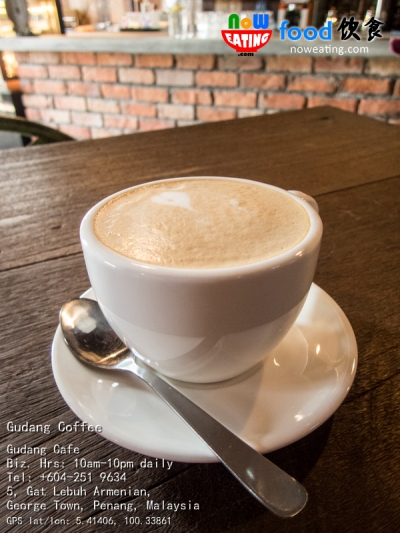 Gudang Cafe offers complimentary self-service drinking water for diners. Alternatively, try their signature coffee, including the one we ordered – Gudang Coffee (RM12.80 – more expensive than main course??) made from medium-roasted Arabica coffee bean from Chiang Mai, Thailand. We were told that it was sweeter than normal coffee but nonetheless, we gave it a try. It was real sweet but still, we were able to taste the richness of the coffee thanks to the perfect mixture of coffee and milk.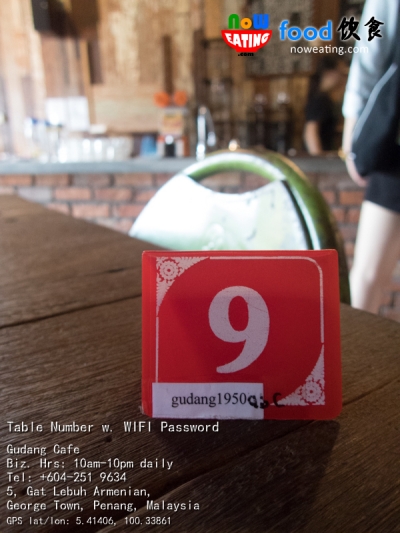 WIFI is also available in this "warehouse".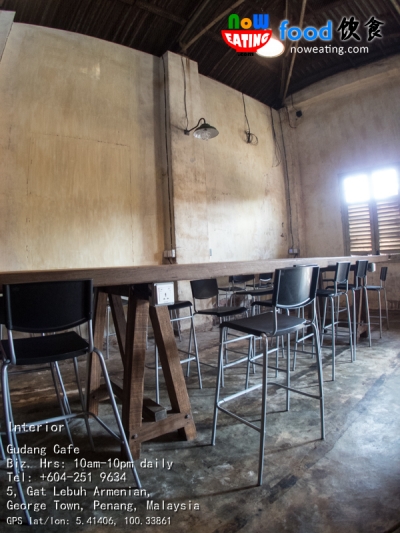 As a whole, we were pretty impressed on the way the management turned a warehouse into a relaxing coffee house. It is definitely a great stop-by not only for locals, but also tourists who are sweating their back under the hot sun of Penang. By the way, Giant Cat mural art is just opposite of the cafe. Gudang Cafe opens daily from 10am-10pm. Lunch menu is available from 11am – 2:30pm.
| | |
| --- | --- |
| Place Name: | Gudang Cafe |
| Cuisine: | Western, Japanese |
| Address: | 5, Gat Lebuh Armenian, George Town, 10300, Penang, Malaysia |
| Tel: | +604-251 9634 |
| Working Hour: | 10am-10pm daily |
| Last Visit: | 20160306 |