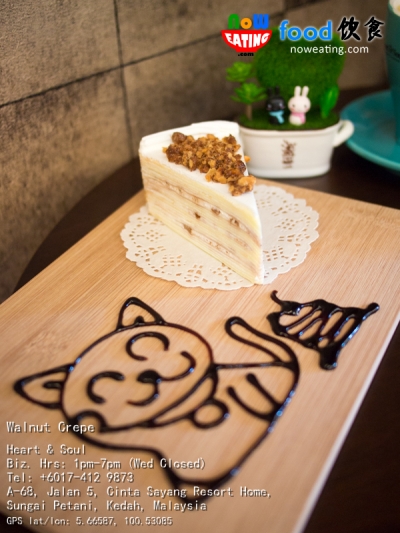 One problem of having desserts with a cute drawing made of chocolate syrup like this is that you usually don't wish to mess up this masterpiece created by the pastry chef until the very last scope of the cake. This is just one of random drawings in Heart & Soul, Sungai Petani, Kedah.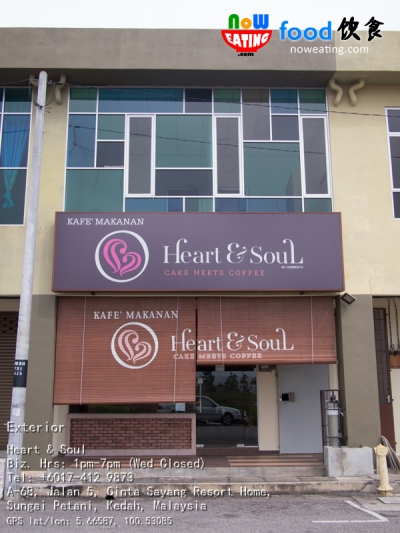 Heart & Soul is located near Cinta Sayang Country Club. To reach there, you can either take outer ring road next to Amanjaya, or just drive pass Cinta Sayang and The Carnivall Water Park. Continue straight and bear left. Before reaching traffic light at outer ring, there is a junction in which you can turn right to the shop lots on your right. Do so!  Heart & Soul is there.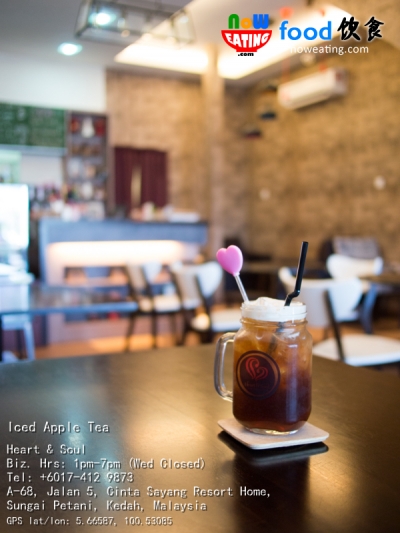 First thing we would like to mention about Heart & Soul is their working hour, which is kind of weird considering it only opens from 1pm to 7pm daily and is closed on Wednesday. Those looking for a sip of coffee after dinner will be disappointed but judging on the quiet surrounding and criminal rate in SP, it sounds reasonable enough to end business early to avoid any unwanted event.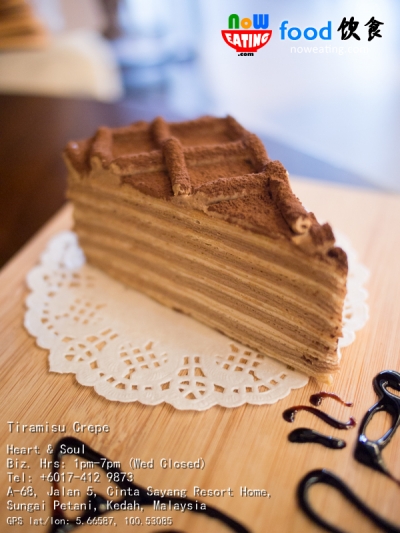 Heart & Soul's slogan is "Cakes meet coffee". Yes, the cafe is specialized in both cakes and coffee in which we also notice some cafes in SP are selling their cakes as well. Mille Crepes made of multiple layers of thin but even pancake is their specialty.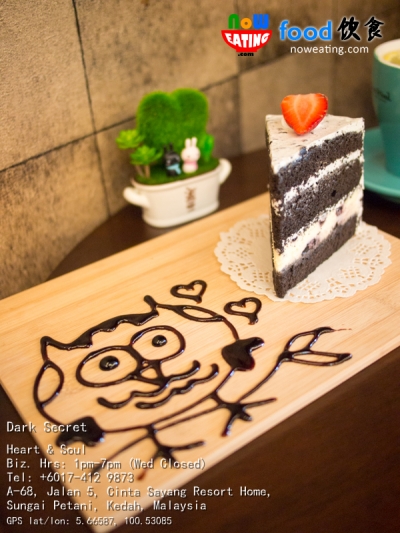 Among those cakes, Dark Secret is their signature cake in which the delectable dark chocolate sponge cake is layered with blueberry cheese cake.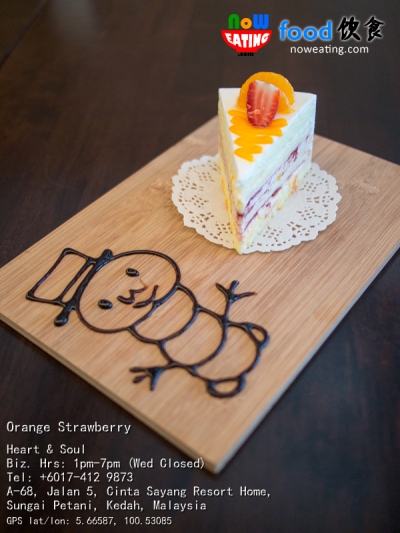 We visited this cafe three times and our experience was a positive one. In general, their cakes are less sweet and more delightful to enjoy. Below are cakes we tried sorted by ranking:
Dark Secret (RM9.50)
Walnut (RM8.50)
Orange Strawberry (RM8.50)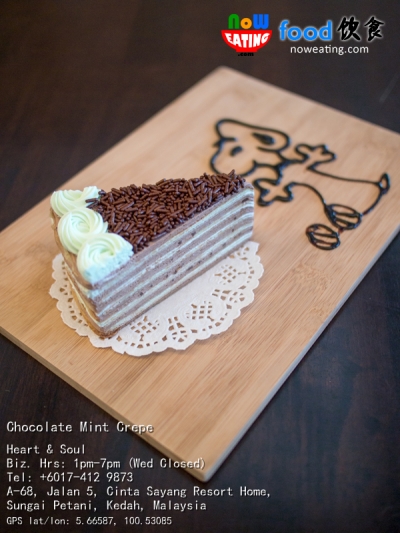 4. Chocolate Mint (RM7.90)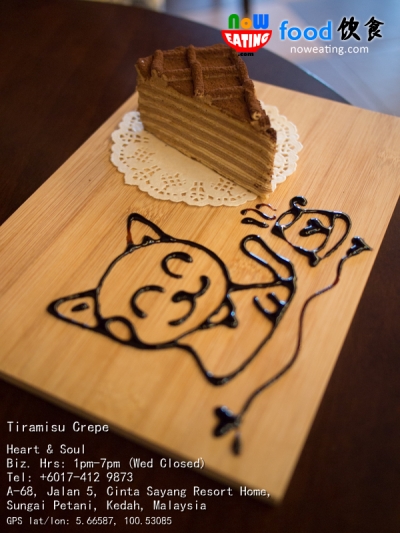 5. Tiramisu (RM7.90).
By the way, they also accept whole cakes pre-order for special events such as birthday and anniversary. A separate menu is available and you will be amazed by the number of cake designs they can offer.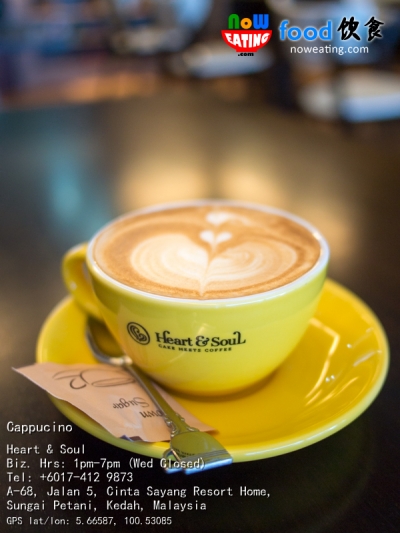 As for the coffee, if compared to its neighbor state with redundant coffee selection such as with in-house coffee bean roaster, commercial grade espresso machine, hand-drip coffee and etc, Heart & Soul's coffee is just average but if you compared among SP's cafe, it can easily enter top 5 of best coffee in town. Pricing-wise, it is quite reasonable as well with a cup of cappuccino at RM7.50.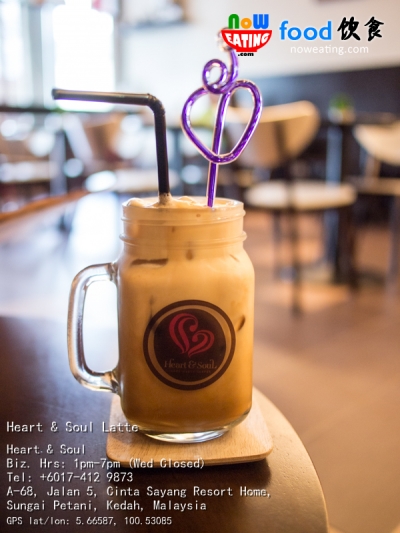 Their signature coffee being Heart & Soul Latte (RM10.00) which is only available as iced coffee. We are not iced coffee lover but this one just changed our mind. This iced latte somehow has cooling effect, especially under recent hot weather.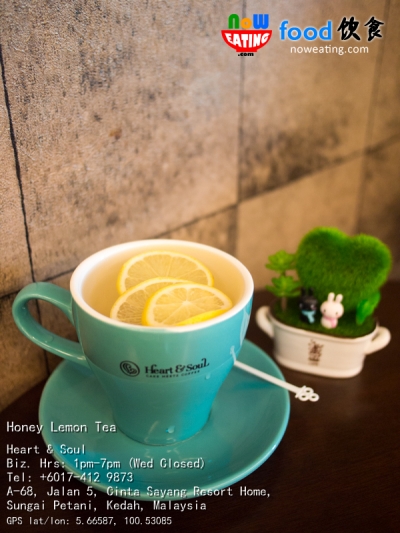 Of course, non-coffee beverages are also available. Hot lemon tea (RM4.50) and Iced Apple Tea (RM4.50) is one of them.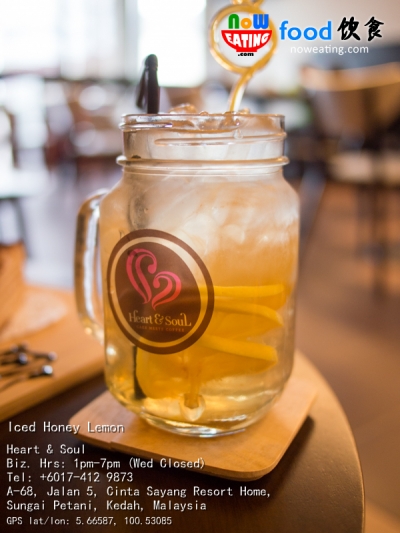 Not sure why, we recently liked cold drink such as Iced Honey Lemon (RM4.50). We blame the weather.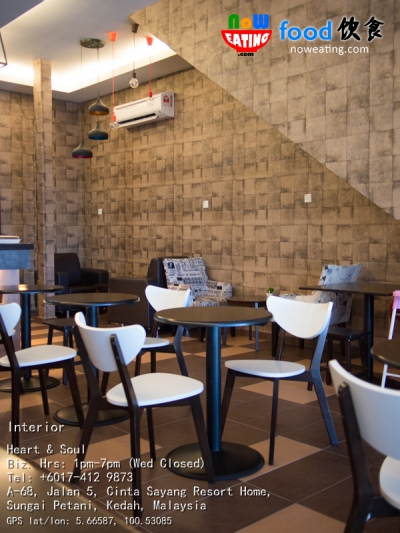 As a whole, despite of its odd working hour, Heart & Soul is a good place for some decent cakes, either pre-order or dining in. Pricing-wise, it is pretty local-friendly as well. Perhaps a minor drawback is its dining area and seating, in which it is a bit too bright and less comfy if sitting for too long. We always sit on the special sofa near to the counter.
| | |
| --- | --- |
| Place Name: | Heart & Soul |
| Cuisine: | Western |
| Address: | A-68, Jalan 5, Cinta Sayang Resort Home, Sungai Petani, 08000, Penang, Malaysia |
| Tel: | +6017-412 9873 |
| Working Hour: | 1pm-7pm (Wed Closed) |
| Tax: | No |
| Last Visit: | 20160229 |