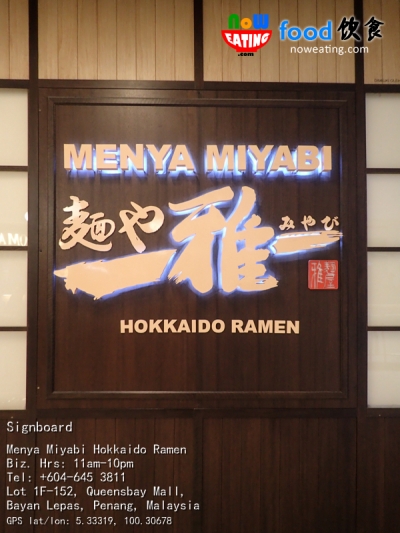 We visit Queensbay Mall at Bayan Lepas, Penang almost every month and this is our first time visiting Menya Miyabi since they open for business on December 2013. The shop is located at the first floor toward the wing where Daiso and Maybank are located. We regret that we only visited this ramen shop recently as it is one of the best ramen shops in the region.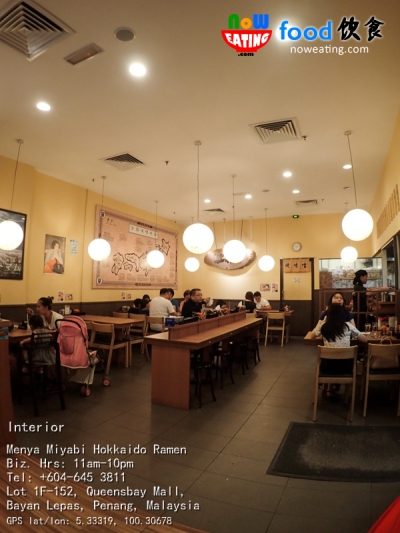 The restaurant is able to cater for about 60 customers. We had a chance to chat with the Japanese chef – Mr. Seiya Takana during our visit. While most ramen shops in Malaysia already diversified into a Japanese restaurant offering variety of Japanese food such as sushi, sashimi, donburi, ramen and desserts, the humble Mr. Seiya Takana stood by his principle by being a ramen specialist, just like in Japan where only ramen is served in ramen shop without any other type of food.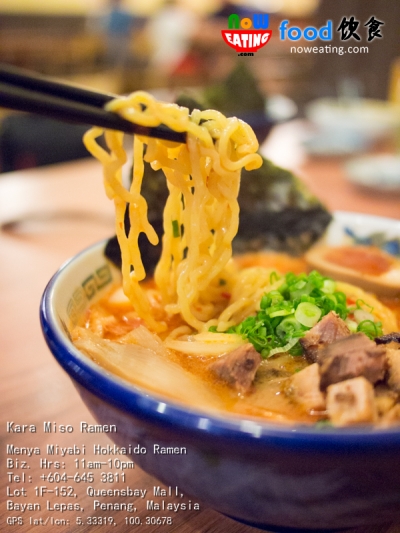 Menya Miyabi is not the only place for ramen in Queensbay Mall. Japin, Sushi Tei, Nippon Yataimura and Sakae Sushi are just few other restaurants in the same building offering ramen series. However, if you are looking for ramen specialist, Menya Miyabi is perhaps the only choice.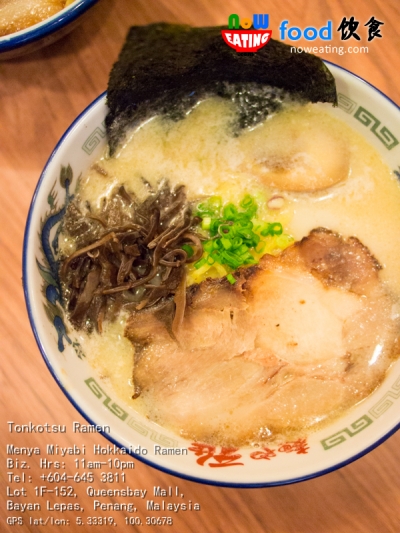 Each month, Mr. Seiya Takana goes back to Japan just to re-stock soup ingredients to ensure that the ramen we tasted here is exactly the same taste and freshness with the one in Hokkaido. Compared to others, Menya Miyabi's ramen is creamier and richer in flavor. Tokotsu Ramen (RM23.50++), for example, is boiled for at least 7 hours using pork bone stock. This is our top pick as long as soup ramen is concerned. The white broth is also rich in collagen and is served with Char Siew (sliced pork shoulder), black fungus and soft boiled egg.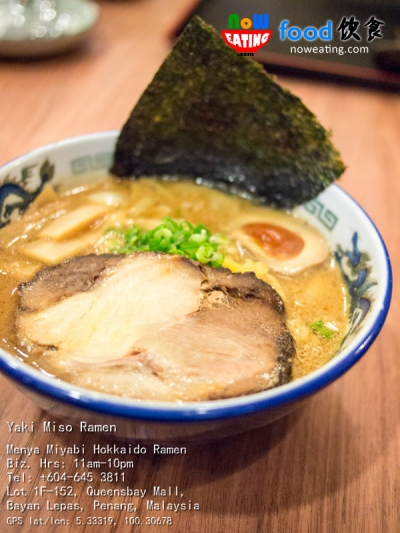 The broth is so rich that there is a notice displayed on each dining table informing customers to let waitress know if they prefer mild flavor. For example, if you found out that Yaki Miso Ramen (RM23.50) – another best seller, is at the salty side (after all, Miso or soy bean paste is salty by nature), feel free to ask for more soup to make the broth less concentrated. Hokkaido is also the place of origin for Miso Ramen.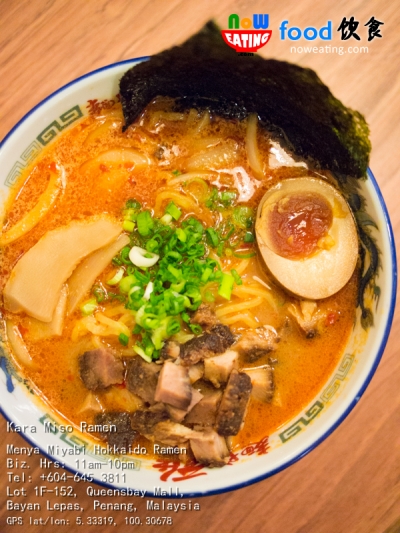 Those looking for something spicy should opt for Kara Miso Ramen (RM24.00++) – a hot and spicy ramen. The spiciness is similar to Kimchi level which is not overly spicy. Chili flakes are always available on dining table for those seeking for some excitement. By the way, their marinated, perfectly soft boiled egg is also worth dying for with add-in available for RM4.50++.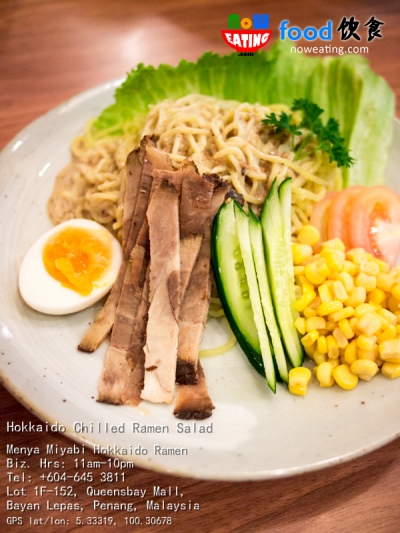 If soup noodle is not your type, we strongly suggest Hokkaido Chilled Ramen Salad (RM19.00++). The al dente ramen is dried and stirred with sesame oil and vinegar, making it an appetizing dish hardly found in Penang island. Due to the recent hot weather, we somehow enjoyed this chilling dish very much.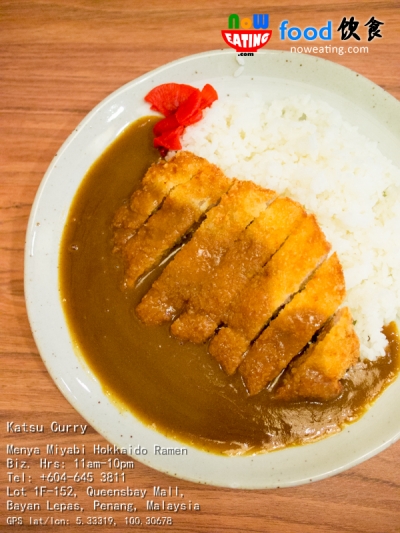 Still, to cater for multiracial Malaysians with different taste buds, Menya Miyabi offers rice dishes and some snacks as well. Katsu Curry (RM24.00++) is one of the examples. To our surprise, other than apple and ketchup, the vegetarian-based gravy has chocolate added for a hint of nutty flavor.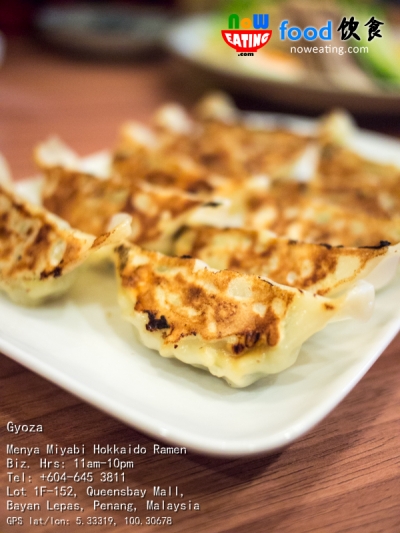 Gyoza (RM18 for 10 pcs) is also known as fried dumplings and is not a stranger for those visited Taiwanese restaurants before. Menya Miyabi is perhaps the only restaurant in the region having their gyoza wrapped using fully automated machine. The dumplings are best consumed with ramen.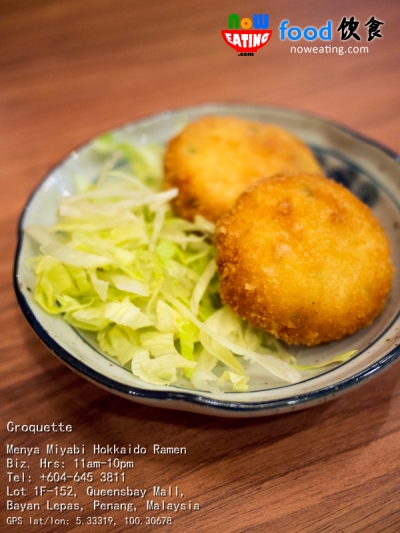 We also enjoyed the Croquette (Japanese Fried Potatoes) (RM9.00++).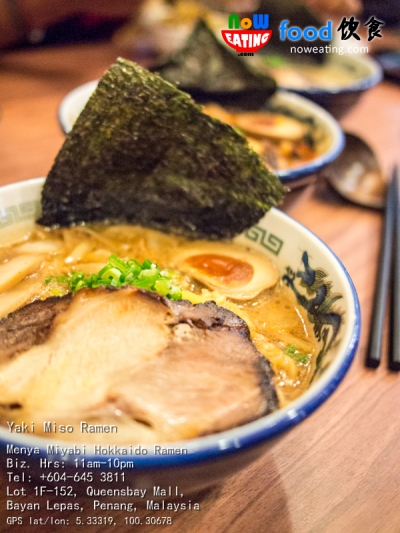 Menya Miyabi has four outlets in Hokkaido and Penang is the only offshore outlet.  We received a good news from the Japanese chef himself that the second outlet of Menya Miyabi will be opened in Sunway Pyramid, Petaling Jaya, Selangor on 1-Jun-2016. Those living in central region can now enjoy the traditional Hokkaido ramen at their convenience. Below is the new Sunway Pyramid outlet address:
MENYA MIYABI HOKKAIDO RAMEN (Sunway Pyramid Store)
Sunway Pyramid Shopping Mall 3
(Hotel Sunway Pyramid West Ground Floor)
3, Jalan PJS 11/15, Bandar Sunway,
47500 Petaling Jaya, Selangor,
Malaysia.
| | |
| --- | --- |
| Place Name: | Menya Miyabi Hokkaido Ramen |
| Cuisine: | Japanese |
| Address: | Lot 1F-152, Queensbay Mall, Bayan Lepas, 11900, Penang, Malaysia |
| Tel: | +604-645 3811 |
| Working Hour: | 11am-10pm daily |
| Tax: | 10% Service Charge, 6% Government Tax |
| Last Visit: | 20160409 |