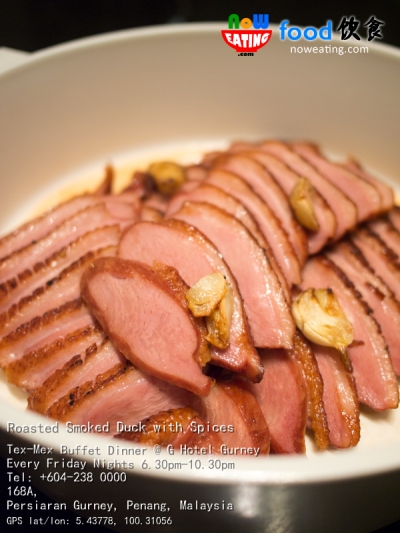 Looking for best smoked duck in Penang? Then you should visit Taste Café in G Hotel Gurney, Penang. Traditionally marinated with seasonings and spices before cold smoking the meat and preserve for about a good 17 months long, the chef brings you the same taste by cold smoke the duck using apple wood and then keep in the chiller to marinate for one day before serving. Eat to believe!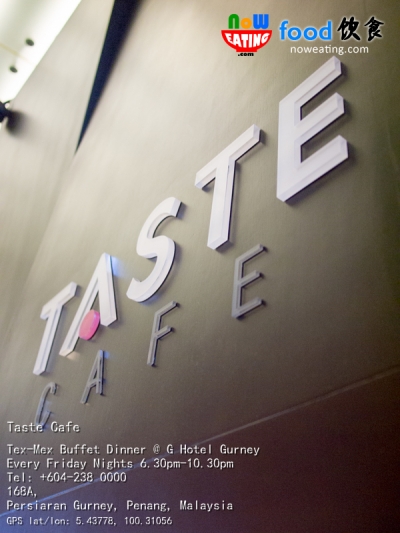 Taste Café is located right next to the lobby of G Hotel Gurney. The cafe should not be a stranger for those visited G Hotel Gurney before as it is a face-lifted version of the former G Café and was opened since September 2015.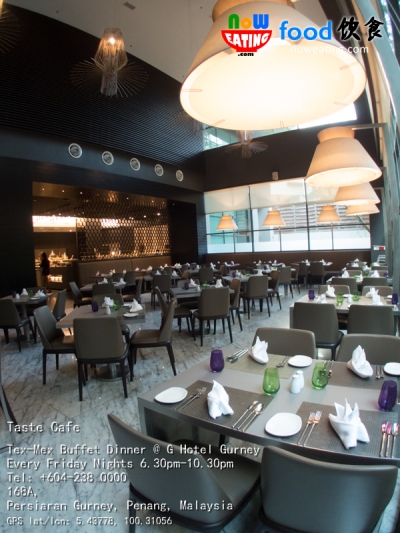 Compared to former G Café, the classy and stylish Taste Café is able to accommodate 207 guests including outdoor seating. Taste Café is offering daily themed buffet from 6:30pm to 10:30pm, including:
Monday – Oriental Flavours
Tuesday – Taste of Italy
Wednesday – Global Cuisine
Thursday – Malaysian Delight
Friday – Tex Mex
Saturday – Lava Stone Grill Seafood Night
Sunday – Around the World
We visited the cafe on one of the Friday evening for its Tex Mex buffet dinner. Tex Mex means Texas and Mexico and the buffet offers both Southern American cuisine and Mexican cuisine. Both cuisines share some similarity. After all, Texas is located right above Mexico.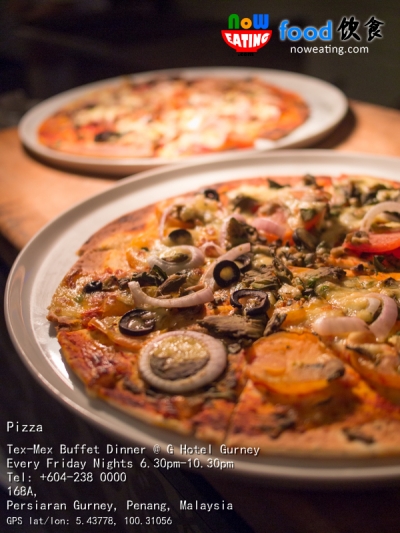 Sometimes it is hard to decide which day to visit especially when you have friends with different taste buds. Do not worry as based on our observation, Taste Café usually provides more than just the theme of the day. For instance, Italian cuisine such as pizza can be observed during our Tex-Mex buffet meal.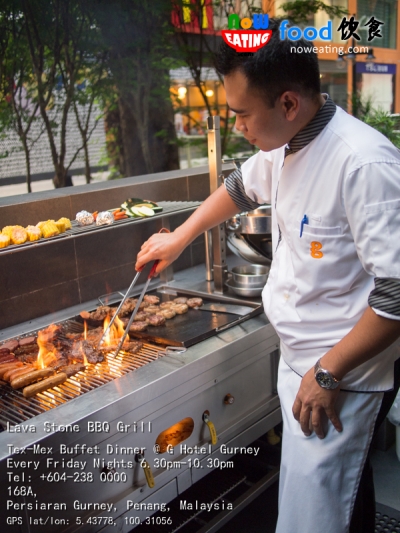 First of all, allow us to introduce Ketut Gede Dodi – the Executive Sous Chef from Indonesia who excels in French, Indonesian and International cuisine. Backed with 13 years of international experience, Chef Dodi offers the authentic recipes for the salad bar, cheese section, ice cream station, Japanese selection, appetizer and antipasto, soup, carving station, live action station as well as the dessert.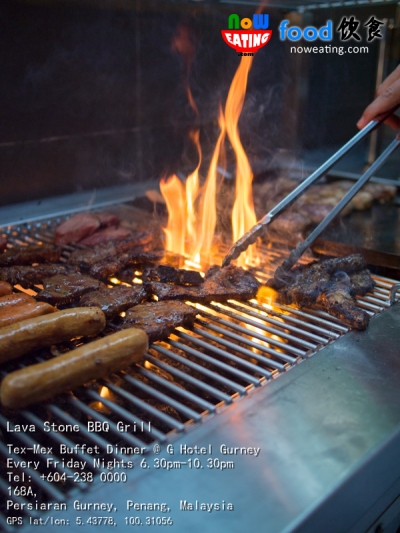 The highlight of the evening is the live grill station. We have seen many hotels offering similar grill station using gas or charcoal as the heating source but for G Hotel, it is Lava Stone and is perhaps the first hotel in Penang offering such mouth watering treats.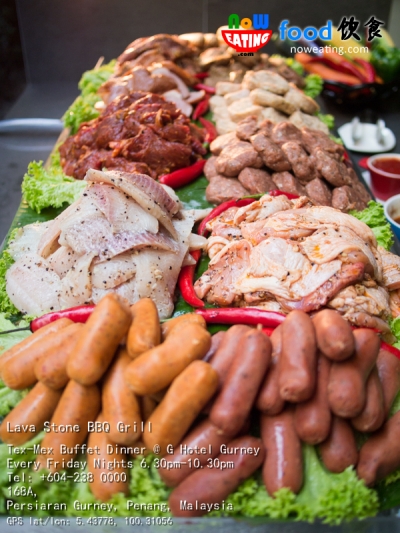 Get the chef to grill some of the westerner's all-time favourite King Prawn, Squid, Lamp Marquee, Minute Steak, Sausages and Rosemary Chicken served with 6 types of sauces and condiments to enhance the taste of the meats.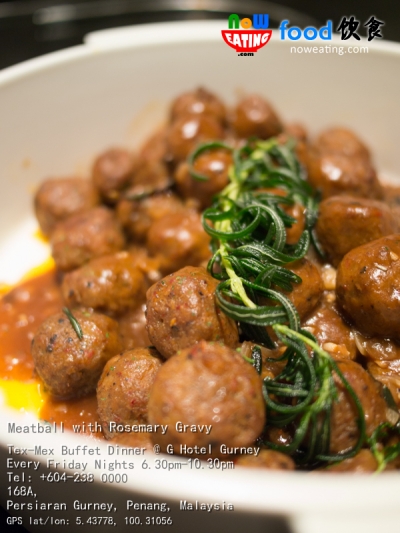 For hot tray items, other than the recommended smoked duck, Chef Dodi also highly recommends us to try out the Meatballs with Rosemary Gravy. The meatballs are homemade using beef that are delicately ground and then slowly braised with seasonings to bring out the flavours. Once cooked, the meats are made into balls and to stir-fry before serving with Rosemary Gravy. The taste of the herb is a unique blend for the juicy meatballs, making every bite a pleasing one.
More notable dishes of Tex-Mex such as Pan Grill Fish with Garlic Salsa …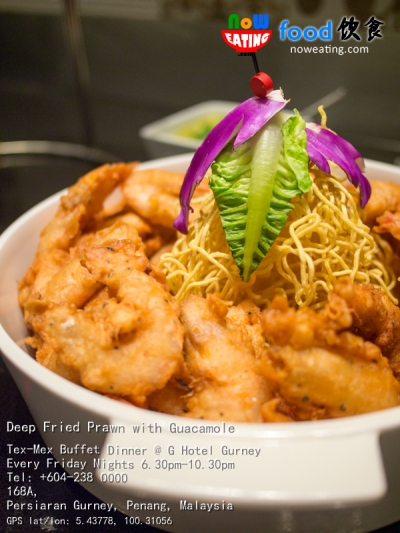 … Deep Friend Prawn with Guacamole …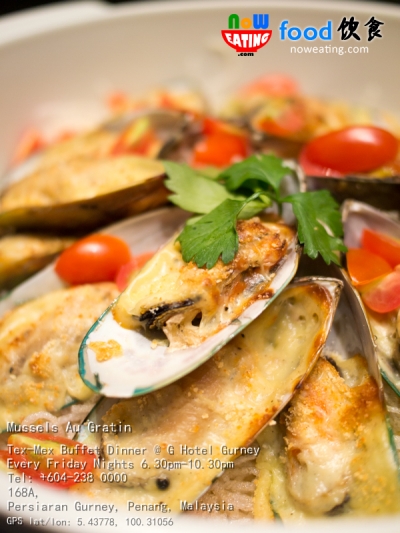 … Mussels in Jalapeno/Au Gratin and Fennel and Smoked Pot Roasted Lamb Leg are also being featured in this theme night.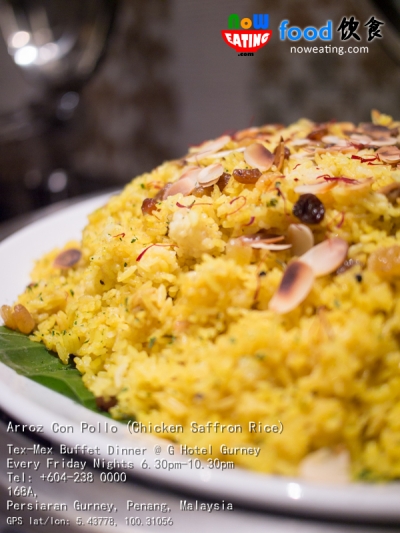 Arroz Con Pollo (Chicken Saffron Rice) and steamed white rice are the perfect match for the theme of Tex-Mex.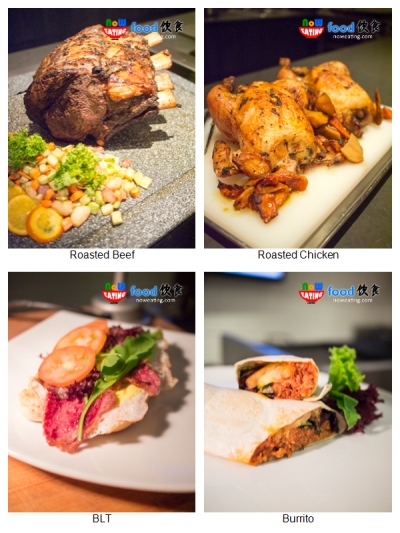 Our recommendation is to try small portion of each item as there are just too many dishes for you to try out. Make sure to walking around, including the Carving Station. To match the theme, Chef Dodi incorporated the quality Roasted Prime Ribs in Robert sauce at the Carving Station for the night. This premium prime ribs are imported from Australia. To make the prime ribs taste deliciously good and tender, they are first marinated in the spices used in Tex-Mex cuisine for 6 hours. Then, the marinated prime ribs are ready for smoking process. After smoked, the prime ribs will be roasted for 2-hour in the oven before serving. The aroma of the prime ribs is simply irresistible after such a long process of cooking, making the food worth every penny. Guests may also opt for the Baked Whole Fish with Onion Remoulade and Slow Roasted Chicken with Orange sauce for the accompaniment to the Tex-Mex cuisine.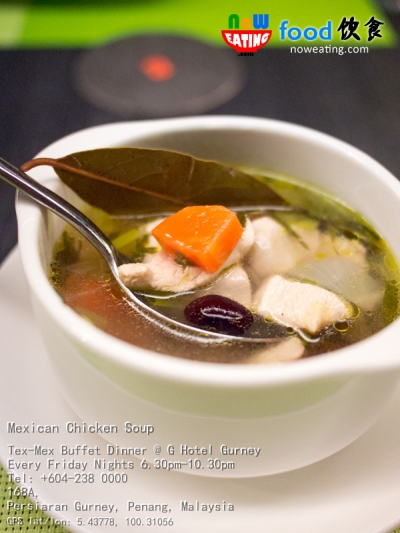 If you have extra space in your tummy, have a warm bowl of Chard Corn Soup with Nachos and Sour Cream or Clear Chicken and Vegetable Soup before attacking the robustly flavoured yet delicate Tex-Mex dishes as introduced earlier.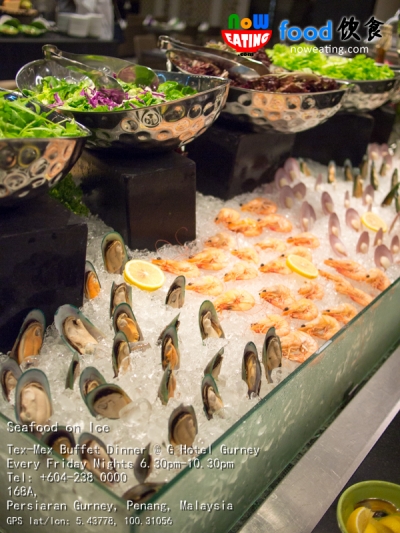 Tex-Mex cuisine is basically focusing on red meat. However, we were surprised that G Hotel Gurney is also offering Seafood on Ice for those seafood lover.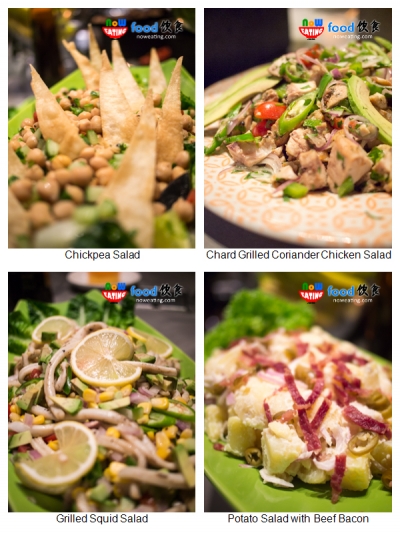 Cold cut platter, cheese corner and salad bar are also available as part of the buffet spreads.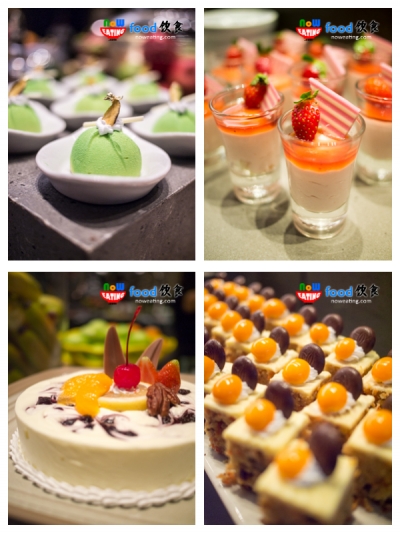 G Hotel never failed us with their tempting desserts. The station is loaded with assorted colourful jelly & mousse in glass …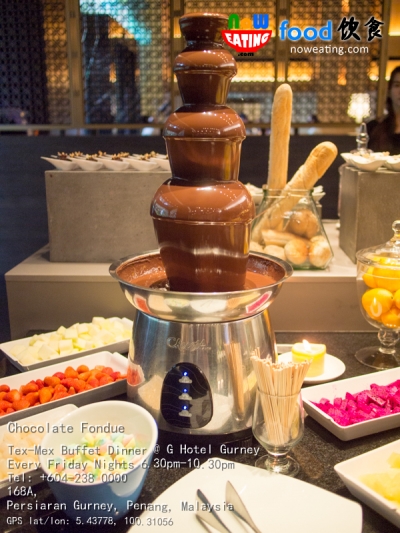 … chocolate fountain …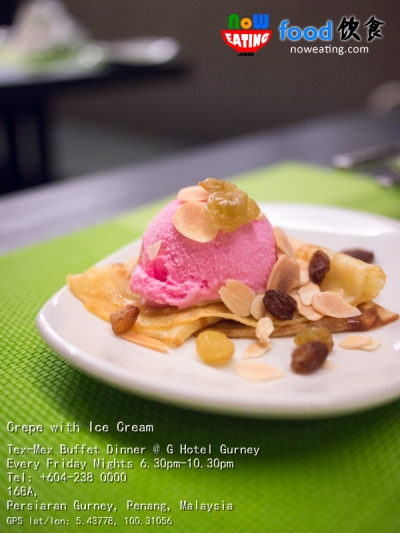 … 6 types of fruits platter, ice cream, ais kacang, local delicacies, cakes and more to end the meal on a high note. Some Tex-Mex desserts such as Carrot cakes, Chocolate brownies, Bionico (fruit salad), Churros and Cream Roulette will bring you to cloud nine.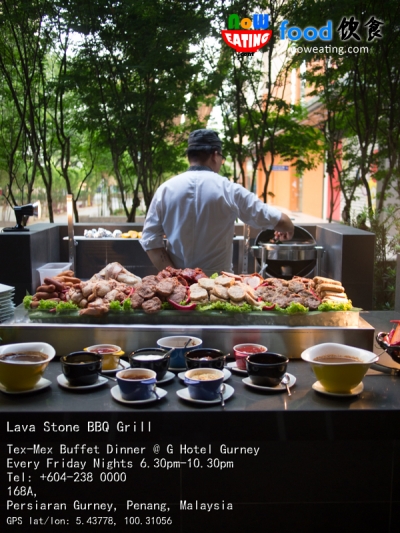 Buffet dinners are priced at RM115 nett for adults from Sunday to Thursday and RM150 on Friday and Saturday. Senior citizens aged 60 and above get to dine for RM69 from Sunday to Thursday and RM79 on Friday and Saturday. Children aged between six and 12 enjoy a 50% discount. Guests can also opt to enjoy free flow of house beer or wine by just adding on a RM55 per person.
Taste Café is also the place for daily buffet breakfast from 6am to 10.30am, priced at RM68 and buffet lunch available only when the outlet has 20 pax reservations onwards and priced at RM91. Meanwhile, the Sparkling Family Brunch on Sunday is RM103 per person and RM199 is with free flow of sparkling wine.
For reservation, kindly call +604-238 0000 or visit www.ghotel.com.my.
| | |
| --- | --- |
| Place Name: | Taste Cafe @ G Hotel Gurney |
| Cuisine: | Buffet |
| Address: | 168A, Persiaran Gurney, Penang, 10250, Penang, Malaysia |
| Tel: | +604+238 0000 |
| Email: | [email protected] |
| Website: | www.ghotel.com.my |