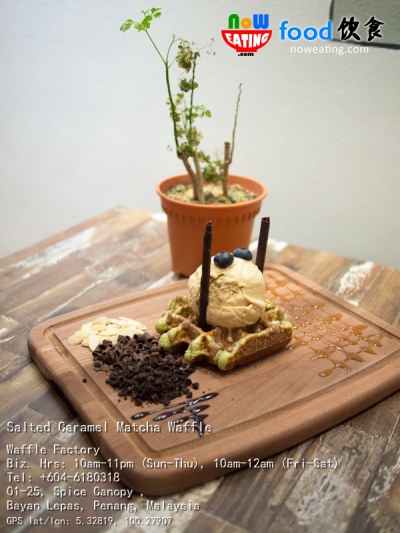 Salted Caramel Matcha Waflle (RM15.90) – one of the best waffles in town. Salted Caramel is the recommended homemade gelato in which we have no regret ordering it as it works well as the "balancer" for the sweet waffle dressing. As for the waffle, we selected the matcha flavor. You can get this premium waffle at Waffle Factory.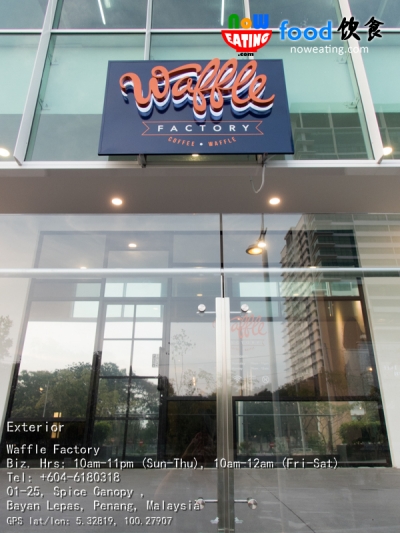 Waffle Factory is located at SPICE Canopy, Bayan Lepas, Penang. The shop is easy to spot if you are coming from Sungai Ara/Relau, passing by Jalan Mahsuri towards Sunshine Square in which Olive Tree Hotel is on your right. You may park your car at the new basement car park of SPICE Canopy.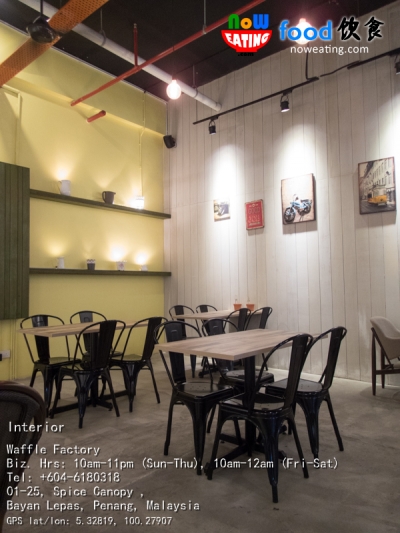 Waffle Factory may look small from outside but it is actually quite spacious and cozy inside with high ceiling, wall paintings and decors.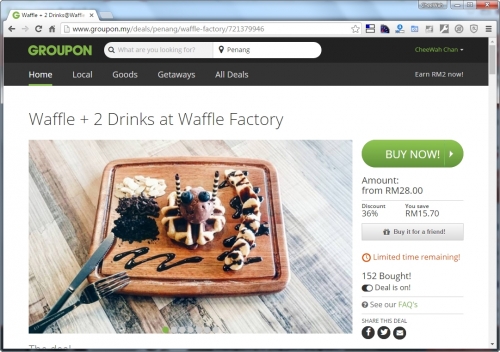 This time, we purchased our waffle using Groupon voucher with up to 36% discount. Groupon should not be a stranger for Malaysian as it is always a great place for great deals. If you are still purchasing Groupon deals directly from its website, we strongly recommend you to "stop" doing so but instead, purchase Groupon deals via ShopBack.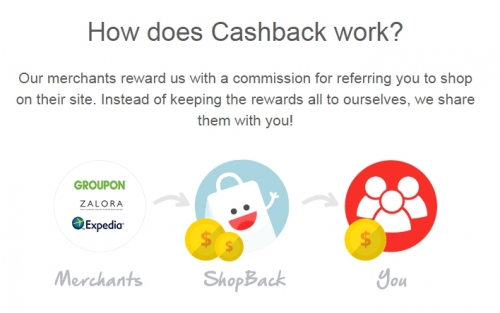 ShopBack is a cashback and online deals site where you literally get cash back while enjoying food delivery and deals from the merchant sites. On top of existing discounts and voucher codes, get back a percentage of the money you spent on your orders! After making payment, the cashback is credited to your ShopBack account, which can later be cashed out into your bank account for real cash. This legitimate service is currently available in Malaysia, Singapore, Philippines, India, and will be expanding to the rest of Asia countries.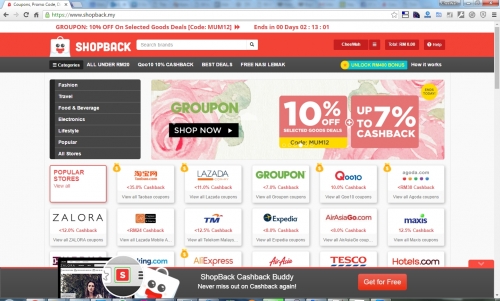 Using ShopBack is easy. First, register yourself for free. For us, we use our Facebook account for registration. Once registered, login to ShopBack and click on Groupon box. Then, you can login to Groupon site to get Groupon deals and promo codes. Behind the scene, there is a cookie/session keeping track of your purchases in external sites.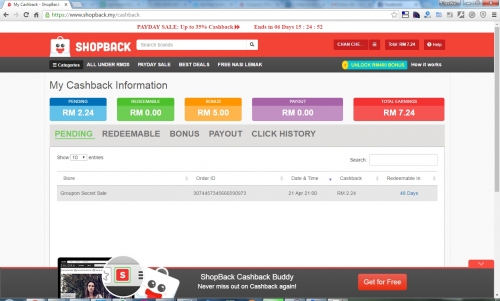 Using ShopBack, users are entitled for up to 7% cash rebate from Groupon. For us, there is a special deal that day and we got ourselves 8% rebate from RM28 Waffle Factory deal we purchased, and that is RM2.24 cash back! Even better, since it was our first purchase, we got a bonus of RM5. Note that the cashback amount will be reflected in your account within one day. From our experience, we placed our order in an evening and the cashback was not immediately reflected from your account. At first we thought the tracking was not working but when we refreshed the page again the next morning and voila~ the figure was there.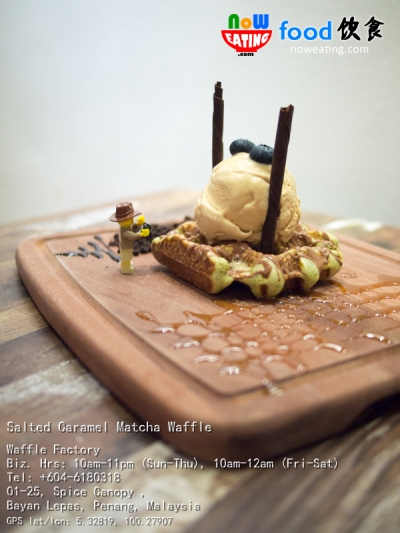 Getting back to the food, each waffle will be topped with one large scope of homemade gelato and the available flavors are displayed on the blackboard at the counter. During our visit, 7 types of homemade gelatos are available, including Chocolate Banana, Chocolate Mint, Tiramisu, Coffee, Pistachio, Salted Caramel, and Matcha. Three type of waffles are available: original, Matcha and chocolate.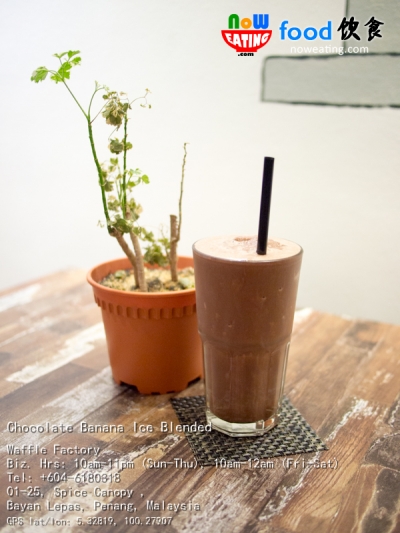 Our Groupon deal came with two glasses of drinks so we went for Chocolate Banana Ice Blended (RM13.90) which we had no regret ordering it thanks to its richness in flavor.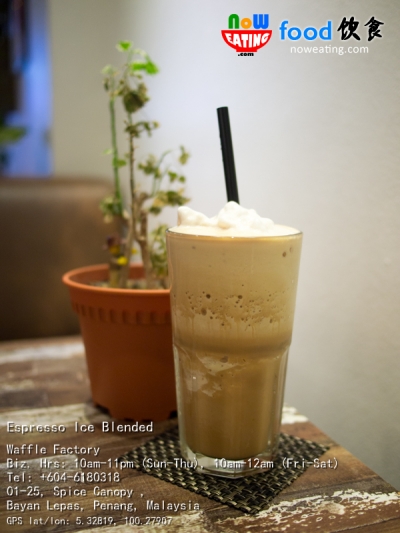 As an espresso lover, we went for Espresso Ice Blended (RM13.90). Tired of overly sweet ice blended products from a well-known coffeehouse chain, this Espresso Ice Blended is surprisingly welcoming in which it still retains the bitterness of espresso. If you are expected something sweet then this glass is definitely not for you.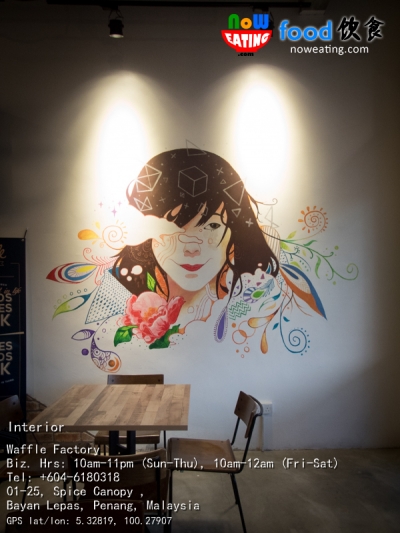 As a whole, Waffle Factory is a cafe worth visiting thanks to its premium waffle along with homemade gelatos. It is opened daily from 10am-11pm and extended to 12am on Friday and Saturday.
Facebook: Waffle Factory
GPS: 5.3282,100.2791
| | |
| --- | --- |
| Place Name: | Waffle Factory |
| Cuisine: | Other |
| Address: | 01-25, Spice Canopy, Bayan Lepas, 11900, Penang, Malaysia |
| Tel: | +604-6180318 |
| Working Hour: | 10am-11pm (Sun-Thu), 10am-12am (Fri-Sat) |
| Last Visit: | 20160422 |