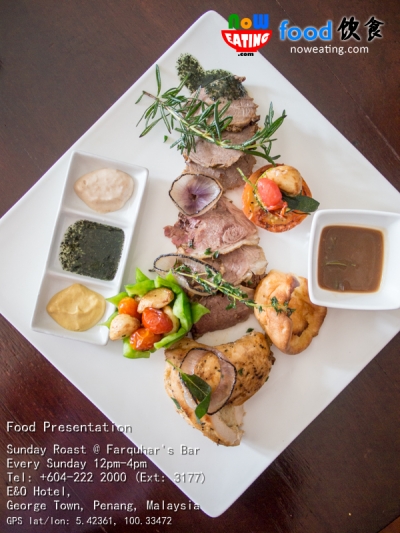 Chicken, lamb and beef – if you like all these, then you should visit Farquhar's Bar in Eastern & Oriental Hotel, George Town, Penang for its Sunday Roast Eat-All-You-Can buffet.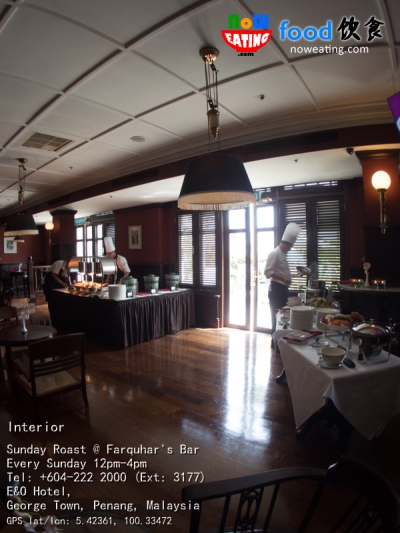 As the name applies, Sunday Roast is only available every Sunday. You may wonder on the differences between Sunday Roast buffet and Weekend Buffet Luncheon at Sarkies – the main restaurant in E&O Hotel serving daily buffet. While Sarkies buffet provides more varieties for guests, Sunday Roast is specially designed for roasted meat lover.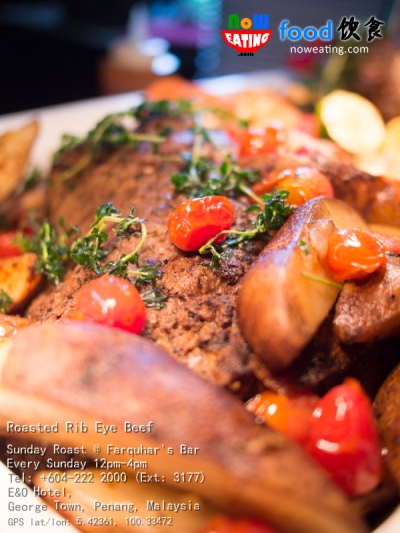 Compared to Sarkies buffet which usually offers grilled food from their action stalls, Sunday Roast offers three type of roasted meat – chicken, lamb and beef, carefully prepared by chefs from the kitchen. It is also cheaper compared to buffets in Sarkies.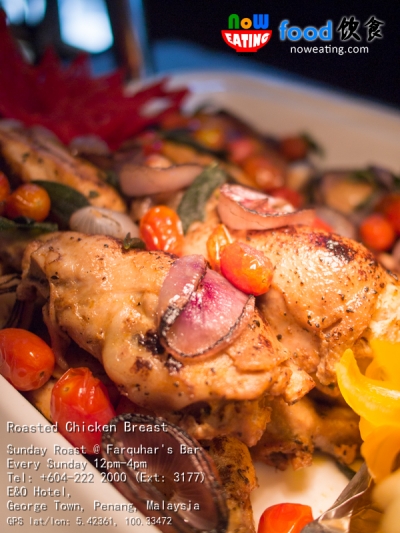 All the roasted items will be served by the kitchen crew on the spot. We particular enjoyed their Roast Chicken Breast.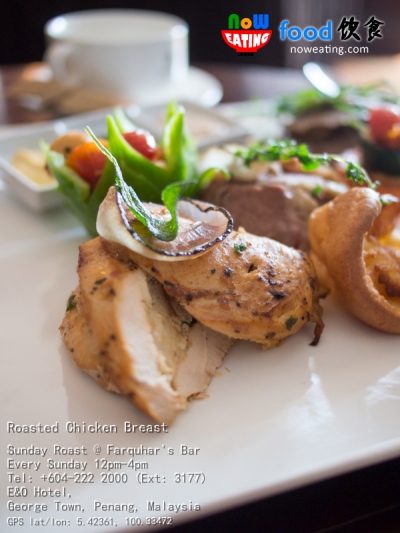 It looked like an ordinary chicken breast from outside but once you sliced it opened, it has minced chicken meat, sage (an aromatic plant) and onion stuffed in it. We never expected to have such a tender chicken breast.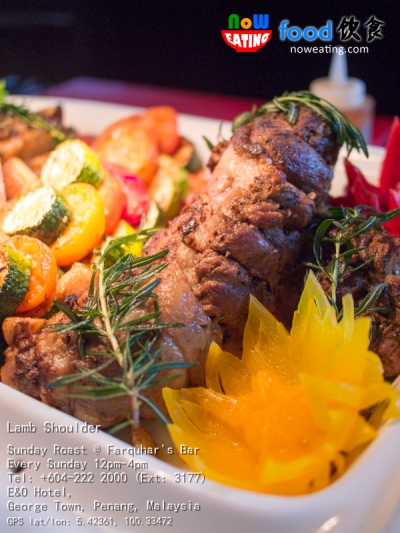 The lamb is taken from the shoulder part and is slow-cooked before roasting to perfection. We were surprised that it had little to none gamy taste commonly found in the lamb, not to mention the tenderness of the red meat in which you can enjoy it effortlessly.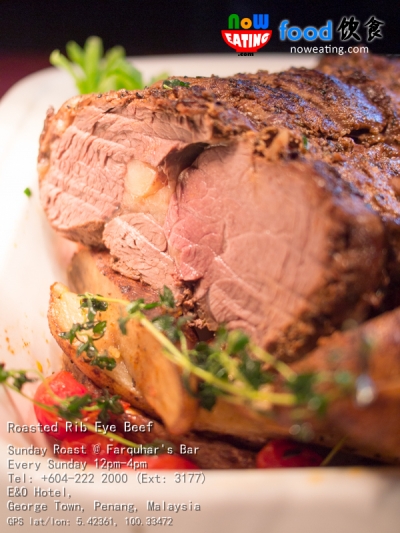 For beef lover, there is no reason not to try Roast Side of Beef. It is best served with Yorkshire pudding and goose-fat roast potatoes.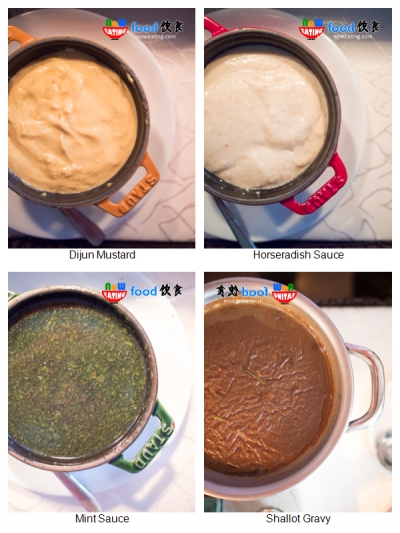 Red meats are best dipped with sauces made by E&O kitchen including Dijun Mustard, Horseradish Sauce, Mint Sauce and Shallot Gravy.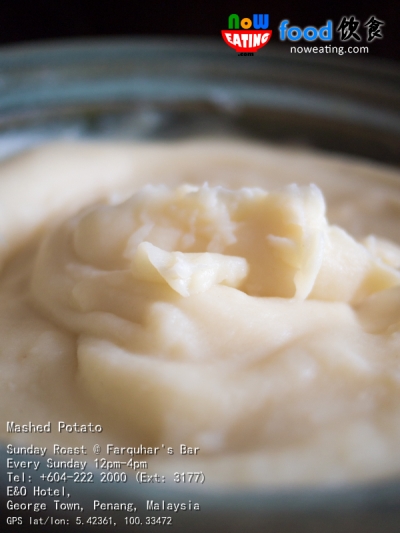 Sunday Roast also offers some "side dishes" to complement the already-perfect roasted meal, including Mashed Potato which is best dressed with Shallot Gravy…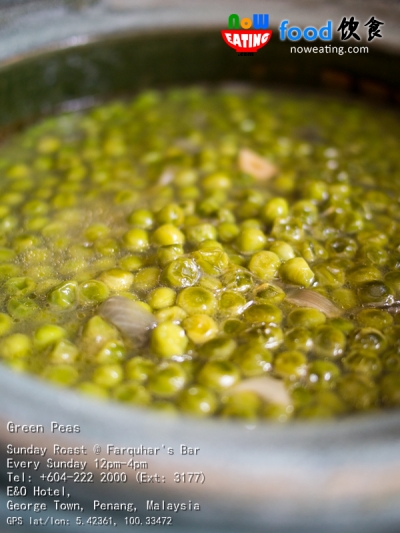 … and green peas. Note that this is not an ordinary canned green peas and it tastes so good that it can be eaten on its own.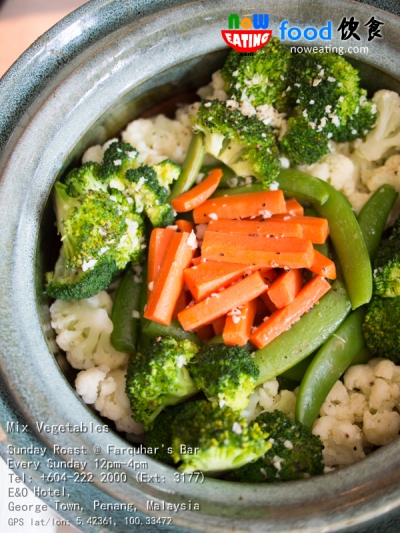 Feeling sinful after having lots of meat? Have some seasonal vegetables.
Salad, fruits, potato and leek soup, and spiced bread and butter pudding are also available as part of the Eat-All-You-Can buffet. As a whole, if you are a meat lover, you should give this premium yet affordable Sunday Roast a try.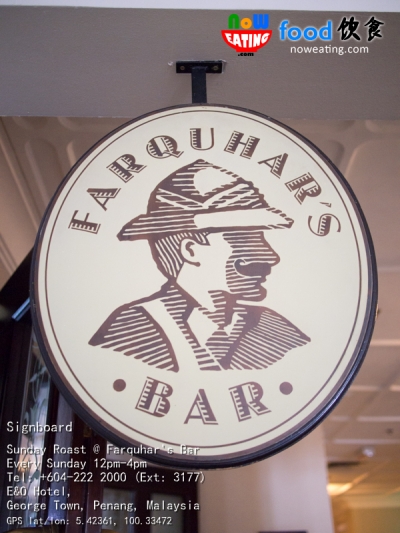 Sunday Roast is available every Sunday in Farquhar's Bar, E&O Hotel, George Town, Penang from 12pm – 4pm at RM68.00 nett per person. For reservation, kindly call Farquhar's Bar at +604-222 2000 Ext: 3177.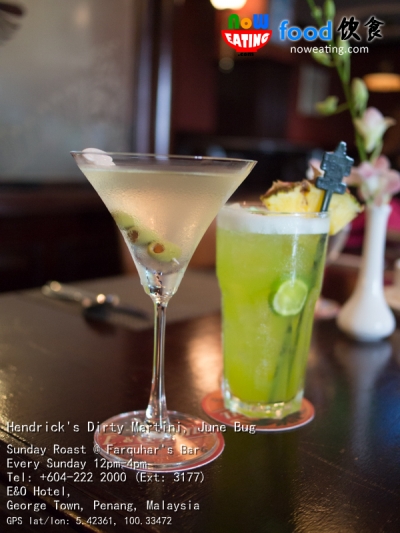 Last but not least, we would also like to take this opportunity to promote Farquhar's Bar Cocktail of the Month for the month of May and June – Hendrick's Dirty Martini and June Bug respectively. All mixed by talented barista with:
Hendrick's Dirty Martini – Hendrick Gin, Extra Dry Martini, Olives Juice, Olives
June Bug – Smirnoff Vodka, Midori, Malibu, Banana Monin, Lime Concentrate, Chilled Pineapple Juice
Each glass is priced at RM35.00 nett and is available from 11am – 12pm daily. We recommend to have a glass of it to go with Sunday Roast.
| | |
| --- | --- |
| Place Name: | Farquhar's Bar |
| Cuisine: | Buffet |
| Address: | Eastern & Oriental Hotel, George Town, Penang, Malaysia |
| Working Hour: | +604-222 2000 Ext: 3177 |
| Last Visit: | 20160424 |