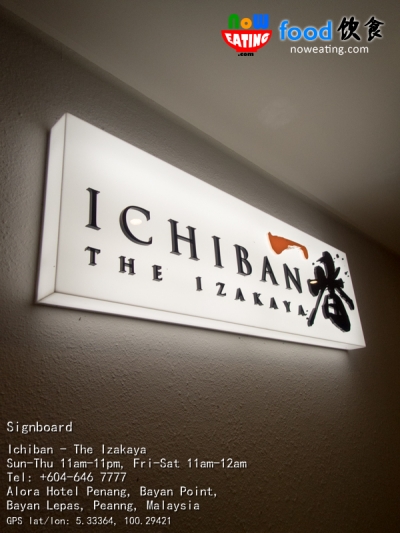 "Izakaya" means Japanese gastropub, or 居酒屋 in Chinese. It is a casual place for after-work drinking. Ichiban – The Izakaya is the Japanese restaurant and bar with currently five outlets in Malaysia:
Cascades, Kota Damansara
One Utama (Temporary Closed)
Country Garden Danga Bay, JB
Gurney Paragon, Penang
Alora Hotel, Penang
We recently visited the newly opened Alora Hotel's outlet.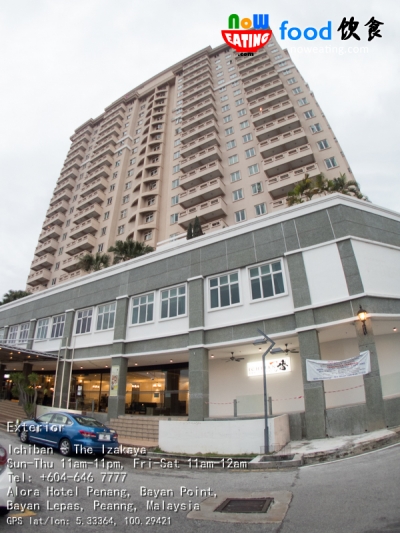 Those living in Bayan Lepas area should know about Alora Hotel (formerly B Suite Hotel) which is located next to i-Avenue. The building was previously closed for renovation. The newly reopened Alora Hotel has few food and beverage outlets in it with one of them being Ichiban – The Izakaya.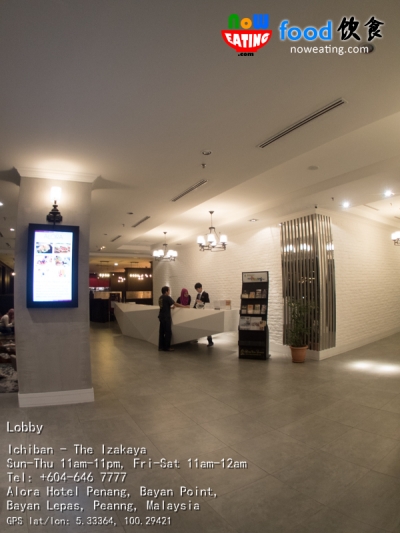 The newly renovated hotel has a bright and contemporary lobby with Ichiban at the right wing after the entrance. We arrived around 7pm and we were the only guests that evening. As a matter of fact, we were a bit worry as we might entered wrong restaurant as the new restaurant looked like a hotel's lounge with a performance stage.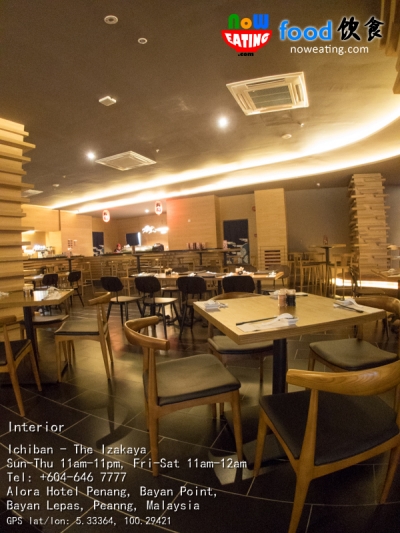 We flipped through the big menu. At first glance, it is a premium Japanese restaurant focusing more on premium items such as sashimi, grilled seafood, and maki. No sushi series at the moment and Bento is only available during lunch hour. As a bar, it also provides many alcohol drinks (about 4 pages of beverage menu) including the famous Kirin Frozen Beer (RM29 for 320ml).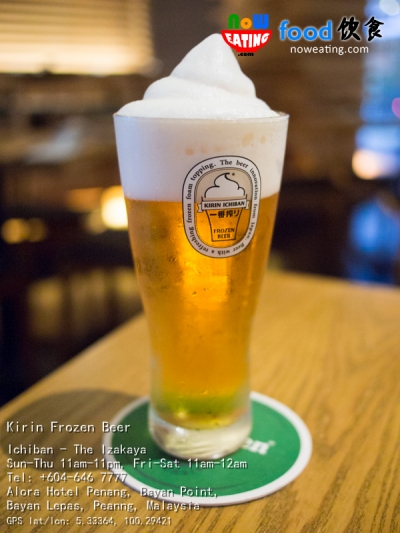 As quoted from the menu, "Kirin Frozen Beer is a COOL combination of the original Kirin Ichiban Beer with a whipped and frozen beer top. Enjoy the citrus and toasty biscuit aromas of the clear, bright golden colored Kirin Frozen Beer. It has an initial, crisp refreshing bite, leading into a surprising depth of flavors on the palate and an intensely satisfying clean finish, wit a swirl of foam at -5C. As the foam seeps into the cool Kirin beer below, the glass of beer is kept at its optimum cold temperature for 30 minutes longer." (that's the key point!)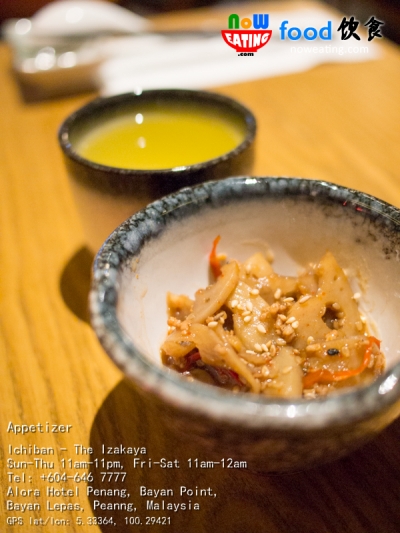 We begun our meal with a complementary lotus appetizer. Thanks for the host, we were also given complementary green tea.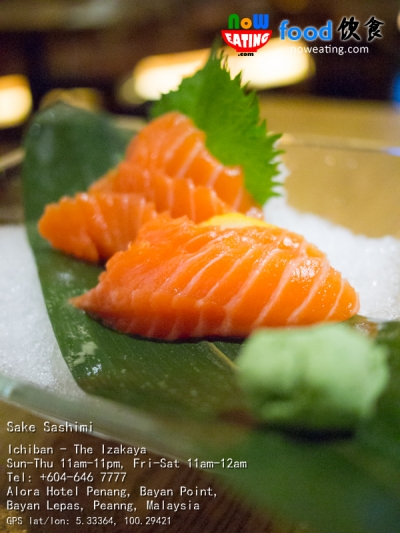 First thing to arrive was our Sake Salmon Sashimi (RM29). Thick, fresh, and juicy. Nothing to complain about.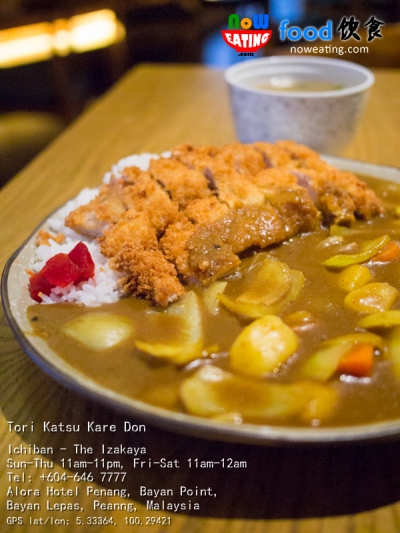 Since it was our dinner, we ordered Tori Katsu Kare Don (RM26) – Curry rice served with fried breadcrumbed-chicken. We pretty enjoyed this curry rice as the curry gravy was rich, creamy and generous enough to be consumed with the Japanese rice, until the last spoon of it. This would be a perfect dish if the potato cubes can be a bit softer.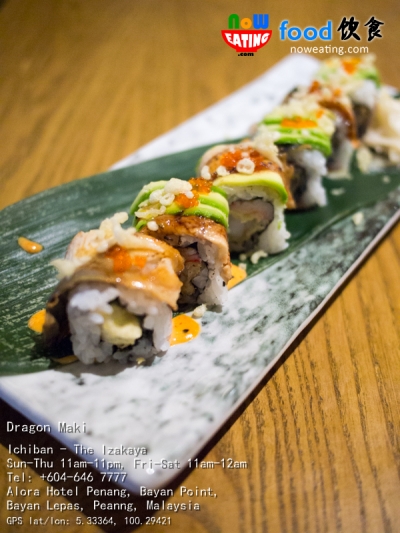 Our last item was Dragon Maki (RM33) – Prawn tempura and crab meat, topped with eel, avocado, tobiko and fried tempura flakes. Firm, juicy with a hint of spiciness from spicy mayonnaise dressing. The addition of fresh prawn stuffed in it is also a plus.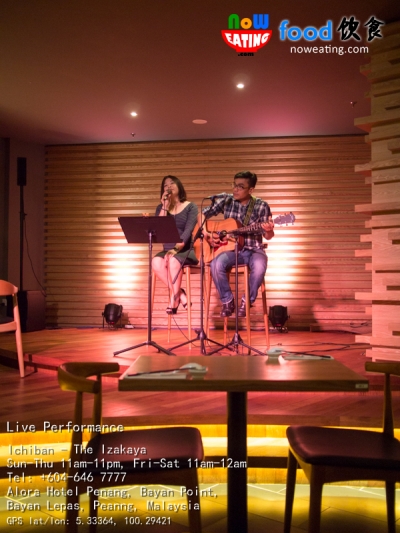 It was an enjoyable evening, if not due the fact that we just scratched one hour parking coupon. Toward the end of our meal, the restaurant was almost full with live performance. As a whole, Ichiban – The Izakaya is a good place for premium Japanese cuisine or a glass of beer in lounge environment. The restaurant and bar open daily from 11am until 11pm (Sun-Thu), and 11am until 12pm (Fri-Sat). Price excludes 6% GST.
| | |
| --- | --- |
| Place Name: | Ichiban - The Izakaya |
| Cuisine: | Japanese |
| Address: | Alora Hotel Penang, B Tower, Bayan Point, Bayan Lepas, Penang, Malaysia |
| Tel: | +604 646 7777 |
| Working Hour: | Sun-Thu 11am-11pm, Fri-Sat 11am-12am |
| Tax: | 6% GST |