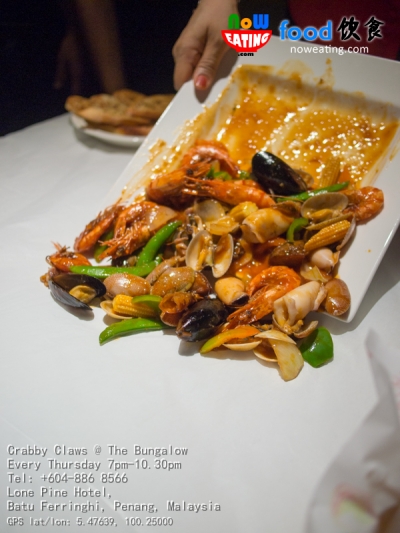 Recently, we noticed that some restaurants, including The Bungalow in Lone Pine Hotel, like to pour seafood freshly stir-fried from kitchen onto customer's dining table and ask the customers to eat them using bare hands. No, they are not crazy but this is a new trend to share and enjoy seafood without any cutlery. Just hands.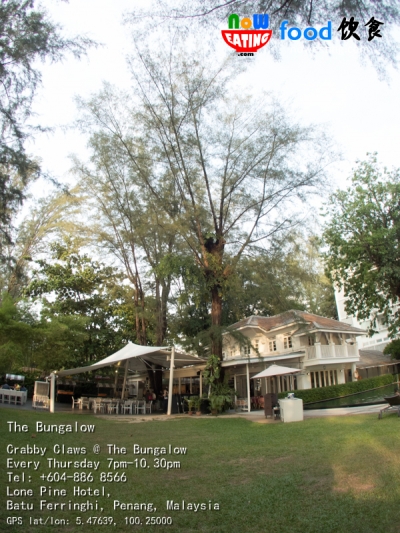 Lone Pine Hotel is located at Batu Ferringhi, Penang, Malaysia and is one of the popular hotels on the island (especially after being featured in "Outbound Love 单恋双城" Hong Kong drama). The Bungalow is the hotel's main restaurant for daily buffet and a la carte food. In front of the building is the lovely Batu Ferringhi public beach with lots of water sports. Our last visit to Lone Pine Hotel was back in year 2013. We recently re-visited it for the newly launched Crabby Claws – a seafood dinner that anything fresher, you have to catch them yourself.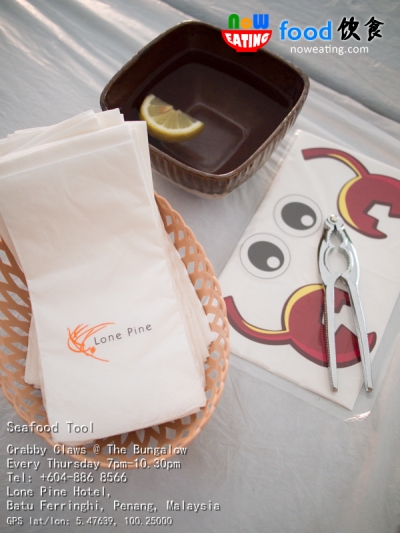 Instead of ordinary folk-and-spoon dining, Crabby Claws wants you to enjoy eating shell fishes using bare hands. For first timer, do not worry as the restaurant provides you disposable apron and gloves so that you won't get your cloth and hand dirty. In case it really does, finger bowl and napkins are also available.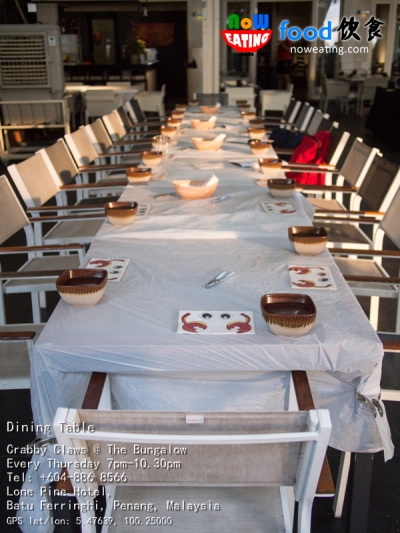 Crabby Claws is all about sharing. Grilled or stir-fried seafood will be poured at the center of guest's table which is covered by food grade plastic sheet.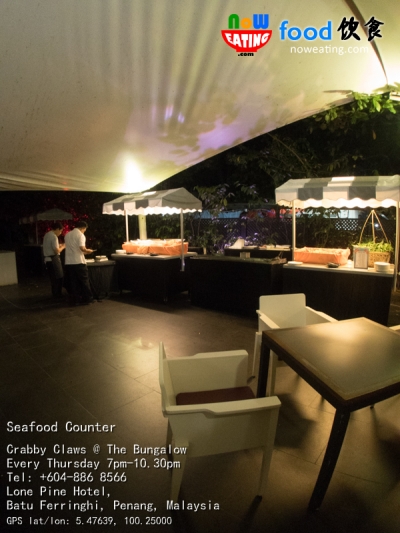 Guests can select seafood of their choice from the seafood stall. Seafood are counted by weight. Instead of just showing "market price" on the menu (which may lead to bill shock when paying bill), The Bungalow has the actual price printed on the menu so that guests can have peace of mind when selecting seafood of their choice. Price below inclusive of 10% service charge & 6% GST: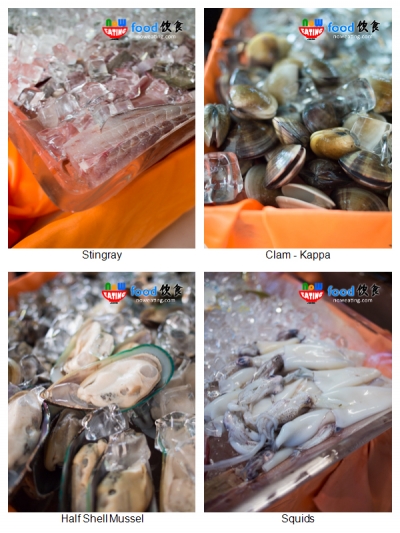 Stingray – RM8.15/100g
Clam – Kappa – RM2.35/100g
Clam – Bamboo – RM3.50/100g
Half Shell Mussel – RM4.90/100g
Black Mussel – RM4.90/100g
Squids – RM7.00/100g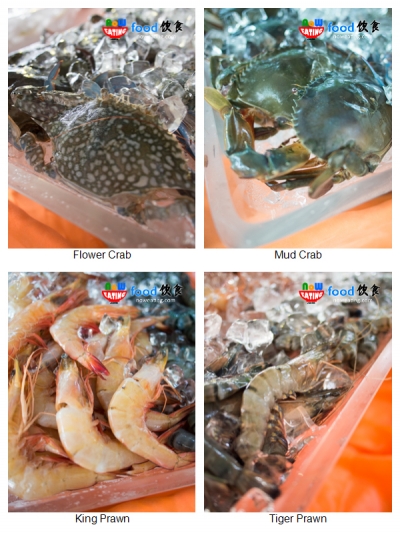 Mud Crab – RM16.10/100g
Flower Crab RM8.15/100g
King Prawn – RM12.25/100g
Tiger Prawn – RM9.30/100g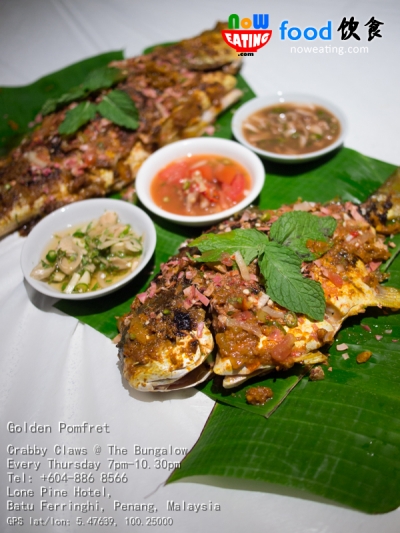 Whole fish is also available and instead of stir-fried, the chef strongly recommend guests to have them coated with homemade chili paste before grilled with aromatic banana leaf – a truly Malaysia way. Be ready to have your taste buds tingling with The Bungalow's homemade "sambal" sauce designed for grilled seafood.
Golden Pomfret – RM67.60/nos
Black Pomfret – RM6.40/100g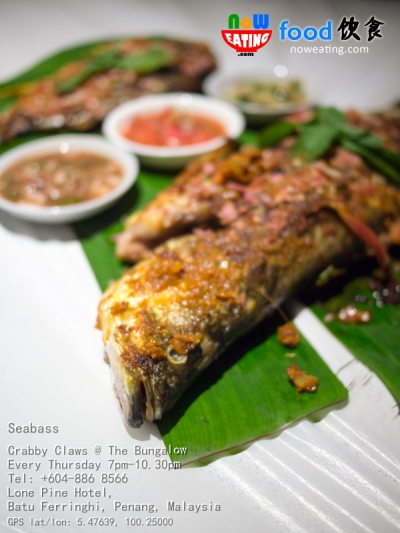 Whole fish is also best served with steamed rice (RM3.50/plate). Be careful as the content is hot.
Mabong – Indian Mackarel – RM4.65/100g
Seabass – RM8.15/100g
Fresh Water Catfish – RM2.90/100g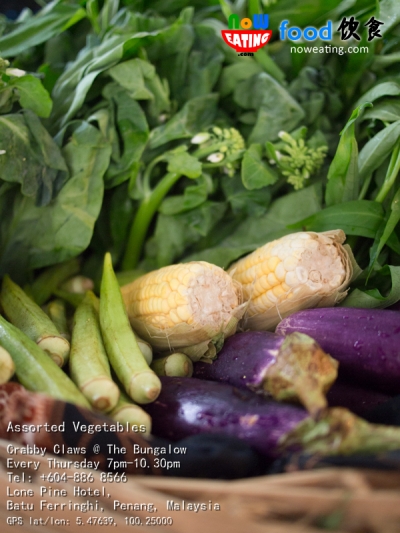 Assorted vegetables are also available for those feeling "sinful" of having too many seafood:
Jumbo Hot Dog – RM14.00/piece
Ladies Fingers – RM21.00/plate
Eggplant – RM21.00/plate
Mantou – RM11.65 (8 pieces)
Garlic Bread – RM11.65 (8 pieces)
Steamed Rice – RM3.50/plate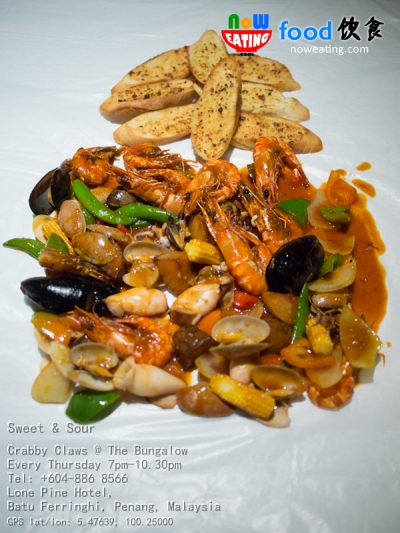 Spoiled by choice? Do not worry. The Bungalow has two pre-configured sets, including:
Set A (RM79.00 nett)
300g prawns
180g squids
150g kappa
150g clams
Sweet peas
Corns
Potatoes
Onions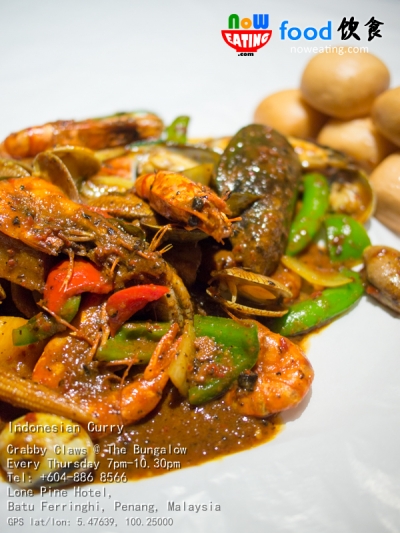 Set B (RM138 nett)
500g mud crab
300g prawns
180g squids
150g kappa
150g clams
Sweet peas
Corns
Potatoes
Onions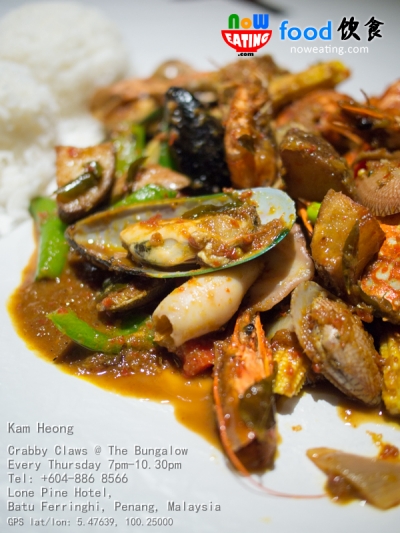 Each set comes with your choice of garlic bread, mantou or rice. As for the stir-fried sauce, guests can select:
Sweet & Sour
Indonesian Curry (Spicy)
Kam Heong (Spicy)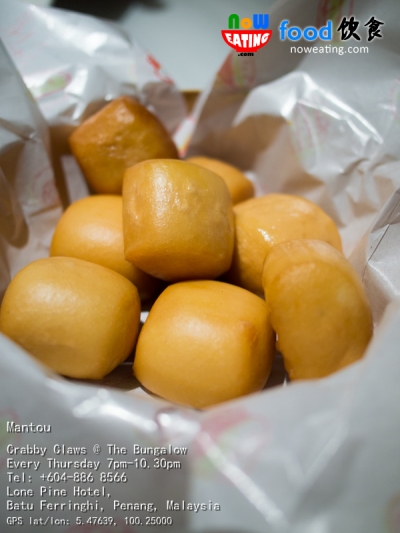 During our visit, we tried all three sauces and in our own opinion, both Sweet & Sour and Indonesian Curry are equally good. Mantou is a must-try as the crispy outside, soft inside buns are fried to golden and served hot. Best dip with any sauce.  Crabby Claws' price is also quite competitive considering the fresh seafood is prepared at hotel standard.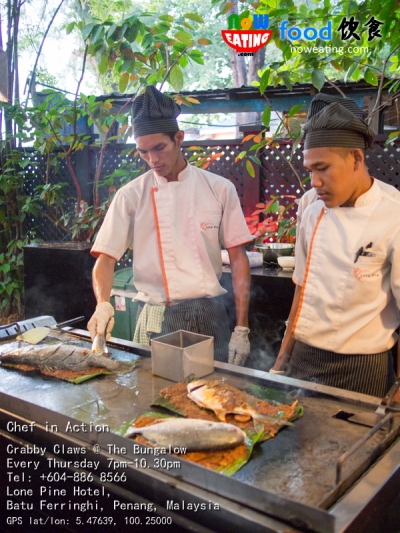 We pretty enjoyed the seafood that night to an extend that we removed our gloves and continued enjoying the seafood with bare hands (Our fingers still stained with Kam Heong sauce on the next day). Crabby Claws are available every Thursdays from 7pm until 10pm. Reservation is strongly recommended (Tel: +604-886 8566).
| | |
| --- | --- |
| Place Name: | The Bungalow @ Lone Pine Hotel |
| Cuisine: | Malay |
| Address: | Lone Pine Hotel, Batu Ferringhi, Penang, Malaysia |
| Tel: | +604-886 8566 |