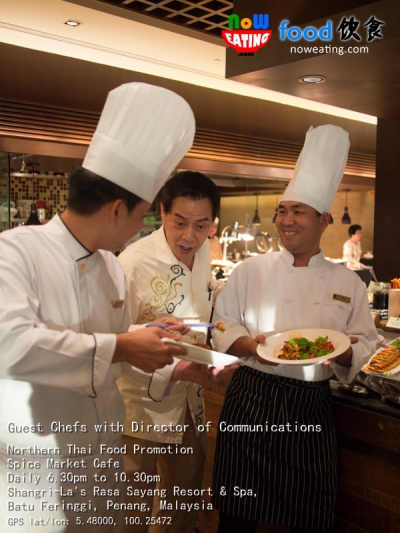 What's making Suleiman – the Director of Communications in Rasa Sayang Resort & Spa so excited about? It is nothing more than June's Spice Market Cafe special – Northern Thai Food Promotion presented by two guest chefs – Chef Damrongsak Khammonghon (left) and Chef Pratthung Taka (right).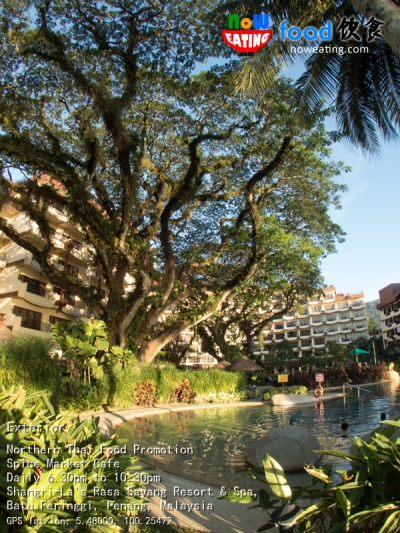 Under the management of Shangri-La Hotels and Resorts, Rasa Sayang Resort & Spa is no stranger to Penangites and is one of the popular places for buffet in Batu Ferringhi, Penang. We still remembered that many years ago, locals from as far as main land were travelling all the way to the premise for its "Buy 1 Free 1" buffet promotion. It was selling fast and we actually attempted to make reservation but unfortunately they were fully booked throughout the promotion period.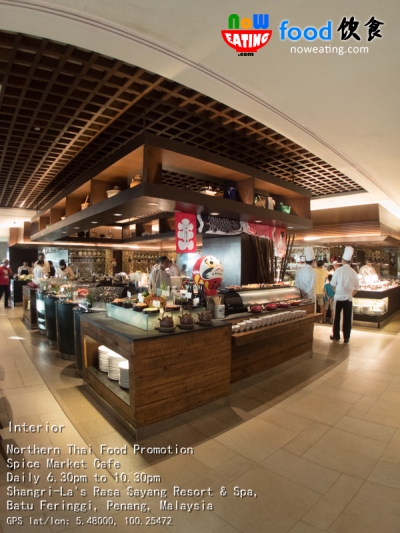 Good news is that, Spice Market Cafe – the main restaurant in Rasa Sayang Resort & Spa, has new promotion which is called "P60" (more details towards the end of this article).  Even better, in the month of June 2016, you will have an opportunity to try out Northern Thai Cuisine prepared by both guest chefs from Chiang Mai at no additional charge.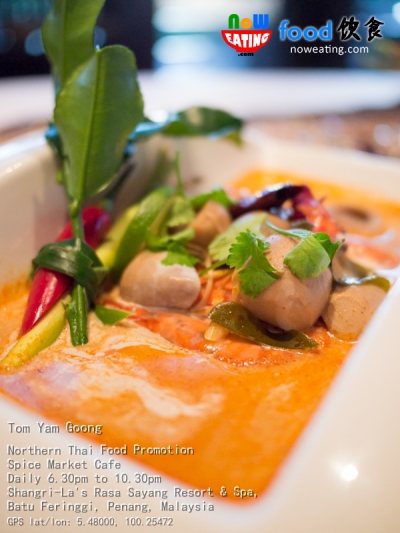 Northern Thai cuisine is different from Southern Thai cuisine. In general, northern Thai cuisine is milder compared to southern region. Personally, we prefer northern Thai cuisine as the milder food allowing us to taste the aromatic herbs without paralyzing our taste buds. The saliva-drooling Tom Yam Goong, for example, is a must-try with uniqueness hardly found in Penang island.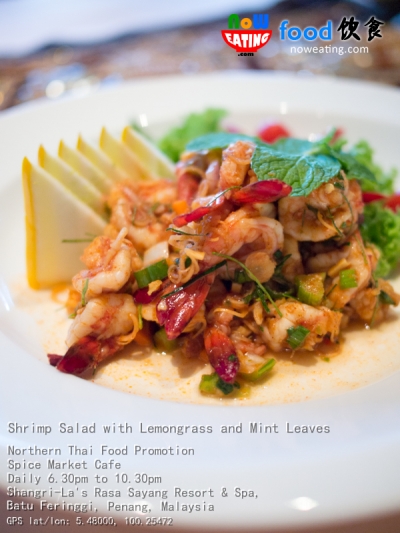 Both Chef Damrongsak Kahmmonghon and Chef Pratthung Taka are from Shangri-La hotel of Chiang Mai, Thailand and have a combined 28 years of experience in Thai cuisine. Passionate about their cuisine, they are bringing ingredients from their native homeland to ensure that the cuisine served is authentic. Figure shows Shrimp Salad with Lemongrass and Mint Leaves, another signature dish from the chefs.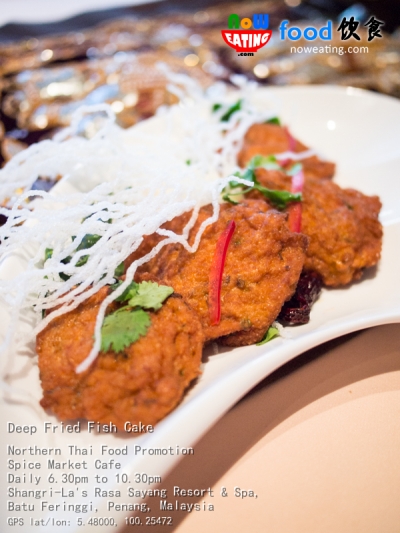 Both guest chefs will be featuring their dishes from appetizer to main course and to desserts. Deep Fried Fish Cake is another highlight and is a common appetizer/snack in Thailand. Best dip with sweet chili sauce. Note that most of the dishes are on rotating basis to allow guests to try different food on subsequent visits.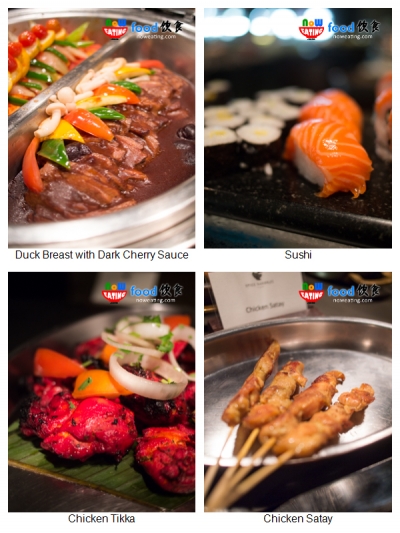 Northern Thai Promotion is not just serving Thai cuisine. It is still an International buffet with seasonal Thai attractions from guest chefs. Malay, Indian, Chinese and Japanese cuisines can still be found in the buffet spread. We strongly recommend guests to have some sashimi from the Japanese counter and proceed your way to Indian corner for Tandoori or Chicken Tikka with homemade sauces.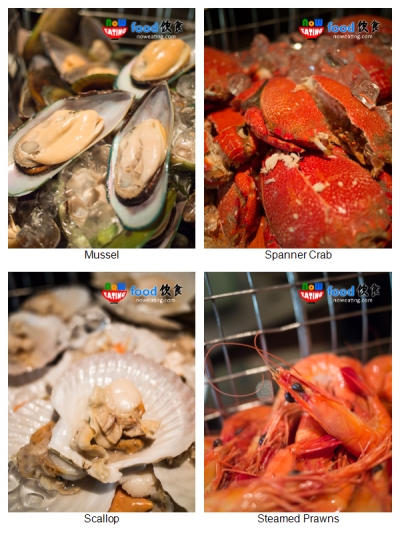 While taking the food, we also overheard local and Thai chefs exchanging knowledge on the dishes they prepared during the evening. For instance, Thai chefs are pretty interested on fresh seafood on ice such as mussel, spanner crab, scallop and steamed prawns which are pretty common in islands like Penang but not highlands like Chiang Mai.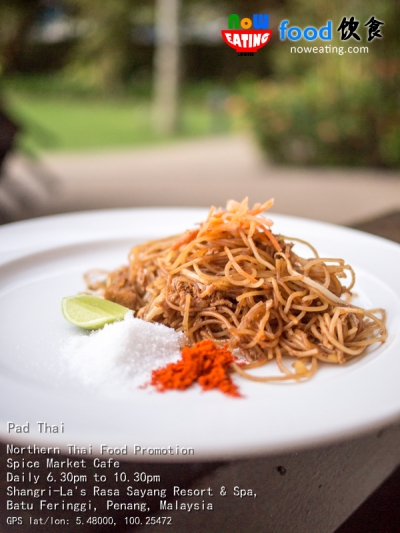 In return, Thai chefs shared the way to enjoy Pad Thai (stirred fried noodle) in native Thai way such as by sprinkling with lime juice before stirring with fine sugar and chili powder.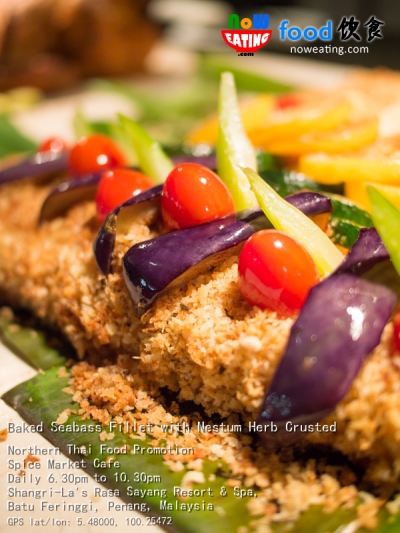 Western cuisine such as Baked Seabass Fillet with Nestum Herb Crusted, Parmesan Chicken Escallops with Tomato Coulis, Lamb Steak with Minted Jus and Roasted Potato with Herb are also available as part of hot tray items.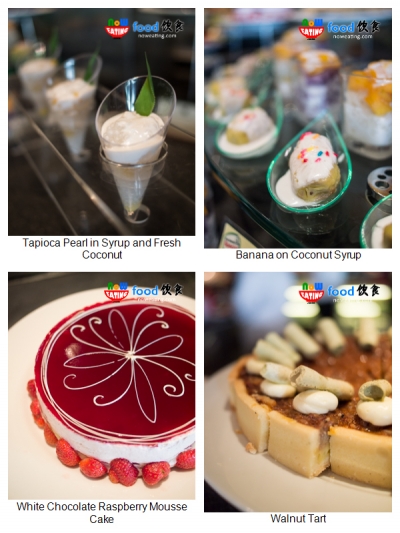 To end your dinner with sweet memory, be sure to visit desserts corner and grab some homemade pastries such as White Chocolate Raspberry Mousse Cake and Walnut Tart. Special in the month of June, guests will have an opportunity to try out Thai desserts crafted by guest chefs, including Tapioca Pearl in Syrup and Fresh Coconut, and Banana on Coconut Syrup. A thumb up for Spice Market Cafe is that they use fresh coconut milk for their desserts.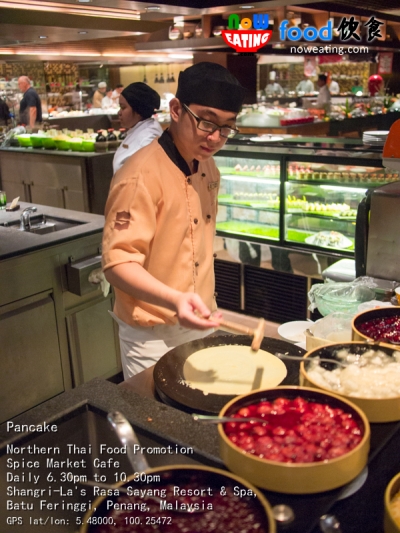 Pancake, ice cream, cheese, kid and drink corners are just few stations we couldn't cover in this article. Visit it to believe it.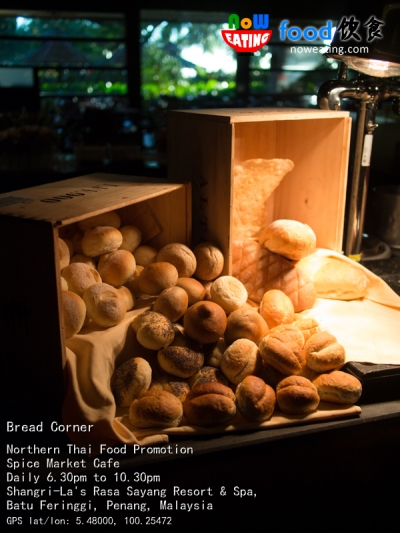 The pork-free International Buffet Dinner is available from Sunday to Thursday, 6:30 to 10:30 p.m. Priced at RM173 nett per adult and RM87 nett per child, it includes free-flowing spiced beverage. Every Monday and Tuesday, the restaurant offers the highly popular and value-for-money "P60 Promotion", meaning diners pay only 60 per cent of the standard buffet price. It is not available on the eve of the public holidays and public holidays.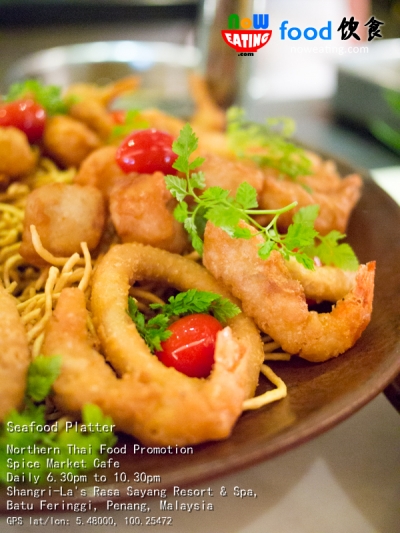 Every Friday and Saturday, Spice Market Café features the Seafood Buffet Dinner at RM185 nett per adult and RM93 nett per child, and including free-flowing cordial. Sunday Brunch is from noon to 3 p.m. and priced at RM138 nett per adult and RM69 nett per child. For reservation, kindly call +604-888 8888.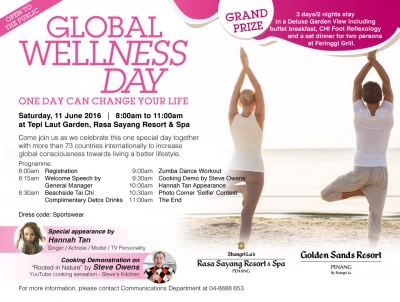 On a side note, Rasa Sayang Resort & Spa is also conducting Global Wellness Day on 11-Jun-2016 (Sat), 8am to 11am at Tepi Laut Garden. Activities include Beachside Tai Chi, Zumba, Cooking Demo, "Selfie" Contest and Hannah Tan appearance. This event is opened for public and you may stand a chance to walk away 3D2N stay in the resort.
| | |
| --- | --- |
| Place Name: | Spice Market Cafe |
| Cuisine: | Buffet |
| Address: | Rasa Sayang Resort and Spa, Batu Ferringhi, Penang, Malaysia |
| Tel: | +604-888 8888 |
| Working Hour: | 6:30pm-10:30pm daily |
| Last Visit: | 20160601 |