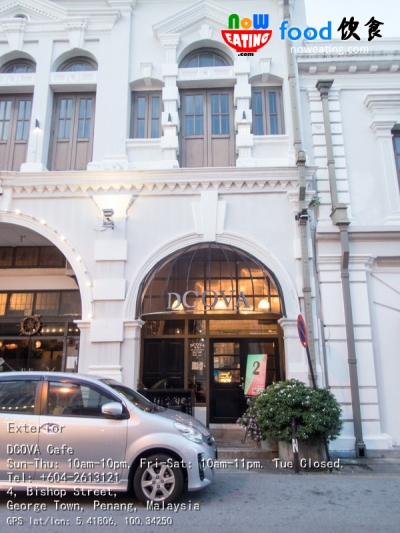 Time flies and it has been two years since DCOVA opens its door at Bishop Street, George Town, Penang. Recently, we revisited it for some new dishes preview.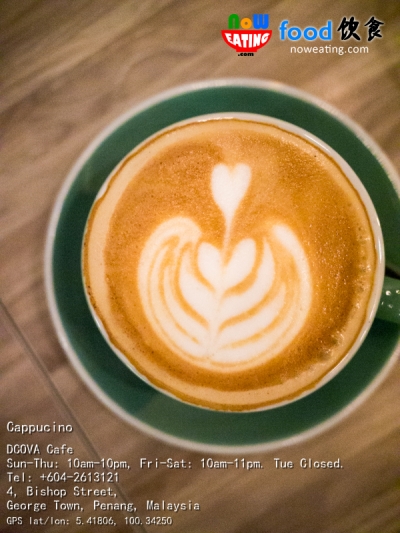 In our own opinion, DCOVA serves one of the best coffee and pasta in George Town area. From time to time, the owner will do some "R&D" and bring some high grade coffee beans to the premise. During our recent visit, we were fortunate to try the new medium-roasted coffee bean with strong fruity taste we never tried in other cafes before. Be sure to ask barista for coffee bean of the day.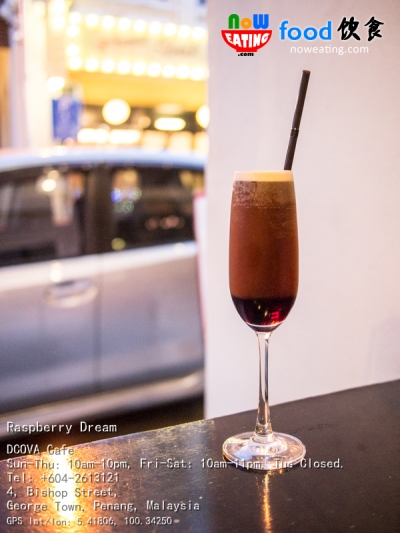 Other beverages include Raspberry Dream (RM11.50) we ordered that evening. This "Made in DCOVA" drink has the coffee mixed with soda and raspberry. Strange enough, the aftertaste will remind you of a Thai food.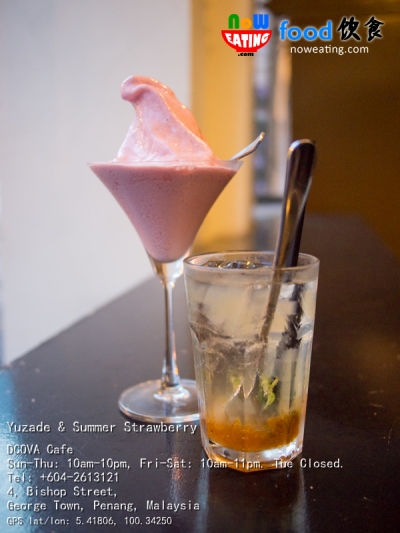 Yuzade (RM14.90) – fresh citrusy yuzu soda served with homemade Japanese yuzu flavoured jelly.
Summer Strawberry (RM13.50) – Fresh strawberries blended with milk and ice into a smooth delectable smoothie.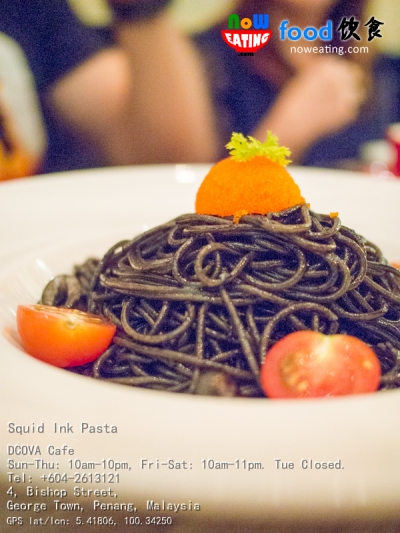 Pasta-wise, other than those mentioned in our previos post, Squid Ink Pasta (RM27.90) is a must-try. It is a spaghetti tossed in extra virgin olive oil, squid and topped with a hearty serving of Ebiko.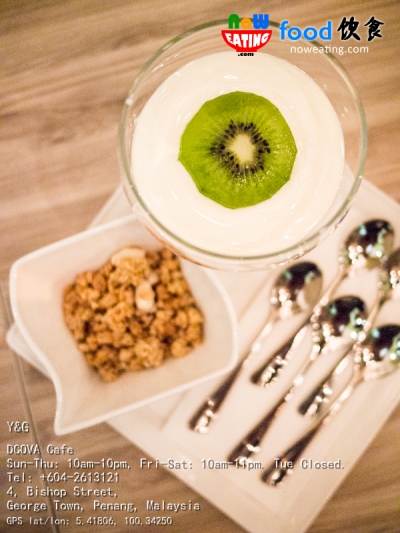 Another all time favourite is their Y&G (RM9.90). Yes, it is just a plain yogurt but it goes surprisingly well with granola – a breakfast food consisting of oats, nuts and others. As a matter of fact, you will find yourself spending whole evening mixing yogurt with granola.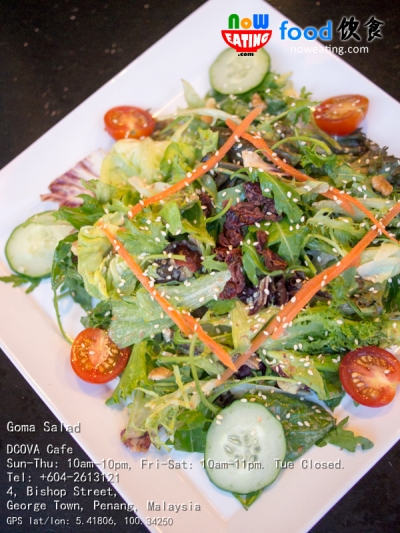 While we don't have exact detail on the new menu including the final price, it is believe that the new menu will still have best sellers intact while introducing some new dishes, such as Goma Salad. The idea comes from a Japanese side dish consisting of vegetables and sesame and DCOVA twisted it into a western+Asian appetizer with dried cranberry sprinkled with sesame. Figure above shows Goma Salad for two persons and actual portion will be smaller.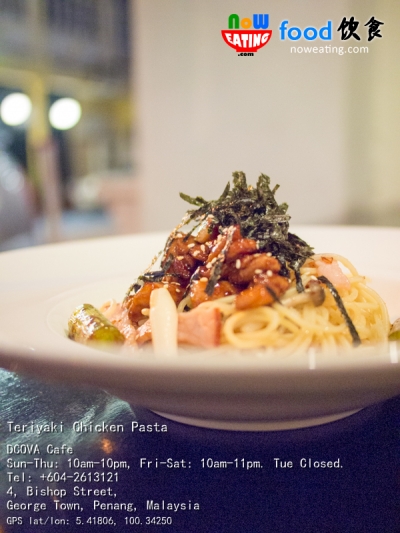 From our observation, DCOVA likes to "invent" new dishes by combining the best of one cuisine with another. Previously, we have tried Teriyaki Chicken Salad. Today, we have Teriyaki Chicken Pasta. The al dente spaghetti is served with Japanese leek, bacon, mushroom, marinated chicken and seaweed.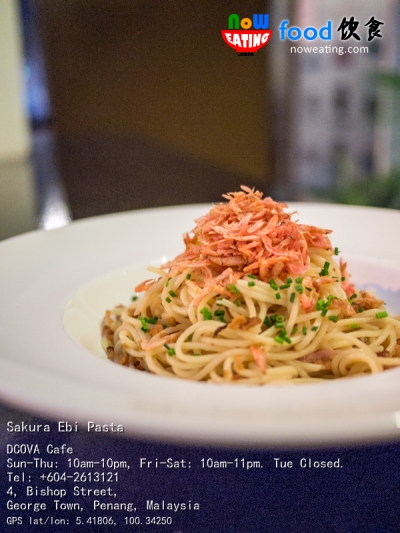 Another Japanese+Italian dish is  Sakura Ebi Pasta. The dried shrimp is not the same species found in our local islands such as Pulau Pangkor but is an "imported" version from Japan. The pink shrimp is named after Sakura (Cherry Blossom) due to its colour. The aroma of the stir fried shrimps filled the whole dining area the moment the dish was served. Note that this is a seasonal item as mentioned in DCOVA official Facebook page.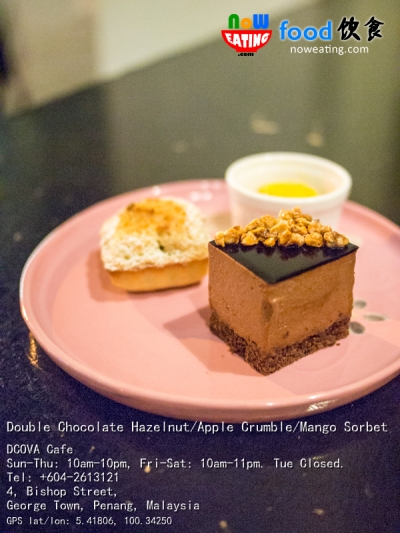 As for the desserts, DCOVA introduced many exciting cakes, tarts and even sorbet with most of them being made in the premise. For chocolate lover, be sure to grab a piece of Double Chocolate Hazelnut cake. They are displayed in front of the counter and of course, you can always ask for desserts of the day.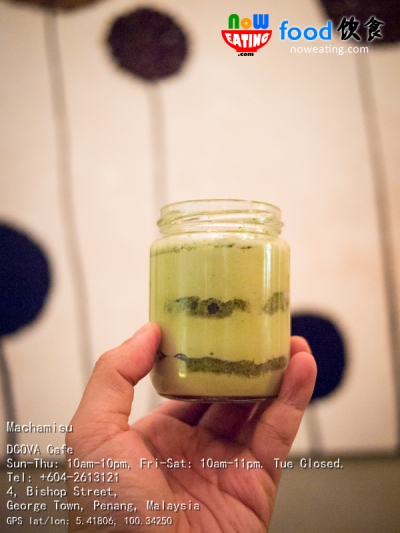 Machamisu is strongly recommended by the owner. Similar to Tiramisu, the best way to enjoy it is to begin from the bottom where the sponge cake is soaked with syrup overnight, making this small glass of gems ultrarich to begin with, and smooth enough to end with.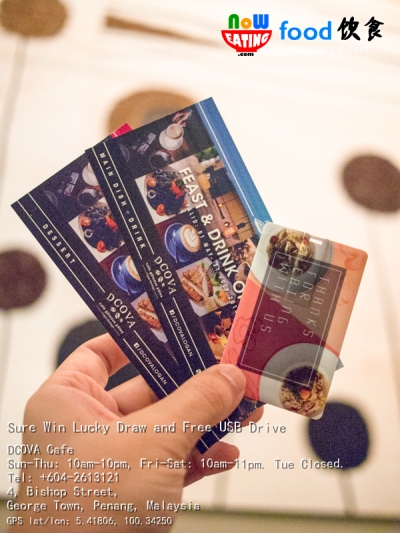 Last but not least, in conjunction with 2 years anniversary, DCOVA is giving away food voucher with minimum spending of RM100 in a single receipt, and a free credit card size flash drive with minimum spending of RM160. If you read this post on or before 17-Jun-2016 then you are in luck. T&C applies. DCOVA is opened daily from 10am to 10pm. On Friday and Saturday, the business hour is extended to 11pm. Closed on Tuesday. For enquiry, kindly call +604-261 3132.
GPS: 5.41806,100.342506
| | |
| --- | --- |
| Place Name: | DCOVA |
| Cuisine: | Western |
| Address: | 4, Bishop Street, George Town, Penang, Malaysia |
| Tel: | +604-261 3132 |
| Working Hour: | Sun-Thu: 10am-10pm. Fri-Sat: 10am-11pm. Tue Closed. |
| Last Visit: | 20160602 |