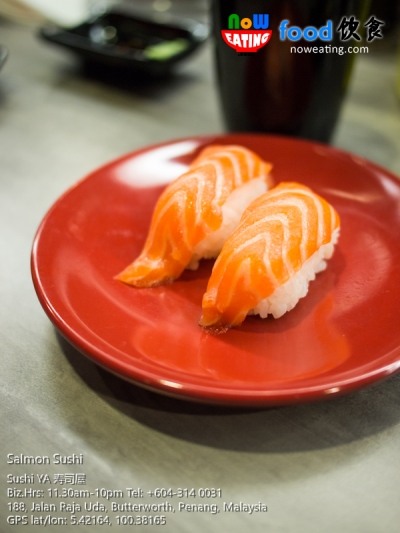 Last year, we could still enjoy a plate of Kappa Maki (Cucumber Roll) at the price of RM2.00 at Japanese chain restaurants. Thanks to currency depreciation, it is now a history. Either the same color plate had increased price, or the Maki was "promoted" to the ext color. Sushi YA appears to be our pocket saver.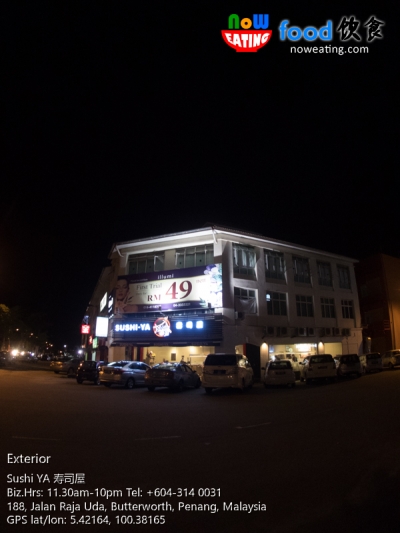 Sushi YA is located along the main road of Raja Uda, opposite of Petronas gas station. The same shop lot used to be Tang Bo Fu desserts shop. Sushi YA opens daily form 11:30am until 10pm. According to the official Facebook page, another outlet is opening at Jelutong, Penang.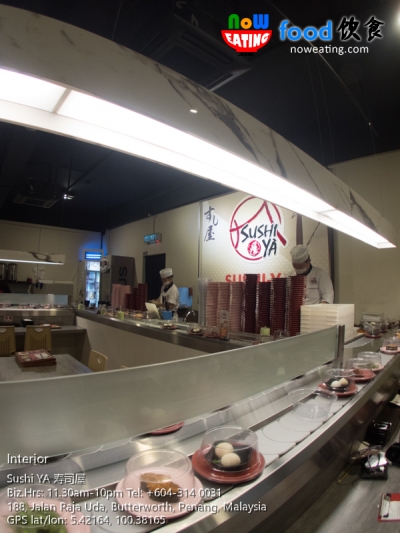 We stumbled upon this restaurant when we were looking for dinner in Raja Uda. The restaurant was about 60% full and we were being seated next to conveyor belt with assorted sushi on top.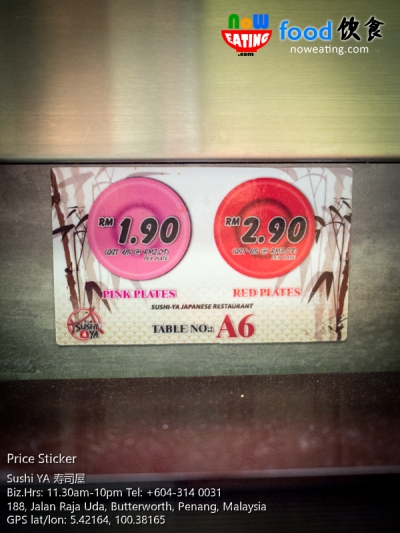 Instead of offering Sushi with five or more color plates (each color represents a price), for the peace of mind, Sushi YA only offers two colors – pink (RM1.90++) and red (RM2.90++).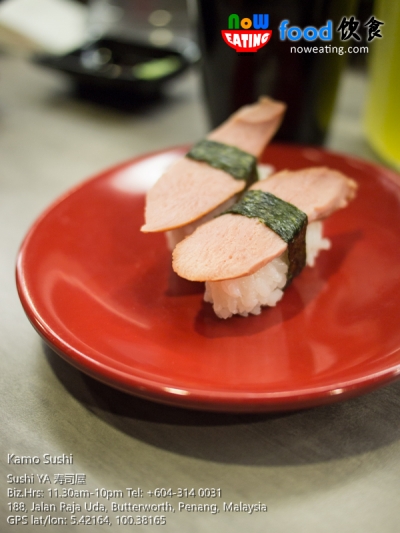 Customers can either select the sushi from the conveyor belt or order from the menu. Either case, they are prepared fresh by chefs who never stop wrapping Sushi in front of us. From our observation, most of the Sushi fall under RM2.90++ category (55 vs 12 items for RM1.90++ category). Figure shows Kamo Sushi (Smoked Duck Sushi).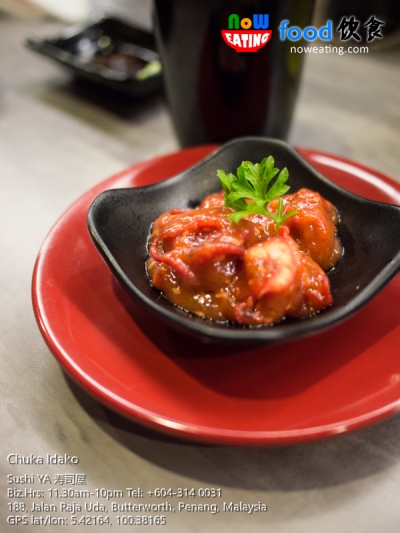 Is it worth the price? The answer is yes for most of the case. For instance, Chuka Idako (baby octopus) is a must-have as it usually costs RM8+ onward nowadays in most Sushi restaurants.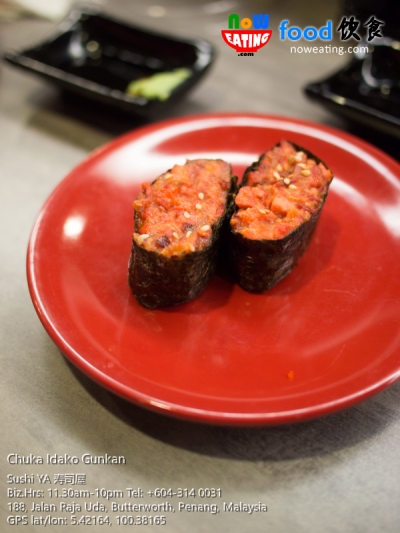 (Figure: Chuka Idako Gunkan) The catch? Some items are smaller in portion compared to competitors. For example, instead of 6 pieces, Kappa Maki only comes in 4 pieces at the price of RM1.90++. Other than Chuka Idako, we also recommended Salmon Mentai Sushi. We hardly found a salmon sushi at the price of RM2.90++ nowadays.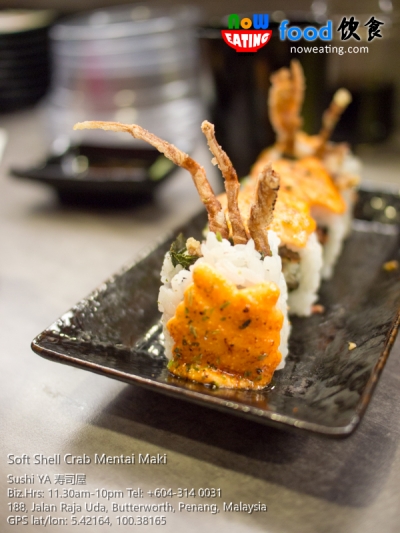 Special Sushi and Jyu also can be ordered from the menu (an order chit is provided on each table). We had no regret ordering Soft Shell Crab Mentai Maki (RM7.90+).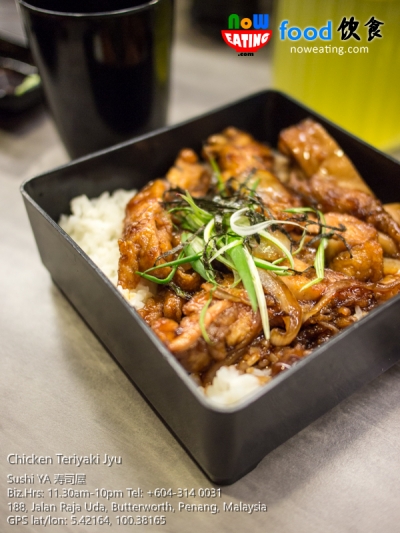 Chicken Teriyaki Jyu is another recommended item despite of its smaller size compared to competitors. The de-boned chicken thigh is tender and juicy. Sauce-rice ratio is just perfect, unlike some restaurants with big portion of rice but awfully limited sauce in which you most probably ended up eating plain white rice. Most rice box items, including this one, are priced at RM9.90++.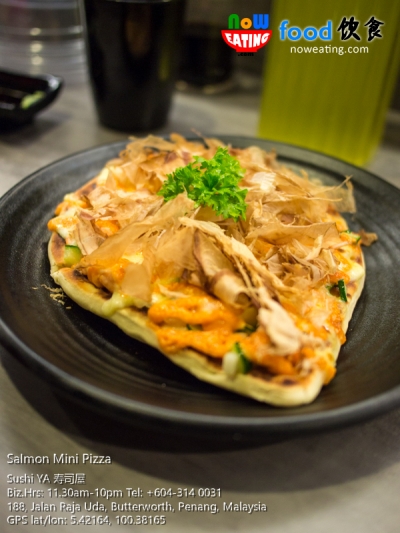 Salmon Mini Pizza is a new item in the menu and definitely worth the wait. The pizza is made of slightly soft and fluffy crust, topped with cheese, cooked salmon, fish roe and dried fish flakes.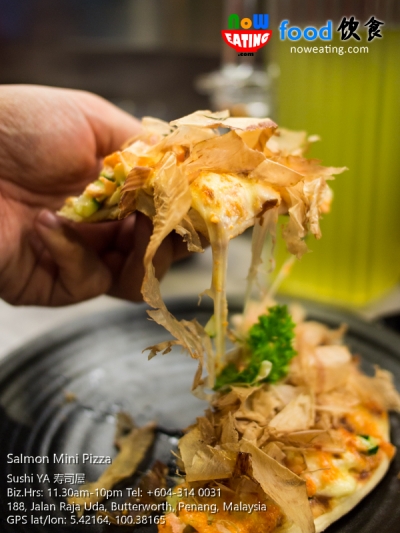 Salmon Mini Pizza was also the "most expensive" item we ordered that evening and yet, it was still below RM20 (at RM19.90++).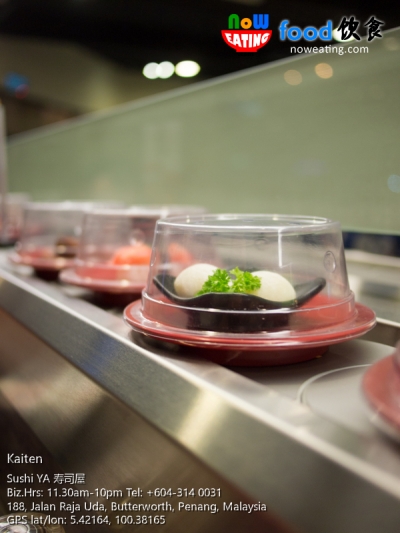 Our total damage for that evening was RM60.95 including 10% Service Tax and 6% GST. Our estimation with the same food at other restaurants would be around RM70. Unfortunately, they missed out our Salmon Mentai Sushi but no big deal as we were almost full. As a whole, Sushi YA can be your daily Sushi restaurant if you are Sushi lover thanks to its affordable pricing.
| | |
| --- | --- |
| Place Name: | Sushi YA 寿司屋 |
| Cuisine: | Japanese |
| Address: | 188, Jalan Raja Uda, Pusat Perniagaan Raja Uda, Butterworth, 12300, Penang, Malaysia |
| Tel: | +604-314 0031 |
| Working Hour: | 11.30am-10pm daily |
| Tax: | 10% Service Charge and 6% GST |