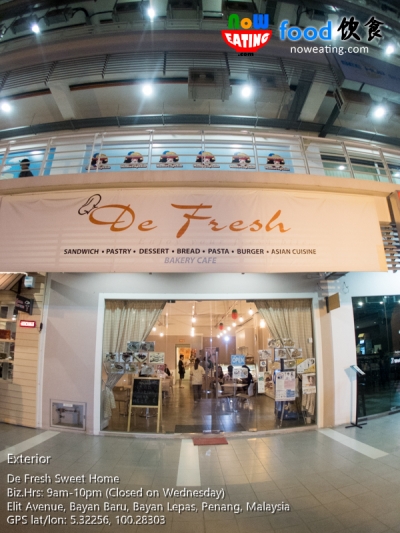 De Fresh Cafe (GPS: 5.32256,100.28303) is located in Elit Avenue, Bayan Baru, Penang. Compared to other restaurants there, the cafe is pretty low profile with a PVC banner hanging outside. We visited one evening to give it a try.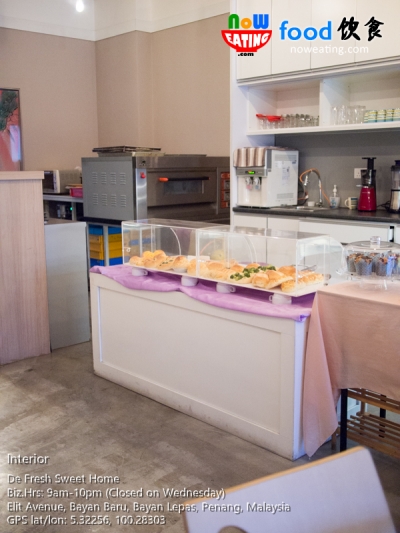 To our surprise, De Fresh is not only a cafe, but a bakery as well offering assorted buns and cakes displayed near cashier counter. It would be better if they can display them right behind the glass door to create awareness to pedestrians passing by.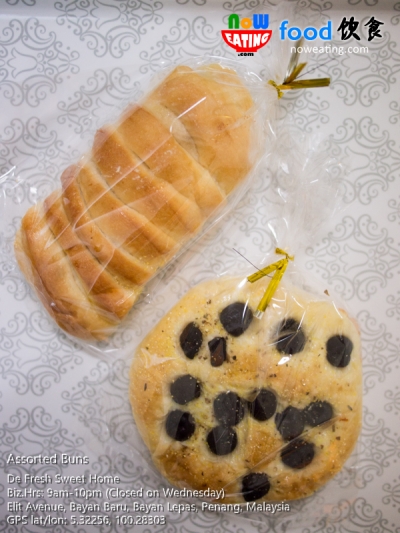 Unlike other bakery chains, choices in De Fresh is limited and is different each day. They are prepared daily in the premise by young owners and be sure to ask them for ingredients and prices as most buns displayed are unlabeled. We purchased few buns since our first visit and overall we were satisfied with the taste and quality.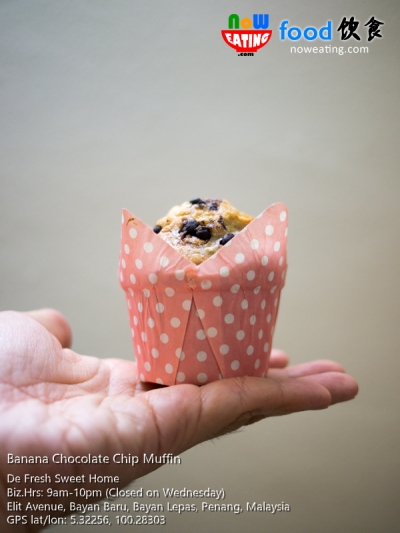 Other than buns, the bakery cafe also produces muffin (e.g. Banana Chocolate Chip Muffin) and we recommend our readers to grab one too. According to the owner, muffin is best keep in a container or paper bag to keep its moisture. Do not expose to air as the muffin will become dry. Put it in the fridge if you do not plan to consume the following day.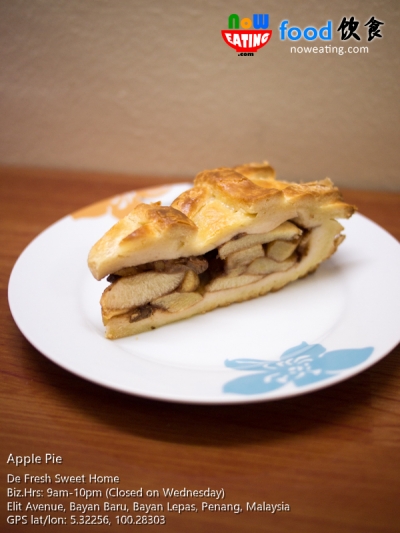 Our top recommendation on the pastry is the Apple Pie. This is not the McD's deep fried version but English Apple Pie fresh from oven with lattice upper crust stuffed with generous amount of sliced and cooked apple. For takeaway, the owner recommend us to put in the fridge until it is ready to eat. Put it in an oven to reheat for 3-5 minutes before serving.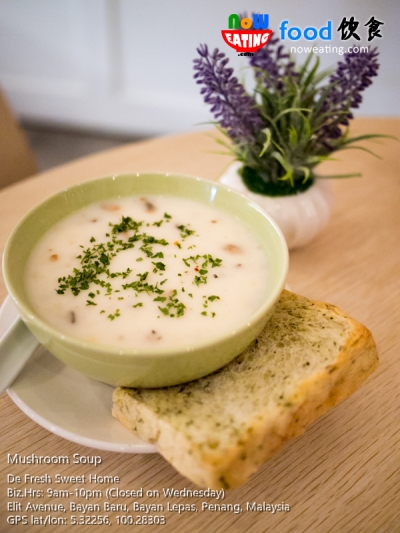 As a cafe, De Fresh serves some Western food, pasta, sandwiches, rices and noodles. For most items, you are entitle for a glass of drink by adding RM1.00 and a bowl of mushroom soup + drink for RM4.90.  Somehow we enjoyed their mushroom soup which is best dipped with homemade sliced bread.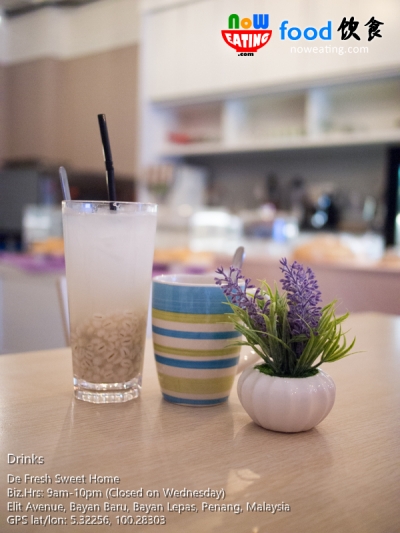 As for the add-on drink, it is pretty random each day and is usually limited to one option.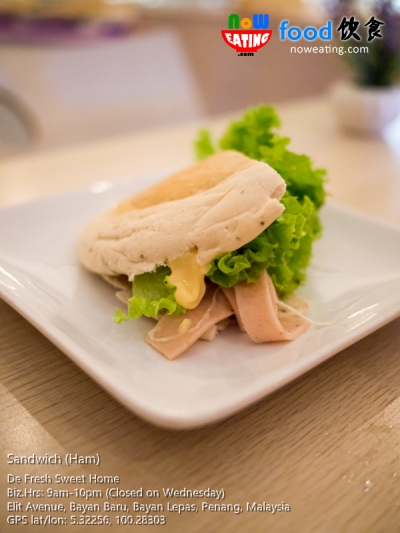 Unlike triangle sandwiches outside, the sandwiches in De Fresh is pretty much homemade and prepared on the spot with main ingredient of your choice (e.g. ham) stuffed with homemade bun. Not bad as a starter.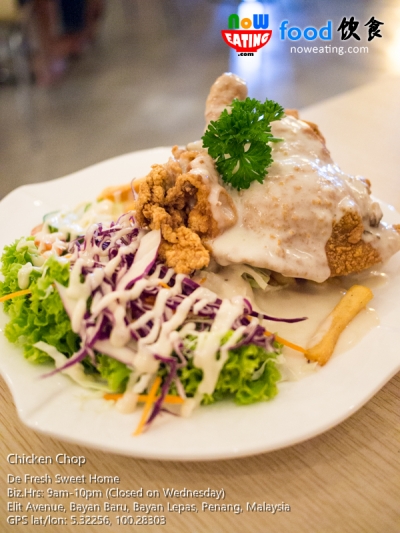 For deep fried food lovers, they are probably in luck as their Western food is quite large in portion. Chicken Chop (RM11.90), for example, comes with gigantic whole chicken leg dressed with white mushroom sauce, a pretty unique combination considering most gravy out there is made of ketchup. Served with French fries.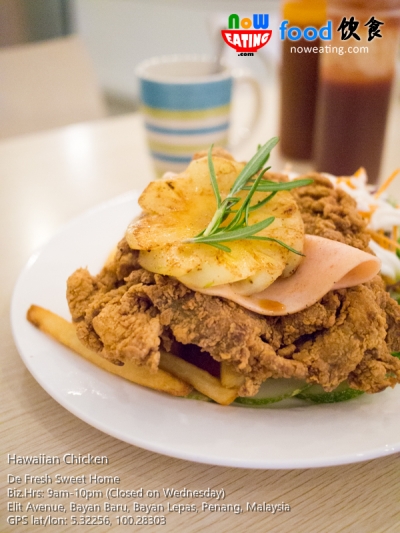 Hawaiian Chicken (RM12.90) comes without any gravy but a slice of pineapple and ham. A bit too dry for our liking. An additional of homemade pineapple+chili gravy would be perfect.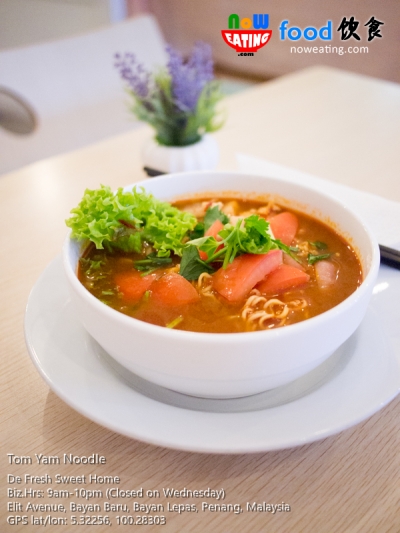 The spiciness of Tom Yam Noodle will sure tantalize your taste bud.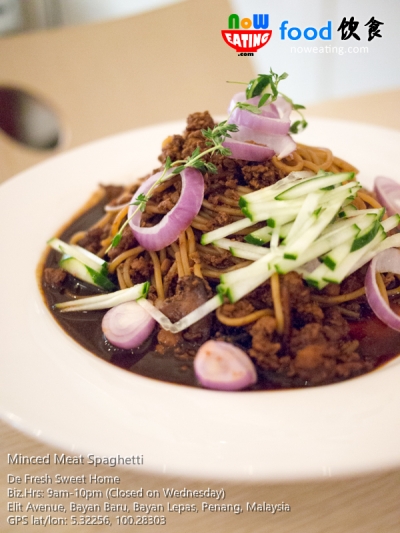 We asked ourselves, "Isn't minced meat spaghetti (RM9.90) equivalent to spaghetti bolognese?". The answer is NO, it is a stir-fried spaghetti with dark gravy similar to Taiwan's Zhajiangmian 炸酱面. Quite a new experience but we hope that they can remove star anise before serving as an unintentional bite of it will ruin the mood.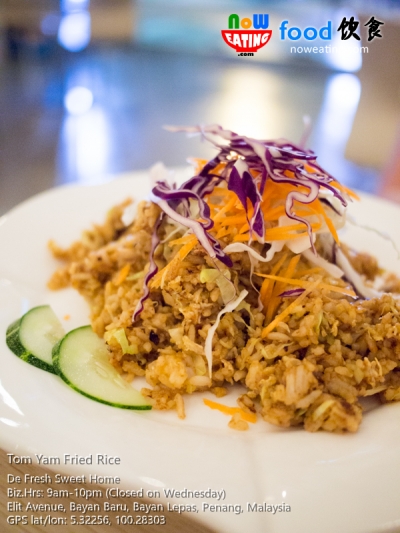 Tom Yam Fried Rice (RM7.90) – homecook style fried rice with added Tom Yam paste.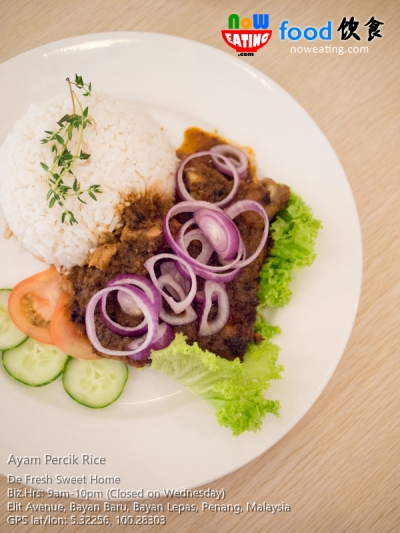 Ayam Percik Rice (RM10.90) – de-boned chicken thigh dressed with homemade rempah (spice paste).
As a whole, De Fresh is a great place for some buns, muffins, cakes, and apple pie. Pricing-wise, it is fairly reasonable as well. Due to the limited staffs, wait time is usually required. De Fresh is open daily from 9am-10pm and is closed on Wednesday.
| | |
| --- | --- |
| Place Name: | De Fresh Bakery Cafe |
| Cuisine: | Western |
| Address: | Elit Avenue, Bayan Baru, Bayan Lepas, Penang, Malaysia |
| Tel: | +6011-3809 1982 |
| Working Hour: | 9am-10pm. Wednesday Closed. |
| Tax: | No |
| Last Visit: | 20161020 |