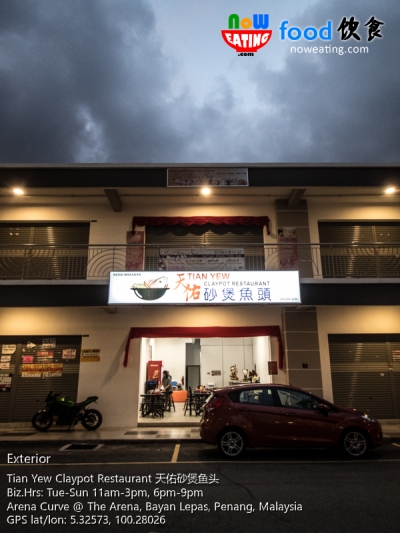 Compared to other Choo Char restaurants, Tian Yew Claypot Restaurant 天佑砂煲鱼头 offers only few dishes such as the signature claypot fish head. Founded by young couples, the restaurant is located at Arena Curve, The Arena opposite of sPICE (formerly PISA). To get there, assuming you are coming from Sunway Tunas traffic light, turn left when you see the new Toyota show rooms. Go straight and the restaurant is on the left (GPS: 5.32573,100.28026).
---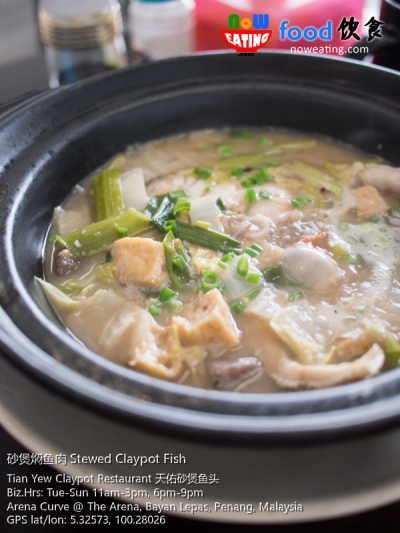 Opened since June 2016, Tian Yew Claypot is opened daily during lunch  and dinner times (11am-3pm, 6pm-9pm) and is closed on Monday. As mentioned, their signature dishes being claypot fish in two variances – stewed or curry. Note that despite of "fish head" title, customers can opt for fish body as well and as a matter of fact, we ordered fish block/tail all the time.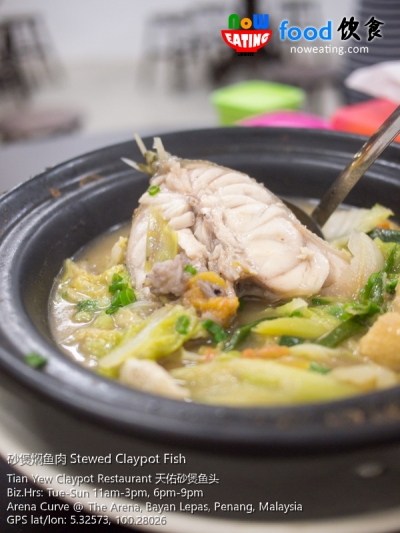 It took a while for the dish to be served as the fish along with other ingredients such as yam, leek, tomato, spongy beancurd cubes, and salted vegetables will be stewed in the claypot itself for few minutes. The key ingredient here is the yam which turns the soup into sweet and savory flavor. Honestly, we have phobia when ordering fish dishes like this as we always get "bill shock"  (e.g. >RM40 for small plate) after the meal. Fortunately, price at Tian Yew Claypot is quite reasonable with claypot containing a single block of Barramundi (a.k.a Siakap in Malay) like this priced at RM27. Note that fishes are counted by weight and is based on market price.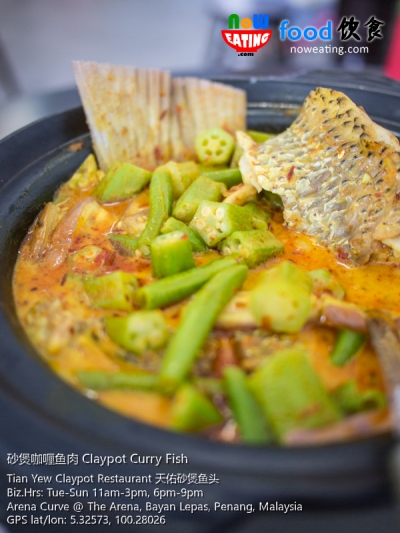 For those preferring something spicy, they may opt for curry fish head/block. The curry with mild spiciness tastes more like an "Indian" curry with strong aromatic taste from spices. As ladyfinger lover, we had some extra ladyfingers added. Pricing-wise, it is similar to the "stewed" version.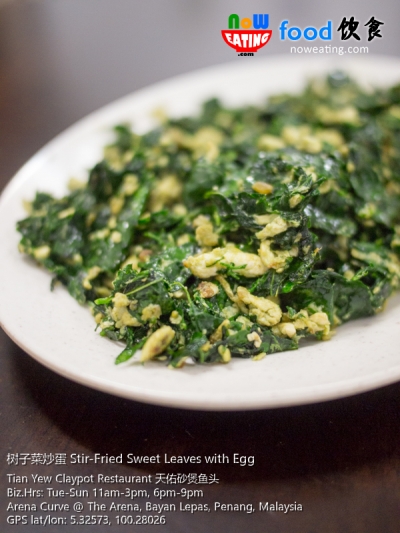 Another unique dish here is the Stir-Fried Sweet Leaves with Egg 树子菜炒蛋 (RM10 small). We were surprised that sweet leaves (also known as "Mani Cai") commonly used in complimentary soup of Pan Mee can be stir-fried into a scrumptious main dish hardly found in other restaurants.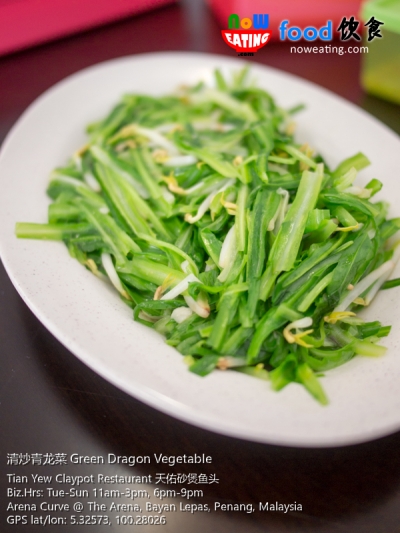 Green Dragon Vegetable 清炒青龙菜 (RM12) – our new favorite for vegetables and tastes as good as other vegetables by plainly stir-fried it. Other than claypot, other signature dishes include Teochew porridge and stuffed bitter gourd.
As a whole, despite of its limited choices, Tian Yew Claypot Restaurant is a great place for claypot fish along with some unique dishes. Pricing-wise, it is quite reasonable as well. A little wait time is required as the food is usually prepared by the chef cum owner himself.
| | |
| --- | --- |
| Place Name: | Tian Yew Claypot Restaurant 天佑砂煲鱼头 |
| Cuisine: | Chinese |
| Address: | 72-55-1, Arena Curve @ The Arena, Bayan Lepas, 11950, Penang, Malaysia |
| Tel: | +6016-777 7303 |
| Working Hour: | 11am-3pm, 6pm-9pm (Tue-Sun). Monday Closed. |
| Tax: | No |
| Last Visit: | 20161026 |