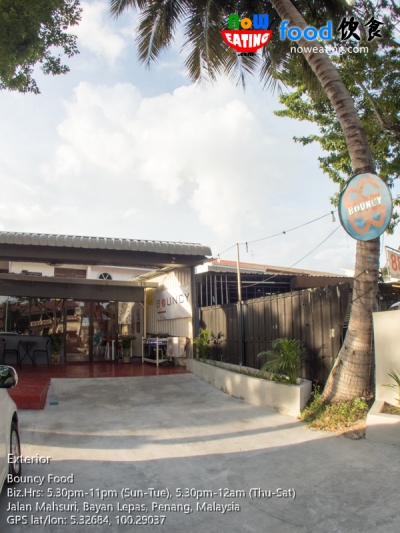 Bouncy is not difficult to spot as it is one of the resident-turns-commerce house at Jalan Mahsuri next to 888 Hokkien Mee (after Sunshine Square and before FIZ3 traffic light under the flyover) (GPS: 5.32684,100.29037). Parking-wise, there is a car porch for two cars in front of the cafe. Alternatively, you may park your car along the main road.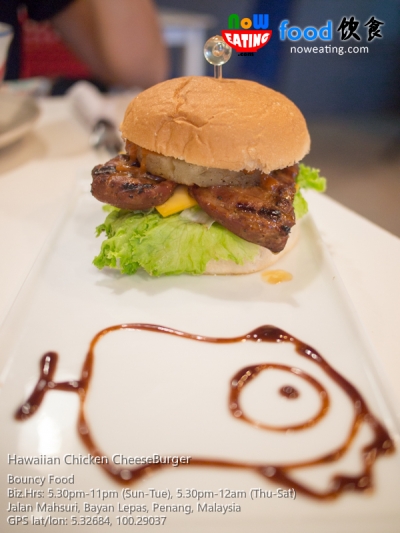 Bouncy is opened daily during evening time, from 5.30pm until 11pm and is extended to 12am from Thursday to Saturday. The cafe is closed on Wednesday. We visited it four times since it first opened in year 2015.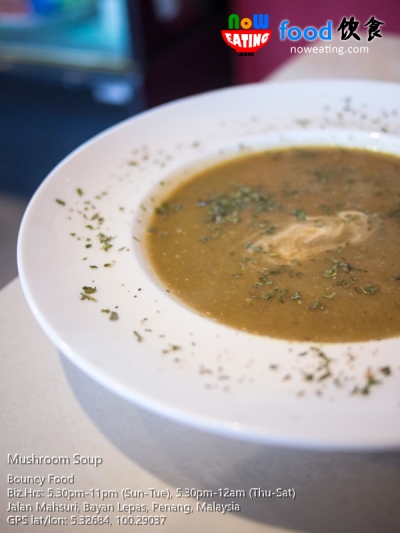 Bouncy's menu has been revamped few times since opening with few sets being introduced in the latest menu. It basically consists of three main categories – burger, noodle/pasta and daily special. Some sets come with chips and/or homemade wild mushroom soup which is worth trying for (we always like homemade soup compared to canned one).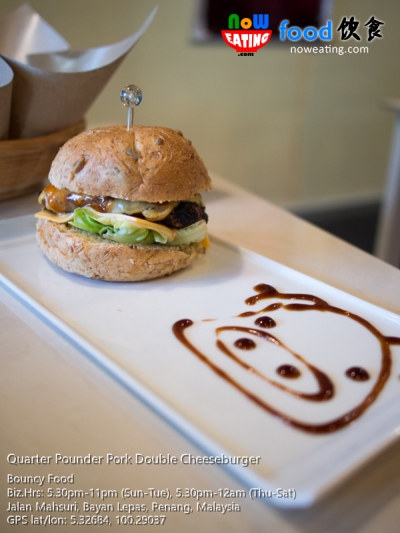 As for the burgers, Bouncy basically offer both chicken and pork burgers. During our first visit, we ordered the signature Quarter Pounder Pork Double Cheeseburger (RM10) with hand-leafed lettuce, double melted cheese on a freshly baked multigrain bun, topped with smokey bacon bits. The pork patty is definitely fresh to an extend that it is too fresh for those used to roadside burgers. Note that this is just a medium size burger and if you are looking for the ultimate burger, go for "The Ultimatum" with added bacon strips, portobello mushroom and sunny side up egg.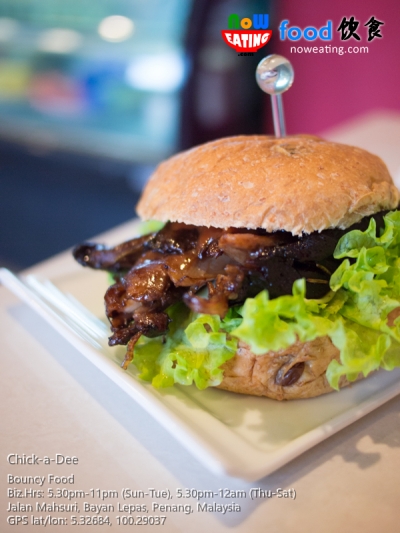 During our second visit, we decided to give their chicken series a try and opted for Chick-a-Dee (RM15.00) – boneless chicken thigh flame-grilled with their skins on, topped with hand-leafed lettuce, double melted cheese on a freshly baked wholemeal bun. We felt in love with this juicy whole chicken thigh with texture similar to Prime Roast of Ayamas. Personally, we preferred this one than the pork burger.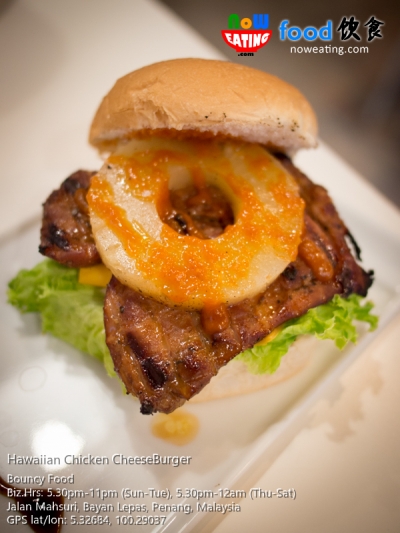 Hawaiian Chicken CheeseBurger (RM15.00) – chicken steak patty grilled with freshly cut pineapple, is one of the new items in recent menus and is suitable for those looking for something sweet and tangy. Note that their patties are marinated and smoked for flavor before they are grilled to perfection.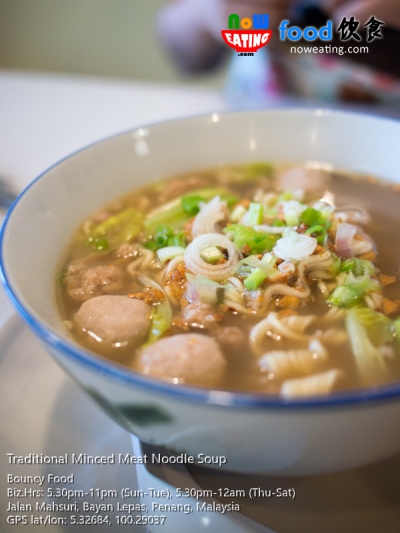 Surprisingly, thing that made us returning to Bouncy is not only on the burger, but an Asian cuisine called Traditional Minced Meat Noodle Soup (RM6.90) – springy noodle (Beehoon/Maggi) with fresh minced pork in flavorsome broth. It reminded us of homecook noodle during childhood day.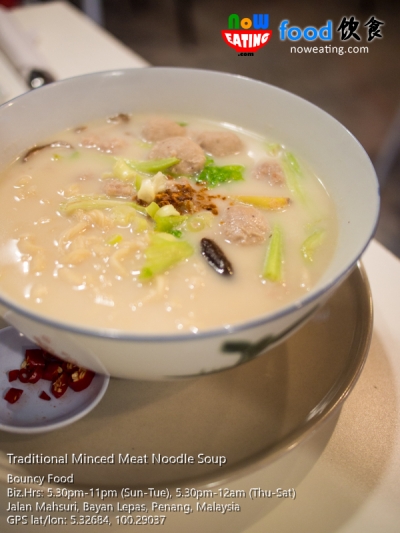 Alternatively, customers can also opt for "milky" version. Both clear and milky version are best for those non-burger lovers. From experience, not everyone in your group like burgers for whatever reasons.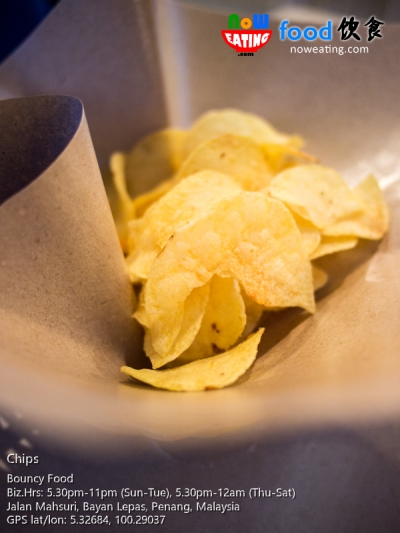 For only RM9.90, customers can convert the noodle soup from a la carte to set including chips and ice lemon tea.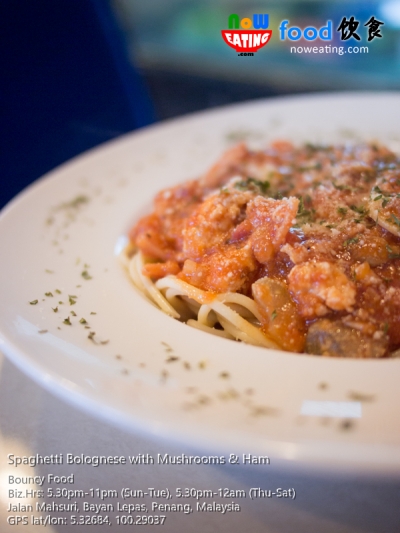 As for the pasta series, we tried Spaghetti Bolognese with Mushrooms and Ham (RM10.90) – Regular sized spaghetti pasta served with a sauce of minced pork, mushrooms, ham, tomatoes, onions and herbs. Not bad.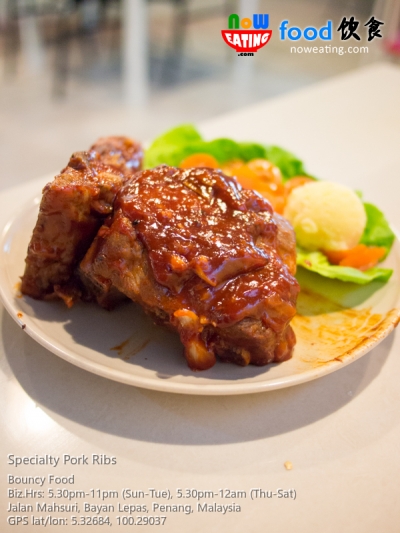 Daily special is also known as "Fresh Today" in the menu and is subject to availability. During our recently visit, we ordered Specialty Pork Ribs (RM25 with wild mushroom soup and cake). Prepared by the owner himself, the ribs were grilled to perfection before coating with homemade BBQ sauce. Even though it is not as tender and has no "melt-in-your-mouth" effect like the pork ribs in Bali, Indonesia, you can't complain much with the price like this.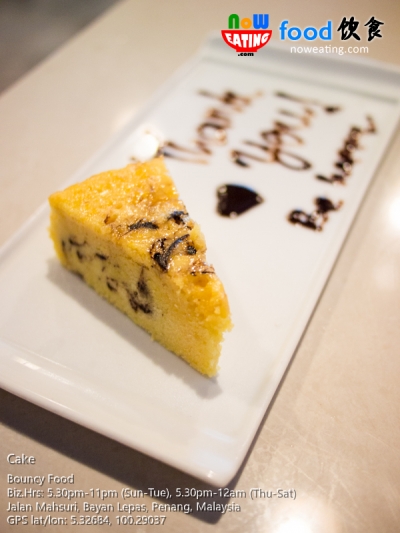 As a whole, Bouncy Food is an ideal place for healthy burgers and a bowl of traditional noodle soup at reasonable price. If you are not sure which one to order, be sure to ask the staffs and they are more than happy to provide you with recommendation.
| | |
| --- | --- |
| Place Name: | Bouncy Food |
| Cuisine: | Western |
| Address: | Jalan Mahsuri, Bayan Baru, Bayan Lepas, Penang, Malaysia |
| Tel: | +6016-218 4911 |
| Working Hour: | 5.30pm-11pm (Sun-Tue), 5.30pm-12am (Thu-Sat). Closed on Monday. |
| Tax: | No |
| Last Visit: | 20161021 |