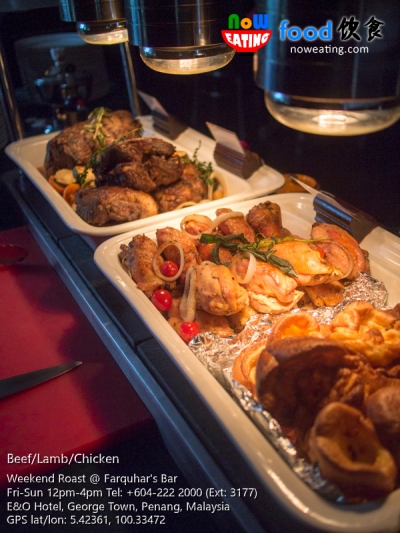 Time flies and it has been six months since our last visit to Farquhar's Bar in Eastern & Oriental Hotel, George Town, Penang for Sunday Roast. Recently, we re-visited it again and this time, it was upgraded from Sunday Roast to Weekend Roast in which guests are able to enjoy juicy roast side of beef, roast chicken and slow-cooked lamb shoulder on Friday, Saturday and Sunday.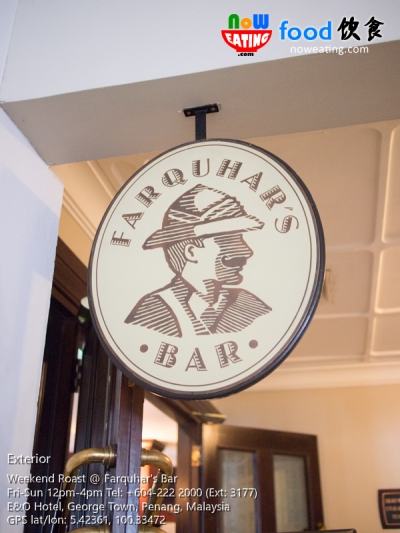 Farquhar's Bar (GPS: 5.42361,100.33472) is located at the old wing of E&O Hotel next to the lobby. While International buffet at Sarkies restaurant at new wing provides guests with more varieties, Weekend Roast is a "mini buffet" designed for meat lover. So far, our experience is a positive one.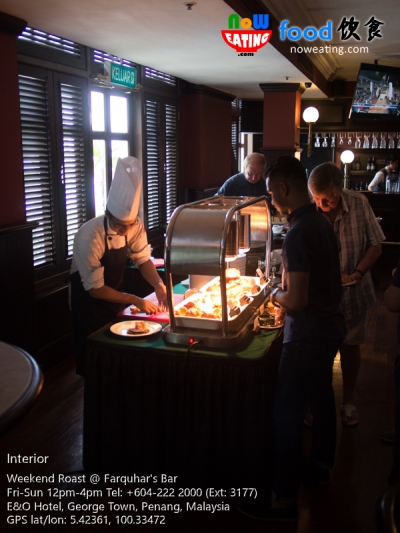 To ensure the food is at utmost quality, roasted meat is kept warm on a ceramic tray with vegetables such as tomato, cherry tomato, garlic, onion, potato, zucchini and etc as base to infuse the roasted meat with aromatic taste while retaining its juiciness before being served by the staff.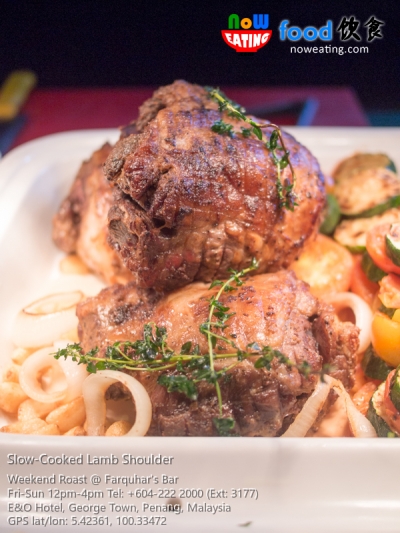 The slow-cooked lamb shoulder, for example, is tender and juicy with minimum gamy taste commonly found in lamb. As for the chicken, other than chicken breast, guests can also opt for chicken thigh in which either case, they are stuffed with sage & onion stuffing giving guests a captivating experience in enjoying the bird. Do not worry if you arrive late as the Weekend Roast is always replenished.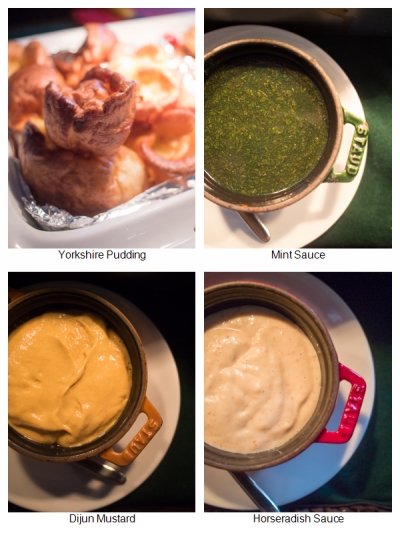 Roasted meat is best dipped with mint sauce, Dijon mustard, or horseradish sauce provided. Even better, dress it with shallot sauce or pair it with a glass of red wine. Yorkshire pudding – an English food usually served in traditional British Sunday Roast and used as a starter is also available.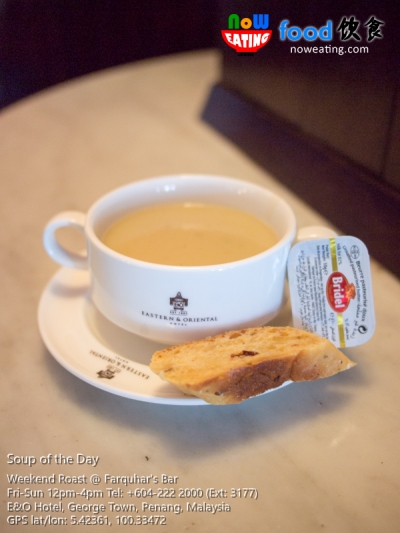 Other starters we almost forgot to mention are breads and soup of the day. Imagine Weekend Roast a mini buffet with appetizer, hot tray items and desserts spread across the buffet line.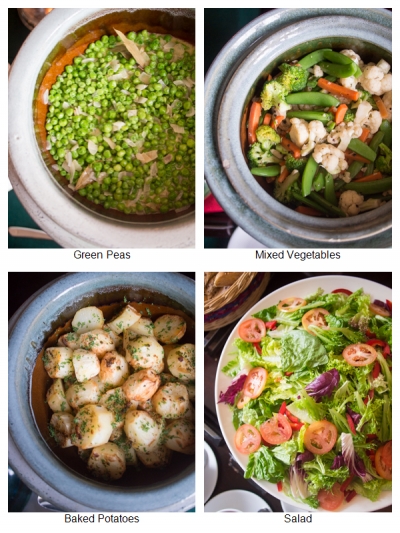 Weekend Roast is not just all about meat. Side dishes such as goose-fat roast potatoes, seasonal vegetables and mushy peas are ready to turn your platter into a healthy meal.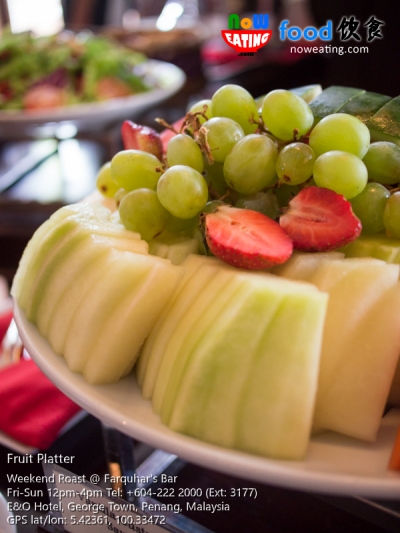 End your meal with Fruit Platter and Spiced Bread & Butter Pudding.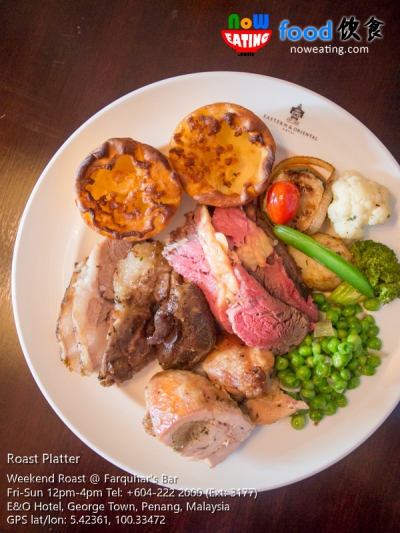 Weekend Roast is available from Friday until Sunday from 12pm – 4pm at the price of RM68.00 nett per person.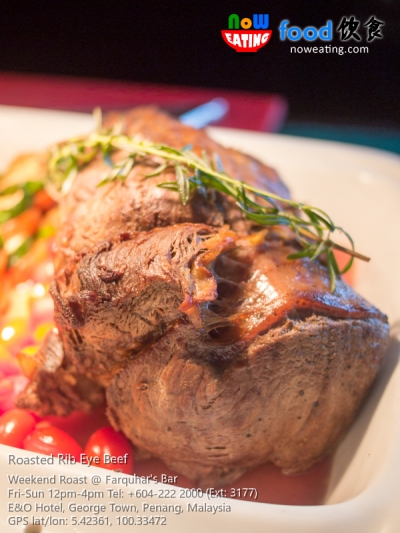 During Christmas Day (25-December-2016), Christmas Day Sunday Roast is available from 12pm-4pm at the price of RM158.00 nett per person inclusive of 2 glasses of 1/2 Pint Tiger Beer, 2 glasses of wine & 2 glasses of Mulled Wine.
On 1-Jan-2017, Hangover's Sunday Roast is available from 12pm-4pm at the price of RM128.00 nett per person inclusive of 1 glass of champagne (sparkling wine) or 1 glass of Bloody Mary.
For the month of December, Farquhar's Bar introduces both Tropic Xmas and Santa's Sleigh. While Tropic Xmas is a mocktail made of guava juice, lemon juice, sugar syrup and grenadine, Santa's Sleigh on another hand, is a cocktail mixed with Otard Brandy, 15ml Amaretto and a scoop of Vanilla Ice Cream. Both cocktail and mocktail of the month are available daily from 11am-12am at RM35.00 nett per glass.
For reservation, kindly call +604-222 2000 Ext: 3177.
| | |
| --- | --- |
| Place Name: | Farquhar's Bar |
| Cuisine: | Buffet |
| Address: | Eastern & Oriental Hotel, George Town, Penang, Malaysia |
| Tel: | +604-222 2000 Ext: 3177 |
| Last Visit: | 20161113 |