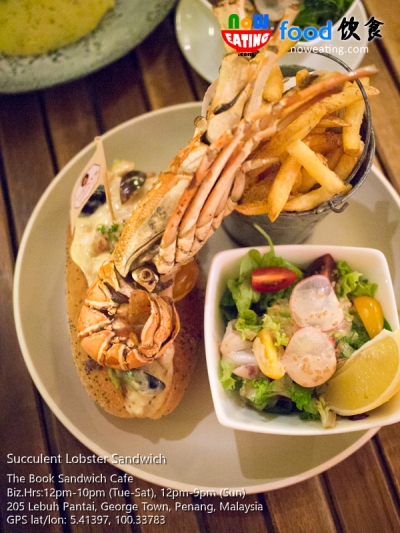 "If I get promoted, I will treat you lobster." In Penang, do not simply make promise like this as there is really a place for lobster in George Town. We recently burned a hole in our pocket after visiting The Book Sandwich Cafe (GPS: 5.41397,100.33783) for their signature Succulent Lobster Sandwich. Is the hole worth burning? Let's find out.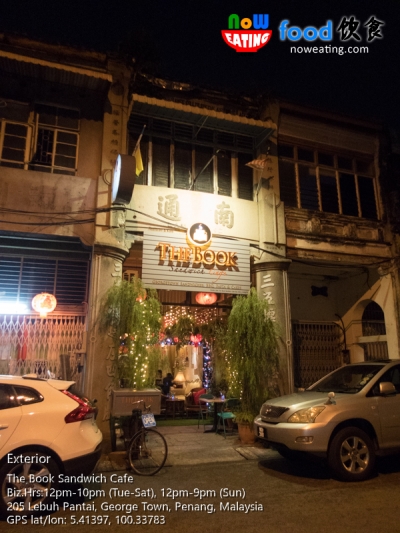 The Book Sandwich Cafe is located at Beach Street and has been opened since year 2015. To be more accurate, it is before Armenian Street with famous "Kids on Bicycle" mural art and also before China House. We used Waze during our first visit and it worked. The restaurant is opened from Tuesday to Saturday from 12pm-10pm, Sunday 12pm-9pm and is closed on Monday. Note that the cafe is non-halal.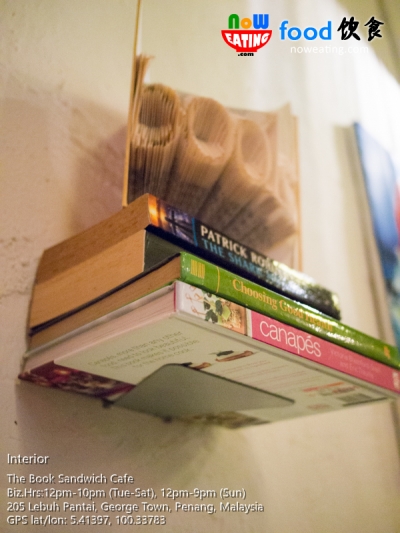 We were informed that the food there was slightly upscale compared to normal cafes so we broke a piggy bank of us and took a deep breath before entering. We particularly enjoyed the dim light ambient resembling semi fine dining environment and their creativity in using books as wall decor. A minor drawback was that odor was still escaping from kitchen.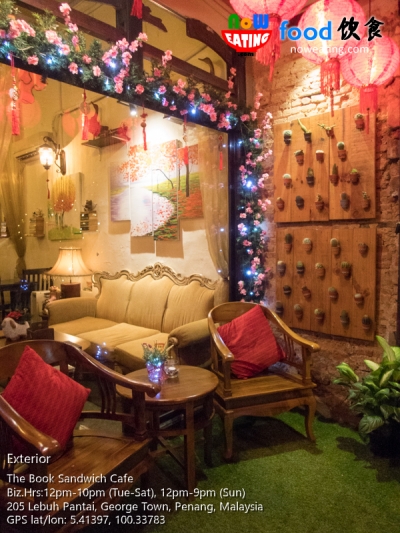 Alternatively, outdoor seating is also available.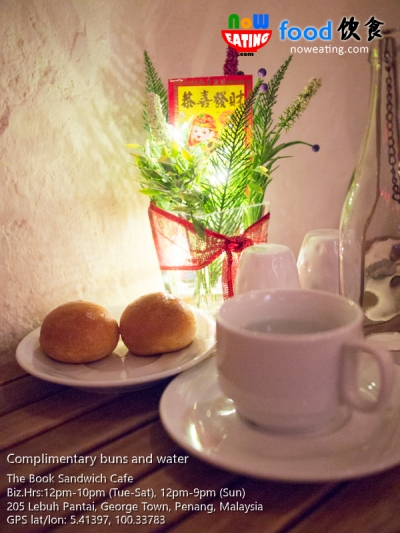 We were welcomed by complimentary buns and water. The staffs were friendly as well. At first, we were planning to have a cup of Cappuccino (they do have espresso machine) but we decided to save some budget and went for main course instead (after all, plain water was given).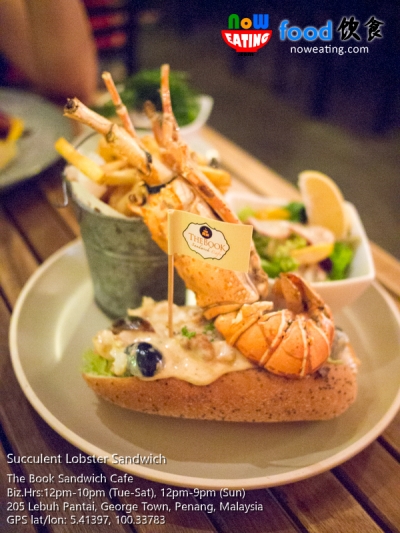 The Book Sandwich Cafe offers sandwich, burger, pasta, "chop's station" and other main courses. There were many items we would like to try out but as a first timer, we ordered Succulent Lobster Sandwich (RM39.80) – an all time favorite lobster chunks with fruit salad, cashew nut in mayonnaise served with mixed green and fries. This is probably the most expensive "sandwich" we've ever tried but we really enjoyed it. The fruits contained grapes which added sweetness to the filling whereas the cashew nut added some bites to the content. The poppy seed bun was lightly toasted to crispiness.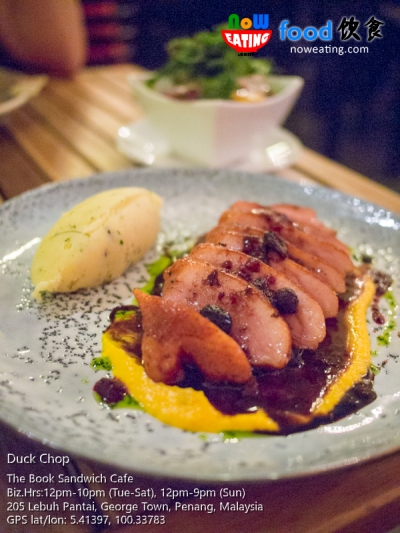 Improved Duck Chop (RM29.80) – Chinese cook style duck chop with mixed green and mashed potato. At first, we were a bit worry about "Chinese" keyword as the dish may end up like eating roasted duck rice in "kopitiam" but turned out that we were wrong. It was our favorite smoked duck with brackish skin dressed with a layer of homemade blueberry sauce. Soft, tangy and flavorful. The mashed potato was an eye opener too.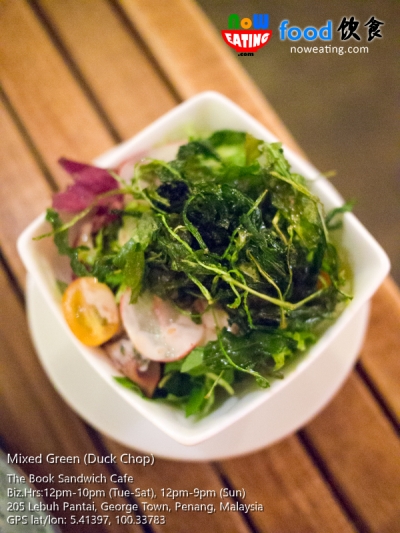 The accompanied mixed green was not disappointing as well and was slightly different from the first dish we ordered with fried green on top.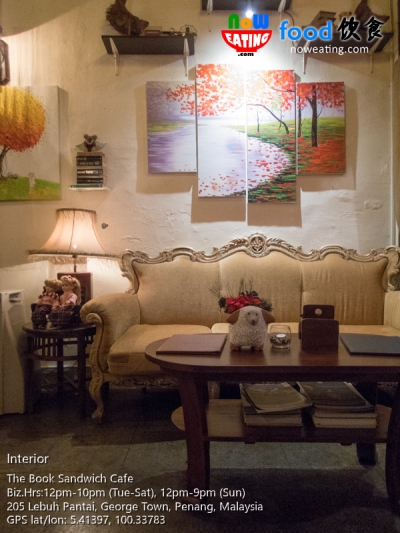 Both of us spent RM81.15 including 6% GST. Definitely not an everyday's restaurant for us but if you are looking for a place for special occasions or unique cuisine, The Book Sandwich Cafe is a place to recommend. As a matter of fact, the restaurant was full house the moment we left. So, is the hole in the pocket worth burning? We believe the crowd speaks for itself.
| | |
| --- | --- |
| Place Name: | The Book Sandwich Cafe |
| Cuisine: | Western |
| Address: | 205 Lebuh Pantai, George Town, Penang, Malaysia |
| Tel: | +604-261 3445 |
| Working Hour: | Saturday 12pm-10pm (Tue-Sat), 12pm-9pm (Sun), Monday Closed. |
| Tax: | 6% GST |
| Last Visit: | 20170107 |