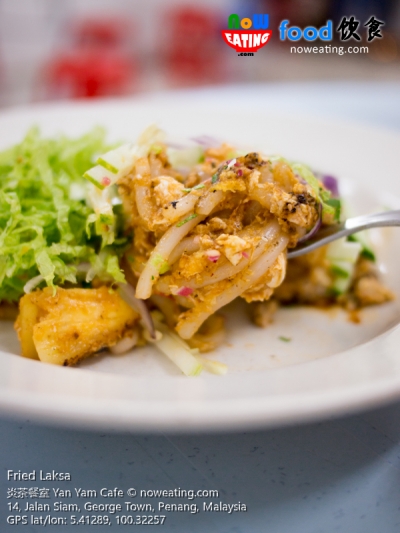 Assam Laksa is a no stranger to Penangites as it is probably the most popular hawker food other than Char Koay Teow. The sour and spicy soup noodle mainly made of fish and tamarind (a.k.a assam in Malay) is also our favorite food. Fried Laksa, however, is an eye-opener for us. Today we bring you to Yan Yam Cafe 炎茶餐室 (GPS: 5.41289,100.32257) for this creative dish.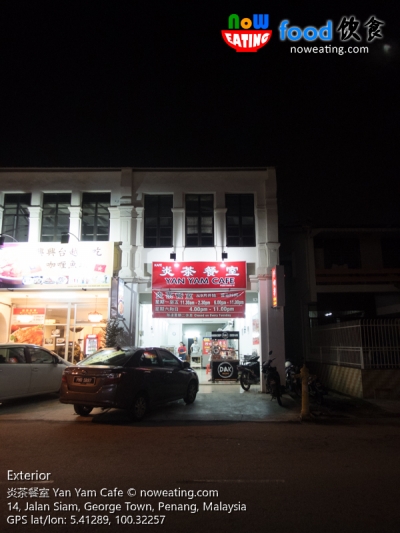 Yan Yam Cafe is located at two-way Siam Road. Parking can be a bit challenging here and we usually end up circling two rounds before getting a parking space. The open air cafe consists of two stalls – the main fried laksa + Tom Yam/Clear Soup noodle stall and DAK – a Korean fried chicken stall.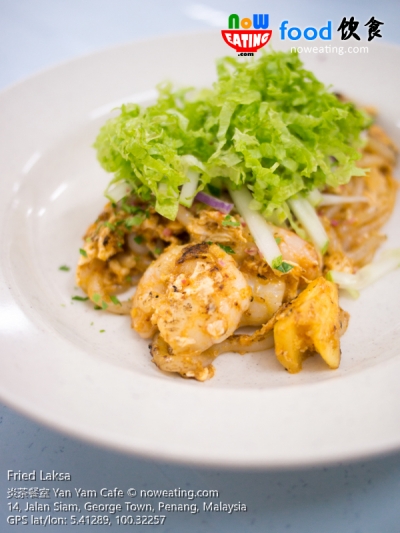 Fried Laksa is the cafe's signature dish. Instead of sour and spicy fish and tamarind soup, Laksa noodle is stir fried to moist texture with homemade Laksa paste in a frying wok with mid-size prawn, pineapple, ginger flower, onion, cucumber, lettuce and optional egg. The original (non-egg) version is priced at RM5.00 but we recommend you to opt for egg version (RM6.00) for extra sweetness. One may find that the portion is a bit small but it is just our misconception due to the lack of the soup. For us, we can easily go for two plates of Fried Laksa thanks to its scrumptious taste.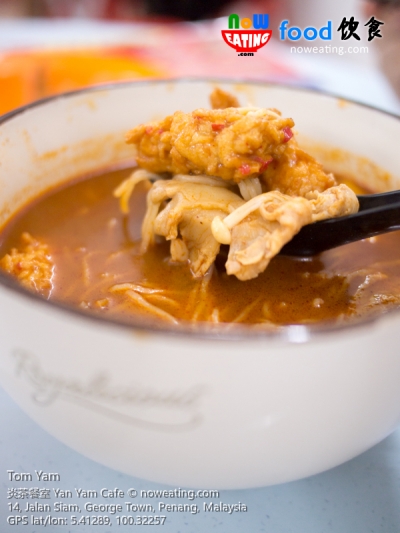 For Tom Yam/Clear Soup noodle, similar to other fish head noodle stalls, customers can select extra ingredients such as assorted fish balls, mushrooms, vegetables, and etc in front of the stall (at additional charges, of course). Beware that the Tom Yam is quite spicy.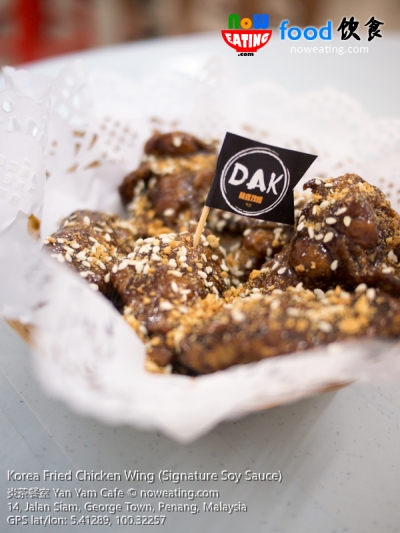 Korean fried chicken seems to be a new trend in Penang. Our first encounter with it was at Jeju Island, Korea in which we brought back hotel a box of spicy fried chicken (whole bird) from a famous chain restaurant, and we regretted it later as it was probably the spiciest fried chicken we had ever tried. Until now, we are still having trauma when seeing the similar item. Fortunately, DAK does provide another non-spicy variant – signature soy sauce version (RM9.00) with decent taste.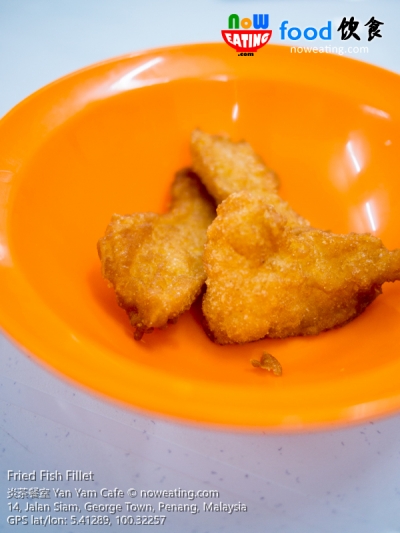 As a whole, if you love Assam Laksa, then you will feel the same with Fried Laksa at Yan Yam Cafe. Just imagine it as a "dry version" of Assam Laksa. A minor drawback is that air ventilation can be better due to frying activities in the premise. The cafe is opened from Monday to Friday 11:30am-2:30pm, 6pm-11pm. On Saturday and Sunday, the cafe only opens from 4pm to 11pm. Close on every Tuesday. They are active in Facebook as well.
| | |
| --- | --- |
| Place Name: | Yan Yam Cafe 炎茶餐室 |
| Cuisine: | Chinese |
| Address: | 14, Jalan Siam, George Town, 10400, Penang, Malaysia |
| Tel: | 60184655485 |
| Working Hour: | Monday to Friday: 11:30am-2:30pm, 6pm-11pm. Saturday and Sunday: 4pm to 11pm. Close on every Tuesday. |
| Tax: | No |
| Last Visit: | 20161211 |