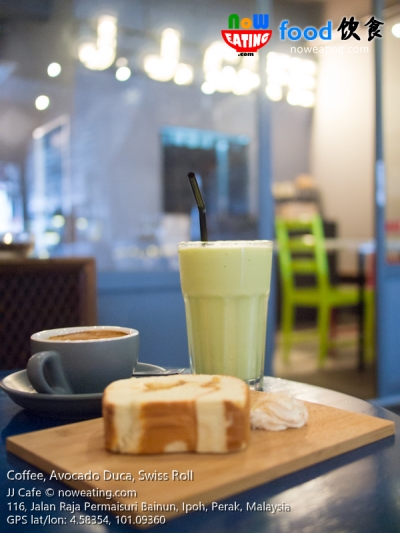 Tired of commercialized chicken rice with arrogant attitude, we decided to try modern cafe in Ipoh instead. JJ Cafe (GPS: 4.58354,101.09360) is an accidental discovery and it surprised us with its coffee, Swiss roll and more important, the sinful Signature "Siew Yuk" Pasta. Since then, we visited the outlet twice despite 160 km away from Penang.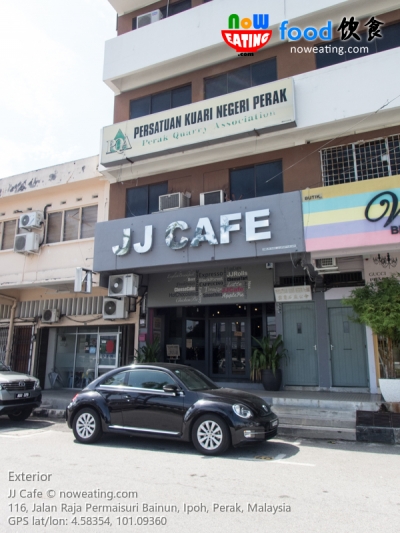 JJ Cafe is located southeast of Ipoh old town at Jalan Raja Permaisuri Bainun, opposite of Suzuki/Mitsubishi/Nissan 3S Centers. Parking is not an issue here especially during weekend. For gamblers, three lottery game agencies are also available on the same shop row.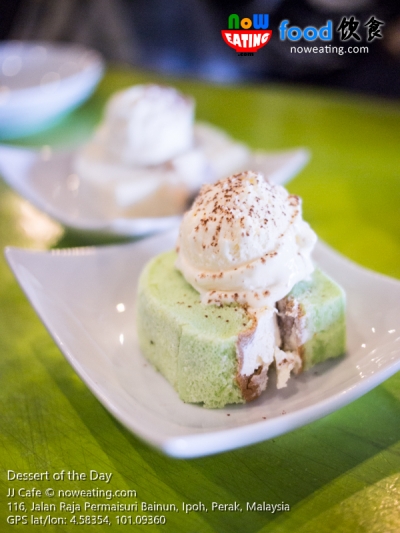 We suggest you to keep some money for some decent meals in JJ Cafe. You may heard of JJ Roll – the famous Ipoh Swiss roll cake house. Yes, both JJ Cafe and JJ Roll are sister companies, and you can find their Swiss rolls in JJ Cafe as well. It can be ordered separately or bundled with set meal as mouthwatering dessert of the day.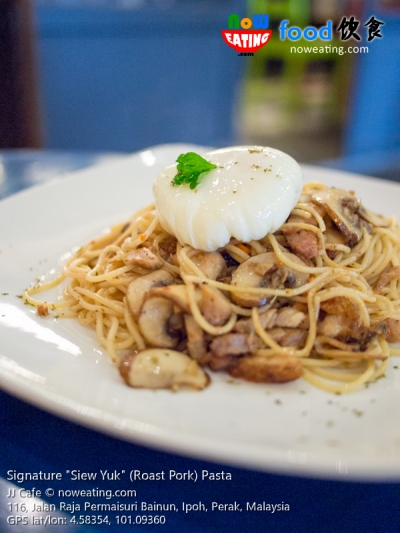 While most modern cafes offer pork-free dishes, JJ Cafe is a non-halal cafe and as a matter of fact, its Signature "Siew Yuk" (Roast Pork) Pasta (RM21) is the chef recommendation. Stir-fry "Siew Yuk" with garlic, dried shrimp, chili padi and mushrooms, topped with dried crushed chili, served with poached egg. Aromatic and slightly greasy on al dente spaghetti.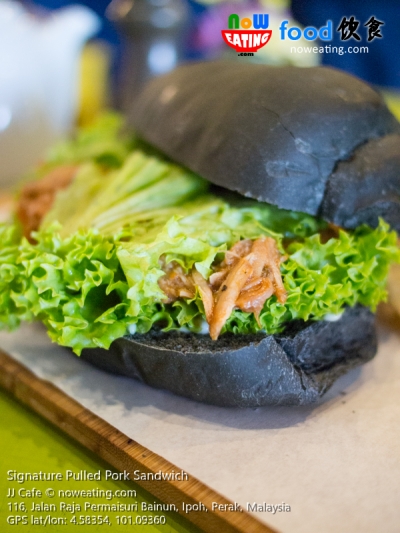 During our second visit in June 2016, menu was revamped and we ordered Signature Pulled Pork Sandwich (RM13) – Slow-cook pork shoulder with fresh home made tomato puree and herbs, shredded strips of meat. We had tried minced pork patty but the shredded pork was a new attempt. Tender, juicy and messy!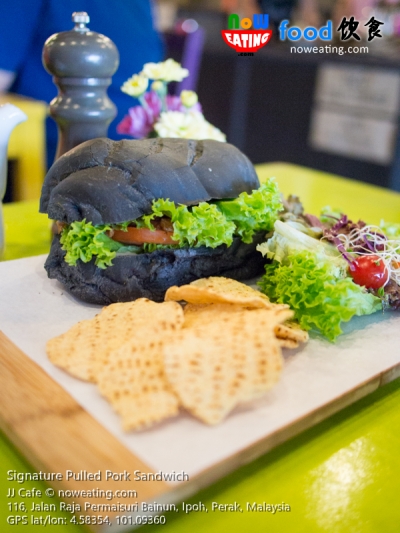 Customers have choose among wholemeal/charcoal, poppy seed bagel, or croissant. Each sandwich is served with corn chips, greens and house honey vinaigrette.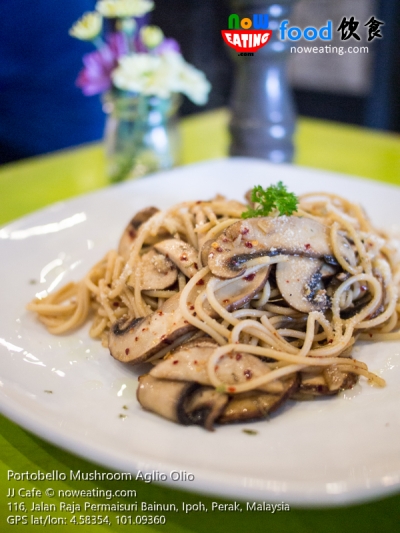 Vegans can opt for Portobello Mushroom Aglio Olio (RM16) – Sauteed garlic with Portobello mushrooms in olive oil, topped with dried crushed chili.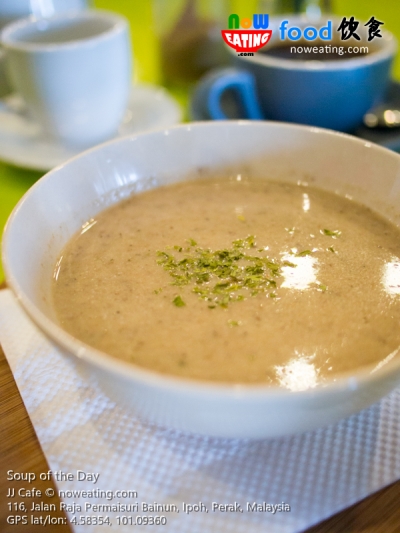 During lunch and dinner hours, customers can opt for set lunch/dinner consisting main course, soup of the day, coffee/tea, and dessert of the day. Sandwich Set is priced at RM20 whereas Pasta Set is priced at RM25. In our own opinion, they are value-for-money as both soup and dessert of the day were made in-house instead of canned food.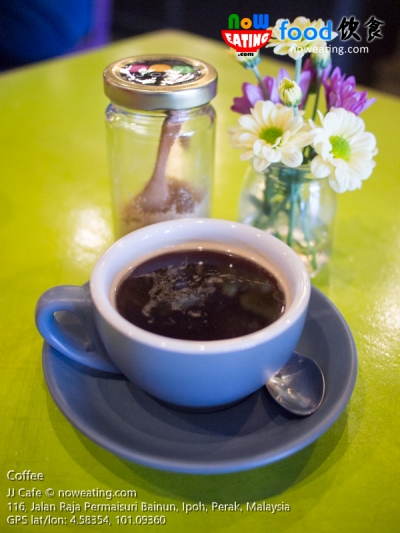 Coffee bundled with set meal.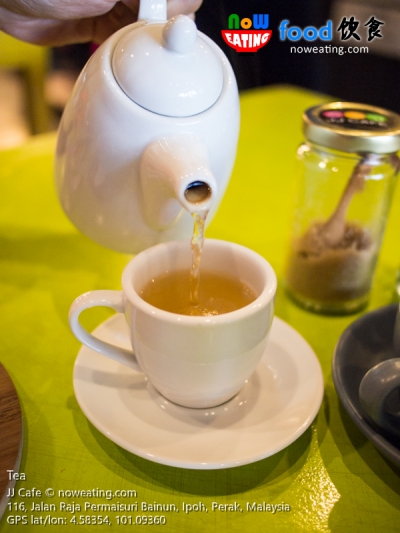 Even better, for tea, you were given a tea pot instead of common tea bag in a cup.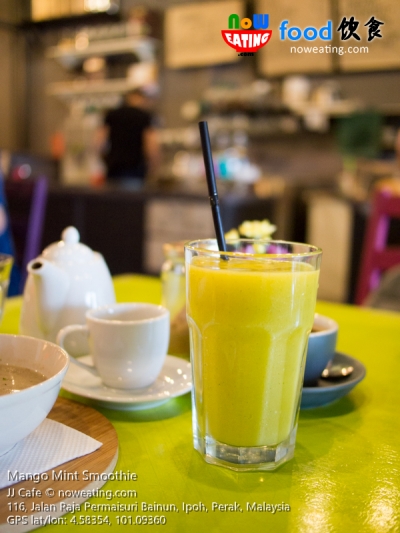 JJ Cafe does have smoothies made from real fruit juice such as Minty Mango (Mango+Mint) (RM11) and Avocado Duca (Whole Avocado+Honey Dew+Yogurt) (RM13) as shown in first figure of this post. The cafe is perhaps one of fewer cafes offering few avocado smoothies.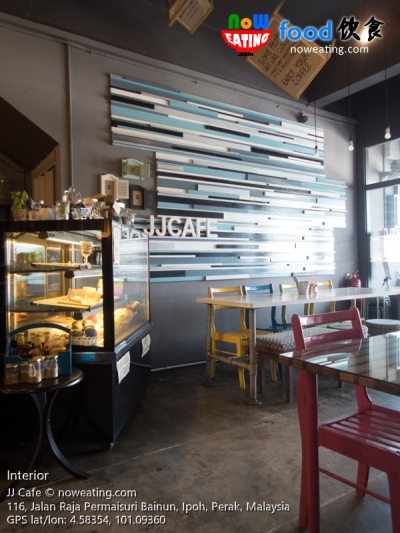 With ample parking space, comfortable environment and scrumptious food, there is no reason not to visit JJ Cafe. JJ Cafe is opens from Tuesday to Friday from 11am to 6pm, Saturday and Sunday from 9:30am to 6pm. Closed on Monday. Tel: +605-246 0438. They are active in Facebook as well.
| | |
| --- | --- |
| Place Name: | JJ Cafe |
| Cuisine: | Western |
| Address: | 116, Jalan Raja Permaisuri Bainun, Ipoh, Perak, Malaysia |
| Tel: | +605-246 0438 |
| Working Hour: | 11am-6pm (Tue-Fri), 9:30am-6pm (Sat-Sun) |
| Last Visit: | 20160604 |