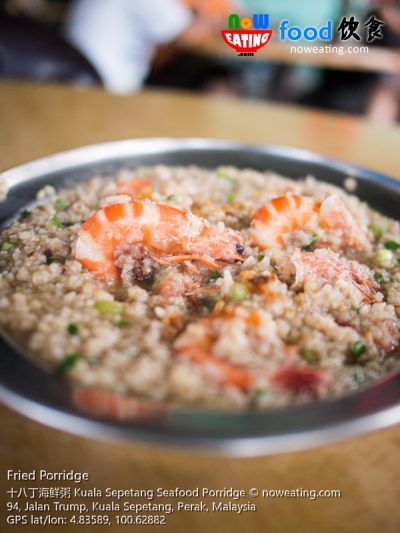 Other than Serdang in Kedah state, Kuala Sepetang near Taiping is another place for fried porridge and even better, it is covered with seafood fresh from fisherman boats stone's throw away. We visited Kuala Sepetang Seafood Porridge 十八丁海鲜粥 restaurant and was blown away by the quantity and quality of the seafood.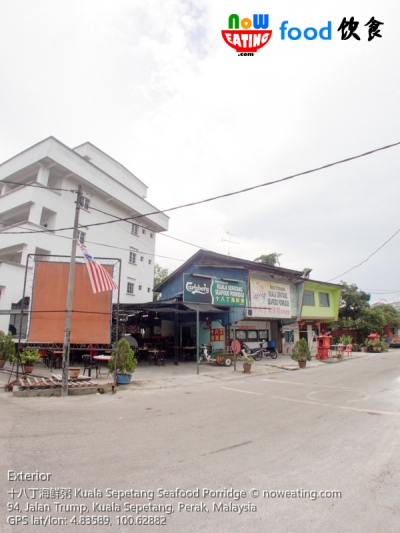 Former known as Port Weld, Kuala Sepetang 十八丁 is a coastal town as well as Chinese fishing village located not far from Taiping. Visitors usually come here to enjoy slow pace life including river tour, charcoal factory visit, firefly watch, and of course, seafood. The Seafood Porridge restaurant is located at walking distance from jetty (GPS: 4.83589,100.62882). The restaurant interior is rather simple sans decoration with two dining areas – air-conditioned and open air. If you are expecting Chinese restaurant with background instrumental music and girls wearing Cheongsum serving you then this is not a place.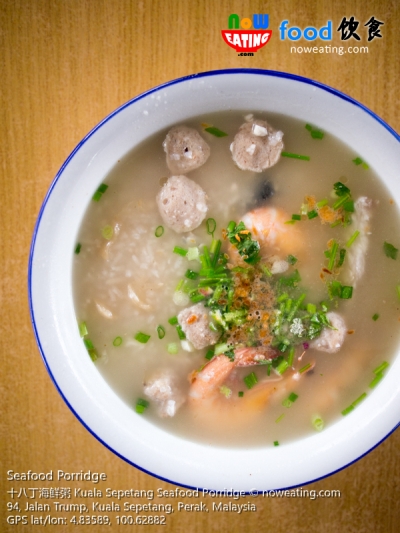 We visited the restaurant during past Christmas holiday while waiting for firefly watch. Two types of porridge are available: the ordinary "watery" version and "dry" (fried) version. Fearing gargantuan in size, we just ordered Seafood Porridge with broth (RM12).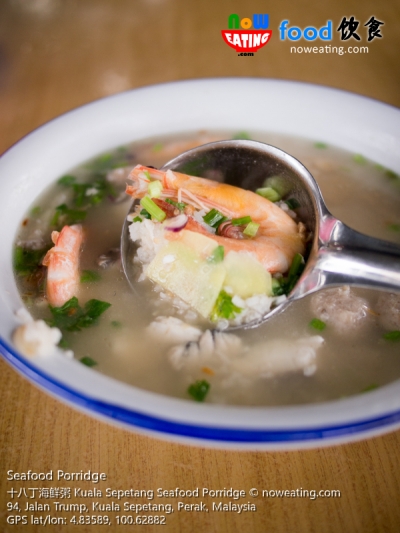 It was probably the most delicious seafood porridge we've ever tried. Served with fresh white prawn, "Siakap" (barramundi) fish fillet and meat ball, the sweetness from fresh seafood was enough for you to get diabetes.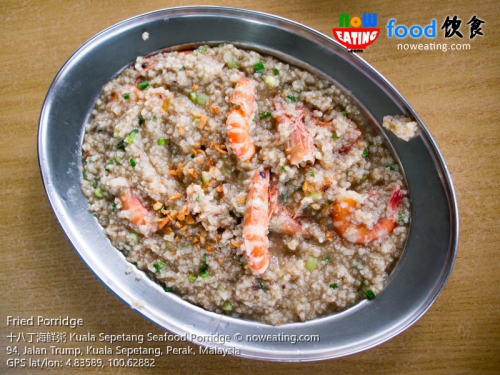 With the scrumptious Seafood Porridge, we were pretty confident and proceeded in ordering second item – Fried Porridge. From the receipt, it appeared that we can select seafood we preferred but we didn't aware about it. The young chef randomly selected Rainbow Prawn (a.k.a tiger prawn) (RM10) to us and we were ready to get our hand dirty, again.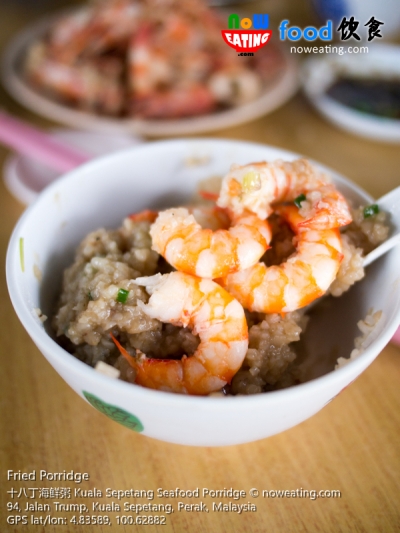 It was our first time having "prawn" fried porridge and were impressed with the quantity to an extend that we were wondering whether it was porridge topped with seafood or seafood topped with porridge?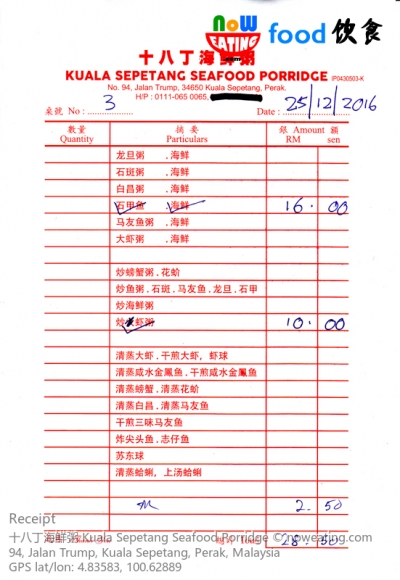 Both of us spent RM28.50 for a seafood extravaganza. Relatively reasonable. As a whole, Kuala Sepetang Seafood Porridge is a must-try when you are in Kuala Sepetang. It has its own unique recipes and is perhaps the only restaurant in Kuala Sepetang offering seafood porridge. Perhaps a minor drawback is its toilet. If you have nothing "urgent", better skip it. The restaurant opens from 1pm-11pm from Monday to Friday. 11am-11pm from Saturday to Sunday. Close on Thursday. For reservation or inquiry, kindly call +60111 065 0065.
| | |
| --- | --- |
| Place Name: | Kuala Sepetang Seafood Porridge 十八丁海鲜粥 |
| Cuisine: | Chinese |
| Address: | 94, Jalan Trump, Kuala Sepetang, 34650, Perak, Malaysia |
| Tel: | +6011-2650 0065 |
| Working Hour: | 1pm-11pm (Mon-Fri), 11am-11pm (Sat-Sun). Thursday Closed. |
| Tax: | No |
| Last Visit: | 20161225 |