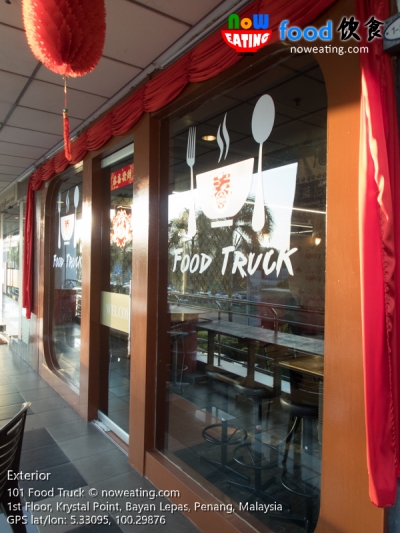 As a food blogger, occasionally our eyes are sharper than normal persons especially when hungry. Recently, while having our ordinary (and boring) lunch routine, we spotted a "food truck" parked not at the ground floor, but first floor of Krystal Point, Bayan Lepas (GPS: 5.33095,100.29876). Feeling curious, we decided to pay it a visit on the same evening.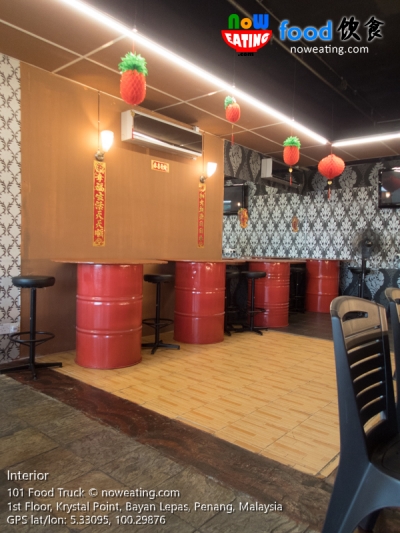 To reach first floor of Krystal Point, one needs to take the lift or staircase in Krystal Point's lobby. 101 Food Truck is located at the right wing, just few shops away from lobby. The unit looks like a pub formerly with patterned wallpaper, dance floor, bar counter, and bar stools remain intact.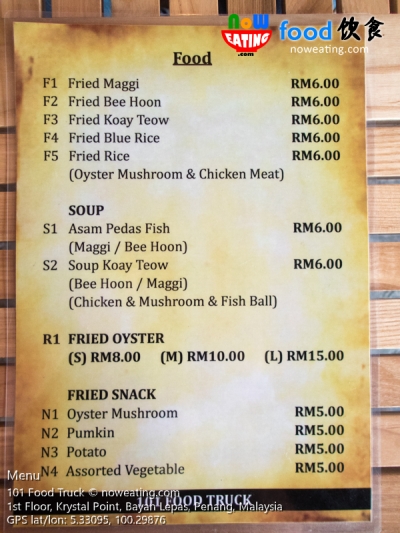 We were the second group of customers that evening. The Chinese owner greet us, turned on air-conditioner, and pass us the menu.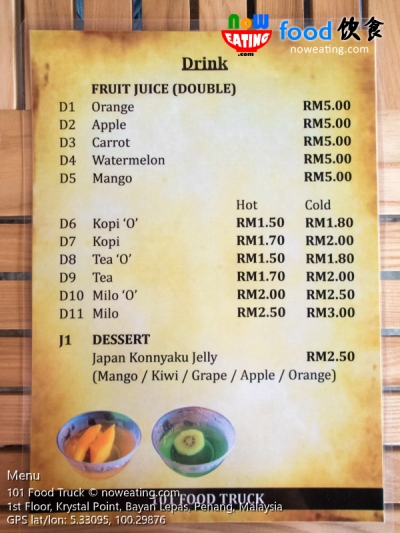 If you are expecting 101 items in the menu, then you will be disappointed. It only consists of 12 dishes including snacks (Anyway, we were there not for the quantity). The owner recommended us Coconut Milk Blue Flower Rice Set which was not in the menu.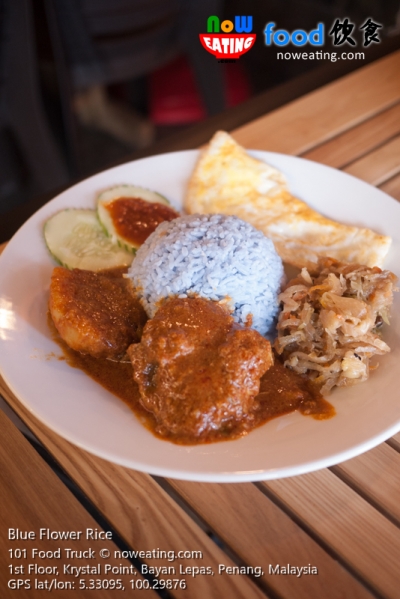 Blue Flower Rice appears to be a new trend in local cuisine to replace the ordinary coconut milk white rice (Nasi Lemak). Surprisingly, the 101 Food Truck version was pretty decent as if it was cook by chefs with years of experience. Among curry chicken, potato, egg, cucumber and "Jiu Hu Char" (Stir-Fried Jicama) side dishes, we particularly enjoyed the "Jiu Hu Char" as it was a rare side dish as long as Nasi Lemak was concerned.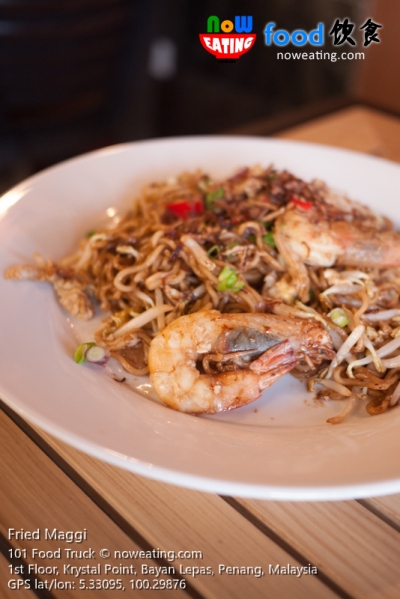 Fried Maggi (RM6) was palatable as well with adequate amount of "Wok Hey" and even better, the medium-size prawns!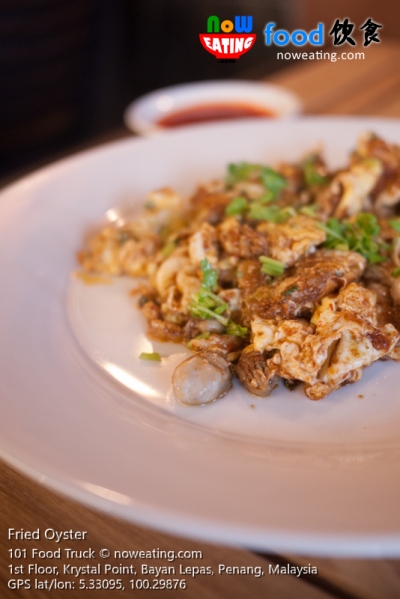 As usual, two are not enough for both of us and we went for third plate – Fried Oyster (RM8 small). Worrying about the freshness of oysters, it turned out that we were wrong as the mollusks were juicy and best dip with chili sauce provided.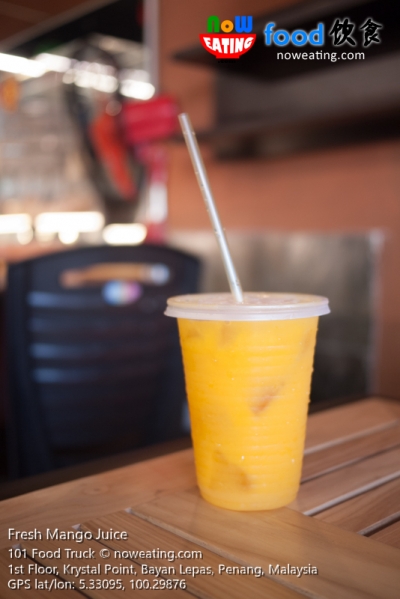 Another considerably eye-opener for us was the fresh mango juice (RM5). While many restaurants are only able to provide concentrated mango juice, 101 Food Truck has fresh mangoes blended on-the-spot.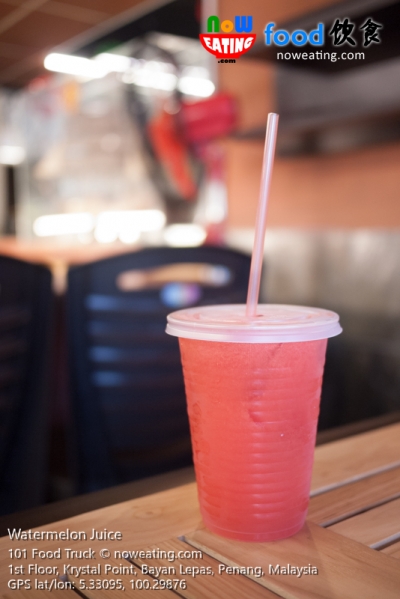 It was a hot evening and we ordered second glass of fresh juice – Watermelon Juice (RM5).
101 Food Truck reminds us of those "hidden gems" in Prangin Mall, George Town, Penang in which those low profile restaurants are hidden in corridors with less traffic flows and can easily be missed. The interior is usually simple with little to none decoration. Still, if you found them, the food are usually not bad and more important, the price! They are usually lifesavers for working class nearby looking for affordable food just to stave off hunger before continue working. 101 Food Truck opens during lunch and dinner times. Actual operation hour remains unknown.
| | |
| --- | --- |
| Place Name: | 101 Food Truck |
| Cuisine: | Chinese |
| Address: | First Floor, Krytal Point, Bayan Lepas, Penang, Malaysia |
| Tax: | No |
| Last Visit: | 20170313 |