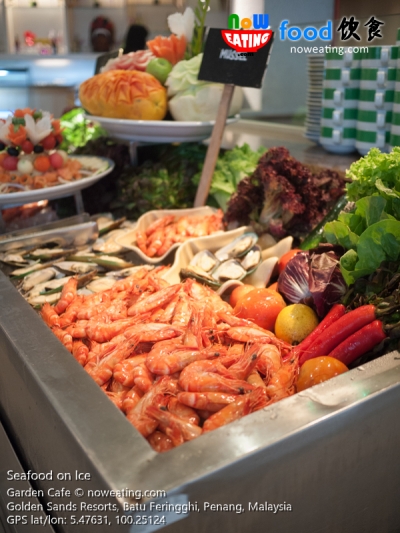 If our memory serves us well, this is probably our second time visiting the family- and kids-friendly Golden Sands Resort by Shangri-La (GPS: 5.47631,100.25124) operated since year 1979. Instead of jumping into their signature swimming pools, we visited its Garden Cafe for "Around The World" buffet dinner.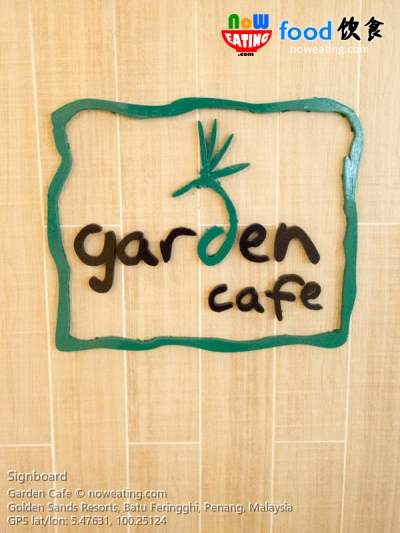 Compared to Rasa Sayang Resort which is under the same management, the 4-star Golden Sands Resort is a family and kids-friendly resort with 387 guestrooms, two swimming pools, a mini water park, a dry play park called Adventure Zone, and two restaurants including Garden Cafe. The cafe is located at left wing after the main entrance to the lobby. Each week, Garden Cafe offers the following buffets: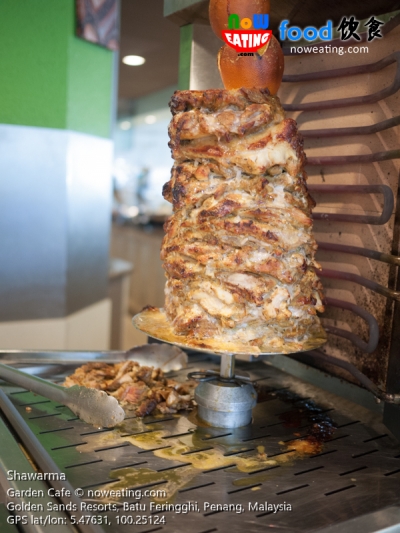 International Buffet Dinner
Enjoy an International buffet dinner with flavours from across the globe – middle eastern delicacies, local home made spicy dishes and much much more…
Every Monday and Tuesday, 6pm – 10pm
RM88 nett per adult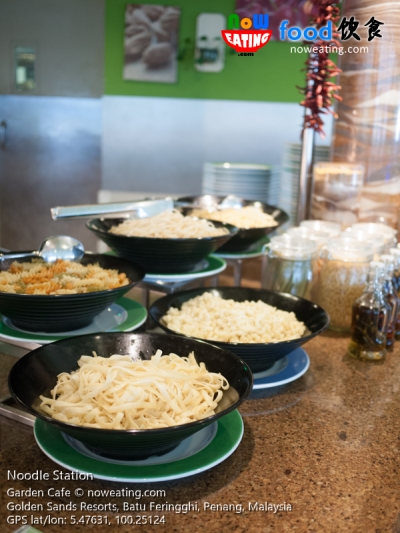 Oodles of Noodles Buffet Dinner
Fantastic range of Asian noodle dishes, sensational soups and superb stir fried, basically all kind of noodles.
Every Wednesday, 6pm-10pm
RM88 nett per adult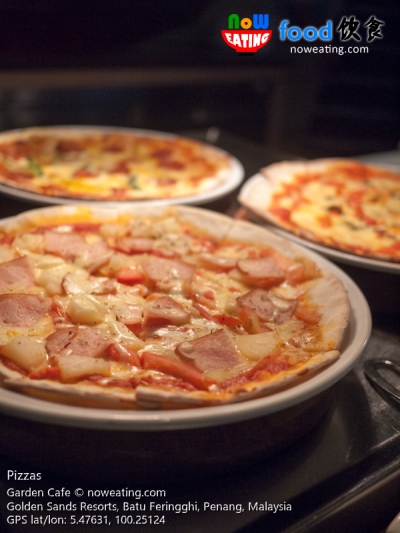 Around The World Buffet Dinner
Have a palate world tour by enjoying all the specialties of many different countries in one evening exclusively at Garden Cafe.
Every Thursday, 6pm-10pm
RM98 nett per adult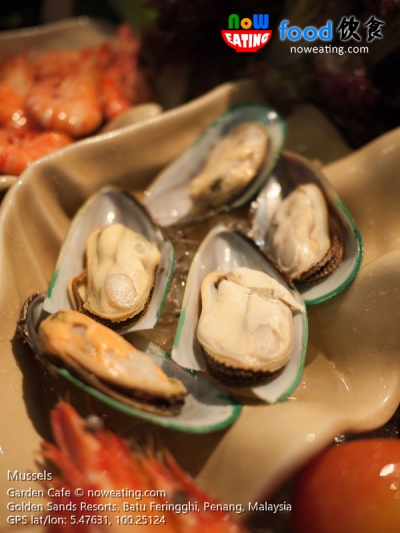 From The Ocean Buffet Dinner
Fresh bounty from the sea served in a variety of recipes with fine ingredients.
Every Saturday, 6pm-10pm
RM128 nett per adult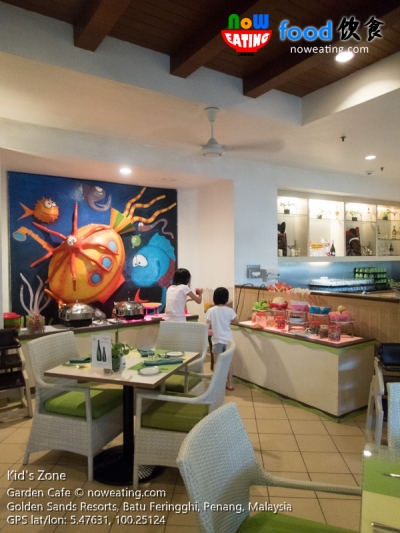 Splash Sunday
International and local delights in a sumptuous buffet – perfect for family gathering
Every Sunday, 12pm-3pm
RM69 nett per adult (Food only)
RM89 nett (Food and use of swimming pool)
40% discount for senior citizens
Top up RM20 nett for entrance to Adventure Zone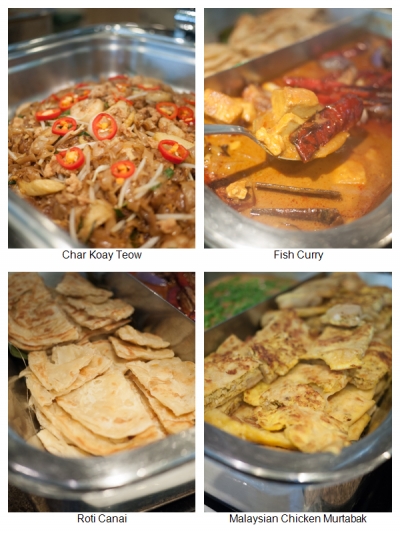 One may wonder the different between International buffet and "Around The World" buffet. In general, "Around The World" dishes are more distributed across different countries whereas International buffet is subjected to chefs selection.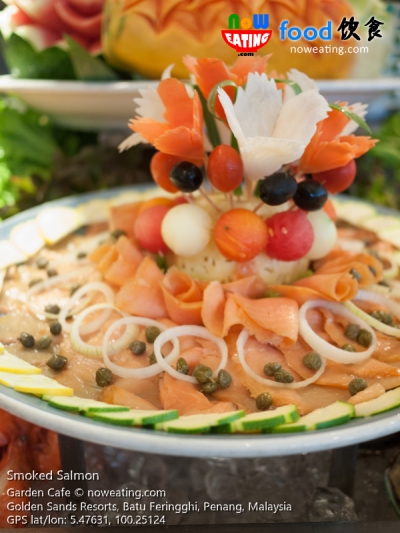 At a glance, we observed Asian, Middle-Eastern, Western, and European cuisines during our visit but first, a section caught our attention was fresh seafood-on-ice corner with fresh prawns, mussels, and smoked salmon on it.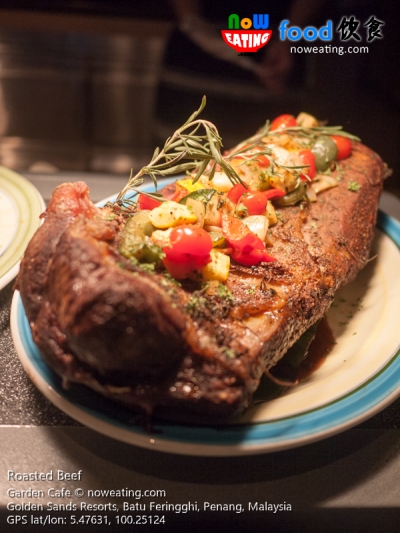 Another highlight was Roasted Chicken/Beef served by chefs on the spot. Next to the mouthwatering poultry/steak station was Noodle Station with pick-your-own ingredients and we were told that the curry noodle tasted exceptionally well.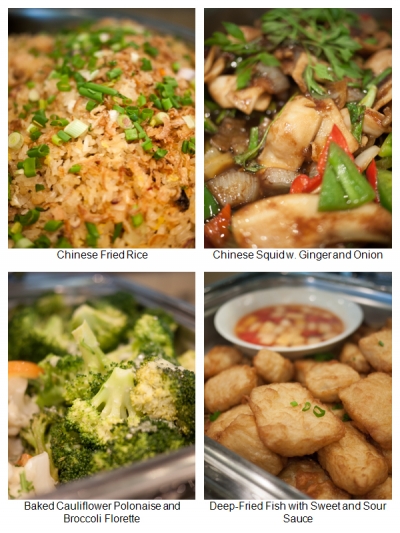 Chinese cuisine such as Chinese Fried Rice, Chinese Squid with Ginger and Onion and stir-fried vegetables were also available as part of hot tray items.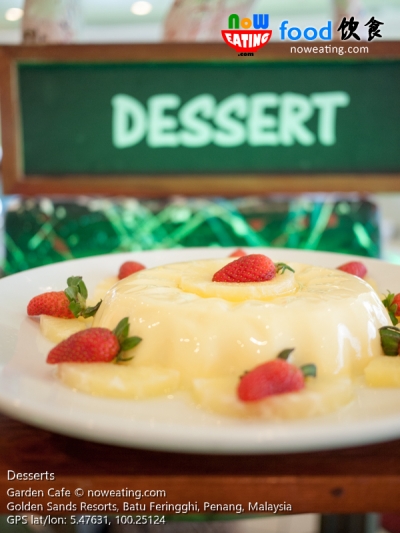 Desserts – sweet way to end your meal. Yes, Garden Cafe does have a desserts corner for those with sweet tooth. Ice cream corner is also available and do not forget Kid's Corner for your children. Speaking of children, Garden Cafe does have great offer for children below 12 years old. As quoted from their official website:
For registered hotel guests, children under the age of 12 can enjoy complimentary buffet meals when accompanied by a paying adult, up to a maximum of 2 children. In excess of 2 children under the age of 12, a 50% discount of the buffet price will be given.
For non-registered guests, 50% discount will be given on buffet meals for children under the age of 12.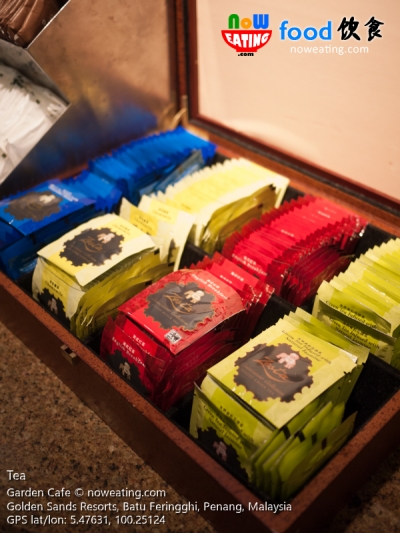 Sit back and relax. Have a cup of coffee from espresso machines or make your own tea.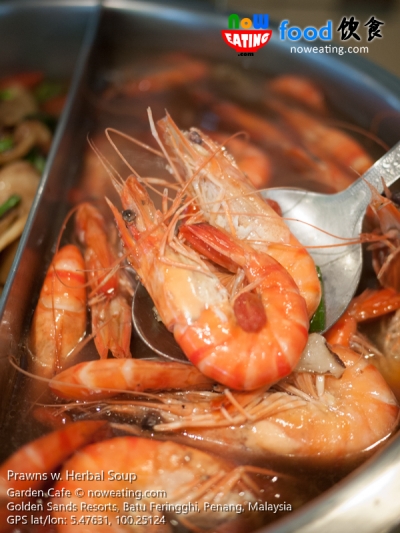 As a whole, we were contented with the quantity and quality of "Around The World" buffet dinner offered by Golden Sands Resort. We almost tried all cuisines around the world except Thai and Japanese cuisines which were scanty during our visit. Nonetheless, at the price of RM98 nett with fresh seafood in Batu Feringghi area, we really can't complain much. For reservation, kindly call +604-886 1911.
| | |
| --- | --- |
| Place Name: | Garden Cafe |
| Cuisine: | Buffet |
| Address: | Golden Sands Resort, Batu Feringghi, Penang, Malaysia |
| Tel: | +604-886 1911 |
| Website: | http://www.shangri-la.com/penang/goldensandsresort/dining/restaurants/garden-cafe/ |
| Last Visit: | 20170316 |