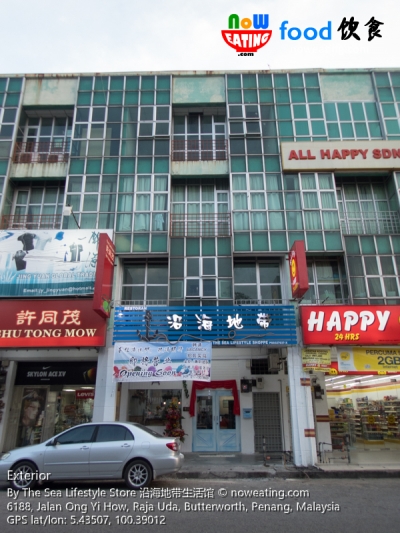 By The Sea Lifestyle Store 沿海地带生活馆 is one of the first few cafes we visited in Raja Uda with its signature sea-themed interior and sandy floor. Recently, the cafe was moved to a new location at Jalan Ong Yi How, not far away from its previous location. We decided to pay it a visit after half a decade since we first visited it.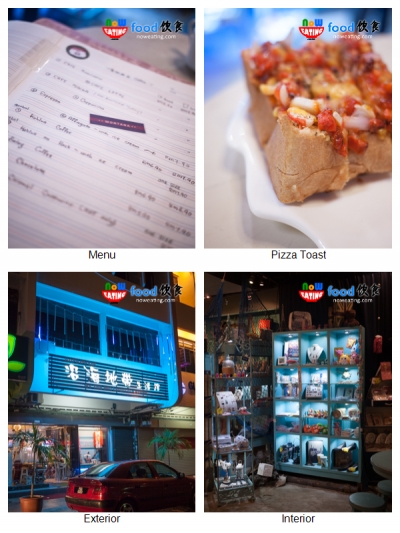 A bit history of By The Sea. We first visited By The Sea in year 2012. Back then, it was located at Jalan Ong Yi How with sui generis sandy floor, crashing ocean wave sounds in the background, handwritten menu, and a few merchandise items for sales. However, the food was pretty limited with few toasts, cakes, and drinks in the menu. We usually had our dinner somewhere else before visiting it.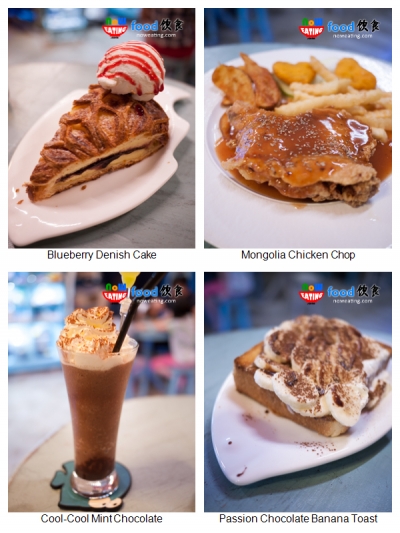 In year 2013, we re-visited it again and this time, few main courses were introduced including Mongolia Chicken Chop (RM16.90) we tried – deep fried whole chicken leg dressed with unique sweet and piquant sauce. Not bad but still a long way to go to be considered as a cafe with decent food, drinks and desserts.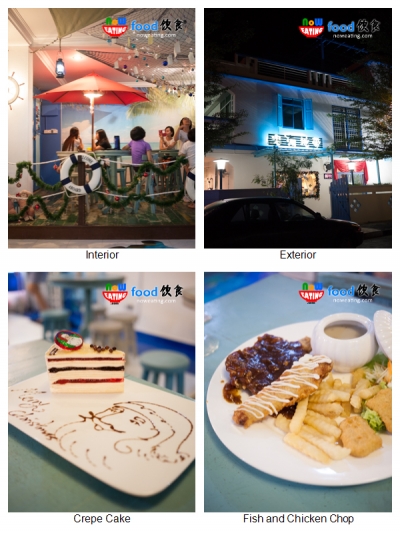 In year 2014, By The Sea moved into a residential area behind Jalan Ong Yi How. Fortunately, it was not too difficult to find and eventually we visited it again. The double-storey house had its ground floor converted into a "beach-themed" dining area. We ordered Fish and Chicken Chop (RM23.90) came with a mushroom soup.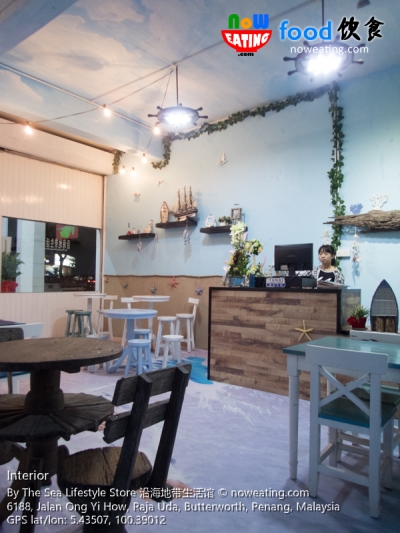 Time flies and we couldn't believe that it was 2 years+ since we last visited By The Sea. By coincident, By The Sea moving out news appeared in our Facebook news feed and before we knew it, the new outlet was opened. The new outlet is easier to find as it is just located along the main road (next to Happy Mart) (GPS: 5.43507,100.39012).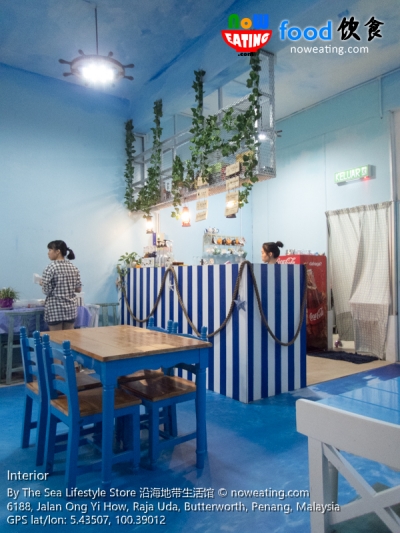 The interior is still painted in ocean blue color with some decoration. Sandy floor and merchandise items are also no longer be seen (or at least for now). In other words, it is more like a typical cafe now.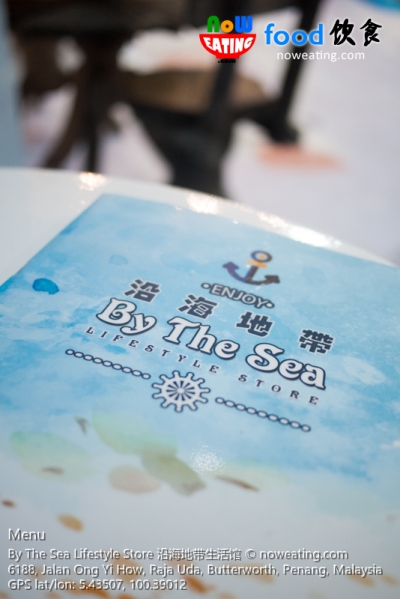 With almost 5 years experience, By The Sea now looks "matured" with a printed and laminated menu containing more choices on the main courses.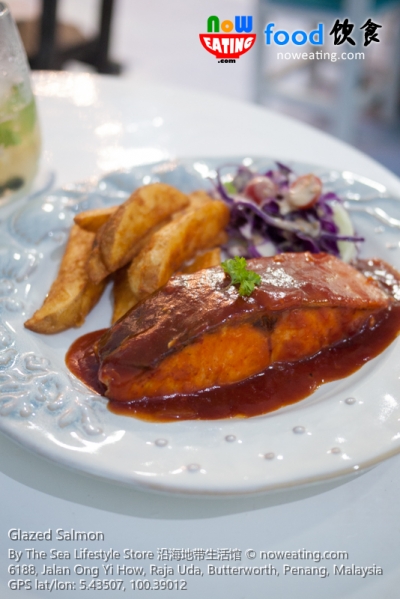 Flipping through the menu, there were many items we would like to try including Western food, pasta, pizza and cheese baked rice. Eventually, we ordered Glazed Salmon (RM25.90) and Sea Food Tomyam Pasta (RM18.90). It had been a while since we had cooked salmon. By The Sea didn't let us down with grilled salmon coated with one-of-its-kind tangy sauce similar to Ulam/Nyonya Sauce. Instead of fancy nuggets and fries, the side dishes are now replaced with wedges and home-mixed salad.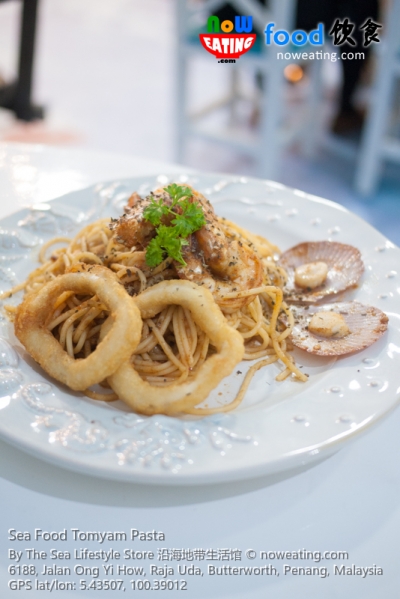 Sea Food Tomyam Pasta was not bad either and was able to send in some "kicks" to our taste buds.
Feeling a bit itchy, we ordered a dessert – Apple Crepe. We loved the drawing on the plate but the crepe was a bit stiff to be sliced. Maybe it was put in fridge for too long.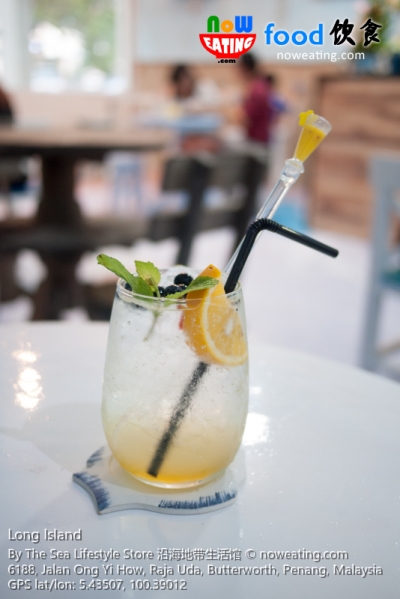 Long Island – mixed fruit soda and is one of the signature drinks.
As a whole, congratulation on By The Sea Lifestyle Store for its new establishment! It is astonishing that the cafe already operated half a decade in Raja Uda, and is growing from a dessert shop to a cafe offering Western, pasta, pizza cuisine and more. The cafe is opened daily from 12pm-11pm.
| | |
| --- | --- |
| Place Name: | By The Sea Lifestyle Store 沿海地带生活馆 |
| Cuisine: | Western |
| Address: | 6188, Jalan Ong Yi How, Kawasan Perindustrian Teras Jaya, Butterworth, Penang, Malaysia |
| Tel: | +604-323 3449 |
| Website: | https://www.facebook.com/pg/CoastalZone/ |
| Working Hour: | 12pm-11pm daily |
| Last Visit: | 20170311 |