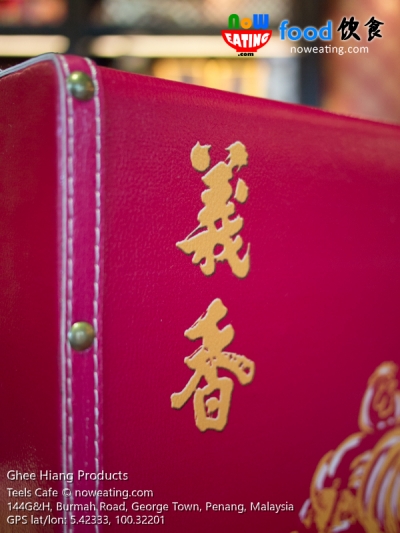 Tau Sar Pneah 豆沙饼, Hneoh Pneah 香饼, Beh Teh Saw 马蹄酥… these are just few traditional pastries from Ghee Hiang 义香 we buy since childhood days, be it as souvenir for friends visiting Penang or as own consumption. Today, the 160 years old naked baby is offering not just pastries and sesame oil, but also coffee products and a cafe called Teels Heritage which we will be covering in this article.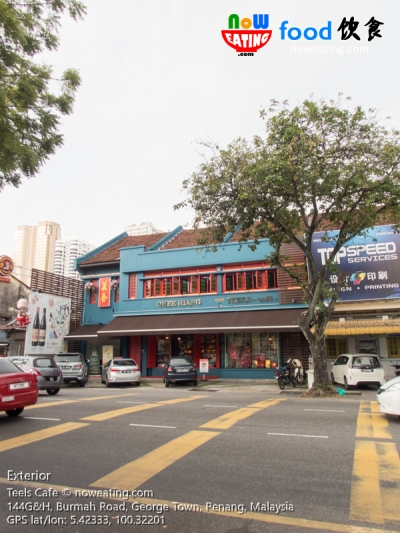 Opened since year 1856, Ghee Hiang currently has total of six outlets in Malaysia with three of them being in Penang – Beach Street, Macalister Road and Burmah Road outlets. Back in childhood days, we used to purchase Tao Sar Pneah (pastries with sweet and salty green bean filling) at Beach Street outlet which is also their central kitchen. Parking was an issue there and was then solved when Macalister Road outlet was opened. The outlet we were going to introduce today is Burmah Road outlet (GPS: 5.42333,100.32201).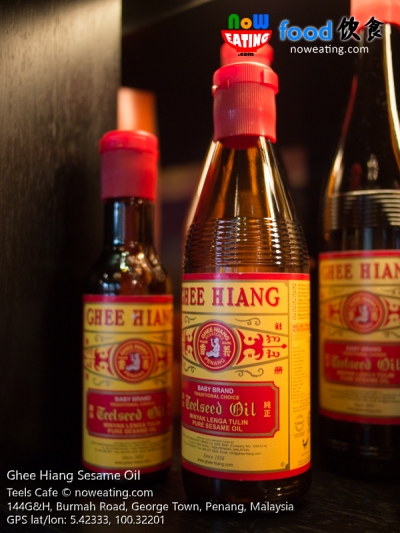 Burmah Road outlet used to be the smallest outlet among others with just a kiosk for customers to purchase their products. Today, it is no longer the case as the outlet is expanded to three shophouses with ground floor for products and a refreshment corner offering bites and drinks.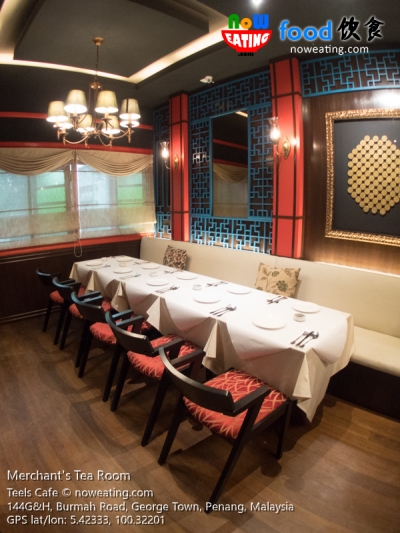 It was repentant that we only visited Burmah Road outlet recently and we were blown away with its boutique interior, especially its first floor in which we thought we had entered a boutique hotel or a fine dining restaurant.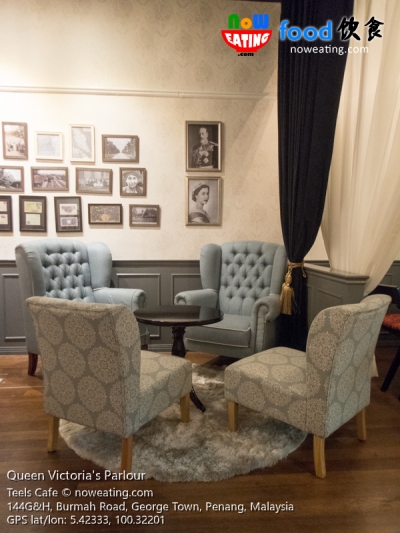 The first floor consists of two dining rooms – Queen Victoria's Parlour and Merchant's Tea Room. Note that they can only accommodate 50 persons at max so reservation is strongly encouraged.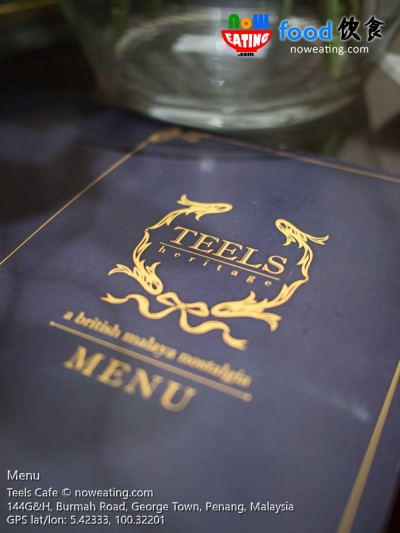 Ghee Hiang's own cafe is called "Teels Heritage Cafe". In case you are wondering the meaning of "Teel", it is actually another word for sesame oil. Ghee Hiang is well-known of its pure sesame oil introduced since 1900's. Teels Heritage Cafe is not just another cafe. To our surprise, it has three distinguishable selling points:
The menu consists of only 6 main course items
Almost all ingredients are homemade
Fine dining environment with normal cafe pricing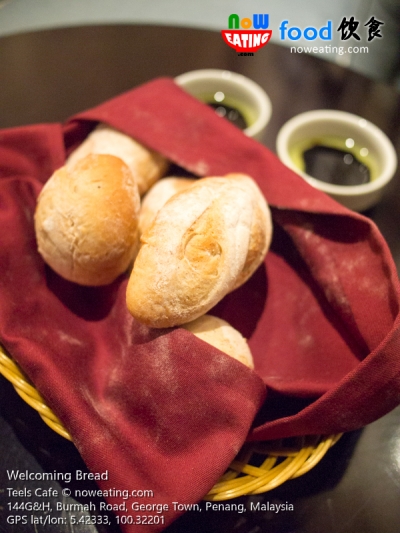 You hear it right! Teels Heritage Cafe only has six main courses in its menu. Each of them is the outcome of R&D and countless trail-and-error from the master chef. As the matter of fact, Teels Heritage Cafe is opened since mid of 2016 and in order to fine tune their dishes, the owner remained low profile, even until now.  (Figure: Homemade welcoming bread)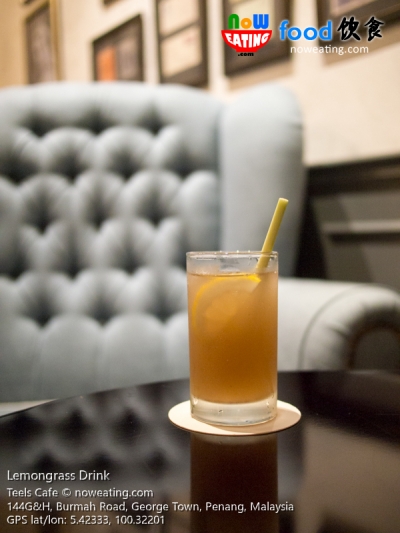 For each order, customer is entitled for a glass of complimentary homemade lemongrass drink and welcoming bread made using raw flour.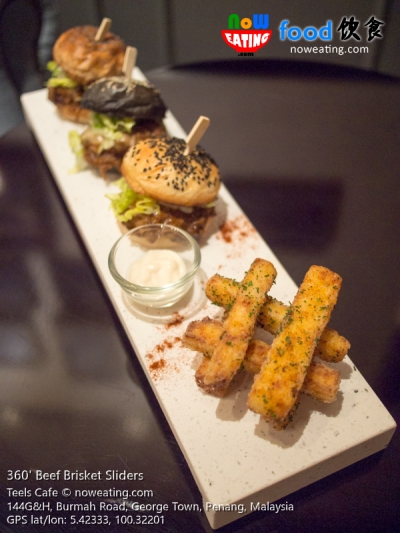 Each main course item is distinguishable from others. For instance, you won't find two "beef" items in the menu. Our first item being 360′ Beef Brisket Sliders (RM24.80+) – Trio of 6 hours slow cooked local pulled grass-fed Beef Brisket sliders with corn fries/dipping sauce.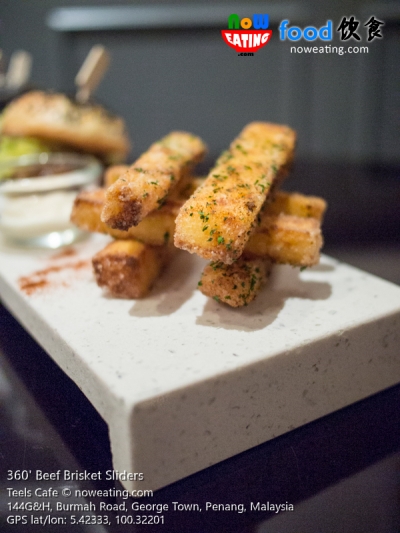 The delicacy comes with three sliders and they tasted differently compared to each other. The only way to find out is to try it yourself. The corn chip acting as the side dish is also worth dying for.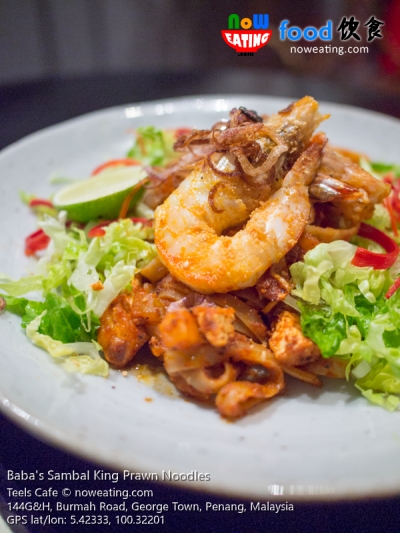 Baba's Sambal King Prawn Noodles (RM26.80+) – In-store made flat wheat noodles sambal spiced local market fresh wild caught Tiger King Prawns & crisp salad market greens. Suitable for spicy food lover and when we said "spicy", we really mean it.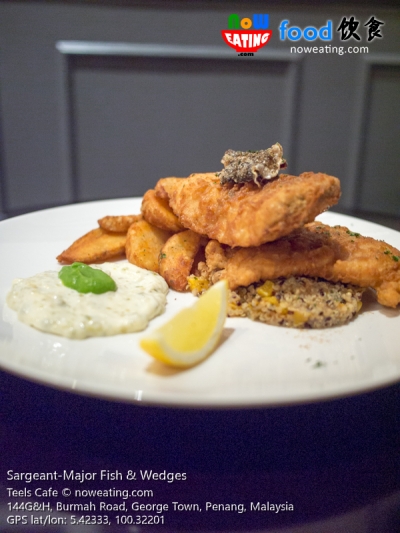 Sargeant-Major Fish & Wedges (RM22.80+) – Sargeant-Major's light batter local wild caught Sea Bass or Catch of the Day Fish Cutlets with potato wedges and quinoa pumpkin salad. Served with homemade Tartar sauce and sweet pea puree. We particularly enjoy the sweet pea puree.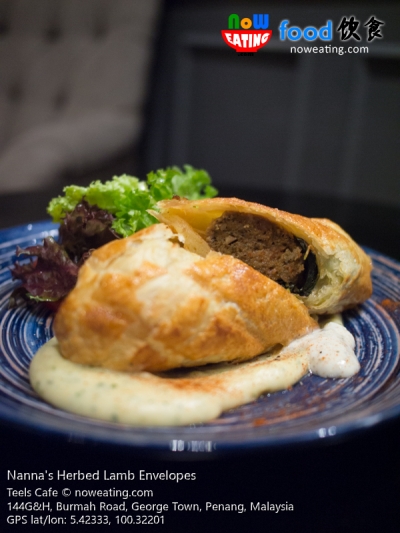 Our top pick was Nanna's Herbed Lamb Envelopes (RM22.80+) – Tender local lamb mince with cubes of onions and potatoes marinated with tumeric, thyme, cumin, garam masala baked in an envelope of puff pastry. Served with a side of butter potato mash and yoghurt sesame dipping sauce. Not only we were blown away with juicy filling sans gammy taste, but also the silky smooth mashed potato hardly seen in other restaurants.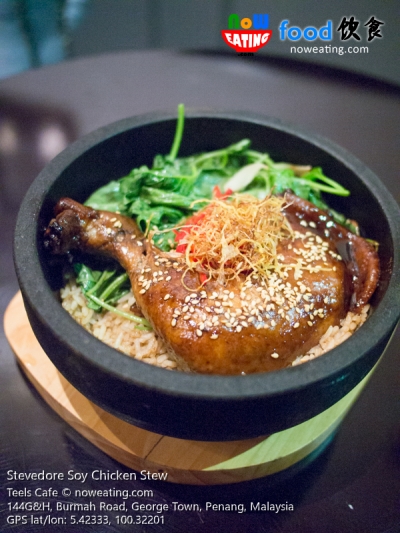 As a famous sesame oil maker, it will be a shame if none of the dishes is using their sesame oil product. Introducing Stevedore Soy Chicken Stew (RM18.80+) – Stevdore's slow braised Soy Cinnamon Anise Chicken Thigh stew with jasmine rice, baby spinach & nanny's acar condiments.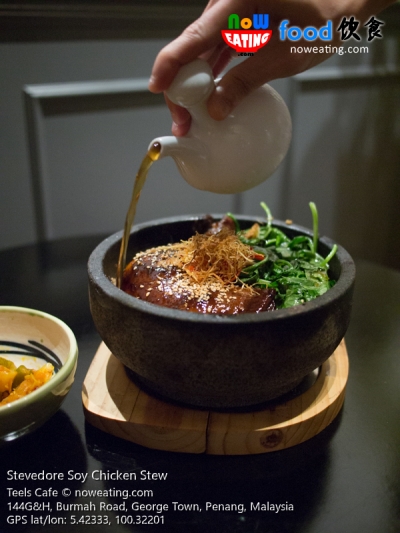 It was indeed generous that the whole chicken leg is served, to an extend that it was difficult to move around in the sizzling hot stone bowl. The chicken thigh was stewed with soy sauce before drenched with more soy sauce and sesame oil when serving.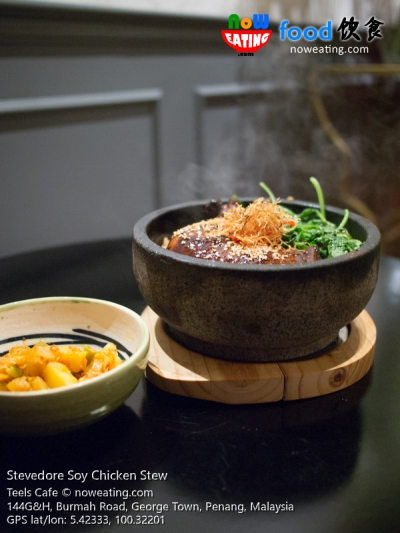 The result? An aromatic rice dish with a fragrance of sesame oil. Notice the Acar-Acar on the left? It was owner's home recipe and worked well as refreshment for the Korean-Chinese fusion dish.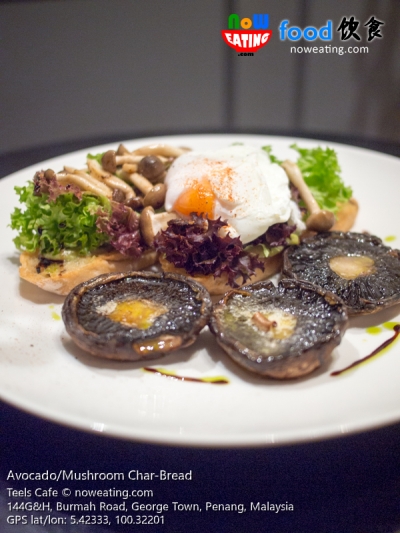 For vegetarians, try Avocado/Mushroom Char-Bread (RM17.80+) – Vegan's Order of free range poached egg (add on option), creamy avocado garlic smash topped with whole swiss brown mushrooms served on chargrilled wheatgrain artisan bread.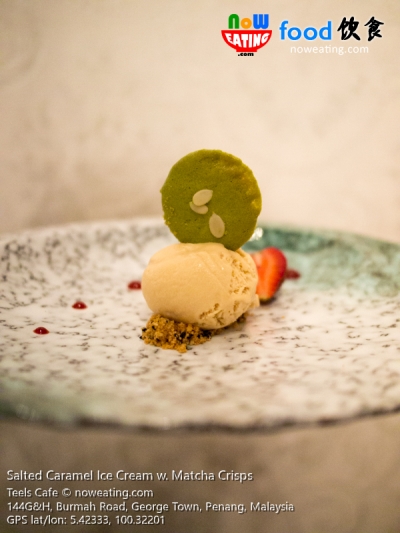 During our visit, we had a change to try out the new Salted Caramel Ice Cream with Matcha Crisps (RM10.90). Both ice cream and crisps were homemade.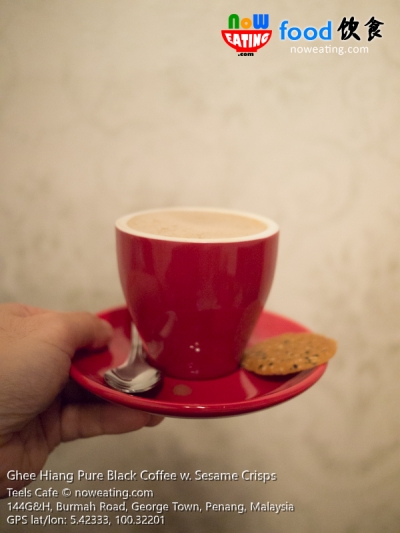 End your meal with a cup of Ghee Hiang Pure Black Coffee with Sesame Crisps. Enjoy the coffee and crisps? They are available for sales at ground floor.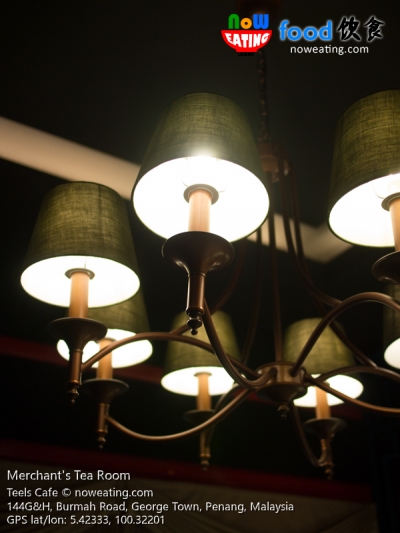 As a whole, the pork-free Teels Heritage Cafe is definitely a hidden gem in Penang with its astonishing dishes and breathtaking dining environment. The cafe opens daily from 11:30 am to 3 pm for lunch, 3 pm to 6 pm for afternoon tea, and 6 pm to 10 pm for dinner. Closed on Mondays. For reservation, kindly call +604- 228 8177.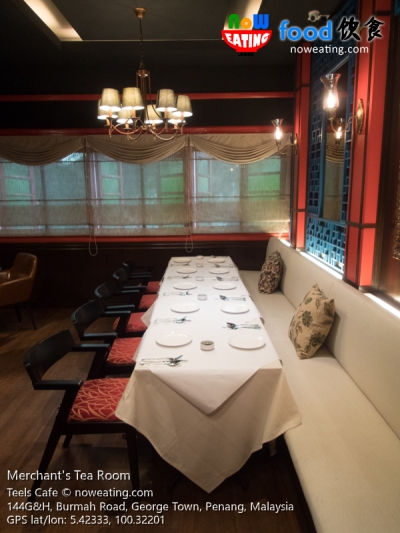 In conjunction with Teels Heritage Cafe's new opening, the management is giving away RM110 voucher (while stock last) when customers join membership (RM100 for 1 year). The voucher can be used during the same visit and last for 2 months). Members can enjoy 10% discounts during normal day.
| | |
| --- | --- |
| Place Name: | Teels Heritage Cafe |
| Cuisine: | Western |
| Address: | 144-G & H, Burmah Road, George Town, 10050, Penang, Malaysia |
| Tel: | +604-228 1077 |
| Website: | https://www.facebook.com/pg/TeelsCafe |
| Working Hour: | 11:30am-10pm (Monday Closed) |
| Tax: | 10% Service Tax |
| Last Visit: | 20170322 |