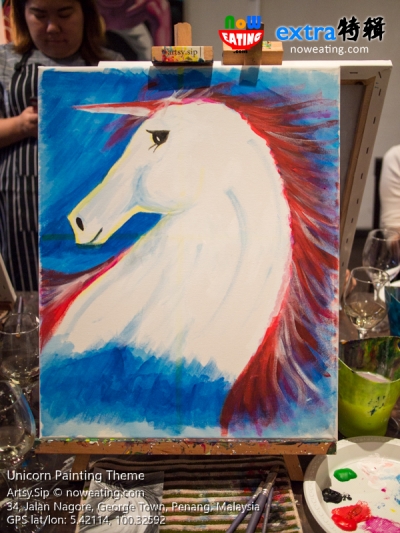 Our first painting after returning my art skill back to our secondary school teacher more than 20 years ago. Artsy.Sip (GPS: 5.42114,100.32592) at Nagore Road, Penang is a place for you to have a glass of wine while enjoying painting with guidance from handsome guru.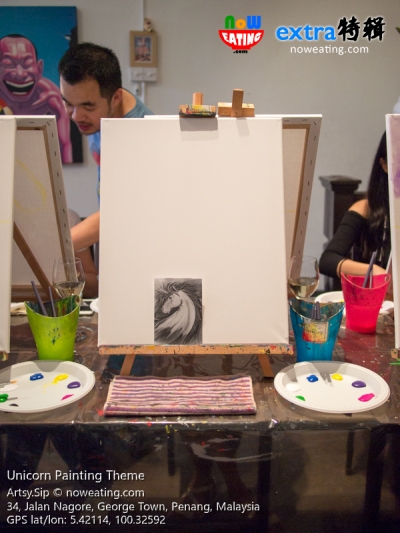 Artsy.Sip is a new "wine-pairing" concept in Penang in which no food is served but instead, customers are given a 40x50cm canvas which is theirs to take home, paints, brushes, easel, and apron to begin painting with theme of the week.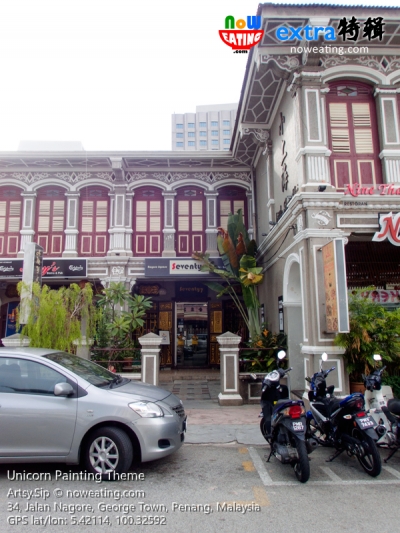 Artsy.Sip is founded by both Aaron Hwang and Kerwyn Lee on Oct/2015 with sole purpose to introduce "art entertainment" in Penang. It is currently located at Nagore Road, opposite of Continental Bakery, above Seventy7.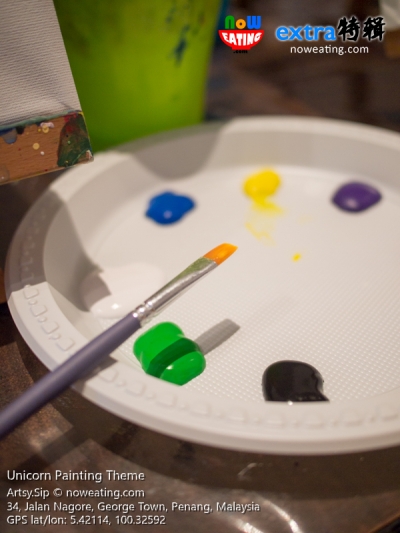 We were a bit worried before attending our first "drawing class" since our last painting session more than 20 years ago. Yes, it was during secondary school time in which "Art Education" was one of the compulsory subjects. Even worse, we arrived late due to traffic jam and after finding parking, we rushed ourselves to the first floor of Seventy7. The "class" was almost full with instructor standing in front guiding customers on how to begin drawing. Without further ado, we quickly grabbed our seat which was reserved earlier.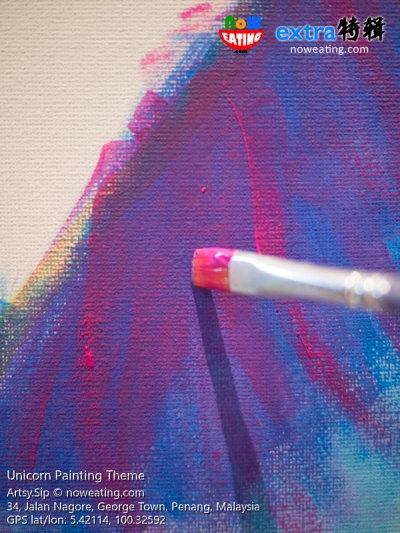 Wait! Ain't we supposed to take some photos to publicize the event? As a blogger, this was probably the first time we really sit down together with customers and participated in an event. Our theme of the day was "Unicorn". A "Unicorn" paper cutting was provided in front of each canvas as a reference. We begun our drawing by dividing drawing regions into four sections in 田 shape followed by drawing outline of the unicorn.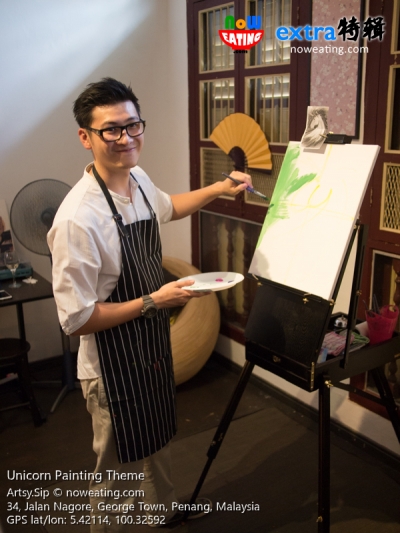 The rest, including the use of colors, were totally up to us based on our creativity and imagination. Do not worry as you can always ask for guidance from handsome guru – Mr Aaron Hwang. We actually learned some new knowledge there such as you can always use light yellow color to draw outline. Painted by mistake? Use white color to cover it up. White color is also depleting faster than other colors as it works well to create 3D/layering effects on your drawing.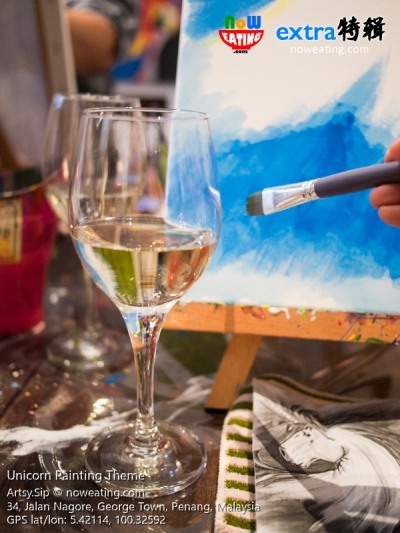 Suddenly out of idea? Have a sip of white wine before proceeding. Who knows your creativity will return after this. According to the instructor, drawing is very subjective and there is no right or wrong. Even if the painting turns out ugly, just blame the wine.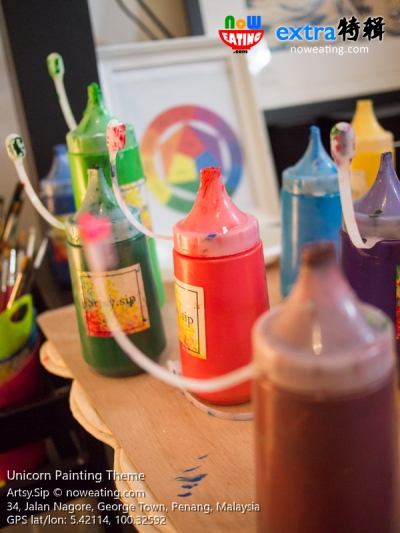 More important, this is not a class, but a leisure drawing session in which one should enjoy him/herself under good music and social interact with others. Walk around and see how beauty (ugly) others are drawing. We eventually completed our painting (see first figure of this post) and thanks goodness it was not that bad after all considering we hadn't draw for more than two decades.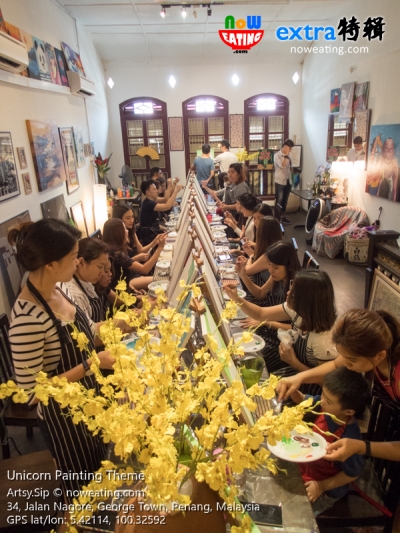 Note that the class is only opened on Saturday and reservation is required. Up to two sessions are available depending on the demand – the 2:30pm-5:30pm session and 8pm-11pm session. Maximum capacity per session is 24 pax. Price is RM88 nett including a glass of wine and a canvas which is yours to take home. Non-alcoholic beverage is also available upon request.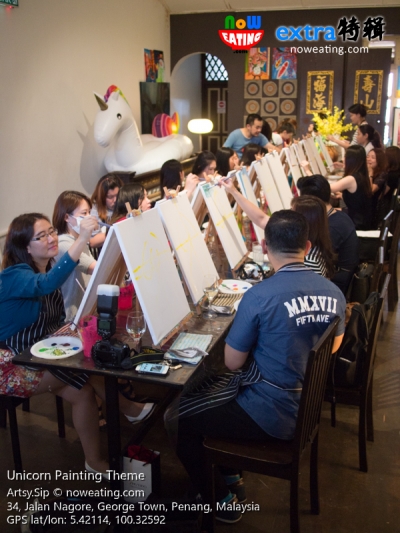 For more information, we strongly recommend readers to refer to Artsy.Sip official Facebook page:
https://www.facebook.com/ArtsySip/
Alternatively, for those who do not own a Facebook account, we also extracted their FAQ out from About > Story section:
HOW DOES THIS WORK?
The concept is simple: We supply EVERYTHING you need for a creative day out. Just show up on time for the party. We provide all painting materials and a complimentary glass of alcoholic or non-alcoholic beverage. Our instructor will guide you through the process step by step some basic techniques of painting on canvas. You take your painting home by the end of the session.
DO I NEED A RESERVATION IN ADVANCE?
Reservation is required. We have limited seats in each session, so we recommend booking in advance. On rare occasion, session may not be held due to insufficient enrollment.
HOW DO I BOOK OR REGISTER?
a) Email [email protected]
b) Facebook Message or
c) Telephone/Whatsapp : 0124188255 or 0124417100
WHERE IS YOUR STUDIO?
Address : 34 Jalan Nagore, Georgetown 10050, Penang. We are located in Nagore Square, next to Nine Thai Restaurant, opposite Continental Bakery. You will see a "Seventy7" signboard. We are located inside upstairs. Previously we were located at Le Dream Hotel, Jalan Pintal Tali. We have moved to bigger space at Nagore Square since mid November 2016.
WHERE CAN I PARK MY CAR?
Parking options : 1) Streets parking (Jalan Nagore, Jalan Bawasah, Lorong Swatow, Jalan Hutton) but coupon required till midnight. 2) Nagor Square Car Park behind Continental Bakery on Jalan Bawasah 3) New World Park car park 4) New Savoy Hotel on Jalan Hutton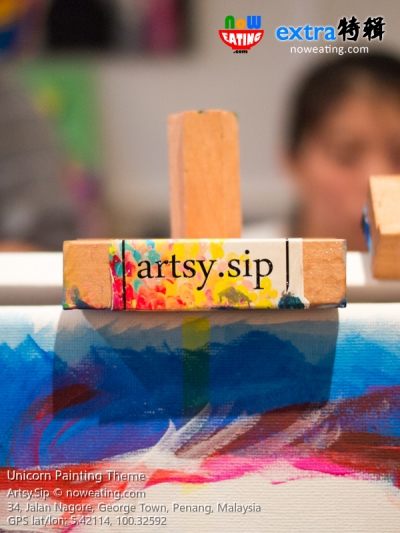 HOW DO I MAKE PAYMENT?
We will send you the payment details when we respond to your booking. We prefer payment through online bank transfer to our CIMB account. You may deposit cash at ATM machines too. We apologize for not having credit card payment facility. We usually will send you the payment details request on Monday (5 days before your booked session) and we hope to receive the full payment by Wednesday (3 days before the session on Saturday).
WHAT IS INCLUDED IN THE COST?
The price includes everything you'll need for the session (40x50cm canvas- yours to take home, paint, brushes, easel, apron)
HOW EARLY SHOULD I ARRIVE?
Our session starts promptly. We recommend that you arrive about 10 minutes before so you can find parking and get acquainted with the studio. Traffic around Nagore Square, Georgetown on weekend is heavy because there are many eateries around the area .
WHAT IF I AM LATE?
We will do our best to catch you up with others. Try your best to be on time because there will be other customers waiting.
WHAT SHOULD I WEAR?
We provide aprons but we recommend wearing something you wouldn't mind getting a little bit of paint on – just in case!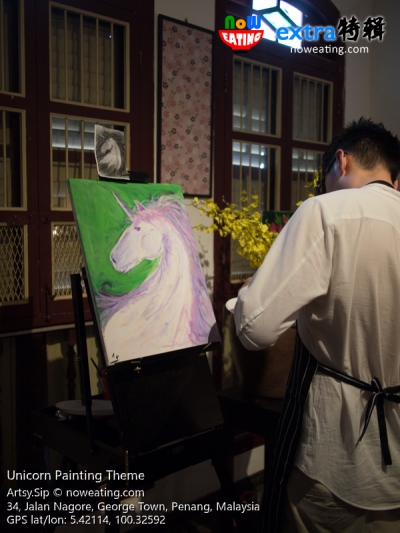 WHAT IF I HAVE TO CANCEL?
You can reschedule your booked session to another date with no penalty. However, please be kind and inform us as soon as possible. Things happen, we understand. Classes are subject to cancellation on the rare occasion of not enough participants, or extremely bad weather. In this event, we will work with you to find another date or issue a full refund back to you.
HOW LONG IS THE SESSION?
Each session is about 2.5 hours step-by-step system guided by instructors to help create your very own art piece. There will be a few 'paint drying breaks' so you can stand up, stretch, dance or walk around to meet new friends!
WHAT IF I'VE NEVER PAINTED BEFORE?
Most of our customers (about 90%) never pick up a paint brush since their high school. No experience needed in our event. We make fun art, not fine art. Our instructor will guide you basic step by step through the featured painting. Instructor will walk around the class to make sure everyone is on the right track. It's good to remember that with art there is no "right" or "wrong" answer. Any "mistake" can be fixed or simply reinterpreted as intentional strokes of genius. Well, if the painting came out really "bad" , just blame it on the wine. 🙂
CAN MY CHILD ATTEND?
Children are welcome! While we mostly target crowd that does not require adult supervision; if you are comfortable having your child in a wine drinking or bar like environment and an adult-oriented event, it is fine with us. Your child is more than welcome to join our painting session. In fact, we love children 🙂 We had kids followed their mums paint together on few occasions. We just have to inform you that our customers are mostly if not all adults.
DO I HAVE TO PAINT THE SAME THING AS THE INSTRUCTOR?
No! You may paint something else if you like! Change the colours, shapes or paint your own design. The canvas is yours to do whatever you want.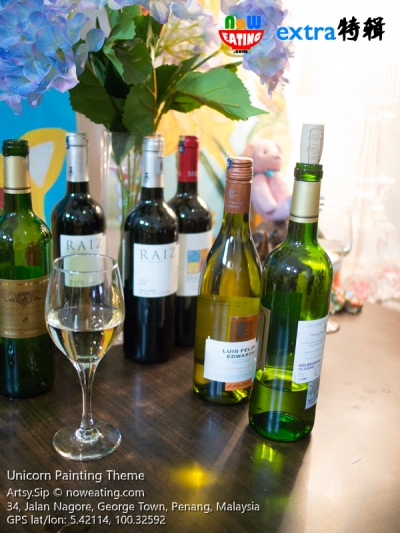 I DON'T DRINK ALCOHOL. CAN I CHANGE TO SOFT DRINK?
Absolutely. Please inform us during reservation that you wish to change to soft drink.
CAN I BRING MY OWN FOOD AND WINE?
You may bring snack food (small bites) along with you. We allow you to bring your own bottle of wine for a corkage charge (RM35 per bottle). Our house wine only cost 95 per bottle, almost same price as supermarket shelf price. 🙂
CAN I PURCHASE A GIFT VOUCHER?
Yes. To purchase, please contact us. We will post the gift voucher to your mailing address.
HOW DOES PRIVATE EVENTS WORK?
In order to book a private event there is a minimum requirement of 10.