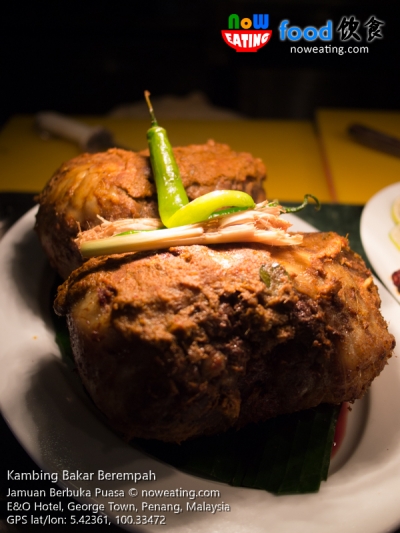 Time flies and it feels like it is just yesterday that we have Ramadhan buffet in some hotels. Recently, special thanks to to Eastern & Oriental Hotel (GPS: 5.42361,100.33472), we were being invited again to bring you sneak preview of upcoming Jamuan Berbuka Puasa buffet dinner.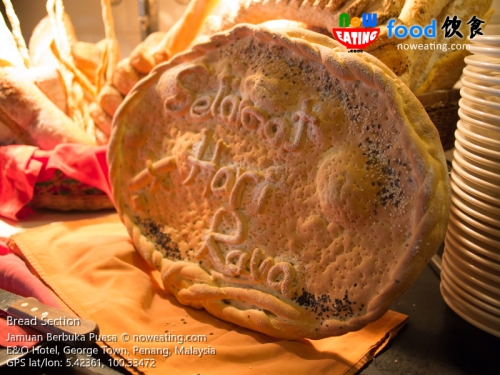 Jamuan Berbuka Puasa buffet dinner will be available at Sarkies – the main restaurant in E&O hotel serving daily buffet, from 27-May-2017 to 24-June-2017, Monday to Sunday, 7.00pm-10.30pm.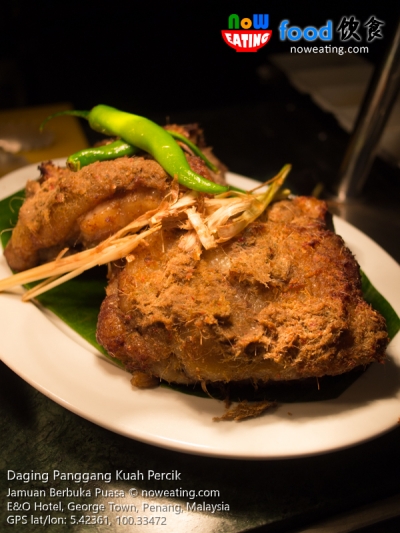 Last year, we visited Eastern & Oriental (E&O) Hotel for its Selera Kampung buffet dinner and until now, we still missed their mouthwatering International cuisine such as grilled lamb, Satay, Seafood-on-Ice and assorted hot tray items. This year, we observed something different from the five-star kitchen, from the recipe level to the presentation. As a starter, we had spiced BBQ lamb (Kambing Bakar Berempah) and grilled beef with Percik sauce (Daging Panggang Kuah Percik).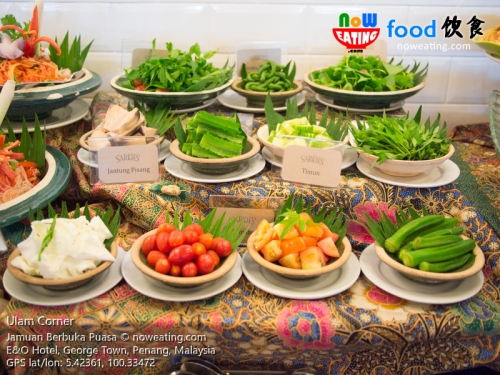 Once again, the buffet dinner during the holy month of Ramadan is International buffet with additional dishes such as assorted Ulam and dates to break the fast.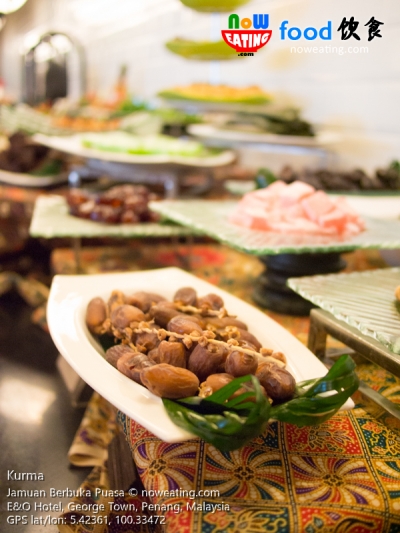 In case you are wondering, dates or Buah Kurma is a great food to break the fasting thanks to its ability to decrease great hunger feeling and easy digestion. It also prepared the stomach to receive the food after long hour of inactivity.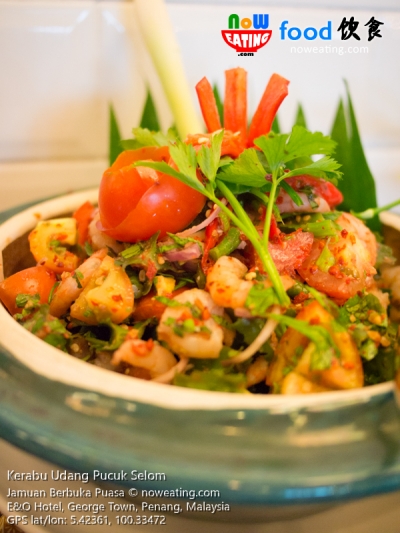 Special for the fasting month, Kerabu appetizers such as Kerabu Ayam Mangga Mudah, Kerabu Tauge Ikan Bilis, Kerabu Kacang Botol, Kerabu Udang Pucuk Selom, and Kerabu Sotong Betik Muda are available and ready to kick start your taste buds.
Figure: Rendang Daging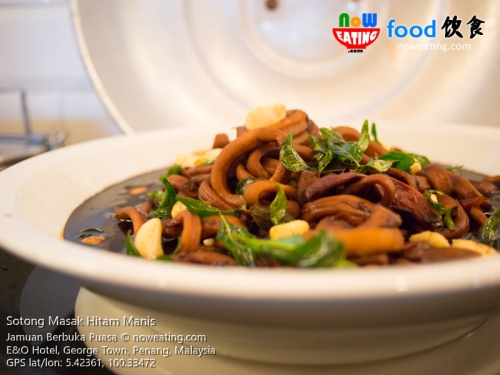 Figure: Sotong Masak Hitam Manis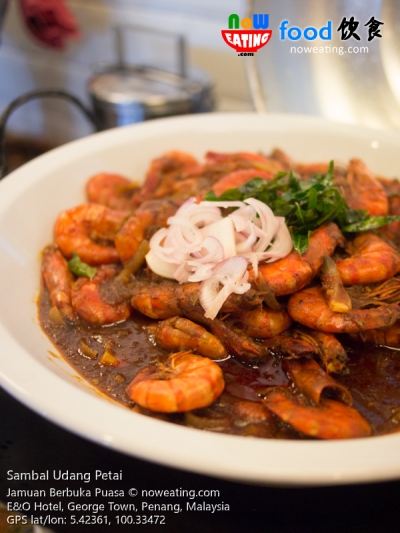 Hot tray items are not letting us down as well with luxurious items awaiting us, including Rendang Daging, Sotong Masak Hitam Manis and Sambal Udang Petai.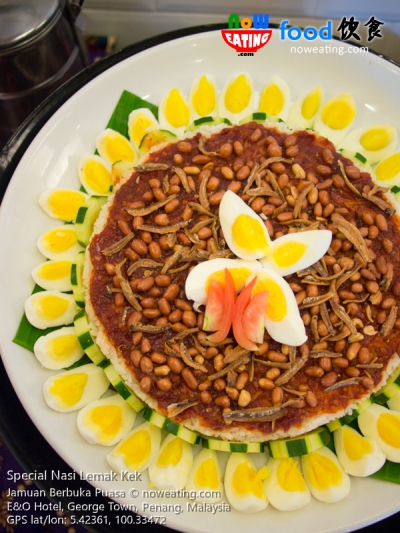 Perhaps an eye-catching new item is the Special Nasi Lemak Kek – a "cake" made of Nasi Lemak (a Malay fragrant rice dish cooked in coconut milk and pandan leaf, topped with anchovy, peanut, cucumber, hard-boiled eggs, dressed with spicy gravy) and we are relatively impressed with the taste, as it is from a master chef with years of experience in preparing the famous national food. Be sure to try it if you happened to see it during your visit.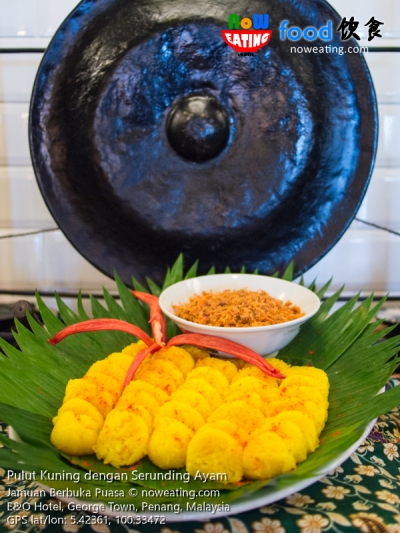 Another new dish is Pulut Kuning (turmeric glutinous rice cake) with Serunding Ayam. We initially planned to skip this appetizer and thankfully we did not do so as it was another eye opener and a must-try during your visit.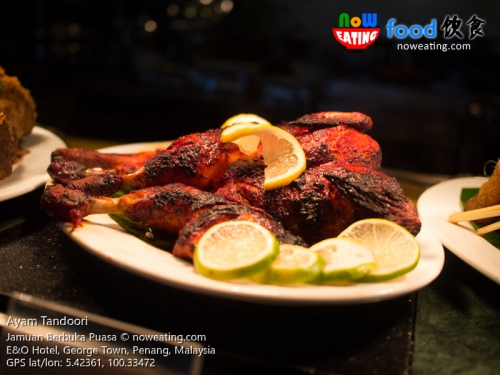 Figure: Ayam Tandoori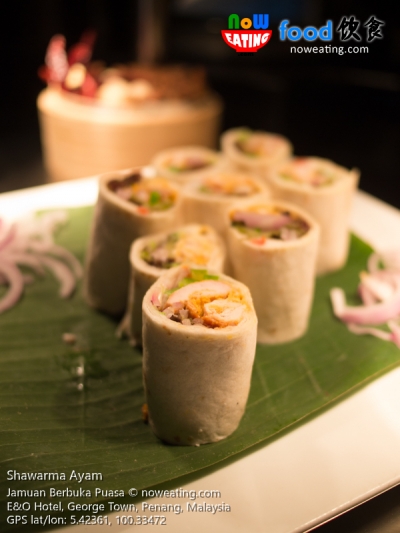 Figure: Shawarma Ayam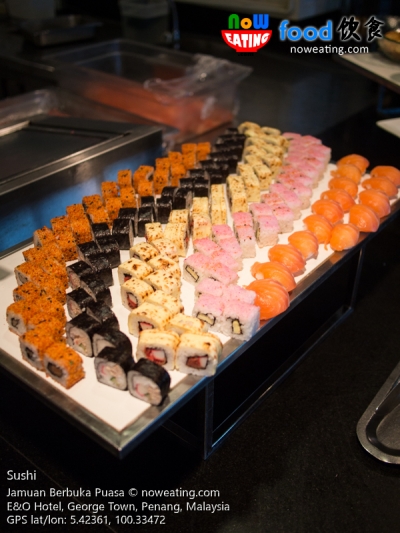 Figure: Sushi
As mentioned, Jamuan Berbuka Puasa is basically an International buffet dinner in which you will find Malay, Indian, Chinese, Middle East, Japanese and Western cuisine under one roof. As usual, we grabbed some sashimi and sushi from the Japanese corner but an item caught our attention this round was Shawarma Ayam – a Levantine recipe with chicken carefully wrapped by master chef in Pita bread. It finished real fast and chef was sweating buckets in replenish them.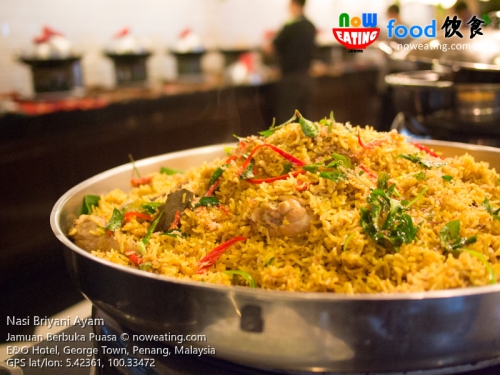 With plenty of food, we usually do not take plain rice in any buffet but Nasi Briyani Ayam is an exception.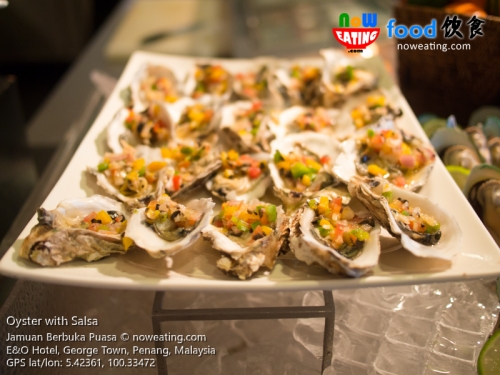 Figure: Oyster with Salsa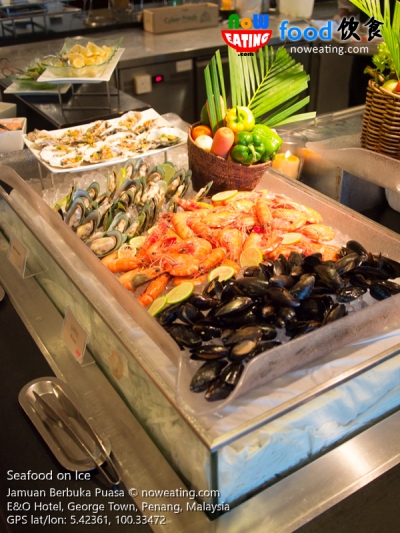 Figure: Seafood on Ice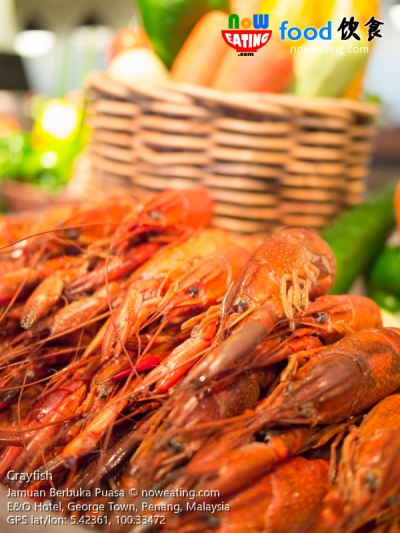 Figure: Crayfish
With abundant of dishes, we almost forgot Seafood on Ice corner – the "premium" corner of Sarkies buffet and we were lucky that fresh oysters were available that evening.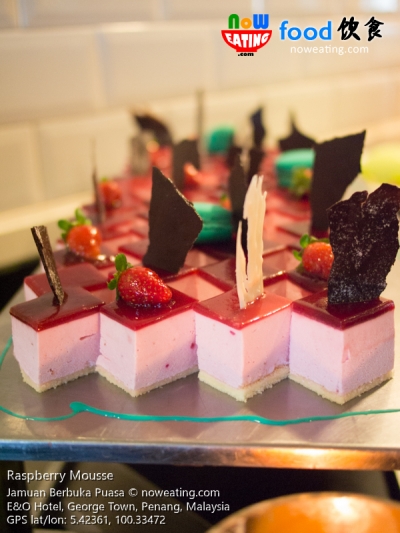 Last but not least, we hope that you still have some space for desserts such as Kuih-Kuih Melayu, Bubur Pulut Hitam, assorted cakes, mousses, chocolate fondue, ABC, ice cream and fruit platter.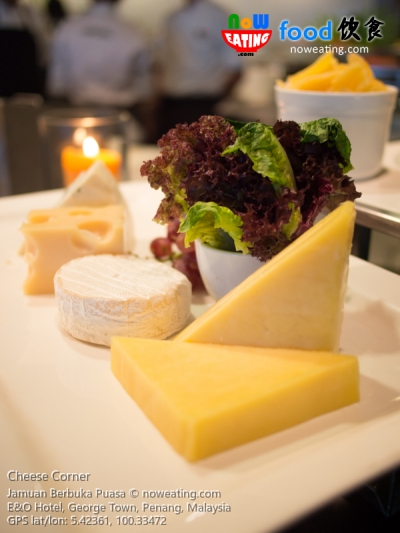 Jamuan Berbuka Puasa buffet dinner is priced at RM143.30 nett per adult and RM70.95 nett per child. Child price applies to those from 6 to 12 years old. Children below 6 years old dine for free. Other than that, Sarkies is also offering Balik Kampung Buffet Lunch on 25 and 26-June-2017 from 12.00pm-2:30pm at RM98.30 nett per adult and RM49.15 nett per child.
For reservation, kindly call +604-222 2000 Ext: 3139/3151.
| | |
| --- | --- |
| Place Name: | Sarkies @ Eastern & Oriental Hotel |
| Cuisine: | Buffet |
| Address: | 10, Lebuh Farquhar, George Town, 10200, Penang, Malaysia |
| Tel: | +604-222 2000 Ext: 3139/3151 |
| Email: | [email protected] |
| Last Visit: | 20170511 |