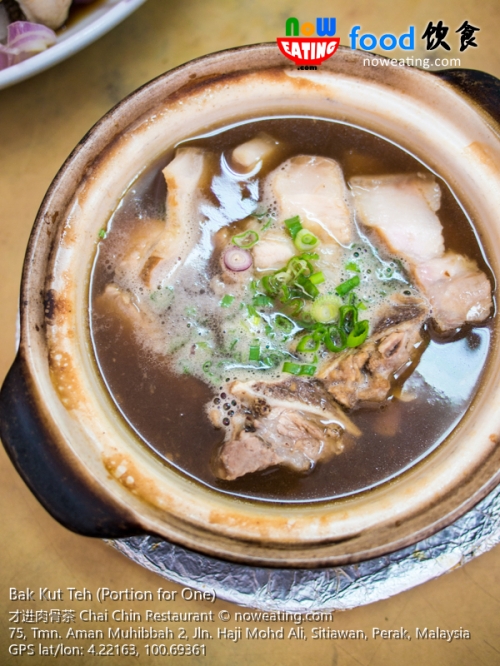 "What is the most expensive breakfast you have tried?". For us, it is not in any fancy Italian nor Michelin-starred Hong Kong Dimsum restaurant, but in a Chinese Bak Kut Teh (BKT) restaurant. Today, we bring you to Chai Chin 才进肉骨茶 restaurant (GPS: 4.22163,100.69361) in Sitiawan for its signature fish head and of course, the BKT. Is it worth the Cha-Ching? Let's find out.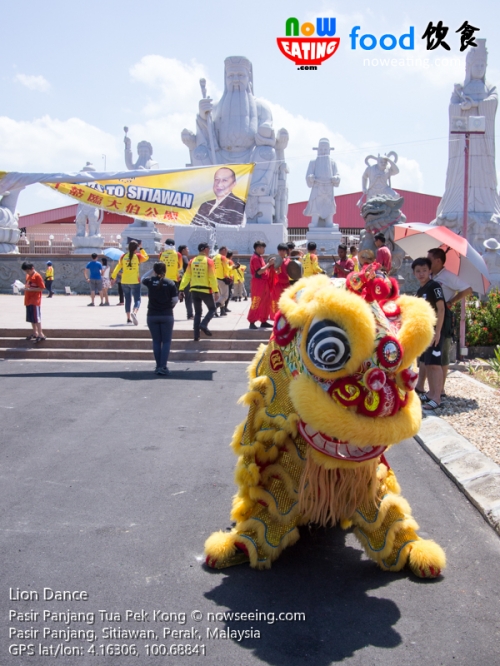 It was one weekend when we planned for a day trip to Sitiawan to visit the famous Tua Pek Kong temple at Pasir Panjang. We recommend readers to at least visit this attraction once thanks to its magnificent landscape. The journey is about two hours from Penang in which one needs to exit Cangkat Jering tol and continue one hour journey to Manjung – the town where our BKT restaurant located before reaching Pasir Panjang.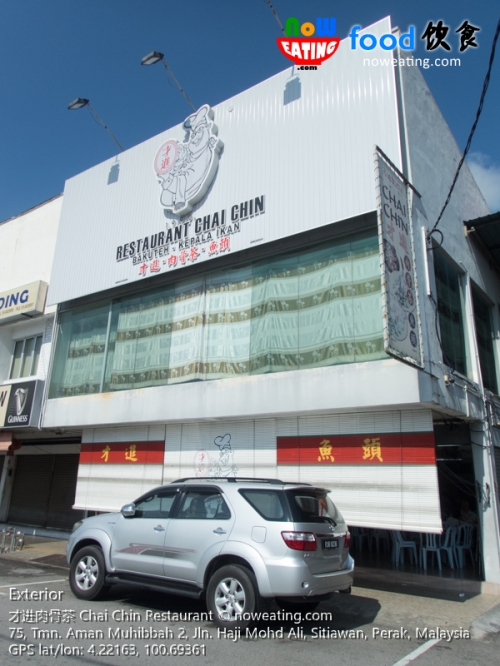 Driving for almost two hours, we were a bit hungry since we hadn't take any breakfast. We rearched the restaurant around 9:15am and there were still some tables left unoccupied. Few minutes later, a bus consisting 27 passengers arrived, indicating that the restaurant was a well-known place. After all, it has been opened for more than 20 years.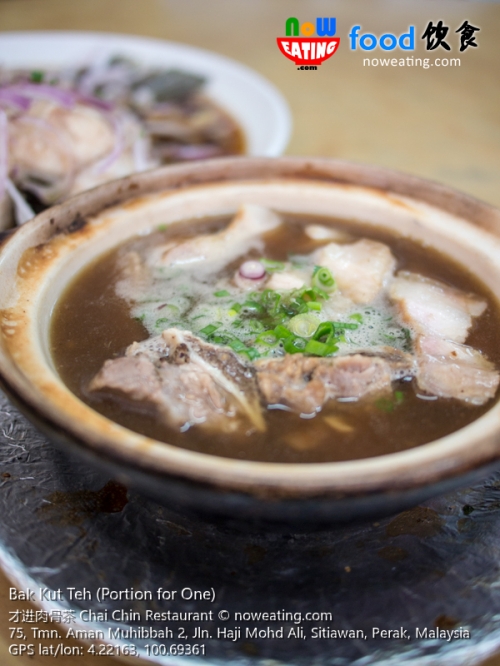 Back to the Bak Kut Teh, we unanimously agreed that the soup was sweet and rich in flavor, too delectable that we almost finished all the soup before ending our meal and we asked for a soup refill. Too bad they forgot about it due to overwhelming crowd. A small BKT was priced at RM9.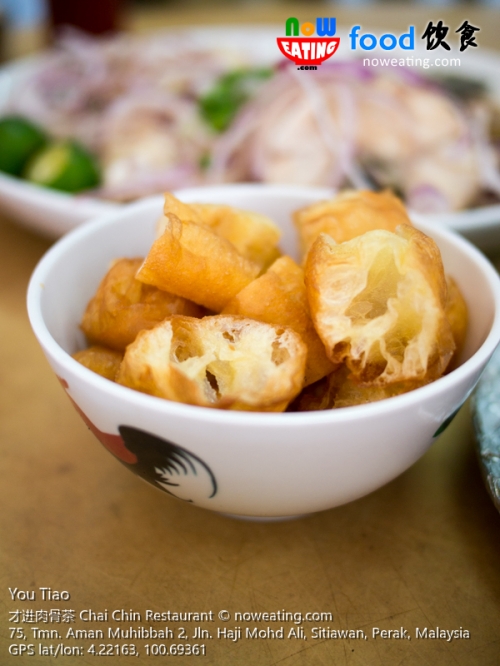 Another trump card was the You Tiao (RM1.00) which was non-greasy (due to rapid use of fry oil) compared to some other BKT restaurants we visited.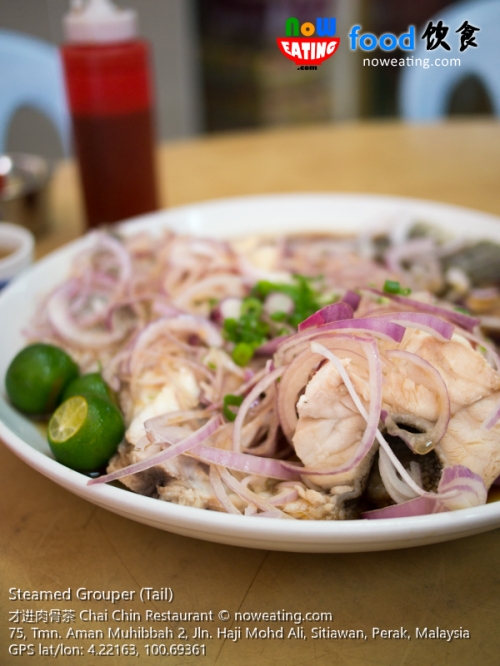 As mentioned, it is well-known of its steamed grouper using own recipe. It is also our intention to visit the restaurant. We ordered grouper tail and our jaws dropped the moment it arrived. It was simply enormous for two persons and we almost couldn't finish it.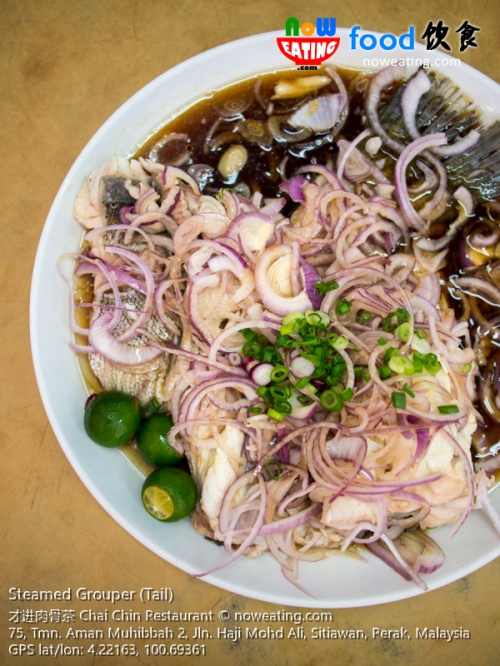 Nevertheless, it was one of the best steamed fish we had ever tried, particularly due to its unique recipe using premium light soy sauce, topped with generous red onion. Be sure to sprinkle it with limes provided for sui generis sweet and sour taste. Both of us spent RM80.10 (fish was RM61.70), probably the most expensive breakfast in our life. More important, is it worth the value? The answer is YES.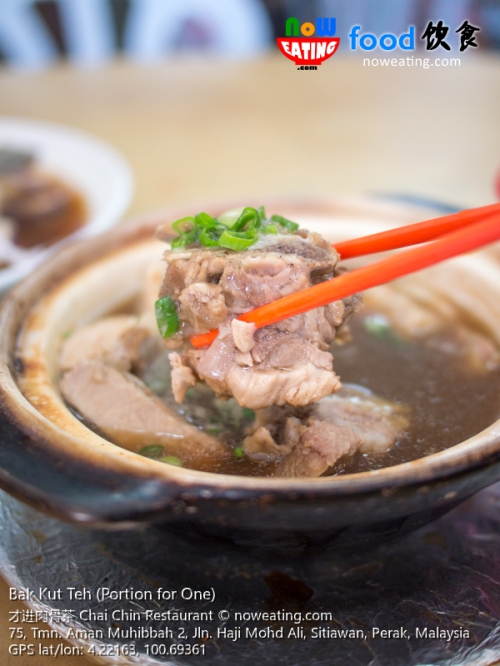 The moment we left, the restaurant was full of customers. As a whole, we recommend Chai Chin, especially on its steamed fish head which is best consumed by four pax or more. Chai Chin opens daily for breakfast and lunch and is closed on Monday:
8:30am-2:30pm (Tue-Thu)
8:30am-3:00pm (Fri-Sun)
| | |
| --- | --- |
| Place Name: | 才进肉骨茶 Chai Chin Bak Kut Teh |
| Cuisine: | Chinese |
| Address: | 75, Tmn. Aman Muhibbah 2, Jln. Haji Mohd Ali, Sitiawan, 32000, Perak, Malaysia |
| Tel: | +6011-3608 8221/+6011-3608 8226 |
| Working Hour: | 8:30am-2:30pm (Tue-Thu), 8:30am-3:00pm (Fri-Sun), Monday Closed. |
| Tax: | No |
| Last Visit: | 20170430 |