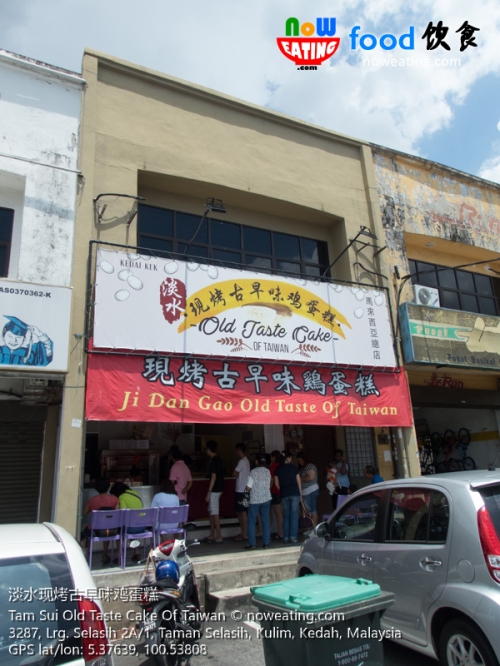 After Japanese cheese cake, Old Taste Cake a.k.a 鸡蛋糕 (Ji Dan Gao) from Tamsui 淡水 of Taiwan is now trending in Penang/Kuala Lumpur, from the one reproducing the recipe to the one franchising from Taiwan. Each of them is trying to grab a piece of cake while it is still hot. Either case, they share a common phenomenon – a Mekong river-long queue. Today, we bring you to Kulim for "Tam Sui Old Taste Cake Of Taiwan" (GPS: 5.37639,100.53808) – probably the first Taiwan-style fluffy old taste cake in Malaysia.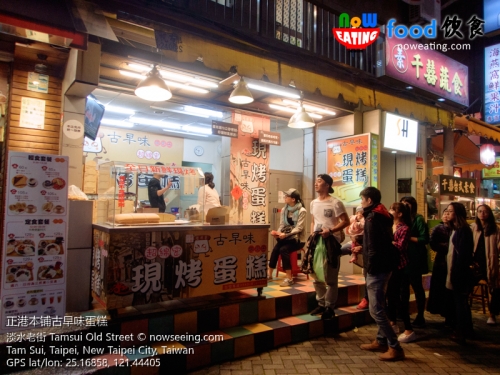 We recently back from 12D11N Taiwan trip and Tamsui was one of our destinations. The district north of Taipei, next to Taiwan Strait is famous of watching sunset and some local food such as A-gei 阿给. Old Taste Cake became popular in recent years due to its signature fluffy texture (and it smells great as well). Today, few competitors can be seen around Tamsui Old Street area.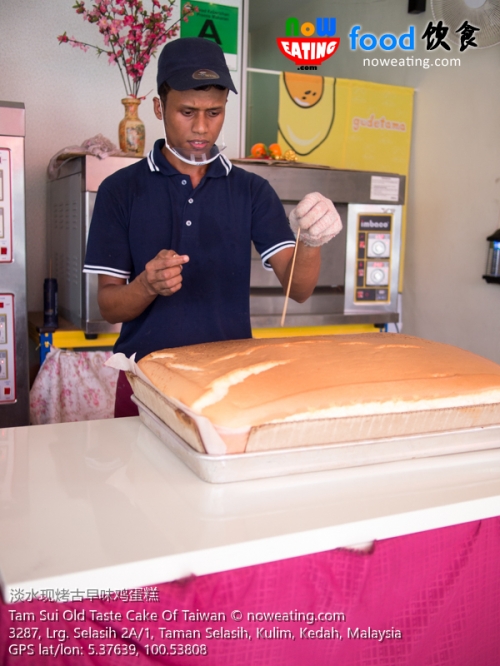 Made of fresh milk and eggs, 鸡蛋糕 (Ji Dan Gao) is not new in Malaysia and it can be found in Dim Sum restaurants, night markets, and bakeries. However, the sponge cake's texture was usually rough due to bubbles and air trapped inside. The brilliant Taiwanese then found a better recipe by mixing the ingredients using machine for extended duration, then spread it onto baking mold layer by layer to ensure no air is trapped inside.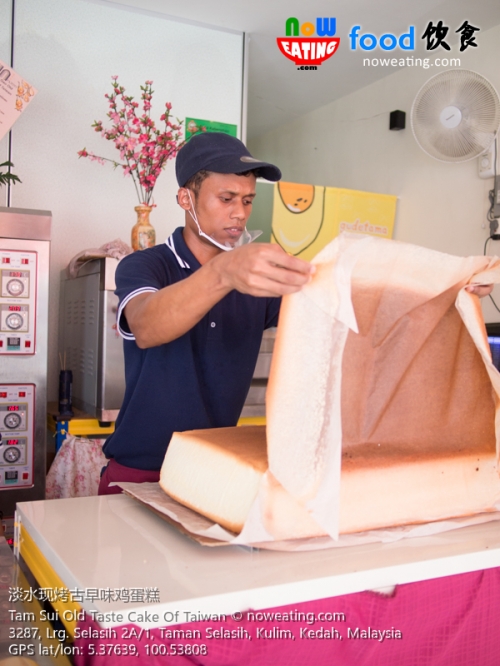 Using big oven, the pillow-size cake is baked to golden brown color at specific temperature and duration. The staff will then test the moist level using a skewer, before performing live show by flipping the cake upside down to tear off parchment paper.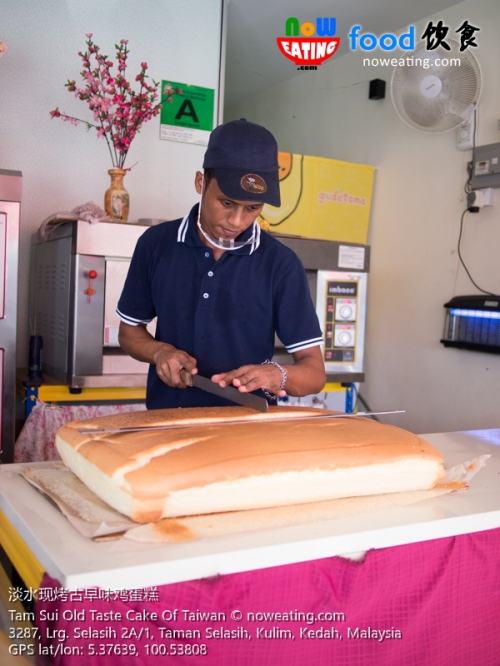 To ensure all customers get the fluffy cake of equal size, the staff will measure the size of the cake before slicing them into pieces. By the way, how we know all these? Because we just queued in front of the counter and other than waiting, there is not much we could do except watching them preparing the cakes.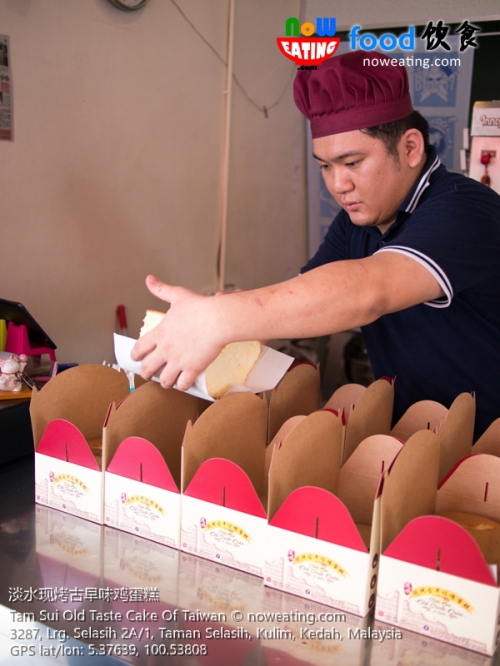 Total of three flavors available:
Original 原味 – RM10
Cheese 芝士 – RM14
Chocolate 巧克力 – RM16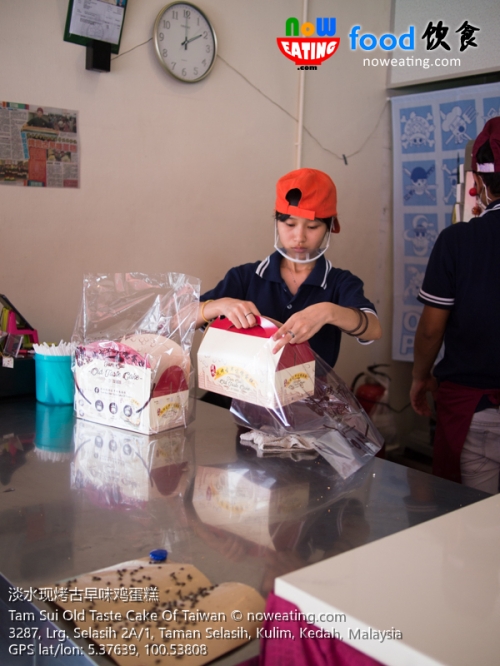 A few caveats though:
For better taste, slicing service is not available.
Each person can only buy 2 pieces if there is a queue.
Chocolate flavor will only fresh out from oven twice per day – at 12pm and 6pm. Each person can only buy 1 piece.
The cake lasts for one day under room temperature, and 3 days if kept in fridge.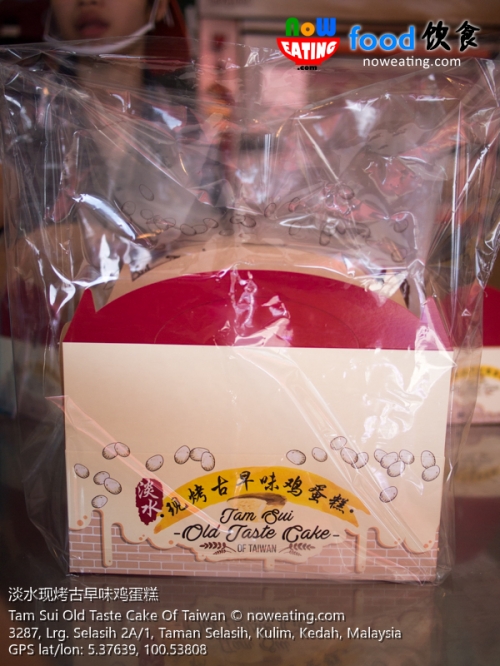 As a whole, we particularly enjoy the fluffy texture of the old taste cake and we recommend cheese flavor. It is also relatively more affordable than its Japanese counterparts. The Kulim outlet is opened daily from 8am to 6pm and is closed on Tuesday. Hidden from the main road, it can be a bit difficult to find for first timer. Good news is that, a new outlet is now available in Greenlane, Penang (can be seen from the main road, opposite of Gembira Parade). Just look for a residential-turns-commercial house with long banner, or better, long queue.
| | |
| --- | --- |
| Place Name: | 淡水现烤古早味鸡蛋糕 Tam Sui Old Taste Cake Of Taiwan |
| Cuisine: | Other |
| Address: | 3287, Lorong Selasih 2A/1, Taman Selasih, Kulim, 09000, Penang, Malaysia |
| Working Hour: | 8am-6pm daily. Close on Tuesday. |
| Tax: | No |
| Last Visit: | 20170507 |