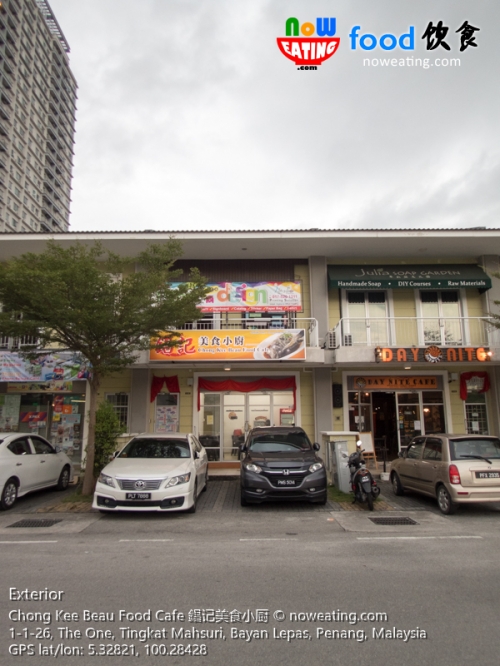 We almost couldn't cope with rapid changes of shops in The One, Bayan Baru, Penang. Some restaurants just "died" before we were able to visit them. Chong Kee Beau Food Cafe 錩记美食小厨 (GPS: 5.32821,100.28428) is a new Choo Char restaurant there and definitely has some characteristics.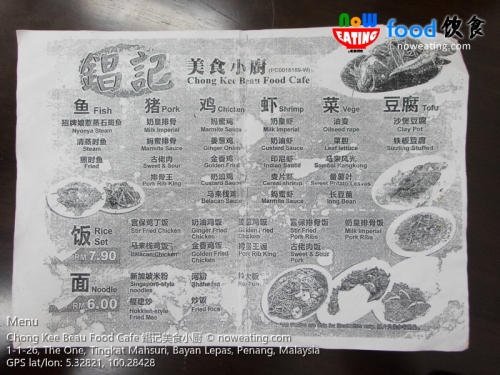 First of foremost, it is their menu, which was photocopied and reused unlimited times to an extend it almost turns into a soft tissue. The small restaurant offers about 24 main dishes from six categories: fish, pork, chicken, prawn, vegetable, and tofu. We sincerely hope that they will at least laminate their menu.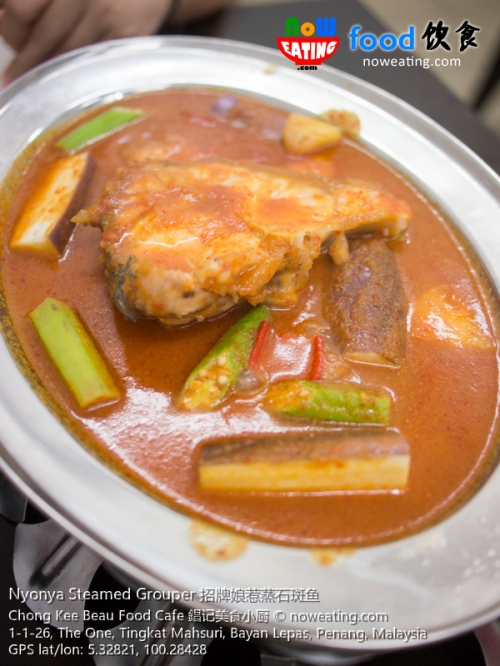 Secondly, wait time can be a bit long especially when the restaurant is crowded. During our first visit, the lady owner recommended us their signature Nyonya Steamed Grouper 招牌娘惹蒸石斑鱼 with sui generis sweet and spicy gravy served with ladyfingers and eggplant. Simply delectable. Price was based on market rate and a slice of grouper like this was priced at RM23 during our visit.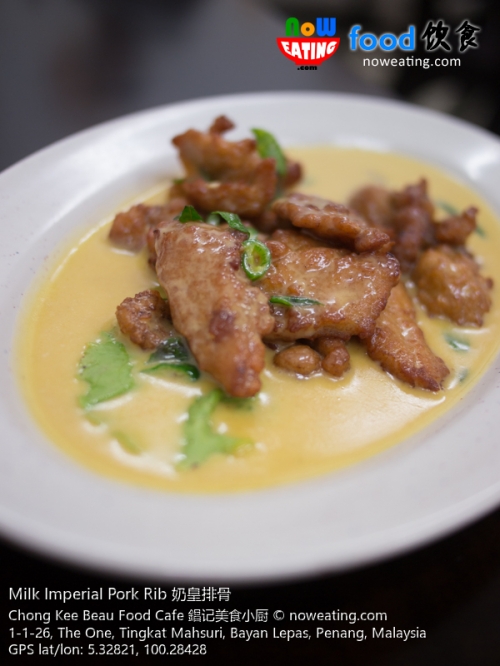 The second item we ordered during our first visit was the distinctive Milk Imperial Pork Rib 奶皇排骨 (RM10). The pork rib was deep fried before dressing with briny buttery sauce.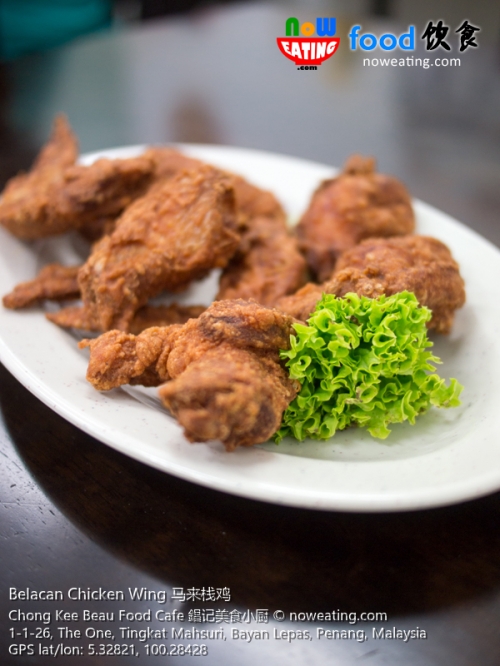 It had been a while since we had Belacan Chicken Wing 马来栈鸡 so we opted for one (RM8) during our second visit (yes, we re-visited the restaurant). Juicy yet non-oily.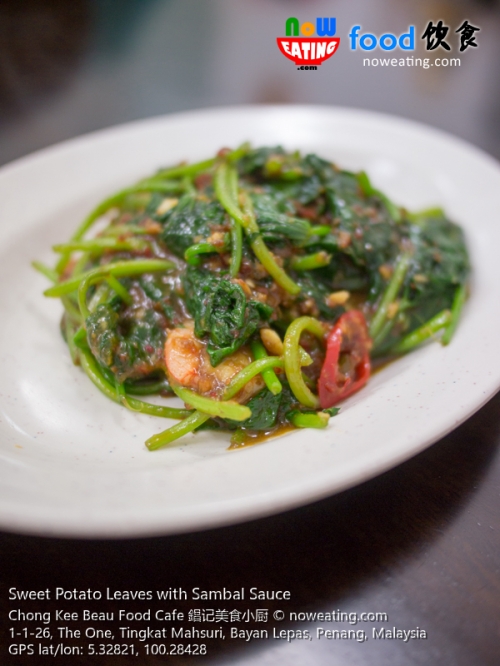 As for the vegetable dish, we recommend readers to try their homemade "Sambal" (chili paste), be it Sambal Kangkung or Sambal Sweet Potato Leaves (RM8 small) to tantalize your taste buds.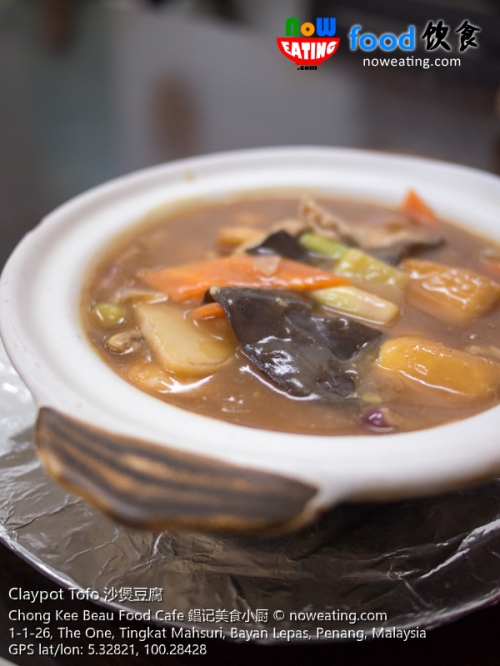 Claypot Tofu 沙煲豆腐 (RM10) with black fungus, carrot, spring onion, red onion, and prawn to name a few. Up to par.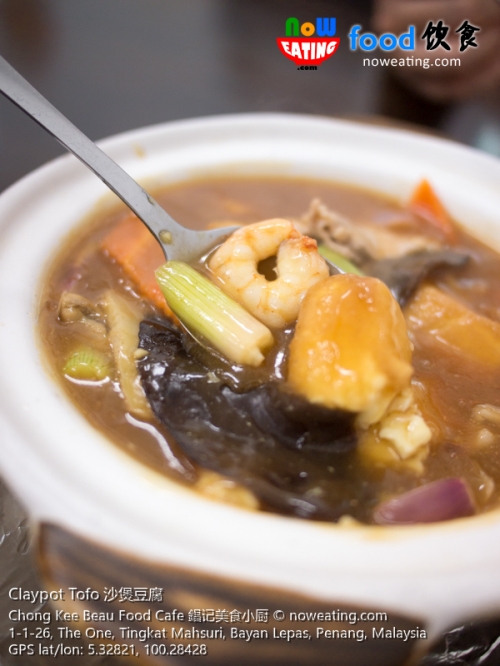 As a whole, despite of its limited choices, Chong Kee Beau is a lifesaver for those looking for affordable Chinese "choo char" cuisine in Bayan Baru area. Wait time can be long when crowded. The small restaurant is opened daily during lunch and dinner hours (11am-2:30pm, 5:30pm-10pm).
| | |
| --- | --- |
| Place Name: | Chong Kee Beau Food Cafe 錩记美食小厨 |
| Cuisine: | Chinese |
| Address: | 1-1-26, The One, Tingkat Mahsuri, Bayan Lepas, 11950, Penang, Malaysia |
| Tel: | +6012-505 2211/+6012-465 8534 |
| Working Hour: | 11am-2:30pm, 5pm-10pm |
| Tax: | No |
| Last Visit: | 20170426 |