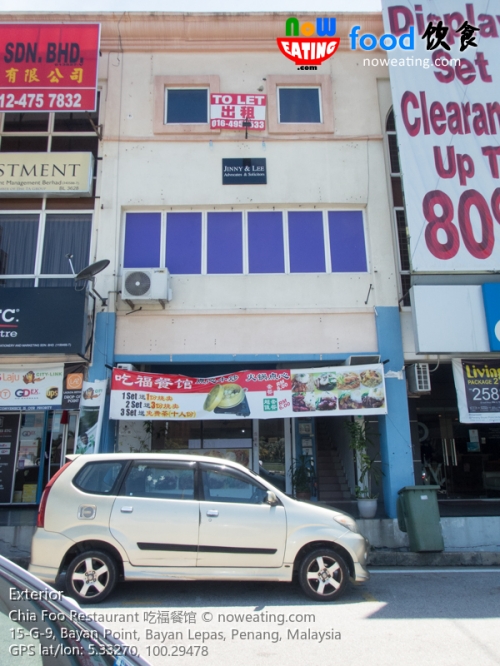 If you are like us who miss morning Dim Sum during week days due to 9-5 job, the new Chia Foo Restaurant 吃福餐馆 (GPS: 5.33270,100.29478) at Bayan Point is a great place for lunch in which you can have both Dim Sum and egg noodle/rice set at the same time. Now, how should we classify this restaurant? Dim Sum or "Choo Char" restaurant?
Chia Foo is located at Bayan Point, few shops away from Daorae Korean BBQ and is visible from Bukit Jambul roundabout. The owner and young crews looked familiar as if they was the family formerly selling Dim Sum in Pisa Corner Food Court.  The restaurant quickly turns into a favorite takeaway restaurant for workers in Bayan Point. In our opinion, their rice/noodle sets really standout.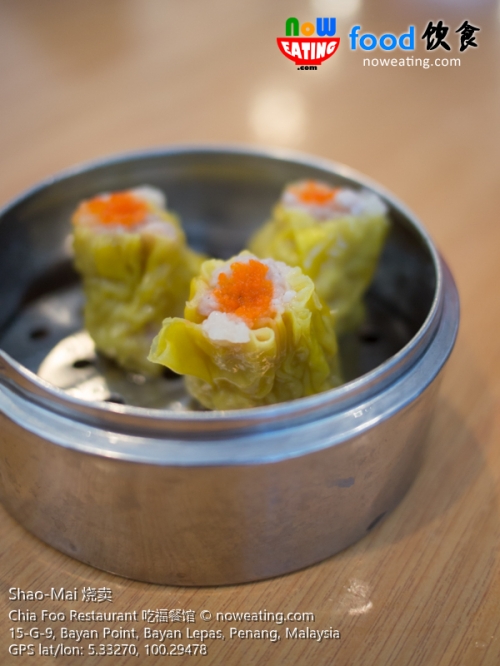 It took us sometimes to digest their menu. Instead of pre-heated and served on trolley/basket, Dim Sum are heated upon placing order from the menu. Choices can be limited if compared to some local Dim Sum restaurants and customers need to order at least two plates of Dim Sum. (Figure: Shao-Mai @ RM3.00)
If you come in a group of four and above, you may opt for the restaurant's signature "Hot Pot Dim Sum" with 8 types of Dim Sum steamed in a large basket at the price of RM30. Since it is too overwhelming, both of us only ordered a la carte Dim Sum. (Figure: Nori @ RM4.00)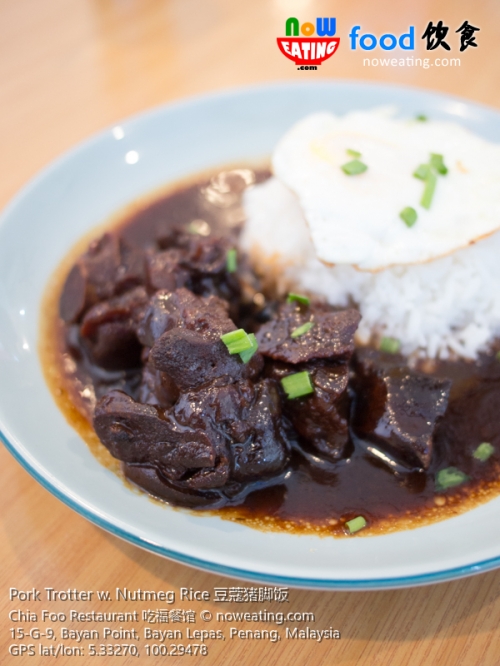 However, you can turn some special Dim Sum into a rice/noodle set. For instance,  a Dim Sum caught our attention was Pork Trotter with Nutmeg 豆蔻猪脚, and we added a bowl of rice topped with a sunny side up egg to turn it into a rice dish. Taste-wise, it was like vinegar version of pork trotter but was sweeter in this case.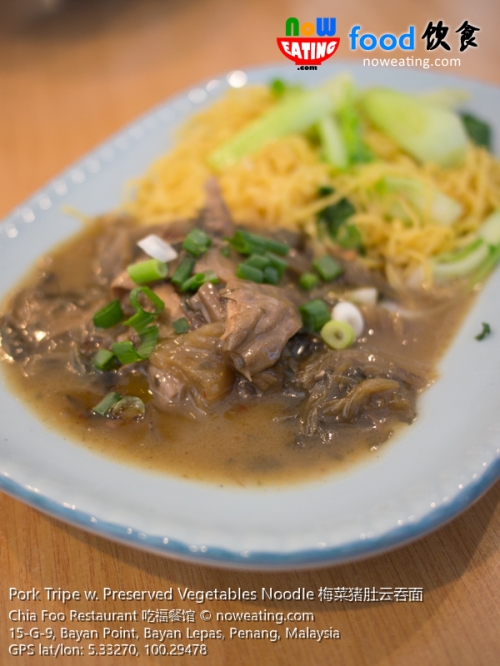 Another Dim Sum best converted to rice/noodle dish is Pork Tripe with Preserved Vegetables 梅菜猪肚, another sui generis and savory dish.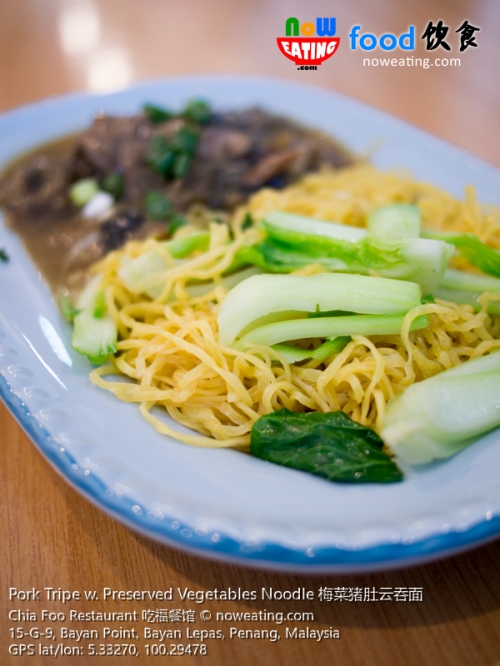 The Wonton (egg) noodle reminds us of those Hong Kong restaurants during good-o-day in which one can order a plate of plain Wonton noodle to complement main dishes such as roasted chicken/duck or cured meat (腊味). Restaurants like these are getting lesser nowadays as most of them already turned into chicken rice shops offering faster serving time which means higher ROI.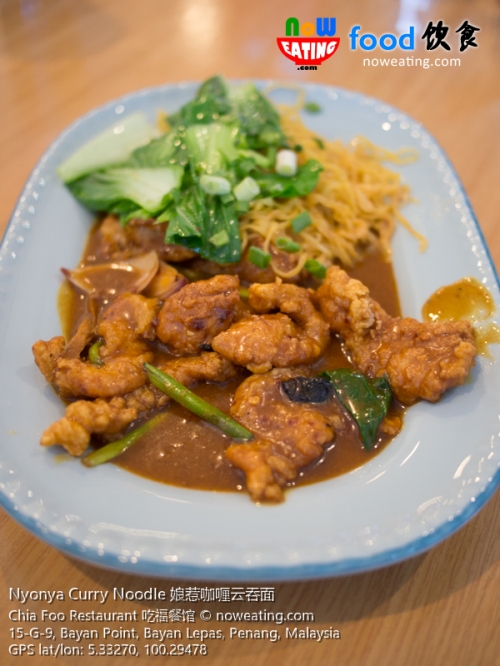 "Choo Char" rice/noodle sets are also available and customers can choose among pork, fish and chicken and cook it in one of six flavors – Rendang 仁当, Cream Sauce 奶油, Sweet-Sour 糖醋, Ginger and Leeks 姜葱, mushroom paste 蘑菇酱, black pepper 黑胡椒 and Nyonya curry 娘惹咖喱.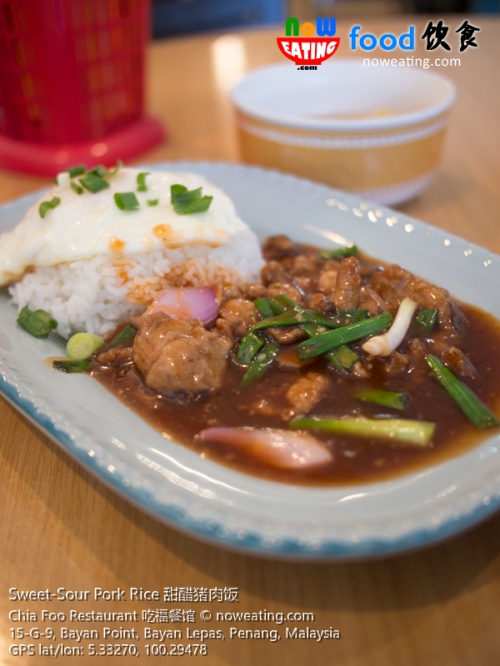 As a whole, the rice/noodle sets had enough "Wok Hey" with decent taste. Pricing-wise, they are ranging from RM6 to RM9 which are fairly acceptable as daily meal for white collars.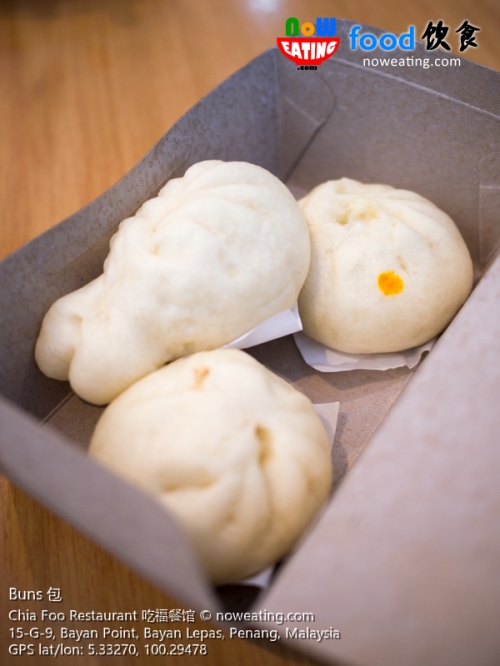 Also offered by the restaurant are buns such as Peanut 花生包, Kaya 咖椰包, Lotus Seed Paste 莲蓉包, Red Bean Paste 豆沙包, Barbecued Pork 叉烧包 and Big Bun 大包.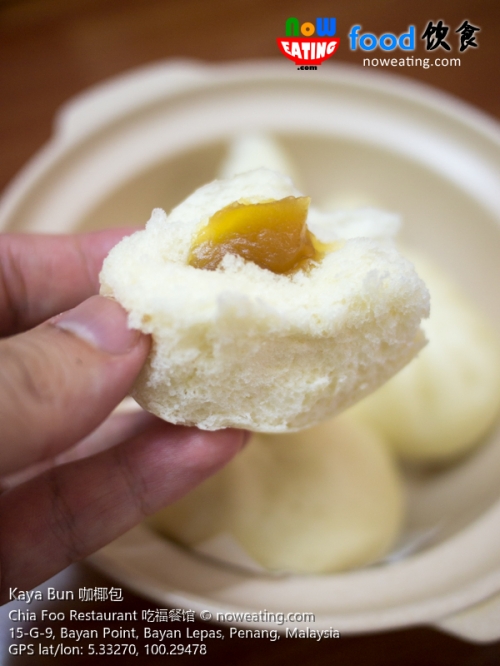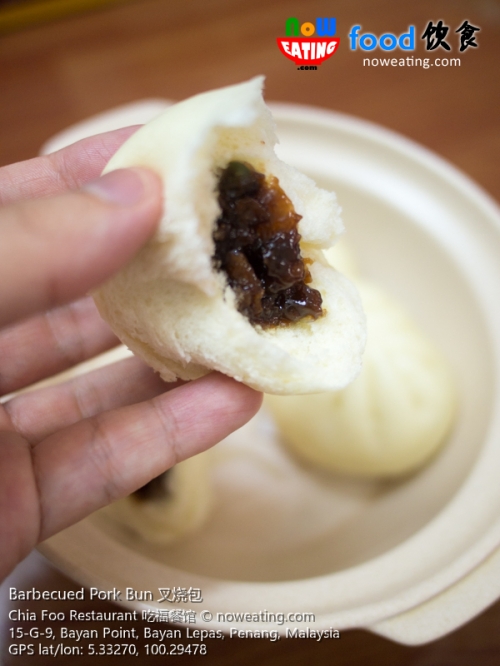 Minimum order is 3 buns at the price of RM4.50 (except Big Bun in which you can order it alone). We had a takeaway during our second visit and turned them into our breakfast in next morning.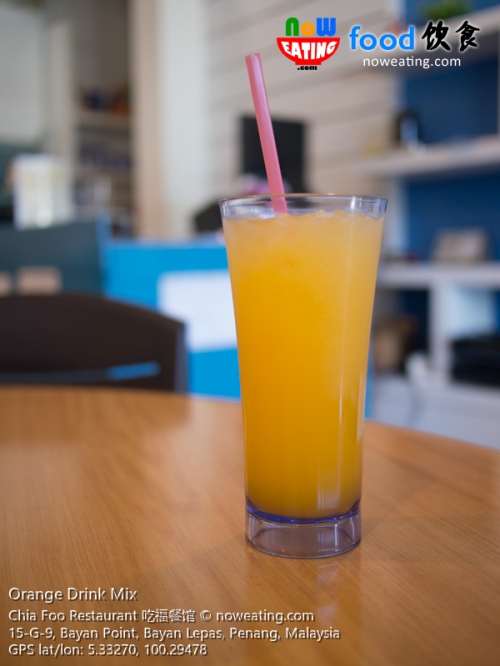 As a whole, if you are craving for dim sum in the afternoon or evening, Chia Foo is a place to consider. Bayan Lepas workers are even entitled for 10% discount. Perhaps a minor drawback is on the beverages in which most of them are drink mix. A pot of Chinese tea will be perfect. As of this post is written, they are improving their menu so be sure to visit their Facebook page for the latest update. The restaurant is opened daily from 8am-2.30pm,6pm-10pm.
| | |
| --- | --- |
| Place Name: | Chia Foo 吃福餐馆 |
| Cuisine: | Chinese |
| Address: | 15-G-9, Bayan Point, Medan Kampung Relau, Bayan Lepas, 11900, Penang, Malaysia |
| Tel: | +6016-492 1557 / +6016-400 8280 / +604-637 4280 |
| Email: | [email protected] |
| Working Hour: | 8am-2:30pm, 6pm-10pm daily |
| Tax: | No |
| Last Visit: | 20170608 |