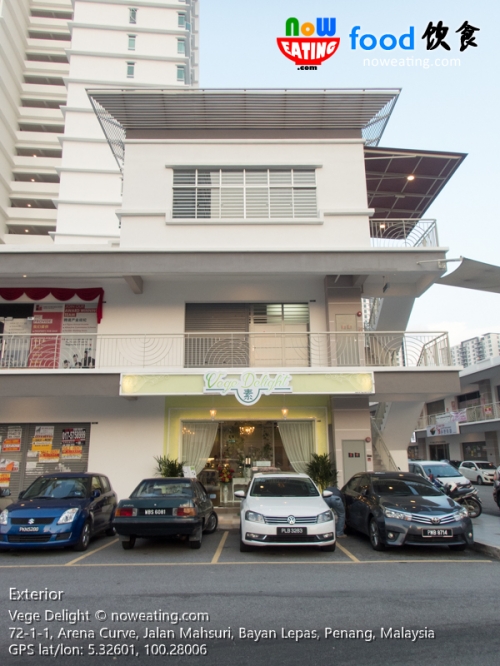 Since Arena Curve near Olive Tree Hotel imposed paid parking system, cheapskates like us seldom visit this new commercial building in Bayan Baru. Still you can park your vehicle outside the private compound for free. Fortunately, Vege Delight (GPS: 5.32601,100.28006) in Arena Curve is located just opposite of Arang Coffee and we walked our way to this new restaurant one evening for some "Choo Char" dishes in vegetarian way.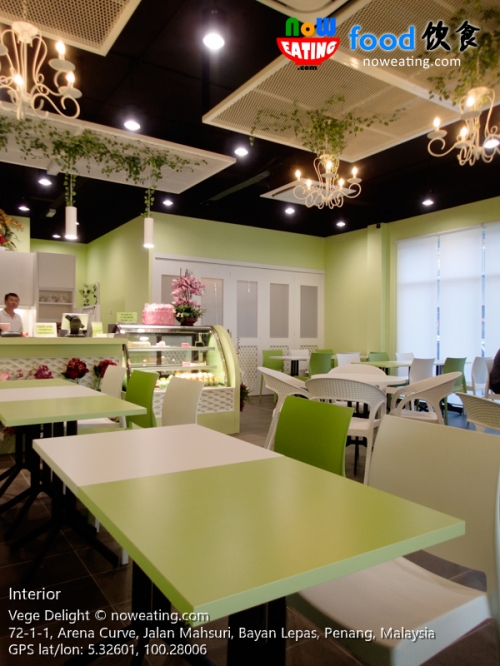 Vege Delight has a modern and vibrant interior. Without any background music, it is also a quiet place to dine in, so quiet that our table seemed to be the noisiest table due to camera's shutter sound.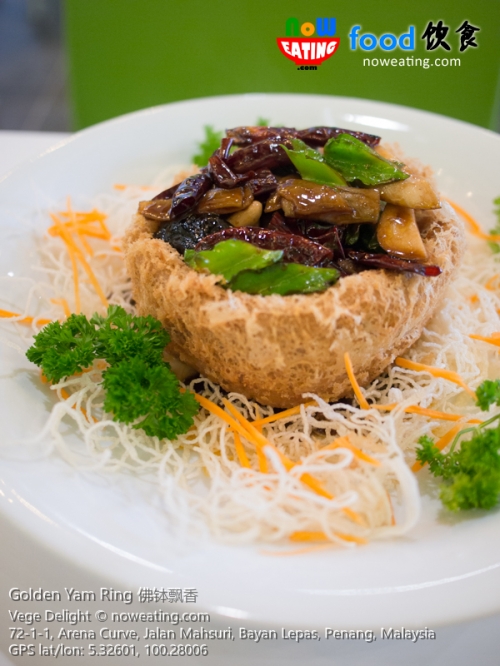 Vege Delight offers rice, noodle and "Choo Char" dishes. Pricing-wise, it is probably not your daily lunch place but still not too upscale to be considered as once-in-a-blue-moon place. Price range is similar to most "Choo Char" restaurants, for example, RM50-RM60 for two persons with 3 dishes. In other words, as long as you don't have "Why I need to pay so much for vegetables?" mindset then this is fairly fine.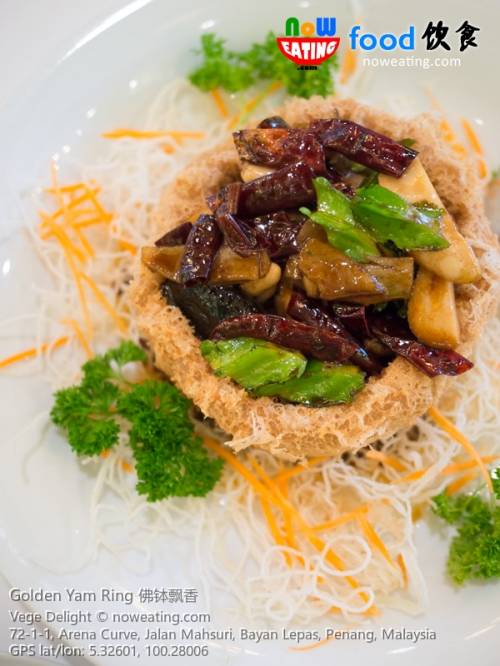 Unlike some vegetarian restaurants heavily using wheat gluten (seitan) to mock meat dishes, Vege Delight is similar to some new healthy cuisine restaurants such as Idealite, Green Garden, and Mama Vege in which they use fresh vegetables and mushrooms and turn them into quintessential dishes.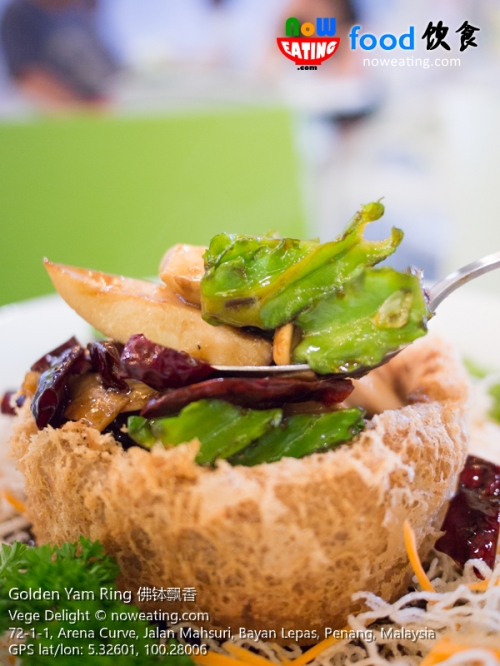 Our Golden Yam Ring 佛钵飘香 (RM24.90), for instance, was a daily special during our visit. It was also a common dish in Wedding banquet with deep fried yam ring filled with assorted vegetables. For Vege Delight, we had two options for the filling and we opted for Pleurotus Eryngii in Kong Poh Style 公保杏鲍菇. Stirred fried with winged bean, cashew nut and dried chili, the dish was definitely on par with non-vegetarian version, if not exceeding.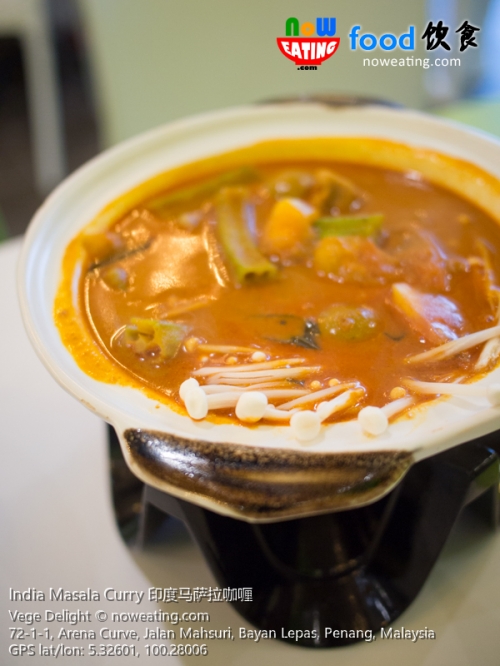 It has been a while since we had a decent curry in a claypot. We ordered India Masala Curry 印度马萨拉咖喱 (RM17.90) consisting Thai eggplant, ladyfinger, tomato, and mushroom to name a few.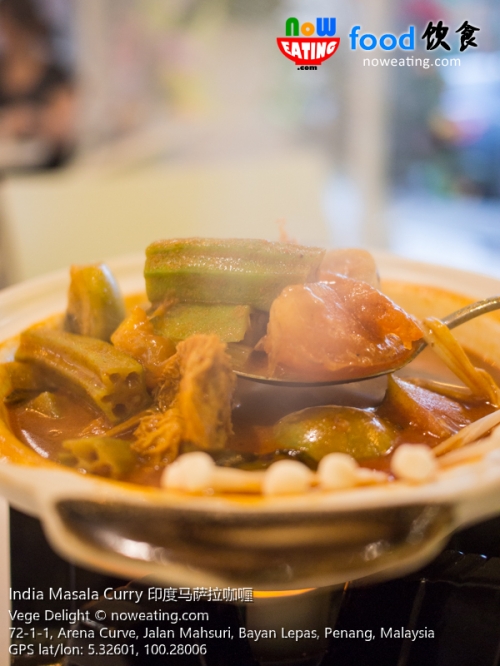 The claypot was served heated using wax and after few minutes, our curry was still boiling hot. Yes, the curry tasted better when hot. Vege Delight's curry was palatable to eat it on its own or with rice. Taste-wise, it was similar to fish curry from non-vegetarian version.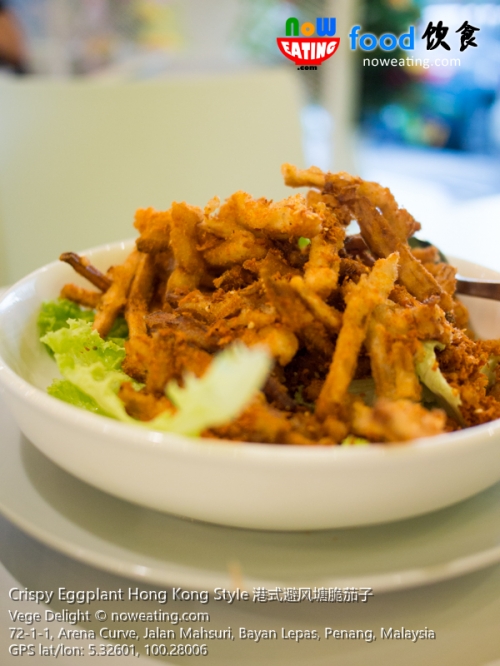 Two dishes like these should be sufficiently for two but itchy mouth asked us to go for third dish – Crispy Eggplant Hong Kong Style 港式避风塘脆茄子 (RM15.90). The dish was indeed an eye-opener for us with eggplant shredded and deep fried to texture similar to French fries before seasoned it with "Twisties" taste-a-like flakes. Savory and addictive. Also suitable for watching TV.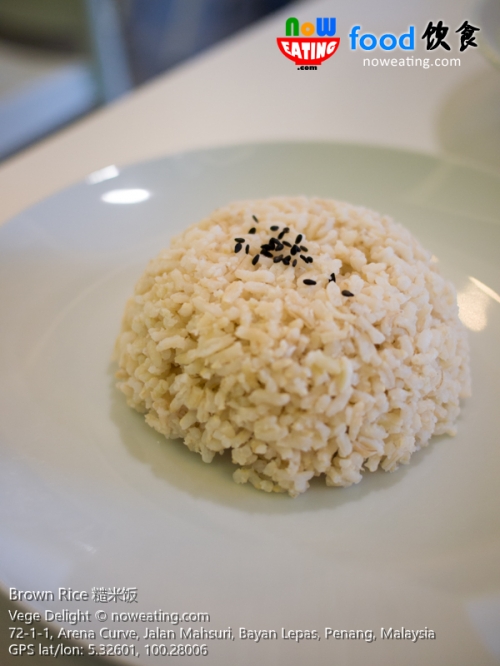 "Choo Char" dishes are best accompany with a plate of Brown Rice (RM3.00).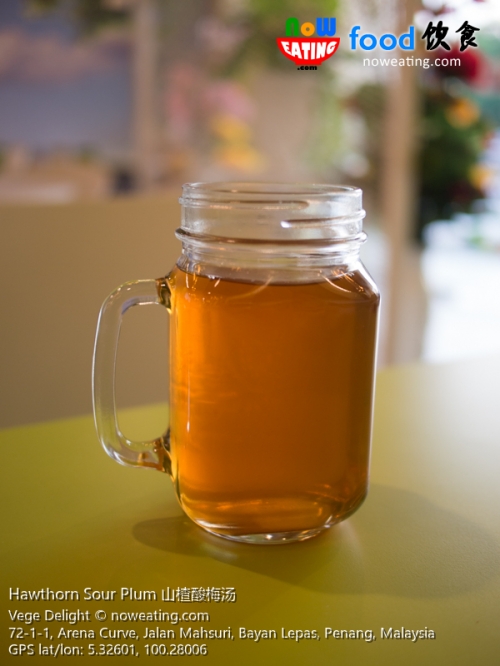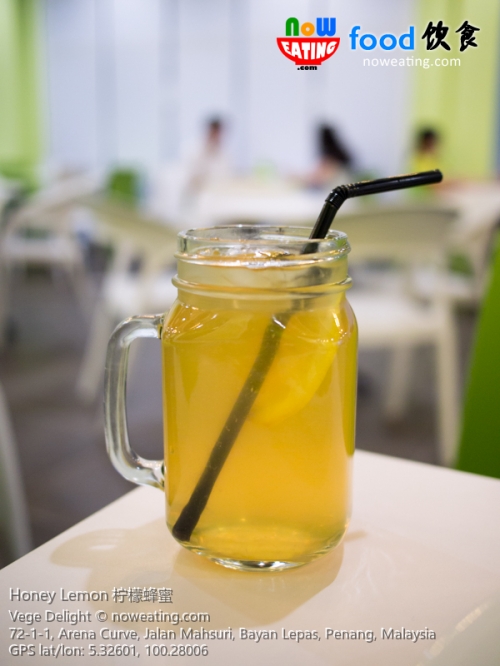 As for the beverages, both of our Hawthorn Sour Plum and Honey Lemon (RM5.90 each) were rich in flavor and obviously satisfactory.
As a whole, Vege Delight is a new vegetarian restaurant in Arena Curve worth visiting thanks to its quality dishes. The restaurant is opened daily form 11am and 3pm, 5:30pm to 10pm. Closed on Monday except public holiday. They also open on every 1st and 15th of Lunar Calendar. For reservation, kindly call +604-688 1539.
| | |
| --- | --- |
| Place Name: | Vege Delight |
| Cuisine: | Vegetarian |
| Address: | 72-1-1, Arena Curve, Jalan Mahsuri, Bayan Baru, Bayan Lepas, 11950, Penang, Malaysia |
| Tel: | +604-688 1539 |
| Email: | [email protected] |
| Working Hour: | 11am-3pm. 5:30pm-10pm. Closed on Monday. |
| Tax: | No GST, No Service Charge. |