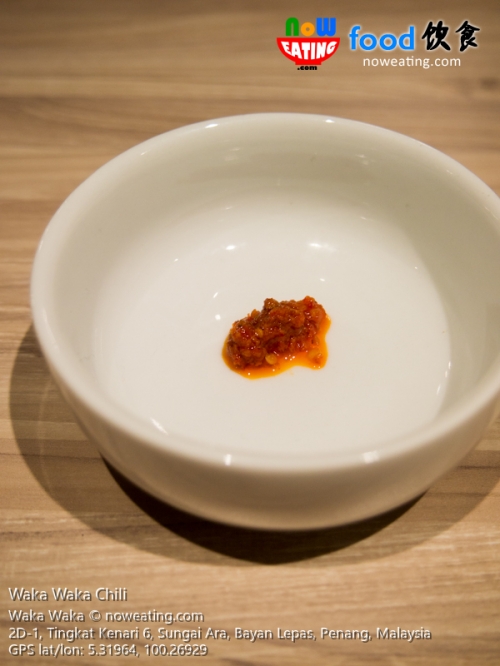 Want to try one of the hottest chili in the world? Come to Waka Waka (GPS: 5.31964,100.26929) in Sungai Ara, Penang. At first, we thought the staff was stingy by providing us chili paste less than a teaspoonful, just to find out later that it was actually for our own good. After all, they don't want to have few dead bodies in the premise after dipping grilled chicken with world's hottest chili.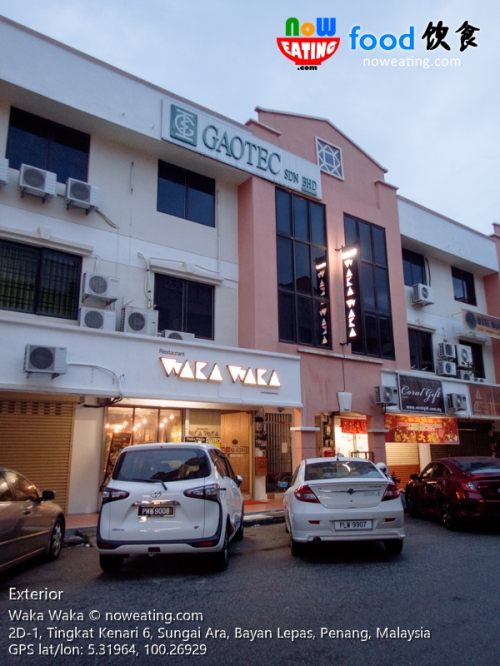 The pork-free Waka Waka is located in Sungai Ara, same row with Jabatan Pendaftaran Negara behind Yoyo Huat restaurant.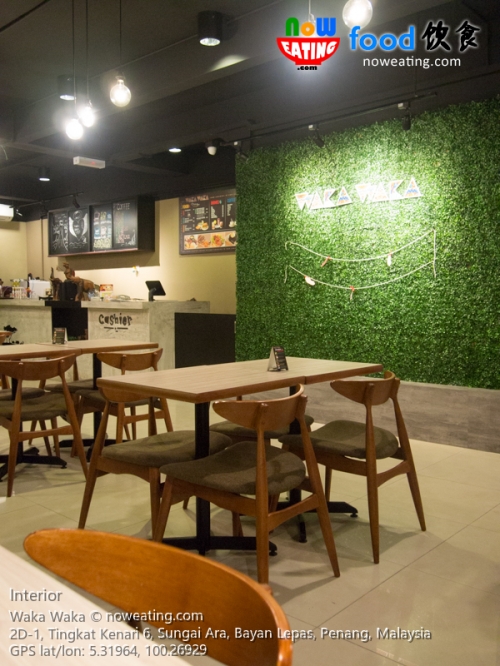 Waka Waka mainly serves African cuisine, or to be more specific, Côte d'Ivoire (Ivorian) cuisine. The chef, Max, was a Malaysian migrated to France, and found himself in love with Ivorian cuisine there. After returning to Malaysia (for whatever reason), he missed the cuisine so much that he re-created the recipe. Sharing is caring. Together with relatives, he established Waka Waka Cafe in Penang.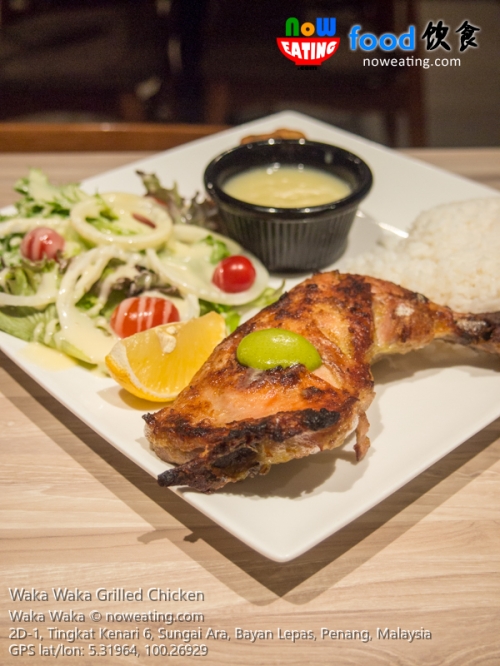 We ordered a plate Waka Waka Grilled Chicken (RM12.90) topped with a slice of lemon, homemade sweet and sour green sauce, creamy white sauce, and a bottle of black sauce similar to Lea & Perrin's Sauce (better known as Ang Mo Tao You locally). The flavorful plate also came with a side dish by default, and we added two more side dishes (RM2 each) including rice, salad, and Alloco.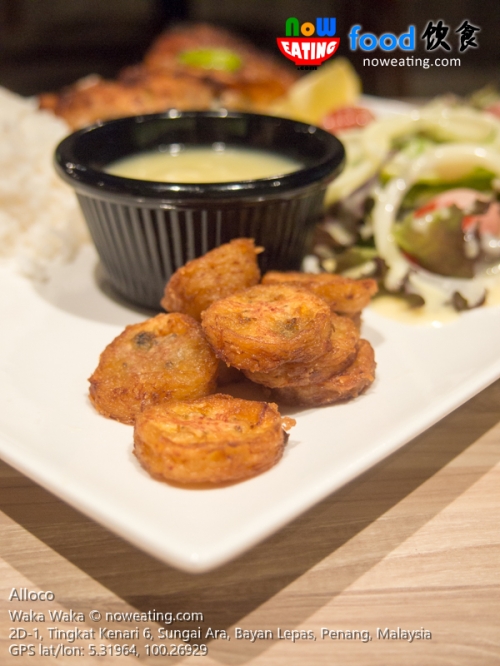 Alloco is basically African's version of "Goreng Pisang" and instead of being served as whole, bananas are sliced into discs before deep frying into golden brown.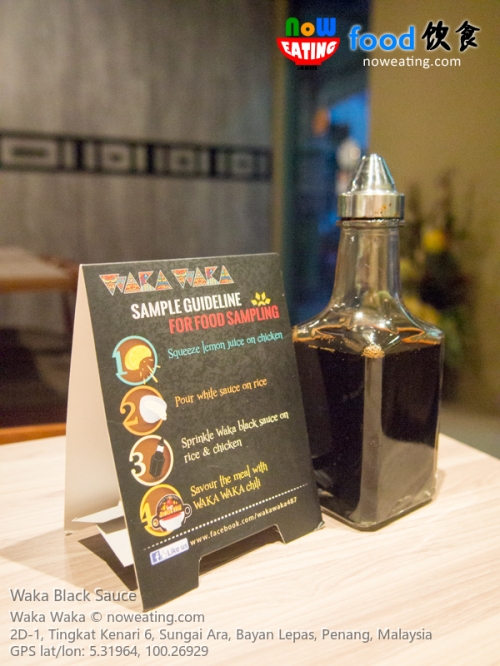 With red/white/green/black sauces available, a "Food Sampling Guide" is provided along with grilled chicken:
Squeeze lemon juice on chicken
Pour white sauce on rice
Sprinkle white sauce on rice and chicken
Savour the meal with Waka Waka Chili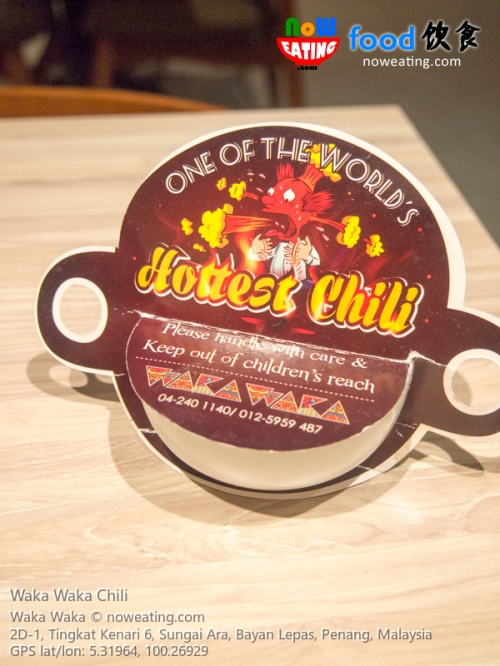 Our suggestion to consume the chili paste is: have a glass of cold water standing by. Dip the chili paste with the sharp edge of a fork and spread it on grill chicken. Taste it. Wait for few seconds as the burning sensation will slowly kick in. "Taste" it with care and keep out of children's reach, of course.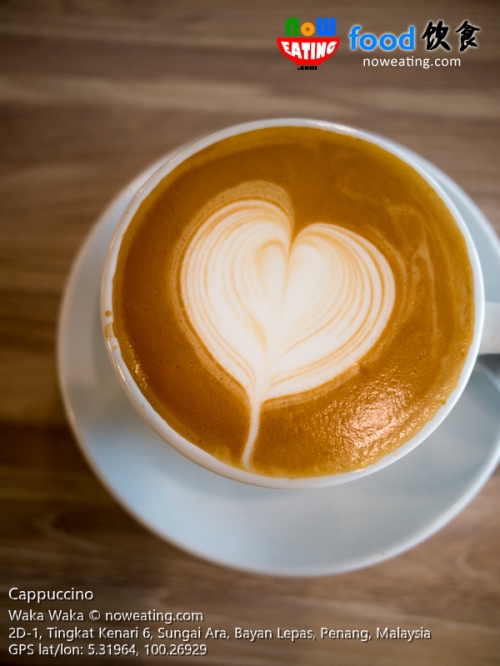 As a general knowledge, milk is able to soothe the burning pain. We were not sure if the cafe serves milk as one of its beverage but for us, we had a cup of Cappuccino (RM9.90).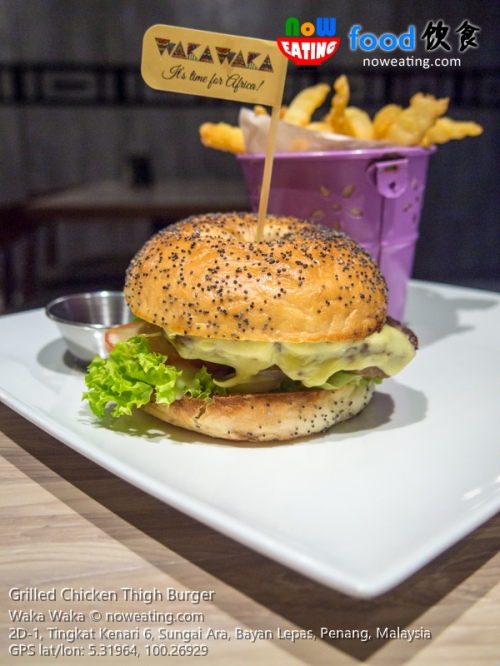 Grill Chicken Thigh Burger (RM15.90) is another recommended dish using bagel as buns with juicy chicken thigh in between.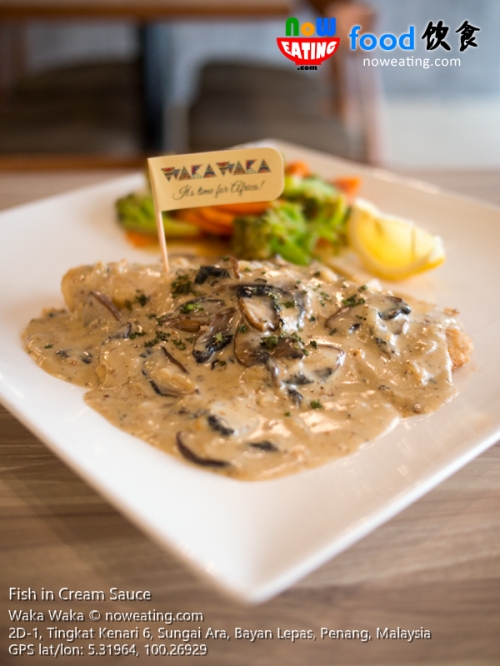 During our second visit, we ordered Fish in Cream Sauce (RM18.90) which was unanimously savory with grilled Tilapia dressed with homemade creamy mushroom sauce.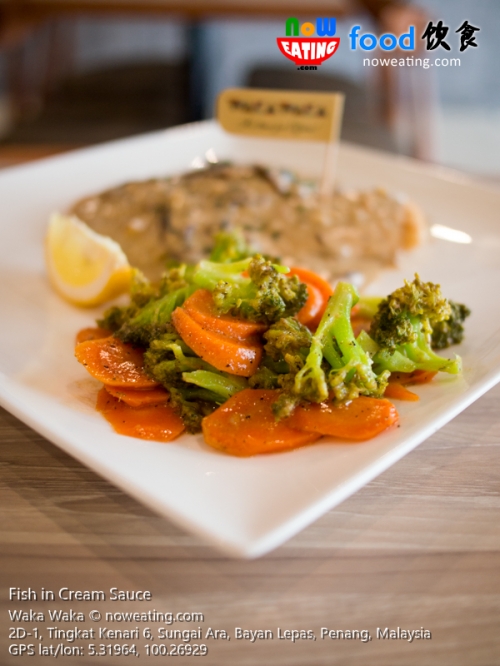 If there is something to nitpick, it was perhaps the sauteed vegetables side dish which was at the edge of being too salty. Other than that, this is a great alternative for chicken dishes.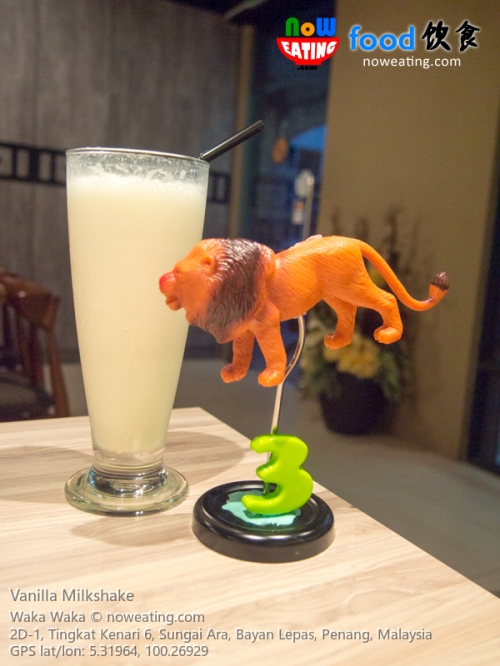 As a whole, even though there is a chain restaurant offering similar cuisine, Waka Waka still stands out thanks to its unique sauces and grill method which is able to retain both juiciness and crispiness of the poultry. Perhaps a minor drawback is the wait time, which can be long even with few customers. The cafe is opened daily from 11am to 9.30pm and is closed on Wednesday.
| | |
| --- | --- |
| Place Name: | Waka Waka |
| Cuisine: | Other |
| Address: | 2D-1, Tingkat Kenari 6, Sungai Ara, Bayan Lepas, 11900, Penang, Malaysia |
| Tel: | +604-240 1140 |
| Working Hour: | 11am-9:30pm. Closed on Wednesday. |
| Tax: | No GST, No Service Charge. |
| Last Visit: | 20170520 |