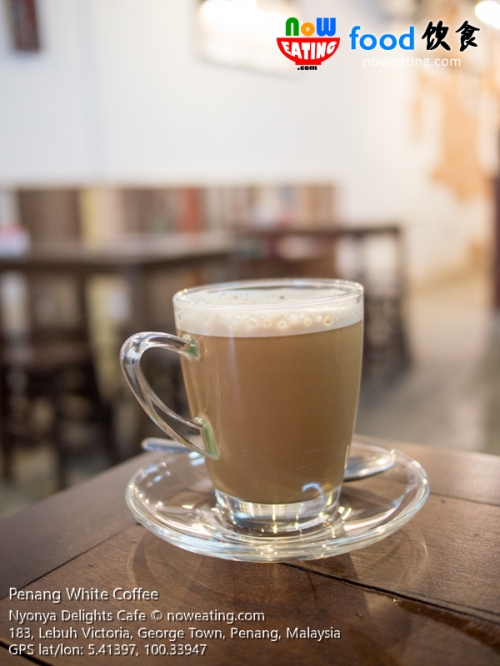 Wake up early in the morning during weekend and looking for breakfast in Penang island? Other than Dim Sum and coffee shops, there are not many choices especially if you are looking for a cozy cafe for a sip of coffee. Located few shops away from Da Shu Xia Seafood Restaurant 大树下海鲜饭店 at Victoria Street, Nyonya Delights Cafe (GPS: 5.41397,100.33947) is an accidental discovery and since then, we visited it three times for breakfast.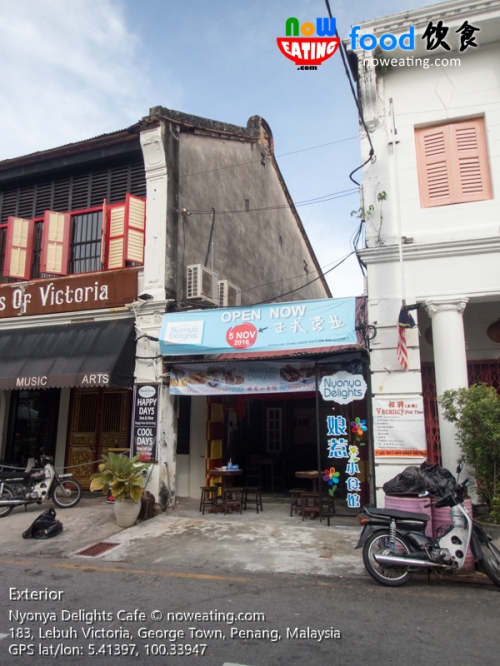 Nyonya Delights Cafe is "hidden" between heritage buildings at Victoria Street. The cafe looks narrow from the front but it can actually park 10 Batmobiles in it.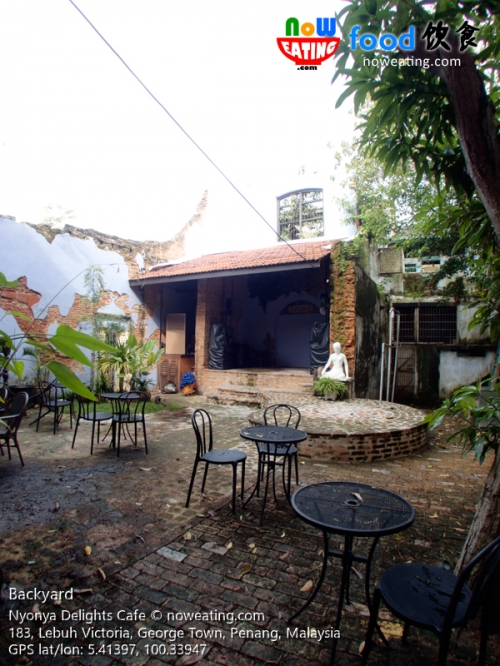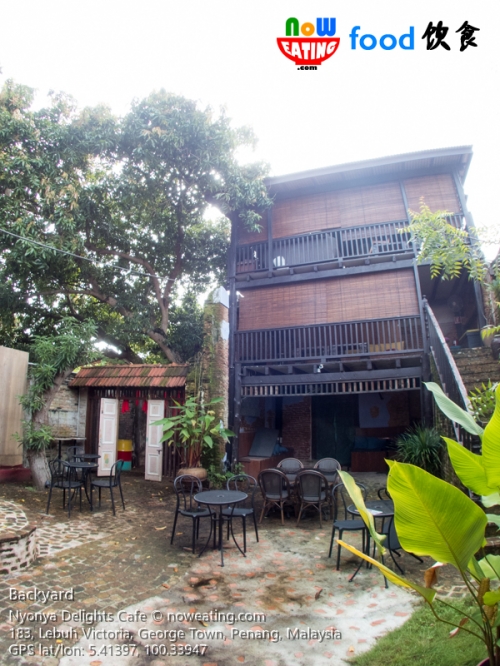 Behind the cafe is a backyard with unknown purpose. With maintenance, the backyard can turn into an insta-worthy place, especially for tourists hunting for street arts around that area.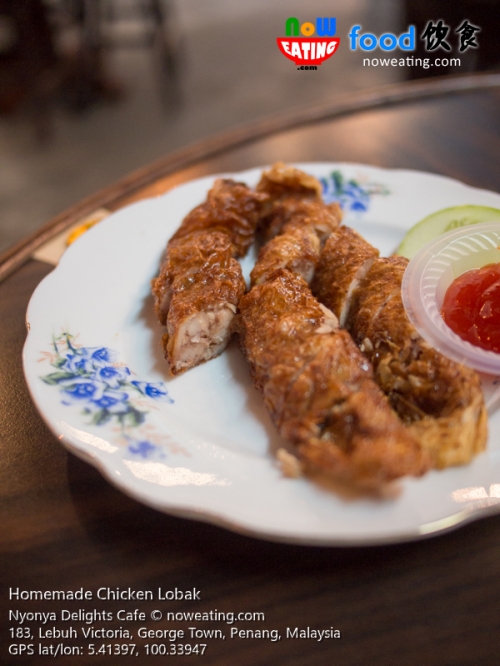 We patronized the cafe since November 2016. During our most recent visit in June 2017, they released a new menu with some items  being removed. This article only cover items which are still available, such as Homemade Chicken Lobak (RM8.90) above.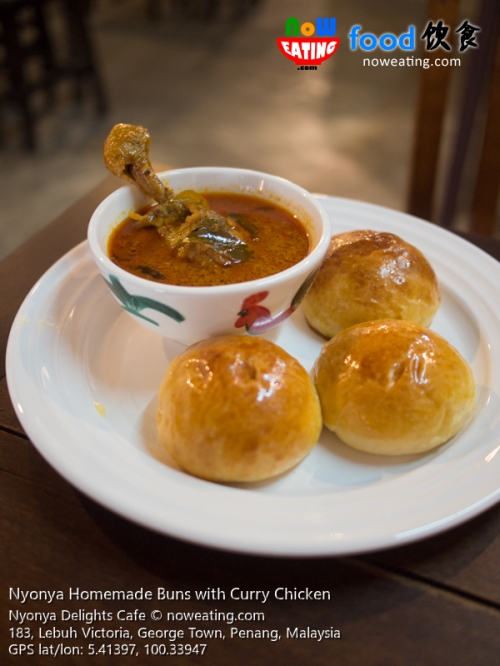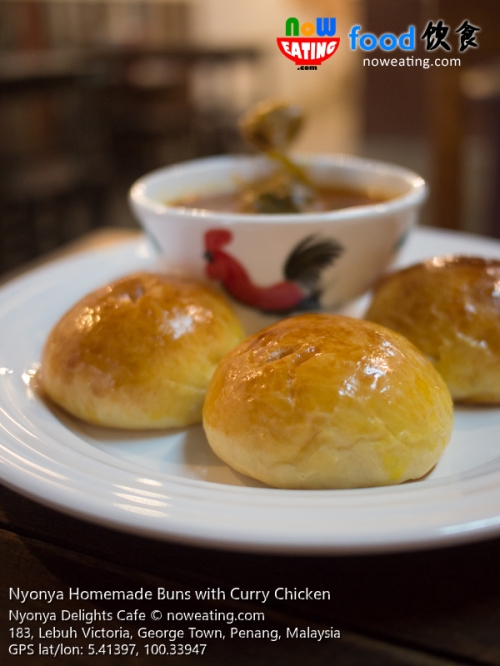 Perhaps the highlight of the new menu is their homemade bun with curry chicken (RM9.90).  The buns were baked on the spot using big oven and served hot. Best dip with the savory curry chicken. It had been decades since we had decent buns with curry chicken. For customers of bigger group, they may opt for Curry Chicken Pyramid Bread (RM33.00) with curry chicken treasured in an enormous homemade bread.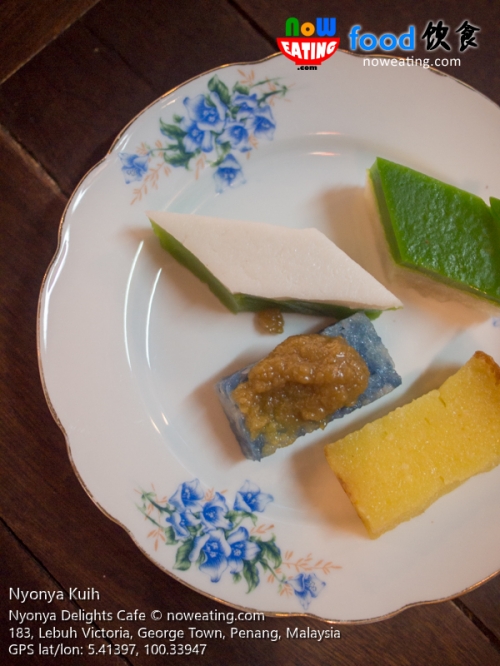 Nyonya Kuih early in the morning, anyone? Assorted Nyonya Kuih such as Kuih Lapis, Kuih Bangka, Kuih Seri Muka, Kuih Ubi Kayu, Kuih Kaya, and Kuih Talam are available from the counter. Price was around RM1.20 per piece.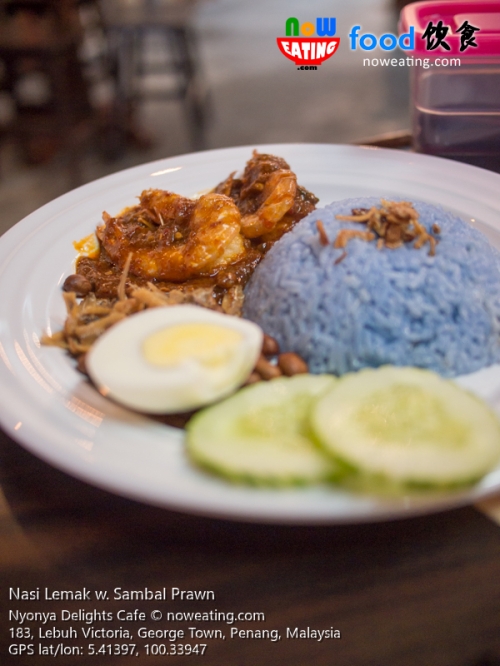 Blue flower rice seems to be a trend in culinary and Nyonya Delights does not want to miss the boat. (Figure: Nasi Lemak with Sambal Prawn).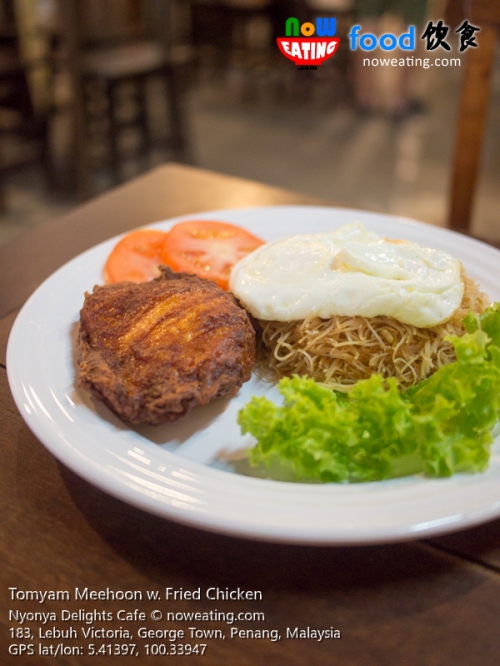 Also known as Siam Meehoon, Tomyam Meehoon with Fried Chicken (RM13.90) is a rare find in town nowadays. Other than fried chicken, customers can opt for Chicken Kapitan, curry chicken, or curry prawn. A recommended dish.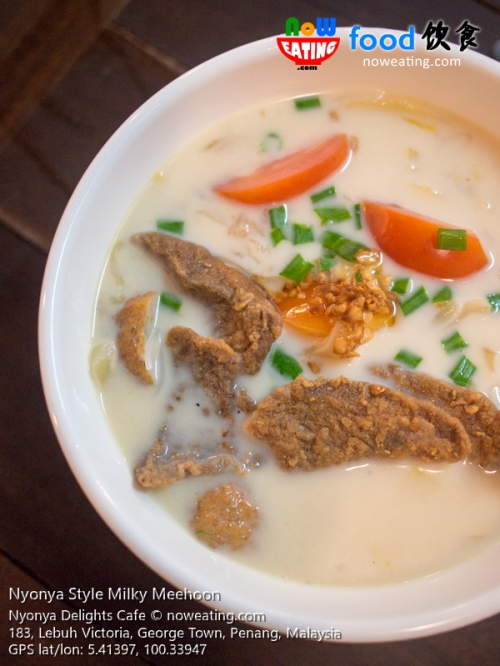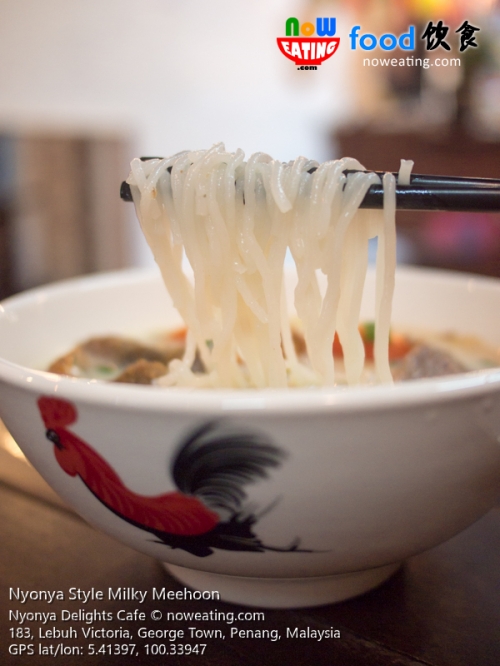 Nyonya Style Milky Meehoon (RM12.90) is similar to those in fish head noodle stalls with rice noodle topped with deep fried fish fillets, tomato, and salted vegetable. The added milk added pearly texture to already-perfect soup noodle.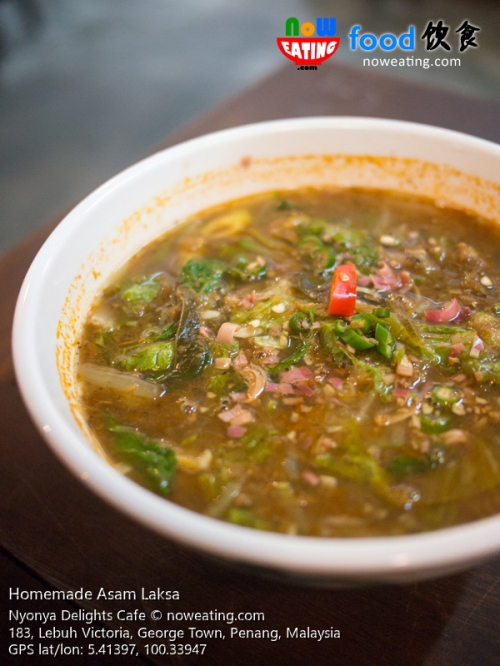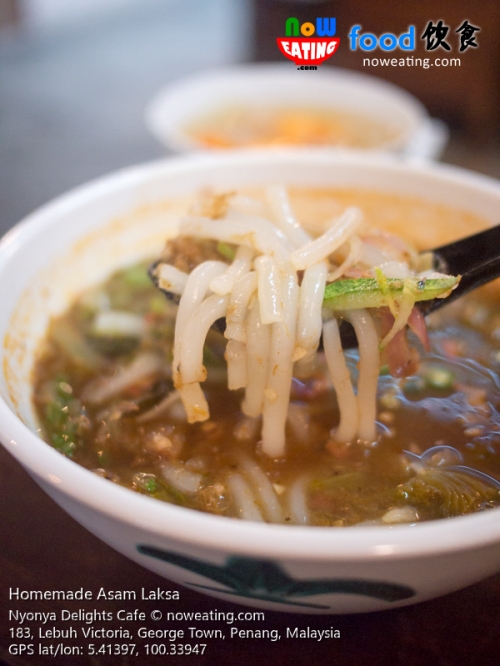 Our guess is that, other than Nyonya Delights, hardly there is a shop offering Asam Laksa in the morning.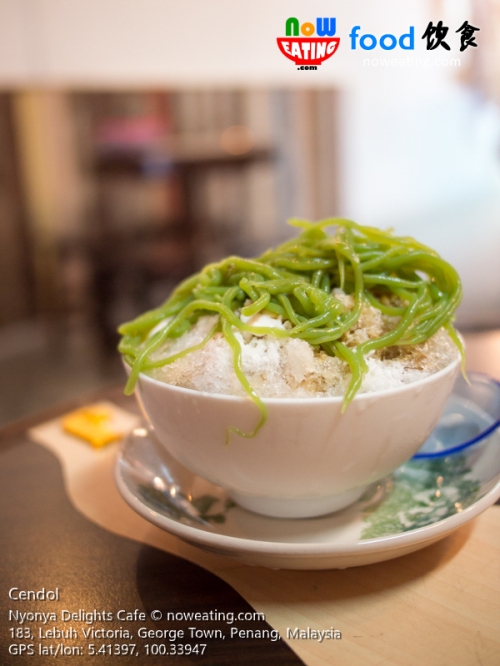 End your meal with local famous dessert – Cendol.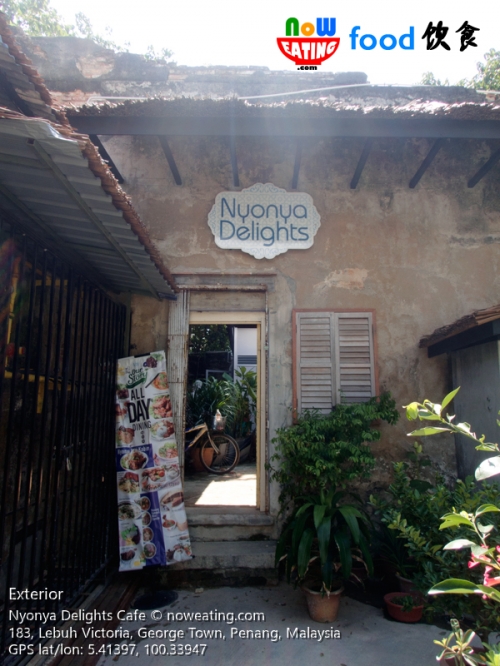 As a whole, a great place for Nyonya breakfast in a cozy environment. Be sure to try their bun with curry chicken and Tomyam Meehoon. Price is slightly increased since our first visit last year but still fairly acceptable compared to other restaurants offering similar cuisine. The pork-free Nyonya Delights Cafe opens 8:30am to 6:30pm from Monday to Thursday, and 8:30am to 7:30pm from Friday to Sunday.
| | |
| --- | --- |
| Place Name: | Nyonya Delights Cafe |
| Cuisine: | Nyonya |
| Address: | 183, Lebuh Victoria, George Town, 10300, Penang, Malaysia |
| Tel: | +604-261 0250 |
| Email: | [email protected] |
| Working Hour: | 8:30am-6:30pm (Mon-Thu), 8:30am-7:30pm (Fri-Sun) |
| Last Visit: | 20170616 |