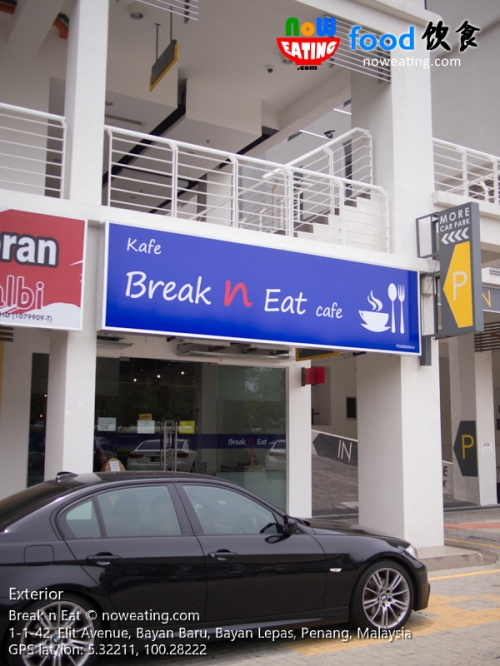 With restaurants come and go in Elit Avenue, Bayan Baru, Penang, sometimes we think our "Publish this post" button is equivalent to "Close this business" in which restaurants closed for good (for whatever reasons) the moment we publish our post. Break n Eat Cafe (GPS: 5.32211,100.28222), however, is a dark horse.
Break n Eat is perhaps run by a family in which one can observe both young and old generations busy as bees in the kitchen and we even being served by a "grandpa" during our first few visits.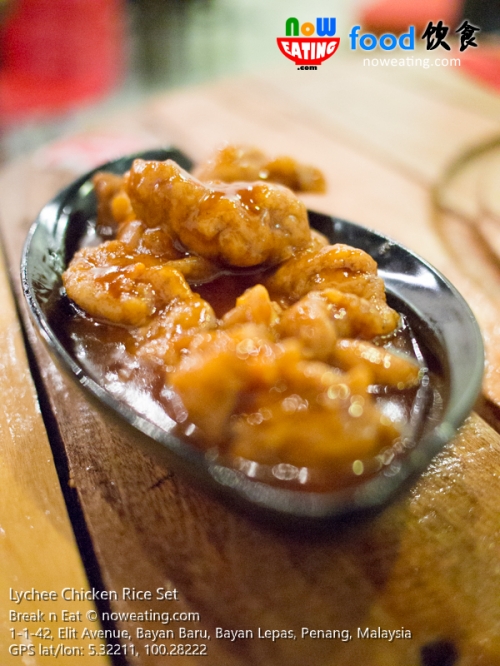 Our first visit to Break n Eat was back in April 2016 in which the cafe only served Chinese/Asian cuisine such as rice set, noodle and snacks. Each rice set came with a sunny side up egg and vegetables as side dishes. An item caught our attention during our first visit was Lychee Chicken (RM9.00). Who could expect Lychee commonly used in desserts can be used in culinary as well, adding a hint of Lychee taste to the sweet and sour chicken?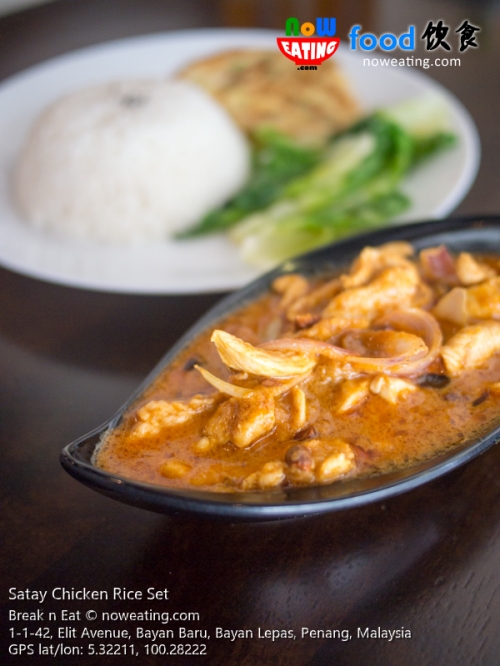 Satay Chicken (RM10.00) with chicken slices stir-fried with onions and satay sauce is another sui generis rice set.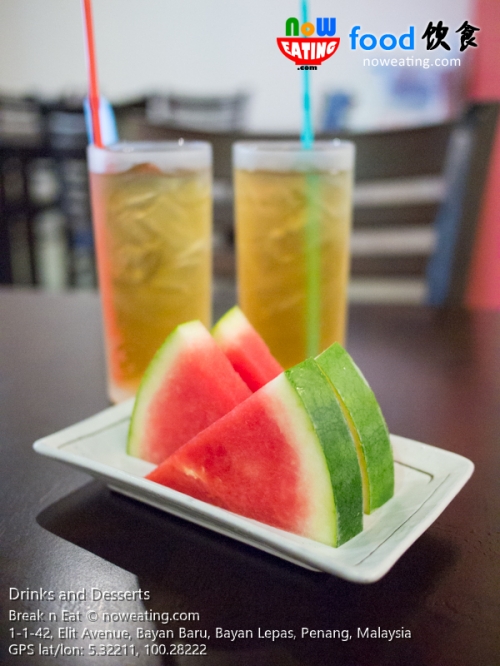 By adding RM1.00, customers will get drink of the day and fruit dessert.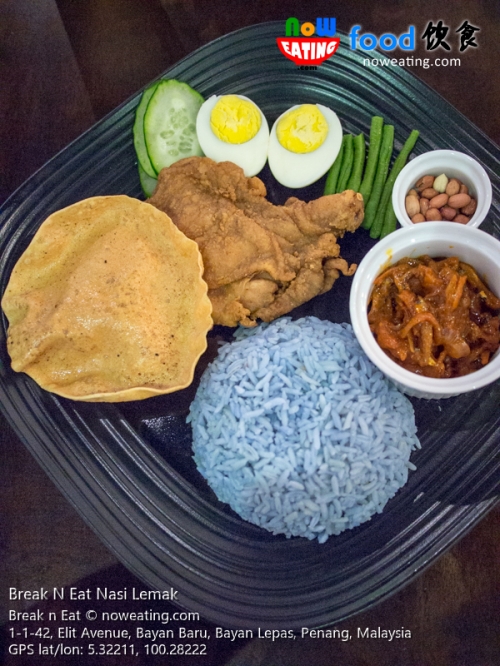 Another rice dish we enjoyed most was Break N Eat Nasi Lemak (RM9.90) came with blue flower rice, fried whole chicken leg, hard boil egg, sambal anchovies, peanut and Papadum. Sometimes, deep fried "KFC" style chicken is quite welcoming especially when we are tired of curry chicken.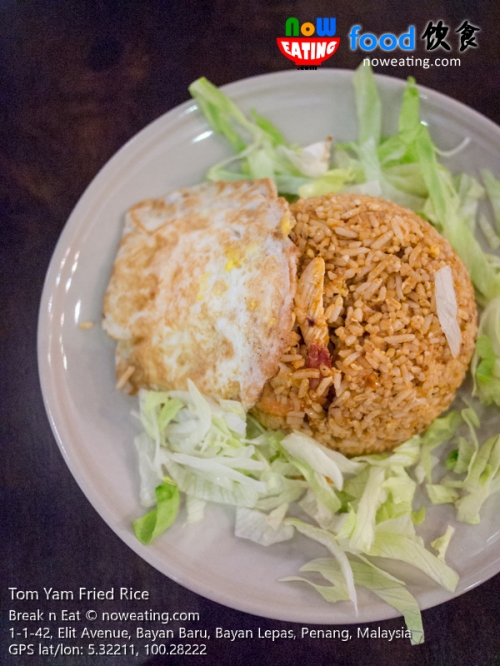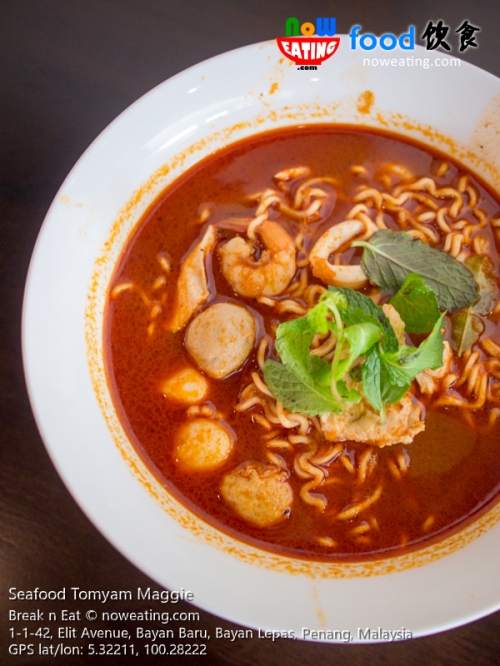 Tomyam lovers like us will find their love here, be it with rice or with noodle (Figure: Tomyam Fried Rice – RM6.00. Seafood Tomyam Maggie – RM9.00).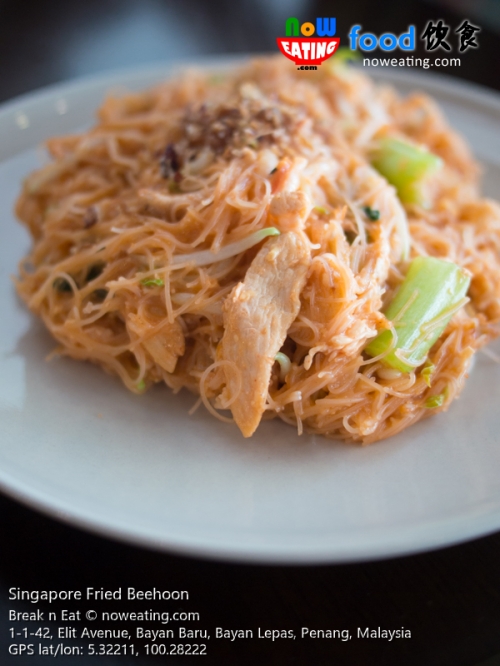 Singapore Fried Bihon (RM6.00) – Decent even though there is a better version out there.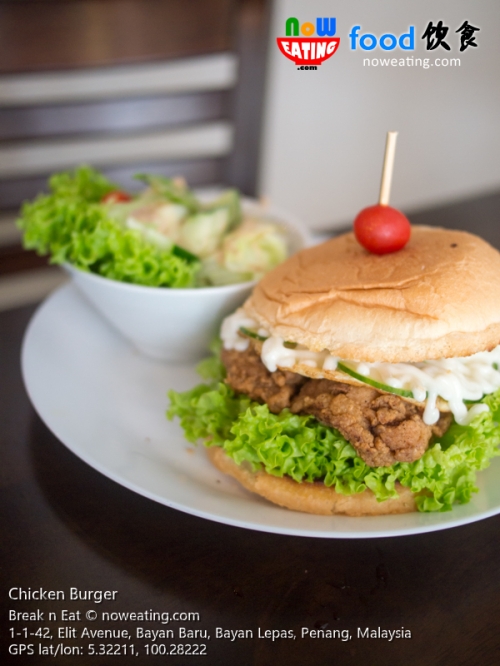 Over times, we noticed that the owner was trying his best to fine tune his menu. When we re-visited it in November 2016, they added some Western dishes, including Chicken Burger (RM12.90) we ordered, with whole de-boned deep fried chicken leg as the patty.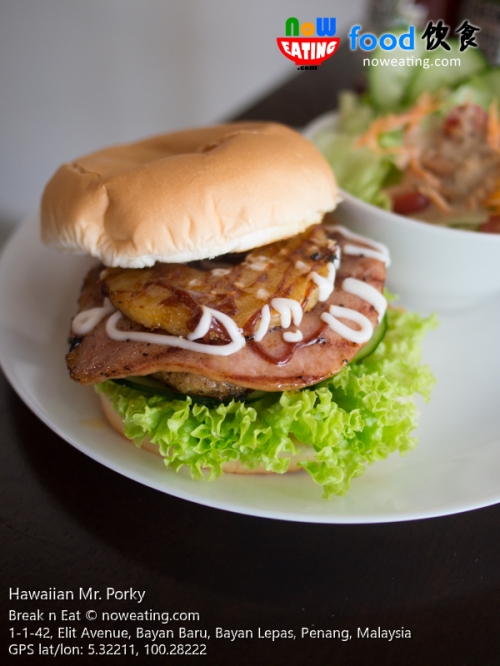 For those preferring juicy texture, try Hawaiian Mr. Porky Burger (RM16.90) stuffed with homemade pork patty, grilled ham and pineapple slice. Each burger set comes with a small bowl of vegetable salad.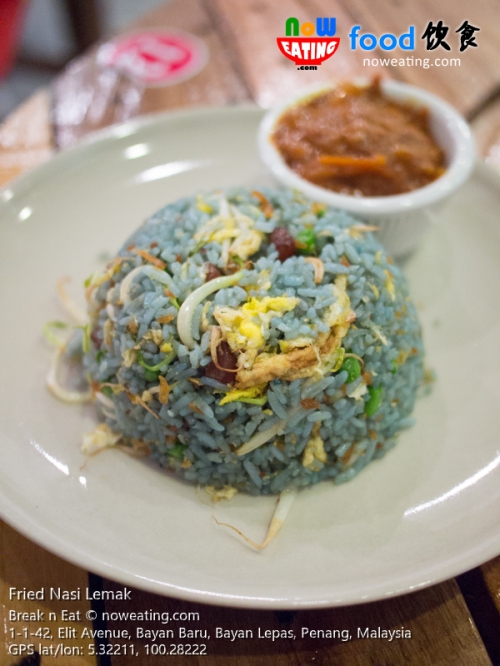 A new item worth mentioning is one-of-its-kind Fried Nasi Lemak (RM8.00). Again, who will expect blue flower rice is so delectable when fried with egg, spring onion, bean sprout and Chinese sausage? Served with sambal anchovies.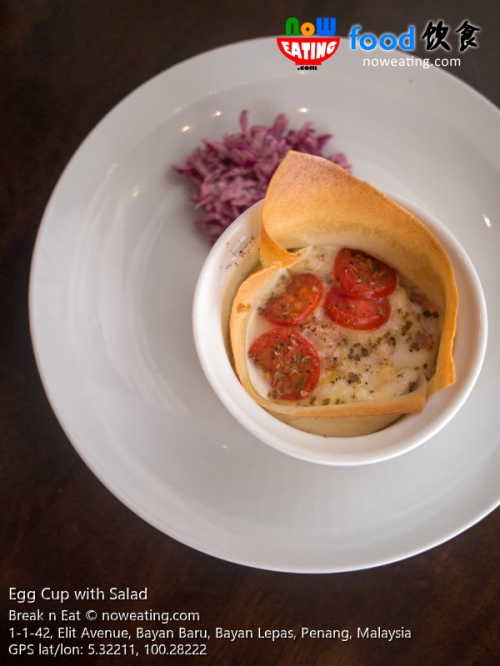 As a whole, a hidden gem in Bayan Baru area and we can see hard work from the owner to bring Break n Eat from a cafe with limited choice to a cafe with both Asian and Western cuisine. Perhaps a minor drawback is the wait time in which it can get utterly unacceptable especially during weekday's lunch hour. If you only have one hour lunch break, then we suggest you to have your lunch somewhere else. Pricing-wise, it is fairly reasonable and we recommend Fried Nasi Lemak and Lychee Chicken. (Figure: Egg Cup with Salad – RM3.50)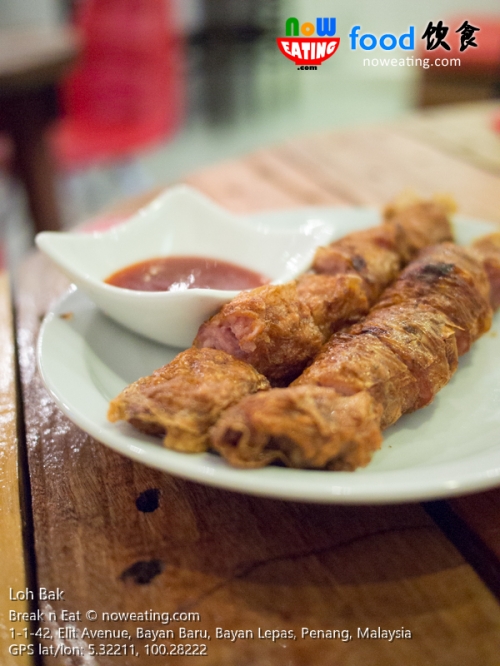 The new operation hour for Break n Eat Cafe is Monday to Friday from 8am to 8pm. Saturday from 9am to 2:30pm. Close on Sunday. (Figure: Loh Bak – RM5.00).
| | |
| --- | --- |
| Place Name: | Break n Eat Cafe |
| Cuisine: | Chinese |
| Address: | 1-1-42, Elit Avenue, Bayan Baru, Bayan Lepas, 11950, Penang, Malaysia |
| Working Hour: | 8am-8pm (Mon-Fri). 9am-2:30pm (Sat) |
| Tax: | No GST, No Service Charge. |
| Last Visit: | 20170214 |