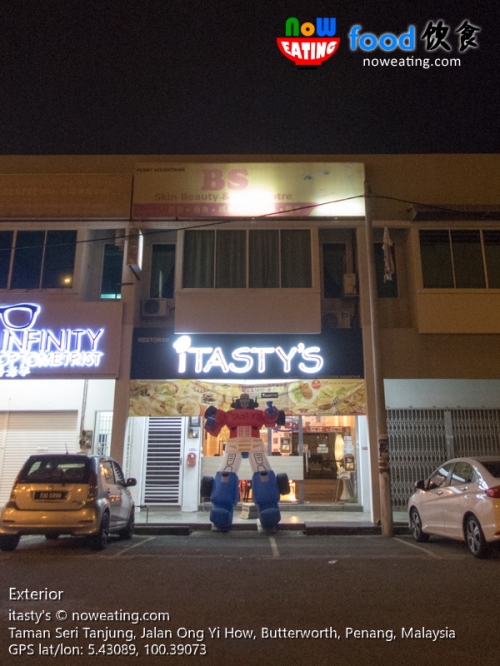 Itasty's (GPS: 5.43089,100.39073) is located at Jalan Ong Yi How near Raja Uda. It was one evening when we planned to visit a Thai restaurant there but lady luck was not on our side as the restaurant was closed. As a result, we had our late dinner at Itasty's few shops away (nearby Green Island Western Food).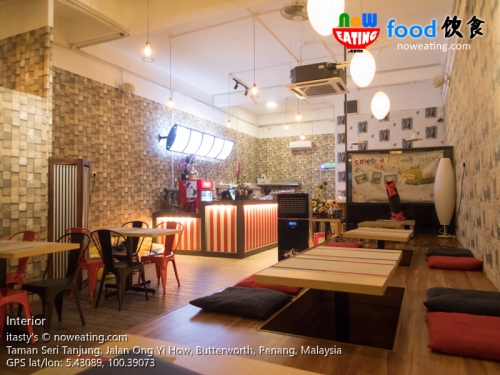 We were blown away by its spacious and Japanese-influenced interior the moment we stepped into the café guarded by a giant Transformer. While on the left are normal dining tables for four, on the right is leveled floor with Tatami.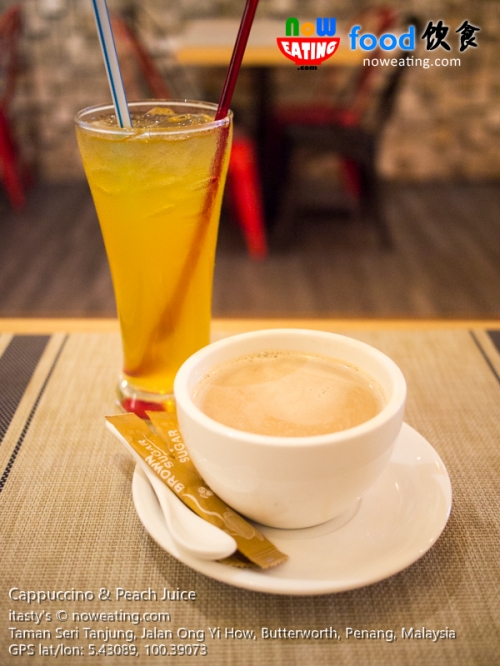 Itasty's is a pork-free café offering fast food such as fried chicken, burger, noodle, fried rice and snacks. At the age of mid-30's, to be honest, we had difficulty selecting our food. The friendly lady owner did not hesitate in recommending us their dishes. (Figure: Cappuccino (RM6.90) and Peach Juice (RM3.90))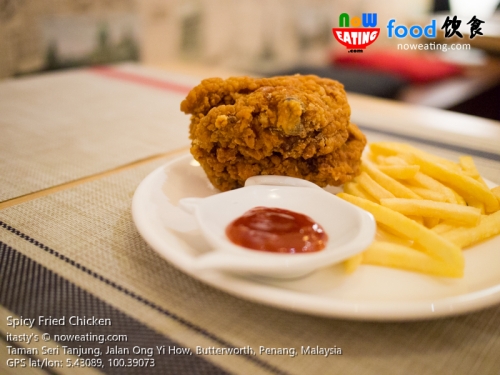 With International fried chicken chains nominated Malaysia market, itasty's is bold enough to introduce fried chicken of their own recipes with only one variant – Spicy Fried Chicken available at the moment. A trump card about their fried chickens is that they are fried-to-order and were utterly spicy to an extend that the chili sauce deemed useless (except dipping with fries). A set of one fried chicken is priced at RM6.90.
The moment our American Fried Rice (RM9.90) arrived, our table is filled with its aroma (which somehow smell like "Twisties"). While taste-wise was acceptable, rice portion was small to our liking.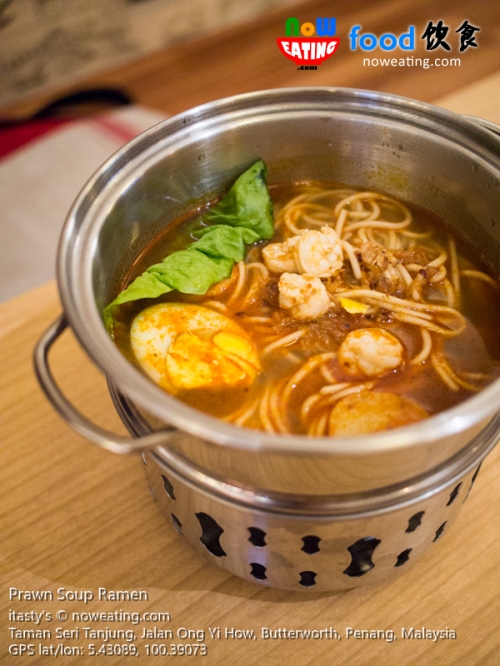 Perhaps the highlight of the evening was the Prawn Soup Ramen (RM10.90) pre-heated in a hotpot.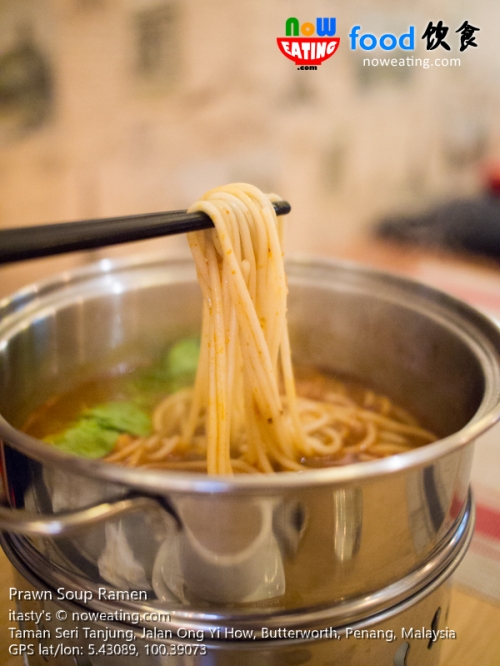 It was actually Penang's famous "Hokkien Mee" using organic ramen (instead of yellow noodle). We particularly enjoyed the sweet broth.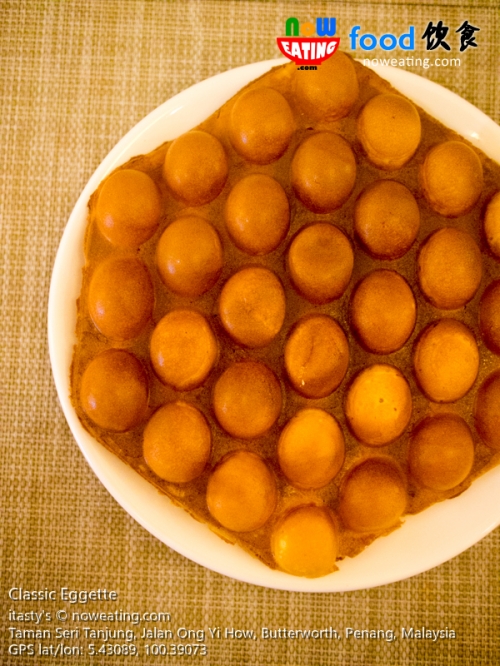 Hong Kong's famous Eggette 鸡蛋仔 is our favorite and we found not one, not two, but three types of flavors in itasty's, including Classic Eggette (RM4.90), Chocolate Eggette (RM5.90), and Classic Eggette Set with three scopes of ice creams (RM9.50).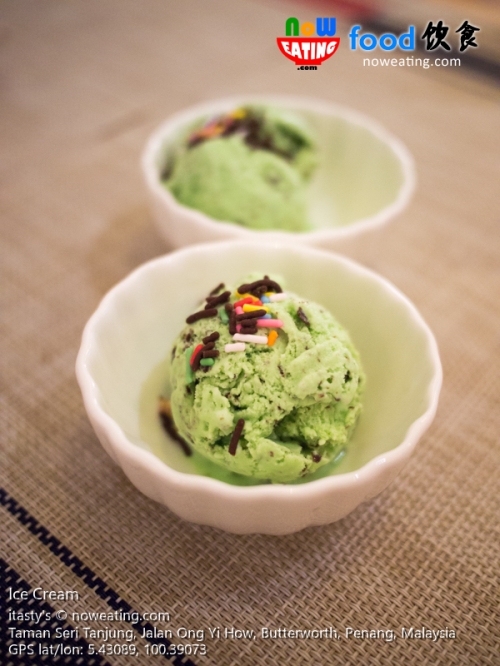 As a whole, despite being a fast food restaurant, we were satisfied with our accidental discovery that evening – itasty's, especially on its food selection and comfy interior. It is also a great place for special occasions. Pricing-wise, it is fairly affordable. itasty's is opened from Monday to Wednesday at 11am-3pm,5:30pm-10pm. Friday from 11am-10pm. On Saturday and Sunday, the café is opened as early as 7am until 10pm and offers Dim Sum in the morning. Closed on Thursday. Also, simply LIKE their Facebook page and get a free scope of ice cream. For enquiry, please call +604-314 0800.
| | |
| --- | --- |
| Place Name: | itasty's |
| Cuisine: | Western |
| Address: | 7427,Lorong Seri Tanjung 1,Taman Seri Tanjung, Jalan Ong Yi How, Butterworth, 13400, Penang, Malaysia |
| Tel: | +604-314 0800 |
| Working Hour: | Mon-Thu:11am-3pm,5:30pm-10pm. Friday: 11am-10pm. Sat-Sun: 7am-10pm. Closed on Thursday. |
| Tax: | No GST, No Service Charge. |
| Last Visit: | 20170723 |