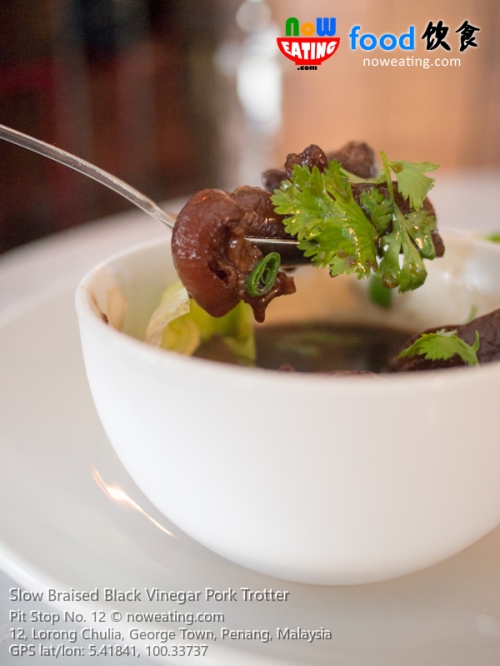 Call it sinful. Call it fattening. No one will stop us by having a bowl of mouthwatering black vinegar pork trotter early in the morning at PIT STOP no. 12 (GPS: 5.41841,100.33737). Too oily and afraid of US invasion? Western breakfast is also available.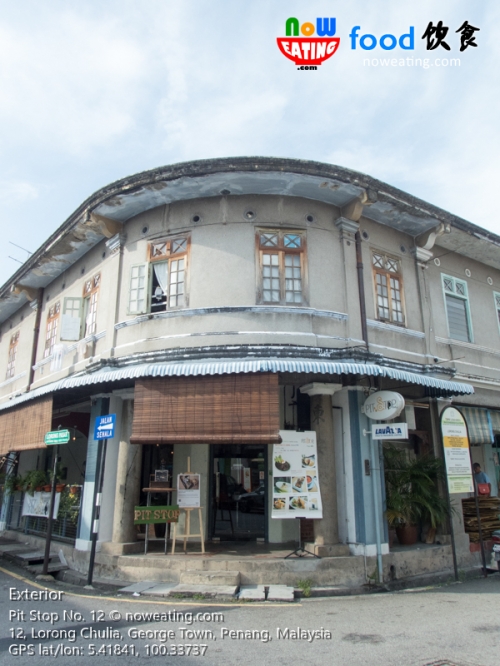 PIT STOP no. 12 is located at Lorong Chulia – an alley next to Chulia Street. "12" refers to the shop number. Another outlet known as PIT STOP no. 6 is available at China Street and personally, we haven't visit the "no. 6" yet.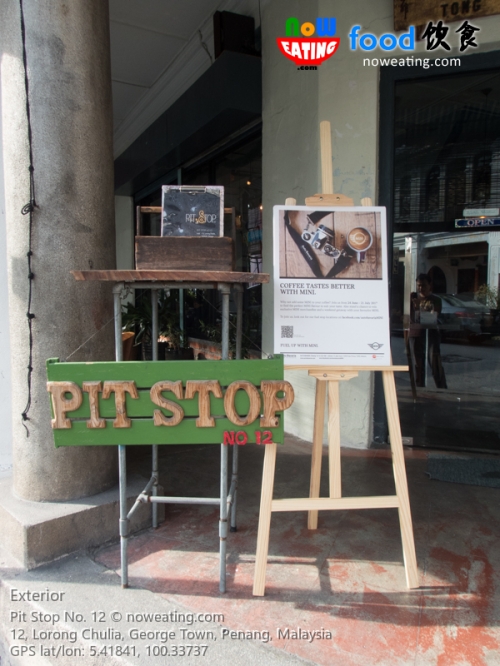 It was one Saturday morning when we decided to have our breakfast first before heading to Gurney Paragon for a movie (by the way, you may get cheap tickets before 12pm there), and we found this breakfast cafe online. Using Waze, we reached the destination and lucky enough to have our car parked along Lorong Chulia as well.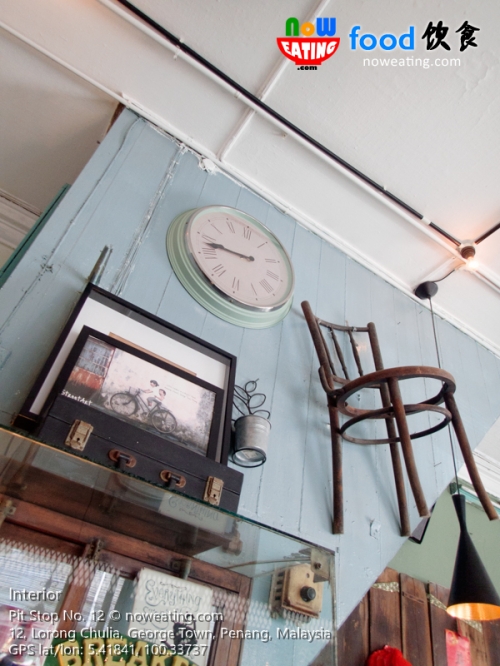 The dining area consists of both air-conditioned and open air section. Occupying a heritage building, some antiques can still be seen around the dining area.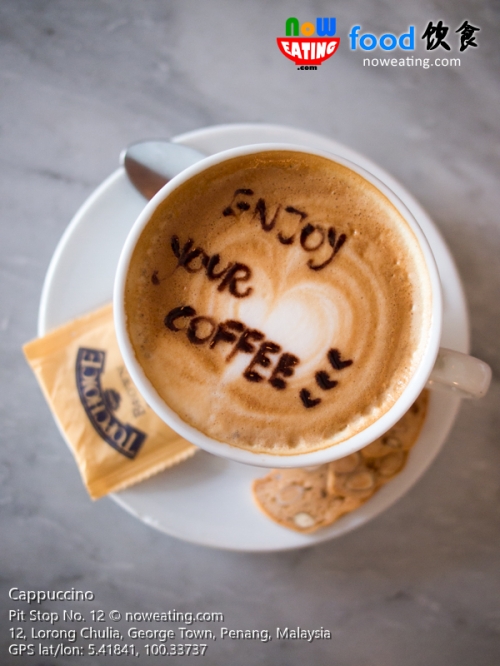 We had our morning caffeine fix there (Cappuccino, RM9.50). Yup, we enjoyed our coffee.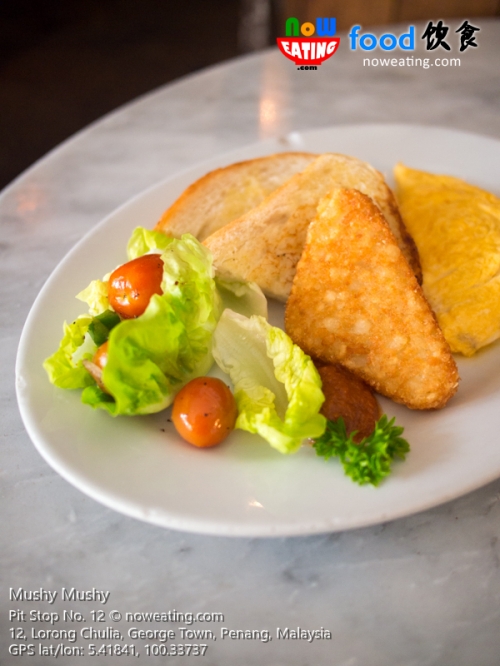 PIT STOP is an ideal place for breakfast, brunch and lunch as it serves all day breakfast, soup, salad, snacks, pasta, Western food (e.g. Chicken Chop/Fish n' Chips), noodle and rice sets. During our first visit, we ordered Mushy Mushy (RM10.80).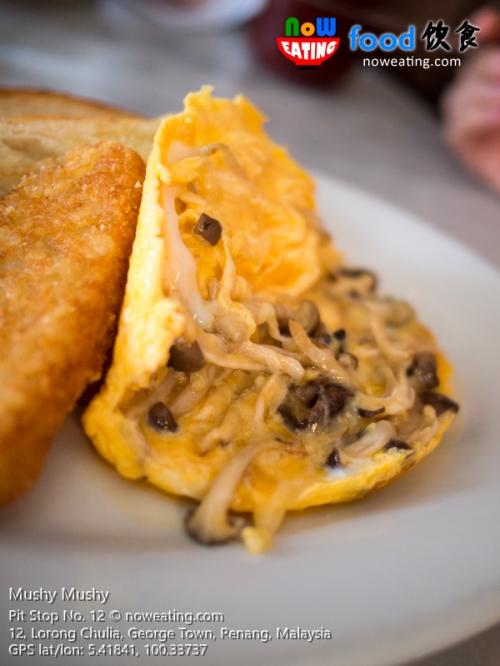 Mushy Mushy is a savory omelette stuffed with mushroom and cheese, served with hashed brown and garden salad. An equitably decent breakfast set.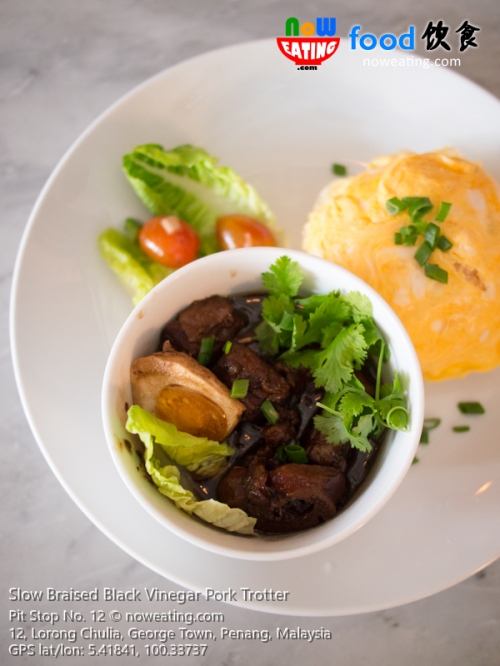 The highlight of that morning was the quintessential Slow Braised Black Vinegar Pork Trotter 猪脚醋. According to the menu, it was from grandma recipe and we couldn't agree more with it. The rice set (RM15) came with an omelette and a salted egg in a bowl. A trump card about it was that instead of consisting mainly bones from pork trotter, the delicacy was carefully selected to include mostly meat with fat. A dish worth dying for.
We ended our meal with Berry Banana Pancake (RM10.5) – a pancake spread with strawberry puree, fresh banana slices, a lot of cashew nut (to an extend it formed a smiling face), and a scope of vanilla ice cream.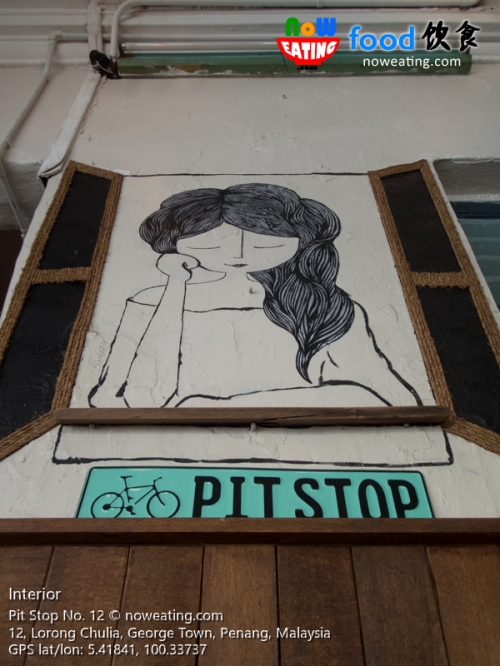 As a whole, a great place for breakfast in George Town with black vinegar pork trotter as recommended dish. Staffs are attentive and pricing-wise is fairly reasonable without burning your pocket early in the morning. PIT STOP no. 12 opens daily from 9am to 6pm whereas PIT STOP no. 6 opens daily from 7:30am to 4pm. For more information, visit their Facebook page.
| | |
| --- | --- |
| Place Name: | Pit Stop No. 12 |
| Cuisine: | Western, Chinese |
| Address: | 12, Lorong Chulia, George Town, Penang, Malaysia |
| Tel: | +604-261 1306 |
| Working Hour: | 9am-6pm daily |
| Tax: | 6% GST |
| Last Visit: | 20170708 |