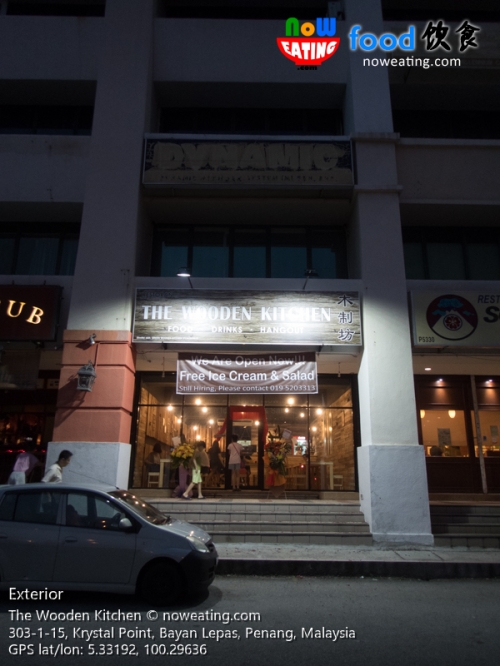 Visible from Bukit Jambul roundabout, The Wooden Kitchen (GPS: 5.33192,100.29636) is a new cafe at Krystal Point, Penang. It was one weekday's evening when we decided to give this cafe a try. Thank goodness that parking was not an issue at Krystal Point during evening time as most offices were closed. From the exterior, it was like a normal cafe until we were presented with its menu…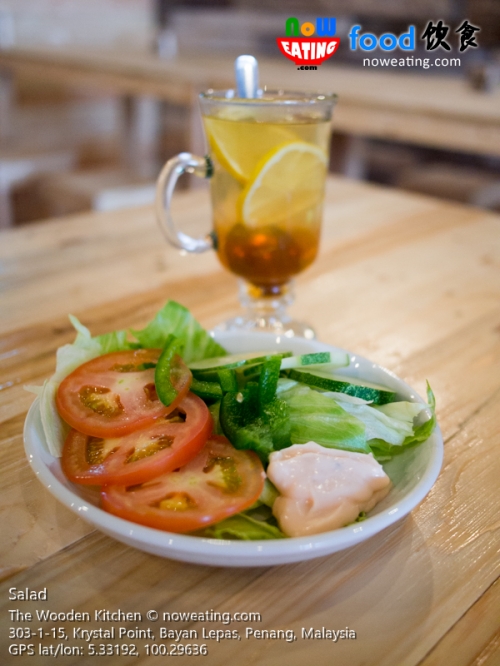 Yes, it is a vegetarian cafe. With recent heavy meaty meals, it was not a bad idea at all for a vegetarian dinner. After placing order on an order chit, we were told that free-flow salad bar and ice cream are available. We couldn't recall our last time having semi-buffet in a vegetarian cafe but this concept was definitely a plus, especially for ice cream lovers like us.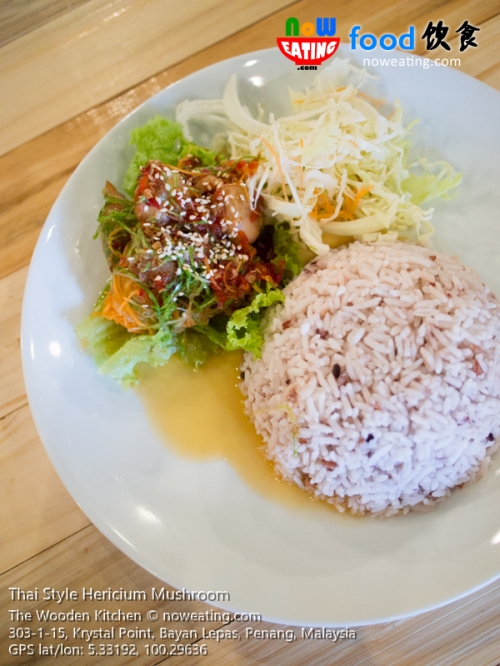 The Wooden Kitchens uses both fresh vegetables and vegetarian "fake meat" products as ingredients. Personally, we were not a fan of the latter one so we opted for Thai Style Hericium Mushroom Rice 泰式猴头菇饭 (RM12.90) with deep fried Hericium Mushroom wrapped with shredded carrot and cucumber, dressed with generous amount of Thai sauce to an extend that it actually damped the red rice.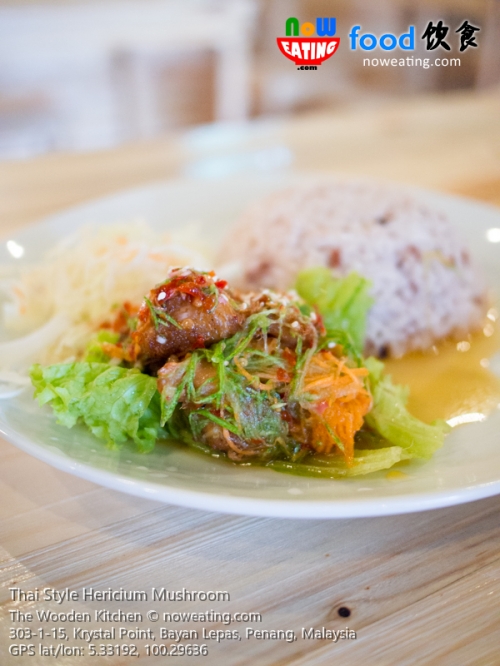 We utterly enjoyed the texture of crispy mushroom soaked in piquant dressing. If we must nitpick, it was the raw cabbage which tasted bitter.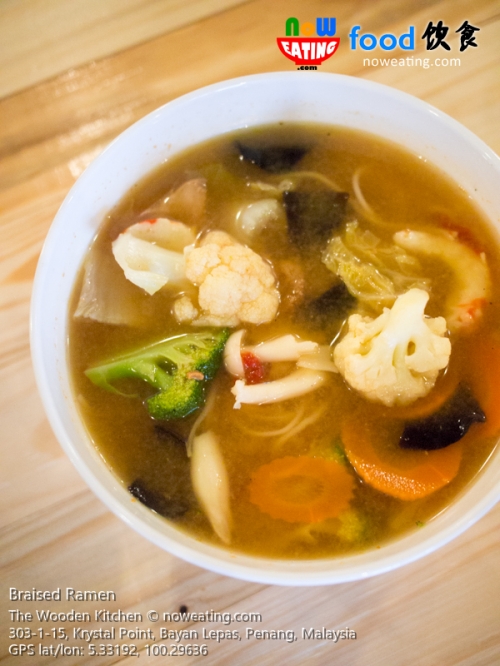 Other than rice series, the cafe also offers noodle series, Western cuisine and snacks. Our second item being Braised Ramen 红烧拉面 (RM9.90) with assorted vegetables and al dente ramen.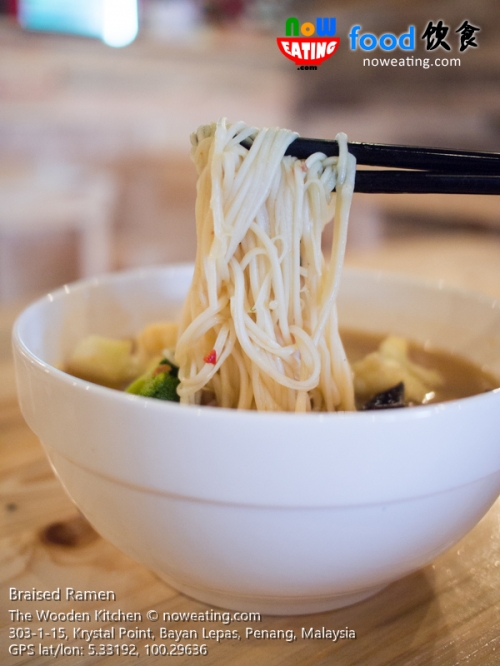 A tick about two main items we ordered that evening was that both had adequate amount of "Wok Hey" as they were from Chinese chefs with years of experience.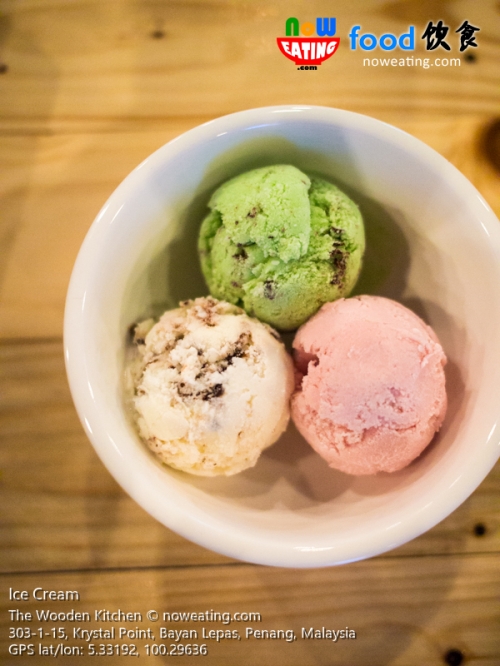 We ended our meal with some free ice cream but first, we suggest you to join gym membership and build up some biceps first before start digging the desserts (yes, they were frozen to solid hard).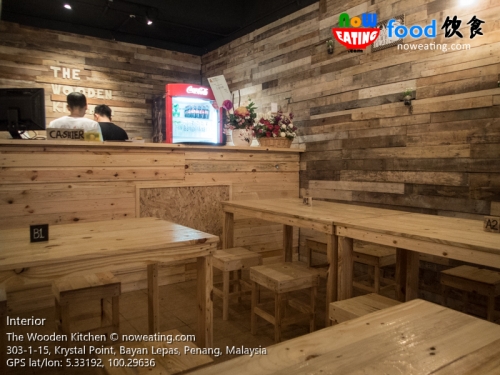 As a whole, a vegetarian cafe worth considering if you are looking for a quiet dining place away from the hustle and bustle of your office. Free Wifi is also available. The Wooden Kitchen is opened daily during lunch and dinner time, from 11am-2:30pm, 5:30pm-9pm. For reservation, kindly call +60 19-520 3313 or visit their Facebook page.
| | |
| --- | --- |
| Place Name: | The Wooden Kitchen |
| Cuisine: | Vegetarian |
| Address: | 313-1-15, Krystal Point, Bayan Lepas, Penang, Malaysia |
| Tel: | +6019-520 3313 |
| Email: | [email protected] |
| Working Hour: | 11am-2:30pm,5:30pm-9pm |
| Tax: | No GST, No Service Charge. |
| Last Visit: | 20170719 |