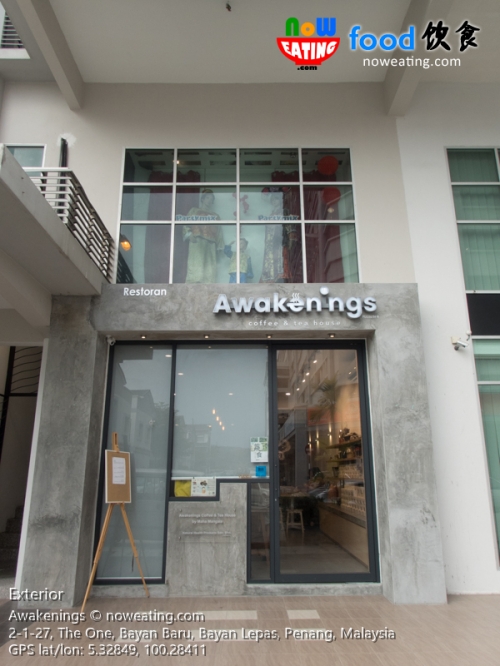 Awakenings (GPS: 5.32849,100.28411) at The One, Bayan Baru opens since 6-Nov-2016 and since then, we visited it five times. The cafe is a non-dividend social enterprise with the following equation:
Sales – Expenses = Charity
That's it, all the profit will be used for charity purposes. Isn't it wonderful that you are able to contribute back to society while enjoying your meal?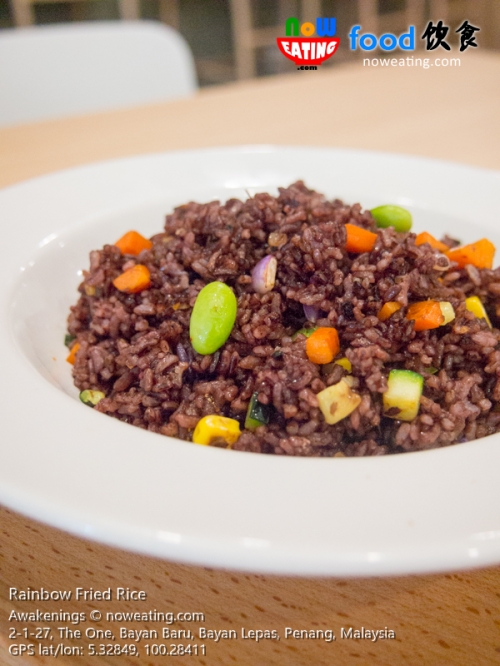 The menu comes with limited choices and some picky customers may find themselves running out of choices. However, each item is fairly distinguishable from each other. Rainbow Fried Rice (RM8) – sauteed colorful vegetables with Bario wild rice, seasoned with their own ginger powder, turned out to be our staple during our visits. Not only it was delectable and healthy with non-greasy texture, more important, it was its affordable price.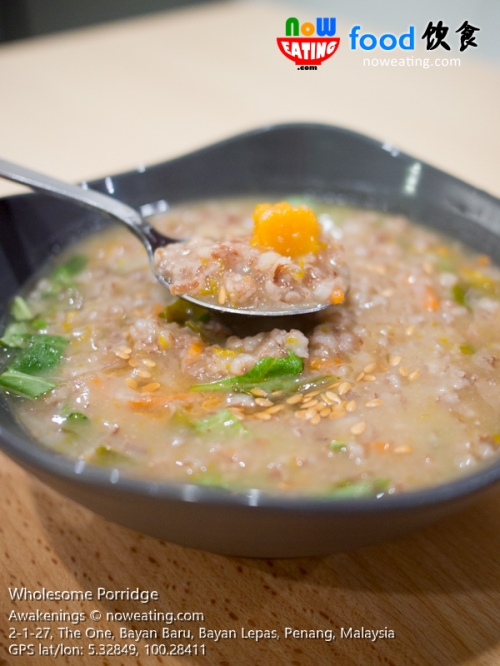 Wholesome Porridge (RM8) – thick and comforting Bario red rice, boiled and simmered with utmost patience and nutritious vegetables like tiny shredded carrots, pumpkin and Chinese spinach.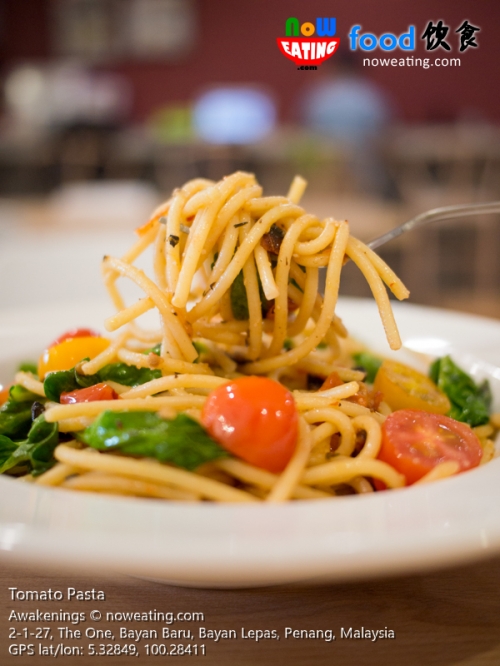 Unlike other modern vegetarian/healthy restaurants, food in Awakenings are utterly affordable. For instance, pasta which easily costs RM20+ per plate out there, only costs between RM14-RM16 in Awakenings. Taste-wise, they are on par with those non-vegetarian version, if not exceeding.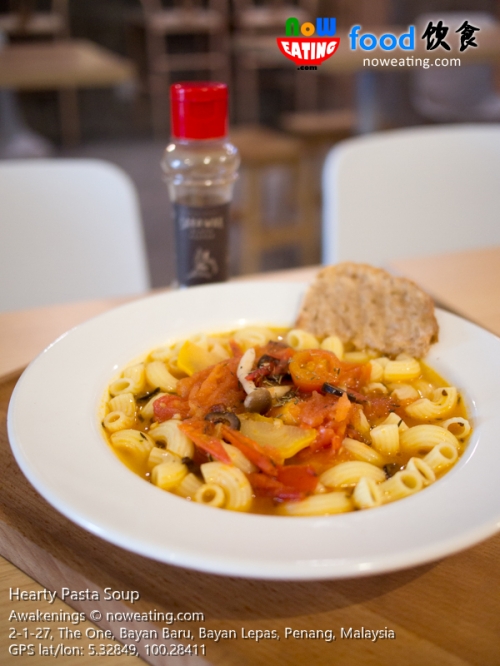 Awakenings currently offers only three types of pasta – Pesto Spaghetti (RM16), Hearty Pasta Soup (RM14) and Tomato Pasta (RM14). Hearty Pasta Soup – elbow pasta with assorted vegetables and tomato broth served with toasted sourdough bread is an eye-opener to us. It reminded us of Hong Kong's Macaroni Soup but trust us, this one tasted way better. To reach god level, sprinkle it with Sarawak Pepper.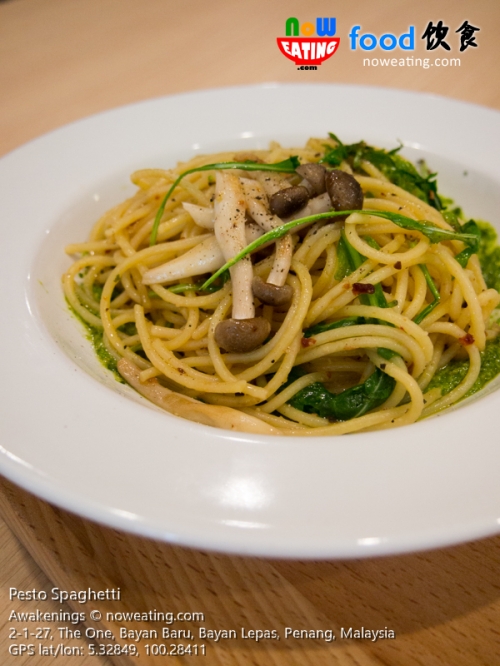 We are a fan of basil and Pesto Spaghetti is obviously in our order list. In fact, it was the first pasta dish we ordered. A flavorful nutty puree of green leaf and cashew nut added to sauteed with mushroom and fresh vegetable. Coincidentally, we had a non-vegetarian Pesto Spaghetti (priced at RM21+) somewhere else the day before this post was written. After comparing, Awakening's simply outmatched the latter.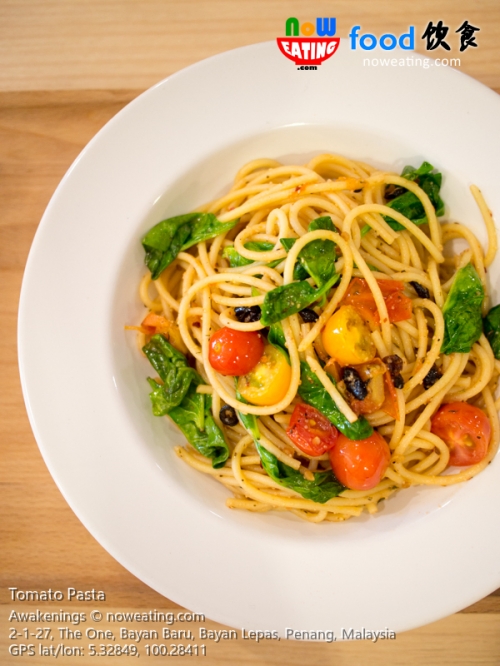 From experience, not all diners like basil and if this is the case, Tomato Pasta with cherry tomato sauteed with sun dried tomato, capers, olive, mushroom and spaghetti is your great choice. Note that this is not a Bolognese Spaghetti and the pasta is in dry texture similar to Aglio Olio.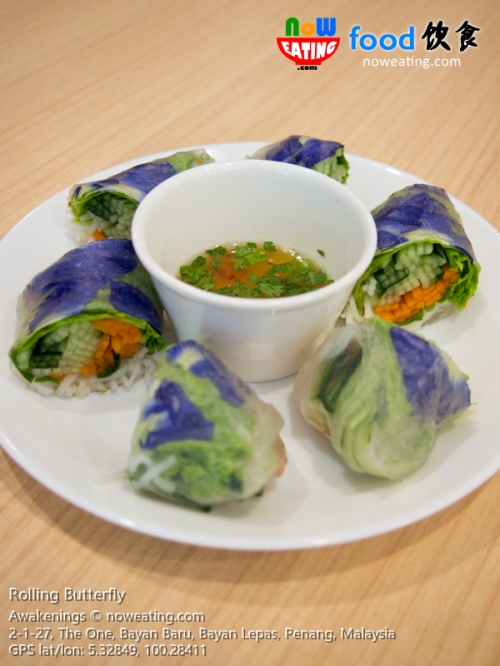 The cafe also offers some little bites and they are not disappointing as well. Rolling Butterfly (RM7.90), as an introduction, is Vietnamese rolls with butterfly pea flower served with special made sauce.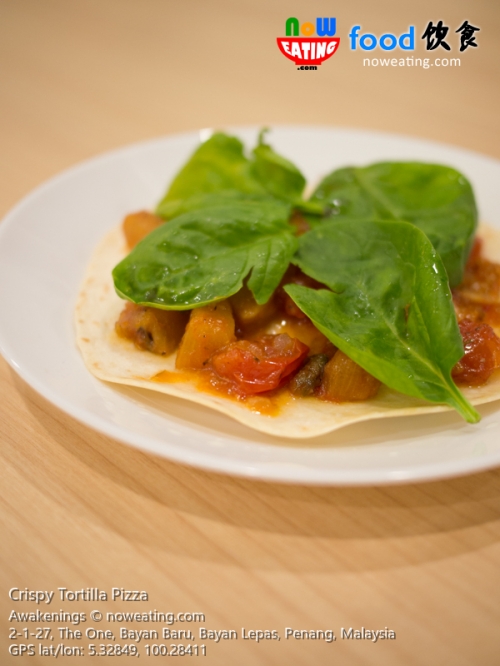 Crispy Tortilla Pizza (RM8 per slice) – tasty tortilla pizza bites topped with homemade sauce and fresh vegetables. Customers can choose between tomato flavor and pesto flavor.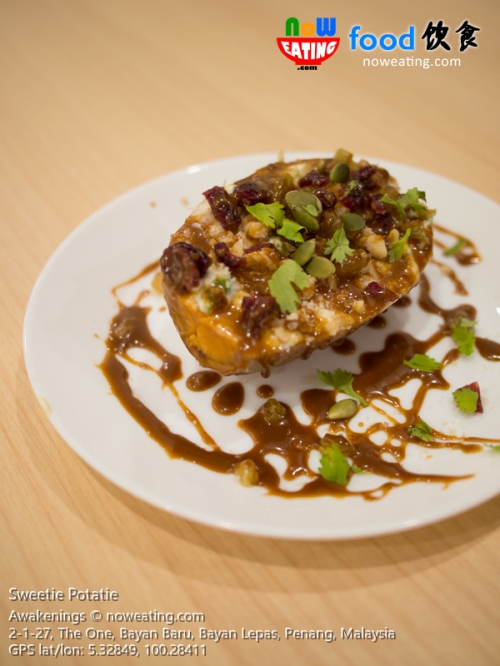 Our top pick being Sweetie Potatie (RM5.90) – a sweet comfort food made of steamed sweet potato garnished with vegan sour cream, coconut flakes, walnut, pumpkin seed and Gula Apong.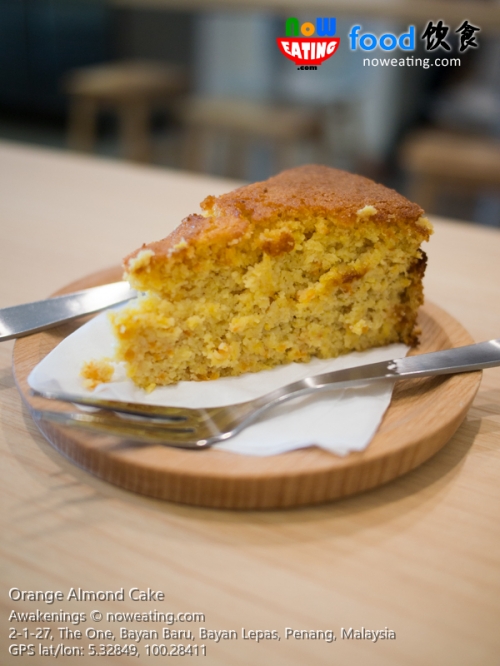 Desserts? Try their homemade cakes are available daily in limited quantity. Figure: Orange Almond Cake (RM7).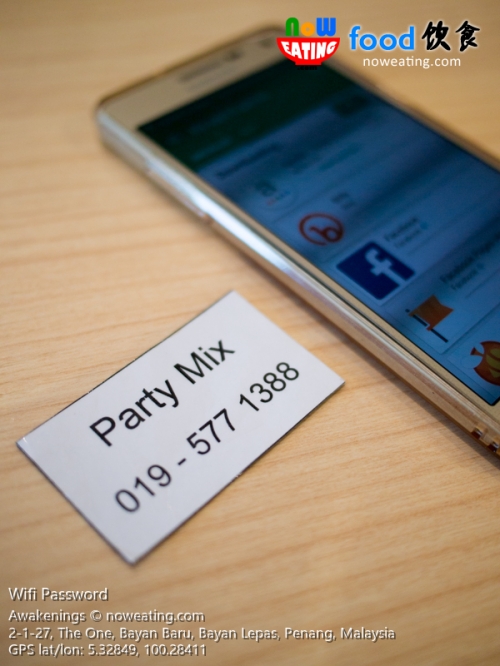 Free Wifi? No problem. We like to update our Android apps while having a sip of coffee in its peaceful dining environment.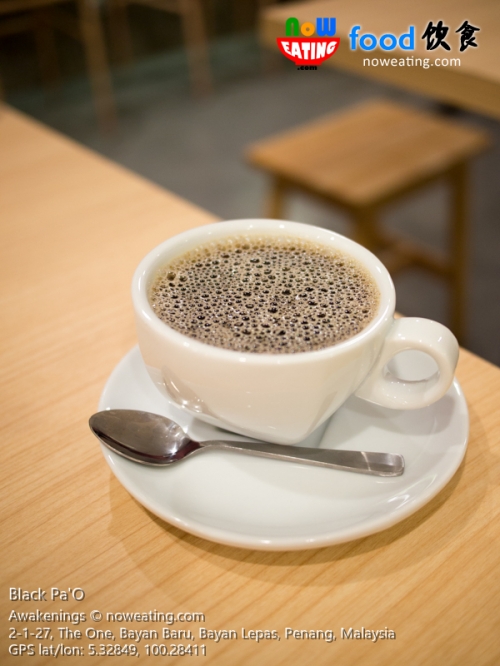 Speaking of coffee, the cafe also served gourmet coffee, including one-of-its-kind Black Pa'O (RM8) – classic coffee drink with addition of ginger powder for a surprising but pleasant kick.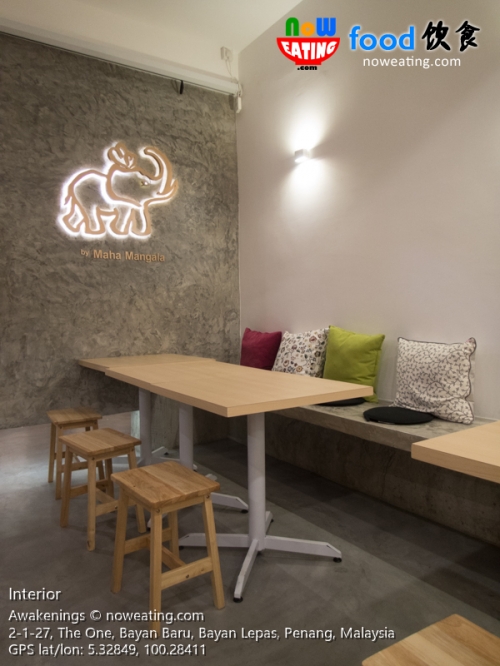 As a whole, Awakenings is one of the best vegetarian cafe in Penang. The cafe opens daily from 10am to 9pm and is closed on Monday. Additionally, breakfast is served from 8am-11am from Tuesday  to Friday. Delivery is also now available and for more information, kindly visit Awakenings Facebook page.
| | |
| --- | --- |
| Place Name: | Awakenings |
| Cuisine: | Vegetarian |
| Address: | 2-1-27, The One, Bayan Baru, Bayan Lepas, 11950, Penang, Malaysia |
| Tel: | +6013-489 5568 |
| Email: | [email protected] |
| Working Hour: | 10am-9pm. Close on Tuesday. |
| Tax: | No GST, No Service Charge. |
| Last Visit: | 20170711 |